Dharmasthala  Temple
 Dharmasthala Temple:
Dharmasthala:
Quick facts:
Country: India
State: Karnataka
District: Dakshina Kannada
Taluk: Belthangadi
Official Language: Kannada
Dharmasthala is an important temple town located on the banks of River Netravati in Karnataka India. It is a very important pilgrimage place in Karnataka where thousands of tourists visit the place to take the blessings of lord Manjunath (lord Shiva). On an average the daily visitors to the temple and to the town is close to around 10,000 people. The famous Dharmasthala temple is dedicated to lord Manjunath (Lord Shiva),  Ammanavaru and Thirtankara Chandraprabha ( Jain God).
The temple also holds the idols of four guardians of Dharma namely Kalarahu, Kalarkayi, Kumaraswamy and Kanyakumari. The city is lit with lakshadeepa in the months of November and December which is a very important festival in Dharmasthala. The town holds respect and tolerance for all the religions; it has a temple of Lord Shiva and a Jain basadi.
How to reach Dharmasthala
How to reach:
Dharmasthala does not have an airport of its own. The nearest airport is Mangalore international airport which is at a distance of 75 Km.
Dharmasthala is well connected by road. There are many government buses and also private buses from Bangalore and other major places in Karnataka and nearby states.
Mangalore railway station is the nearest railway station. This railway station is well connected to different places in India.
For further details one can contact the address given below
Sree Kshetra Dharmasthala
D.K Karnataka-574216
Phone- 08256-277121, 277141
FAX-08256-277116
Email-info@shridharmasthala.org
Office timings
Morning 9:30 am—2pm
Evening 4pm—9pmor AM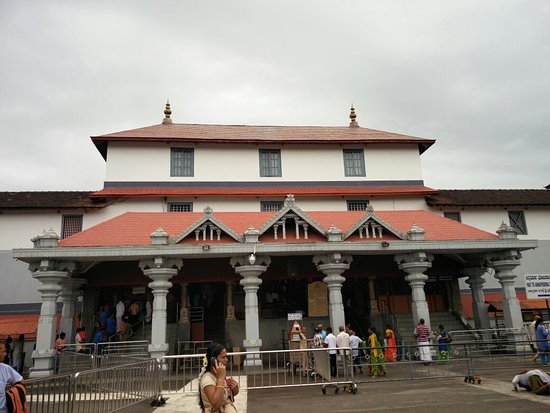 Dharmasthala Temple
Dharmasthala Temple:
This temple is one of the most visited and important temple in South India. The temple is around 800 years old with an average daily visitors is around 10,000 people.
The temple gives free meals to all the devotees who come to Dharmasthala to take the blessings of lord Manjunath. The main deity of the temple is lord Manjunatha who is also known as Lord Shiva.
Dharmasthala literally means the abode of Dharma. The temple can be visited throughout the year and the timings of the temple is morning 6:30 am- 11 am, 12:15 pm-2:30 pm and 5 pm-8:30 pm

History of the temple
The temple has a very interesting history. Let us try to understand the history of this sacred temple. The place Dharmasthala was earlier known as Kuduma in Mallarmadi district in South kanara. The famous Jain chief Birmana Pergade and his wife Ammu Ballalthi lived happily and affectionately in Nelvadi Beedu.
The couple had a very simple and pious living and were also helping all the needy people. One day in order to test the couple and also to practice and preach Dharma the guardian spirits of Dharma assumed human forms and reached the Jain chiefs home.
The Jain couples who were known for their generosity and respect to visitors treated the guardian spirits with great respect and honour. These guardians appeared in the dreams of the couple were pleased with the generosity and magnanimity of the couple and explained the reason behind their visit to Dharmasthala. They asked the couple to vacate the house and for worshipping Daivas and dedicate their life to spread  Dharma and its preaching's.
Accordingly the couple built another house nearby and started to worship Daivas in Nelyadi Beedu.after somedays the Daivas re appeared again in their dremas and instructed Pergade to construct separate shrines to Four Dharma Daivas namely Kalarahu, Kalarkai, kumarswamy and Kanyakumari.
Also the Daivas further instructed Pergade to choose two persons to act as Daivas and four persons to assist Pergade in spreading the message of Dharma. Pergade with great sincierity built separate shrines to all the four Daivas and priests were appointed to perform daily rituals.
These priests requested Pergade to install a Shivalinga and construct a temple around it. the Daivas sent Annappa Swamy to get the idol of Lord Manjunatheswara from Mangalore. Subsequently a temple was built around the Linga. Thus this temple is attracting thousands of visitors every year.
Architecture of the temple
The temple is built in Kerala style of architecture. The temple is built using wood, stone, granite and metals. The temple has a pyramidal roof structure with a square base. The roof is made from wood and is covered with gold plated copper plates to protect wood during monsoon season.

Annaprasada at the temple
Dharmasthala is a place to keep Dharma intact. Here thousands of pilgrims are given free food irrespective of caste, creed and language. Annapurna Choutary or Hall has been built with latest kitchen equipment's and technologies. It has a seating capacity of around 30,000 people at one time. The Hall is very Hygienic and Sri Veerendra Hedge takes personal attention in seeing is food is provided properly to all the devotees. The timings are
Timings:
Sunday and Monday
Morning : 10.30 am to 4.30 pm
Night       : 07 pm to 10 pm
Tuesday to Saturday
Morning : 11 am to 02.45 pm
Night       : 07 pm to 10 pm
Dharmadikaris at Dharmasthala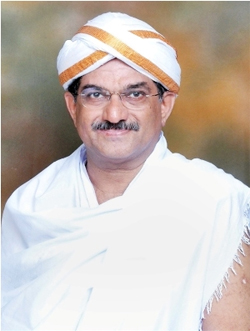 After the guardian angels ordered Pergade (now Heggadae) to spread Dharma in Dharmasthala, the Heggades have over centuries strived hard to spread of Dharma and guide for the growth of Dharmasthala. For over a period 8 centuries a chain of 21 generations have worked hard for the up liftment of Dharmasthala. The present Dharmadikari is Veerendra Heggade was born in the year 1948.
He became Dharmadikari in the year 1968 at the age of just 20. Since then Sri Veerendra Heggade has been tirelessly working for spreading of Dharma in Dharmasthala. Sri Heggade as a family person performs the social responsibilities of doing four Dhanas like Anna Dana( Food), Vidya Dana (education) Abhaya Dana (to protect from fear) and Aushadha Dana (providing medicine). Dana is a Kannada word which means giving Donations.

Other places to visit in Dharmasthala
Bahubali statue: Located on the Ratnagiri Hills this 39ft statue of Bahubali is a must visit place in Dharmasthala.  In the year 1973 under the guidance of Ratnavarma Heggade sculptor Renjala Gopalkrishna Shenoy sculpted this huge and magnificent statue. This monolithic sculpture symbolizes renunciation, self control and to remove ego to attain salvation in Life. The digambara form represents complete victory over desires and needs. The shrine can be reached by climbing the steps.
Other than Bahubali statue in Dharmasthala there are many nearby places to visit like Kukke Subramanya which is at a distance of 65 Km. Another important temple town of Karnataka Udupi is at a distance of 105 km which is around 3 hour drive. One can also visit Sringeri and Horandu which is close to 100km from Dharmasthala.

Murudeshwara temple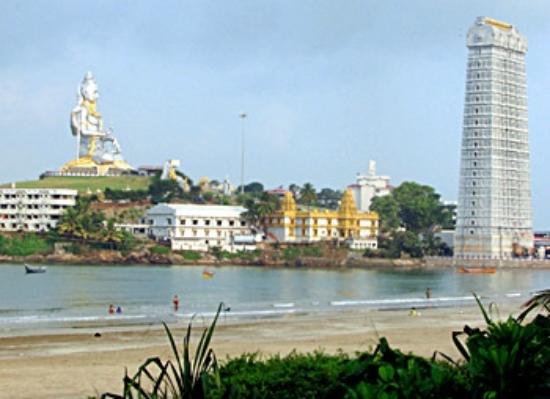 Murudeshwara:
Quick Facts:
Country: India
State: Karnataka
District: Uttara Kannada District
Language: Kannada
The world second tallest statue of Lord Shiva is present in Murudeshwara. This place is located in Bhatkal taluk of Uttara Kannada district of Karnataka, India. The temple is huge and unique and is dedicated to Lord Murudeshwara which is another form of Lord Shiva. The temple is surrounded by Arabian sea on three sides and the entrance of the temple has a huge 20 feet Gopuram.
The Gopuram at the entrance is called as Raja Gopuram which means Kings of towers. The huge statue of Lord Shiva is magnificent and worth watching. To watch this beautiful statue of Lord Shiva and the Raja Gopuram the temple authorities have helped the visitors by installing the lifts.
The temple is on a small hill by name Kanduka which is surrounded by three sides water by the Arabian sea thus giving a breath taking view of the temple. The statue of lord Shiva is the second tallest statue after Kailashanth Mahadev statue in Nepal.

History of the temple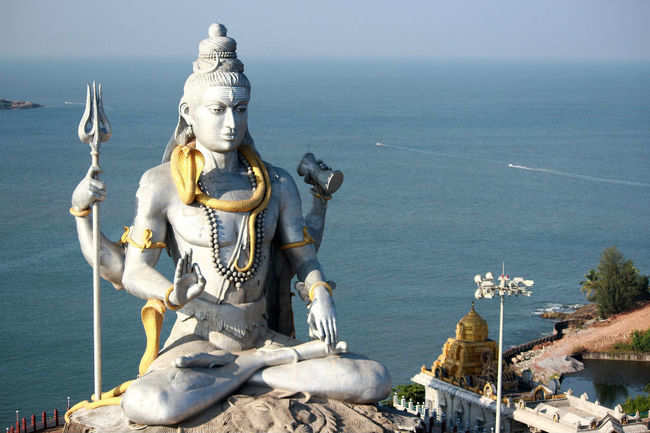 History of the temple is quiet interesting and dates back to the time of Ramayana. Ravana who wanted to attain immortality hence worshipped Lord Shiva to get the Atma linga. Lord Shiva pleased with his worshipping and prayers fulfilled Ravana's wish by giving him Atma linga. The Atma Linga was given with condition that Linga should not touch the ground and if it touches the ground then it would be impossible to remove from the ground.
Lord Vishnu who came to know about the incident did not wanted Ravana to attain immortality as Ravana after attaining immortality make destroy the whole world. So Lord Vishnu  with the help of lord Ganesha tricked Ravana. Lord Ganesha appeared as a young boy in front of Ravana and when he was doing his evening rituals Lord Ganesha placed the Atma linga on the ground in Gokarna. Enraged by this act of the boy (lord Ganesha) Ravana destroyed Atma Linga and threw the pieces of the Linga to different places. It is believed that clothes which were covering Atma Linga fell in to Murudeshwara.

The major attraction in Murudeshwara are the gopuram and the statue of Lord Shiva. Along with the statue there are two huge elephants at the entrance also there is a temple built to Shaneshwara God. With three sides Arabian sea one can also enjoy in the sea for some time. 
As the temple is in coastal place the best time to visit would be November to February. Shivartri is celebrated usually in the month of February which is celebrated with full enthusiasm.  The temple is open from 6 am to 8:30 pm. it closes from 1pm -3pm for lunch. 

How to reach
The nearest airport is Mangalore which is around 155 Km. Murudeshwara has a small railway station where train halts here that comes from major cities. Murudeshwara is well connected through road from all major cities. 

Update on coronavirus in India
Affiliate Disclosure:
If you make any purchase via a link on this site, I may receive a small commission with no added cost to you.