Skiing
Skiing is one of the best adventurous sports and best holiday entertainment. There are many places of interest with adventurous sports which attract many tourists worldwide to India.  From mighty Himalayans to beautiful beaches of Goa and rough rivers India provides many such destinations for adventurous sports.  Following is some of the destinations:
What kind of holiday do you like to spend? Adventurous? then let's continue…
India offers many adventure sports related holidays such as skiing, scuba diving, river rafting, trekking and rock climbing. Details of each one of them are:
Skiing
One of the best adventurous sports which use snow as its base is skiing.  Skiing can be for fun or it can be taken as a serious/ competitive sport. By the way, Skiing is a one of the key sports at the level of Olympics. 
Types of Skiing
Types of skiing
Alpine skiing

 Alpine skiing is sliding down from the snow-covered mountains with fixed heel binding. Also known as downhill skiing in incorporates different styles. It is also one of the most important sports in winter Olympics.

Nordic skiing

Nordic skiing also backcountry skiing is done on the unmarked slopes of the mountains. Unlike alpine skiing, the land and the snowpack are not monitored, patrolled, or maintained in Nordic skiing.
Recreational skiing

This type of skiing is done for recreation on a holiday trip. The majority of people who ski every year are recreational skiers.

Some important tips to keep in mind before starting the skiing are that skiers should know how to stop
Few of the important places in India where skiing can be enjoyed are Gulmarg, Manali, Narkanda, Kufri. Some of the key information on these places are
Equipment's for Skiing
Some of the basic equipment's that are required for doing Skiing are
1) Skis, Poles and Binding
2)  Ski Boots
3) Ski Helmet
4)Ski Jackets and Ski Pants
5) Base and Mid layers
6) Ski goggles
7) Ski Gloves
8) Ski Bag pack
9) Ski Socks
10) Ski masks
Skiing in Gulmarg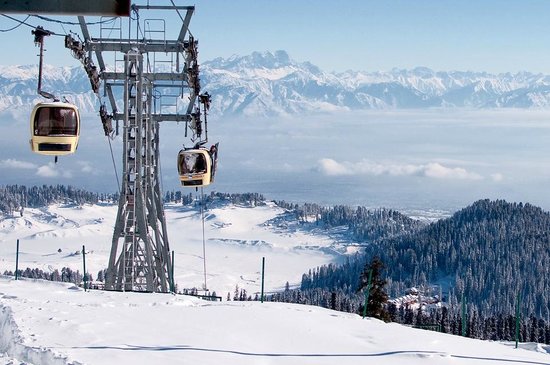 Situated in Jammu and Kashmir is famous for its natural beauty and adventurous sports called skiing.  Gulmarg is an all-time tourist destination offering various attractions and scenic beauty throughout the year.  Situated at an elevation of 2,650m Gulmarg is tourists' paradise.  In summers it offers lush green slopes with variety of flowers and in winters one would get to see snowcapped mountains which are used for skiing. 
Skiing in Gulmarg is one of the most important adventurous sports. Its natural slopes, powdery snow, easy accessibility, highest and natural ski slopes provide ideal conditions for ski lovers.  Gulmarg receives heavy snow in the month of January. The best time to do skiing is middle of January till end of Feb.  However, the skiing season starts from December 25th and lasts up to Mar every year.  Here more than one thousand people can start skiing simultaneously.   
Phase 1 of the gondola starts from Gulmarg and leads to the middle station called "Kongdori" at 3,050m. From here skiers have access to a number of easy runs through the trees or through the narrow slopes. These stretches are ideal for intermediaries.
Phase 2 of the gondola goes from the middle station to the plateau below the Mt. Apharwat summit located at 3,990m. From here skiers can either return to the middle station by staying on the controlled and patrolled gondola bowl or traverse to the more distant access points on the southern and northern parts of the crest.
The gondola to the Mt. Apharwat, one of the highest in the world, takes skiers to its top station at 4,000m and provides access to a great number of   steep and variegated terrain with more than 2,000m of vertical fall.  The upper part is high alpine ground.
Due to regular and heavy snow fall Gulmarg offers excellent powder snow conditions with an average snow depth of 3m. The snow quality and the huge number of variegated descents were described by many professional skiers as key differentiator of Gulmarg.  Due to heavy snow fall, Gulmarg is prone for avalanches and during such periods skiing is closed for many days.
Manali in Himachal Pradesh
Located at 2,050m above the mean sea level on the hills of Himalayas in Himachal Pradesh, Manali is also known as honeymooners' paradise is one of the best skiing places in India. Manali is a beautiful destination with plenty to offer.
The season to do skiing in Manali is from February till April when thick blanket of snow is available but best season is December end till January end.
 Skiing is done at Soland which is located at 13 Km from Manali.  Apart from Solang, best places for skiing in and around Manali are Kothi, Patalsu, Marhi, Gulaba, Dhundi and Rohtang.  These peaks have some of the best powdered snow to ski in the world Manali also offers for Heli Skiing organised by Himachal Heli Skiing (HHS) since 1989 in places like hanuman tibba and Rohtang pass where peaks are very high.
The Directorate of Mountaineering and Allied Sports in Manali is one of the premier institutions for skiing
Skiing packages in Manali depends upon the number of people and type of skiing chosen you can opt for group skiing or individual skiing. Rates also differ accordingly. There are two types of skiing in Kullu Manali region, one is small route nearly 7Km and another one is 14Km

1) Short Skiing in Manali: Short Skiing is around 7Km stretch.  Short skiing is usually preferred by beginners and people who have come for some adventurous holiday. These skiing sites are just 18 Km from Manali town and it hardly takes half hour drive to reach.
2) Long Skiing in Manali: It's usually around 14 Km of stretch and mostly liked by either professional skiers or hard core adventure enthusiasts. This skiing adventure is like white water skiing in river Beas. There are many operators who would provide with all skiing dress and other requirements. 
Some of the best places to visit near Manali are Rohtang Pass, Solang Valley, Hidimba devi temple, Beas River.
Kufri in Himachal Pradesh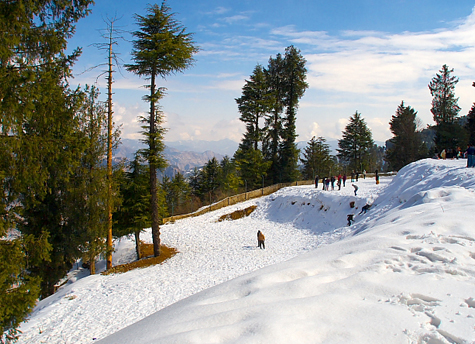 Kufri is a small town just 10Km from Shimla. Kufri is derived from the name Kufer which means pond. It was mainly recognised during the British period when British made Shimla as their summer capital.
During the snow season, Kufri turns into a paradise on earth.  Many throng to Kufri to enjoy the weather and snow. It is also very good place for skiing. As it is quite close to Shimla people can stay in Shimla and make a short trip to Kufri or else there are many good places available at Kufri to stay.
Kufri is situated at an altitude of 2,633m above the sea level. Its best time for skiing is December to January when loads of snow is present. For beginners, there are several gentle slopes to do skiing without too many risks, while the intermediaries and the professional skiers go for the slopes of Mahasu. The government offers a number of ski courses ranging from a day to several days.  Ski equipment are available for hire as well as experienced instructors to teach.
Another popular winter sport has gained popularity in Kufri with tourists who want to enjoy sliding down the slopes without too many skills compared to skiing which requires skills and practice
Narkanda in Himachal Pradesh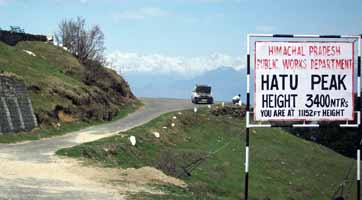 Another place in Himachal Pradesh which is famous for skiing is Narkanda. It is situated 65 Km from Shimla surrounded by the Shivalik Range that span a large part of Himachal Pradesh. One of the oldest destinations for skiing is Narkanda. It started during British period. It is at an altitude of 2708 meters on the Hindustan-Tibet Road in Himachal Pradesh, India.  Hatu Peak which is at 5 Km from Narkanda and Kotgarh is 16 Km from Narkanda and famous for apple orchards.
Skiing is one of the major tourist attraction in Narkanda. It is done on the slopes when it is thickly covered by snow. There are different slopes for skiing from beginners to the experienced skiers.
Skiing slope at Dhovdi in Narkanda see many skiers from different corners of the country. Some of the important ski slopes are the Hatu peak in Narkanda which is 8kms from Narkanda. Surrounded pine trees and mountains it is one of the best places for skiing.
The slopes are filled with thick cover of snow in the winter months, which makes them a paradise for cross-country skiers. Also, the snow is also soft in nature. The steeper ends of the slopes are used by the professional skiers for skiing. There are also government institutions which offer all required equipment's for skiing.
The best season for snow skiing is January and February
Safety first! Some safety tips for your benefit:
1.       Get acclimatised to the heights before you start any serious activity. 
2.       Take an MTNL/ BSNL mobile connection as most of the other services don't work on the mountains and its  slopes
3.       Check information on potential avalanche before doing skiing
4.       Wear proper Helmet and layers of cloth
5.       If area  beginner do it with a guide
6.       Use proper ski equipments
7.       Exercise caution to avoid being exploited
Above all, we welcome your comments/ feedback/ sharing your travel experience on similar trips

Update on coronavirus in India
Affiliate Disclosure:
If you make any purchase via a link on this site, I may receive a small commission with no added cost to you.