Andaman and Nicobar Islands
Here are quick links within the page.
History of Andaman and Nicobar Islands
Andaman and Nicobar Islands
Quick facts:
Country: India
Capital: Port Blair
Official Language:  Hindi, English
Languages Spoken: Hindi, Bengali, Tamil, Telugu, Malayalam, Nicobarese
 Andaman and Nicobar Islands are the beautiful islands which comprises of around 570 islands is a Union territory of India. It is a group of islands covering an area of 8,073sqkm is at the juncture of Bay of Bengal and Andaman Sea. Port Blair is the capital of the territory. The Andaman and Nicobar Islands are separated by 150 Km wide Ten Degree Channel. Andaman lies to the north of the latitude and Nicobar lies to the South with Bay of Bengal lying towards west and Andaman to the east. Tourism is the major industry in Andaman and Nicobar Islands due to the presence of mesmerizing beauty. Andaman and Nicobar Islands is famous for Islands and Beaches.

Update on coronavirus in India
History of Andaman and Nicobar Islands
Andaman and Nicobar islands has a very rich history and very interesting history. Some of the archaeological evidence shows that the island is around 2200 years old. It is believed that Marco polo was the first traveller to visit the islands. During the Chola period Rajendra Chola used Andaman and Nicobar Islands as a naval base for a fight against Indonesia's Sriwijaya Empire. They called the islands as Ma- Nakkavaram. However the Andaman and Nicobar islands has a very interesting history during British Empire.
In the year 1756, the Dutch had colonised the Nancowry group of islands in Andaman and Nicobar. Even after several attempts from the Dutch to build a colony in Nancowry they could not do it and finally handed over the Nicobar group of Islands to British.
By 1789 the British colony established a naval base at Chatham Island. Due to repeated outbreak of Malaria in the islands the Andaman and Nicobar Islands were abandoned by British in the year 1796, however the British resumed control on island back in 19th century. In 19th century the local and the native people of the islands attacked the crews of the ship and the British people. This raised a lot of concern to British. They decided to do settlement with the local natives of the island in the year 1855.
But due to the Indian Rebellion of 1857 many rebellions were forced to be prisoners and moved to Andaman. Britishers were in need of urgent construction of prison. The construction of the prison was started in the year 1857 at Port Blair. The labourers were the prisoners who were in the Andaman and Nicobar Islands. Later British used Andaman and Nicobar as a penal colony which was later named as Kalapani or Central Jail. British started sending all the criminals and people who raised voice against British were sent to Kalapani.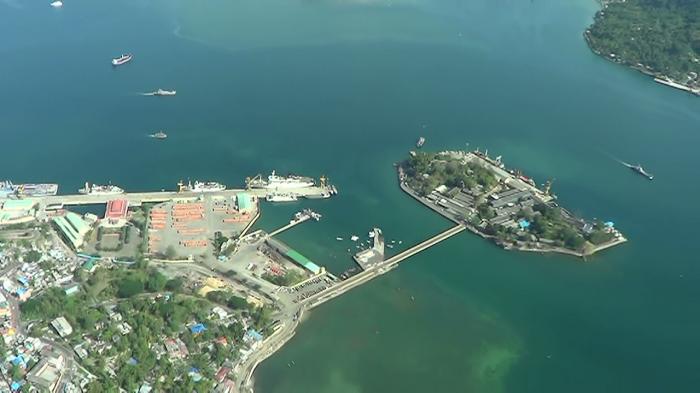 The British also sent prisoners from India and Burma to Andaman and Nicobar Islands. They sent the freedom fighters to prison at Andaman and Nicobar islands and they also tortured them by chaining them and hitting hard on them. The freedom fighters were sent to dense forests to cut trees and clear the lands. They were given very less time to complete the work otherwise they were beaten to death. The prisoners who protested were hanged to death.

During world war II the island was under the control of Japan from 1942-1945 and later under the control of India. During this period of Japanese rule they built huge military infrastructure. Japanese military forces used Port Blair harbour as surveillance base for sea planes. On 7th October 1945 our Indian infantry brigade of South East Asian allied force under command of Brigadier Solomon attacked Port Blair and made the 20,000 Japanese soldiers to surrender on 9th October 1945. It was a huge victory to India. After India got independence in 1947, Andaman and Nicobar Islands were made the Union territory in the year 1950. After independence India spent money and time in developing the islands and also has developed defence facilities in the islands since 1980.

Geography of Andaman and Nicobar Islands
Andaman and Nicobar are beautiful Islands located between Bay of Bengal and Andaman Sea. 37 islands are totally inhabited out of 570 islands. Great Andaman is the island group on Andaman Islands which comprises of seven major islands that are the North Andaman, Interview Island, Middle Andaman, Long Island, Baratang Island, South Andaman and Rutland Island.  The Andaman Island together consists of five groups namely Great Andaman, Little Andaman, Ritchie's Archipelago and East Volcano Island. The ten degree separates the Nicobar Island from Andaman Island. Saddle Peak is the highest peak in the North Andaman Island.   The Andaman and Nicobar Islands extend from 6o to 14o latitude of north and 92o to 94o East Longitudes. The Andaman group of islands are covered over an area of 6170 Km2 and the Nicobar group has about 247 islands which is covered over an area of 1765 Km2 .
Andaman and Nicobar Islands also houses the only volcano known as Barren volcano present in Barren Island. It is a very active volcano and the last time it erupted was in the year 2017. There are also many mud volcanoes which are called as Jalki in local language. The terrains in the Andaman Islands are very rough and have narrow hills where as the terrain in Nicobar island is more diverse. Car Nicobar is famous for the flat coral covered surfaces and great Nicobar consists of fresh water surface.

Climate of Andaman and Nicobar Island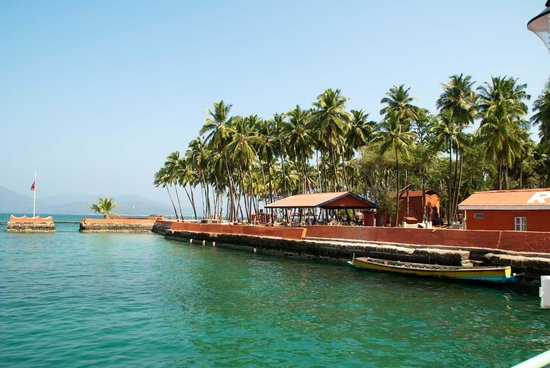 The islands experience tropical type of climate. Due to the presence of sea the weather is relatively very humid and pleasant in the evenings due to the sea breeze. Temperatures relatively remain same through out the year between 23oc and 30oc. The monsoon season is from May to July where the islands receives heavy rains and is probably the worst season to visit. There would be occasional rains from September to November. There is no different seasons as the temperature remains same mostly throughout the year. The best time to visit Andaman and Nicobar islands is from November to April. The best clothing is cotton throughout the year due to humid conditions.

Religion and Languages spoken
Majority of the people in Andaman and Nicobar islands are Hindus with 69%, and then are the Christians who form 21% and the remaining are the Muslims and other minority religions. Hindi is the official language in Andaman and Nicobar islands. Other languages that are spoken by the locals here are Bengali, English, Tamil, Telugu, Nicobarese and Malayalam. Even though Hindi and English are the official language still Bengali is spoken by 29% of Locals in Andaman and Nicobar islands.

How to reach Andaman and Nicobar Islands
By air: The nearest airport is Port Blair. It is well connected by all the major cities of India. Air India is the most important carrier to Andaman. Advance bookings of tickets are advisable as the tickets may become get expensive especially during the season time.
By Sea: Regular passenger ships are available from Chennai, Kolkata and Vishakapatnam. It is less expensive but takes 4-5 days to arrive at Port Blair depending upon the weather conditions. Foreign tourists require visa and permits from the Indian authorities to visit Andaman and Nicobar islands. Indian nationals require permit only to visit Nicobar islands and other tribal areas. For further information on the tariffs and schedules can be obtained from the following places
· The Directorate of Shipping Services, Andaman and Nicobar Administration, Phoenix Bay
Jetty, Port Blair (For MV Nancowry and MV Swarajdweep)
Phone:(03192232528/232742


.Shipping Corporation of India Limited., Shipping House, No. 13, Strand Road, Kolkata-700001
Phone:(033)2482354,2488013


·M/s A.V. Bhanojirao and Garuda Pattabhiramayya and Company, Post Box No. 17,Vishakapatnam (Agent Shipping Corporation of India Limited.)
Phonel:(0891)565597,562661


·Shipping Corporation of India Ltd., Jawahar Building, Rajaji Salai, Chennai - 600001
Phone:(044)25231401


· Shipping Corporation of India Ltd., Aberdeen Bazar, Port Blair-744101
Phone:(03192)233347,233590


·Shipping Corporation of India Limited. Apeejay House, 4th Floor, Dinsa Wacha Road,Mumbai-400020
Phone:2822101,2823316


· The Deputy Director of Shipping Services, A&N Administration,6, RajajiSalai, Chennai-600001.
Phone: (044) 25220841/25226873 

Tourism in Andaman and Nicobar Islands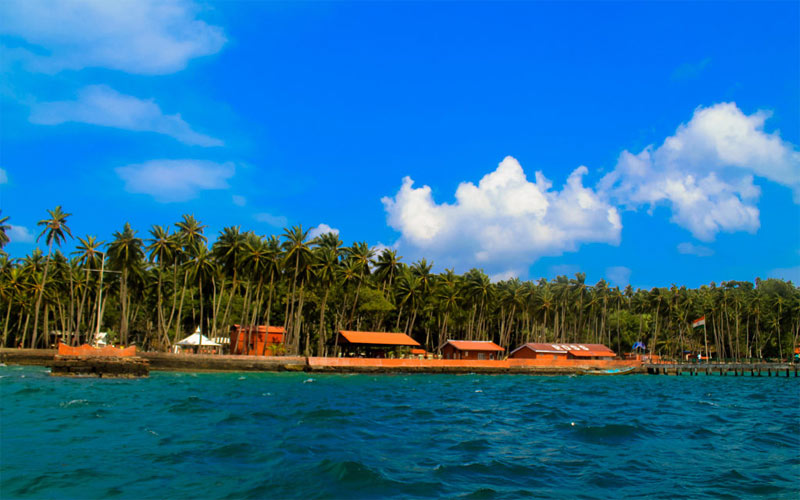 Andaman and Nicobar islands are the most sought of tourists destinations in the world. Andaman is an archipelago (group of Islands) with over 600 islands of which 37 islands re inhabited. Tourism is the major and important industry in Andaman. With exotic beaches and serene islands tourists get to do many adventures activities and enjoy till the end of the stay. Some of the major tourist's destinations are 

Port Blair: Being the capital of Andaman's there are many places to visit and enjoy. Some of the important places to visit in Port Blair are Cellular Jail. This was built by the British in 1896 and completed it by 1906 to transport all the freedom fighters and other inmates to Andaman. Some of the famous inmates of cellular jail are Batukeshwar Dutt, Yogendra Shukla and Vinayak Damodar Savarkar. Today the cellular jail serves as a national memorial monument.

Mahatma Gandhi Marine National Park. This park is rich in corals and other fishes, sea turtles and many aquatic animals.
Some of the other places in Port Blair are Mini Zoo, Anthropological Museum, Fisheries museum, Naval Museum, Ross Island, Viper Island, Corbyn's Cove, Mount Harriet and Wandoor Beach.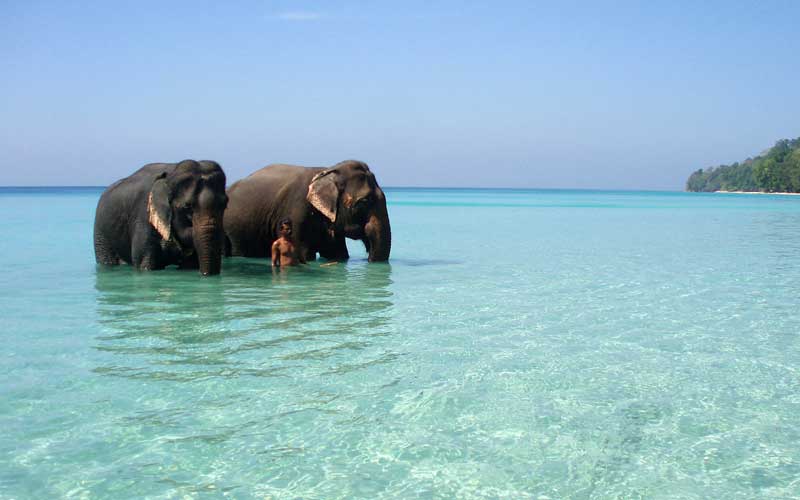 Havelock Island: Also known as swaraj Island is one of the largest Island which comprises chain of Island to the east of Great Andaman. The island can be reached by government run ferries and private cruises from Port Blair.

Ross Island: It is also known as Netaji Subhash Chandra Bose Island. It is located 3 Km east from the central Port Blair.

Baratang Island: It is around 90Km from Port Blair. This Island has mud volcanoes Limestone caves and Mangrooves trees. Road conditions are not so very good.

Barren Island: It is the only one island to have volcano in India. The island stands in the middle of a volcanic belt on the edge of Indian and Burmese Tectonic plates. Another Volcanic island located in Andaman Sea is Narcondam Island. This Island lies 256 Km north east of Port Blair.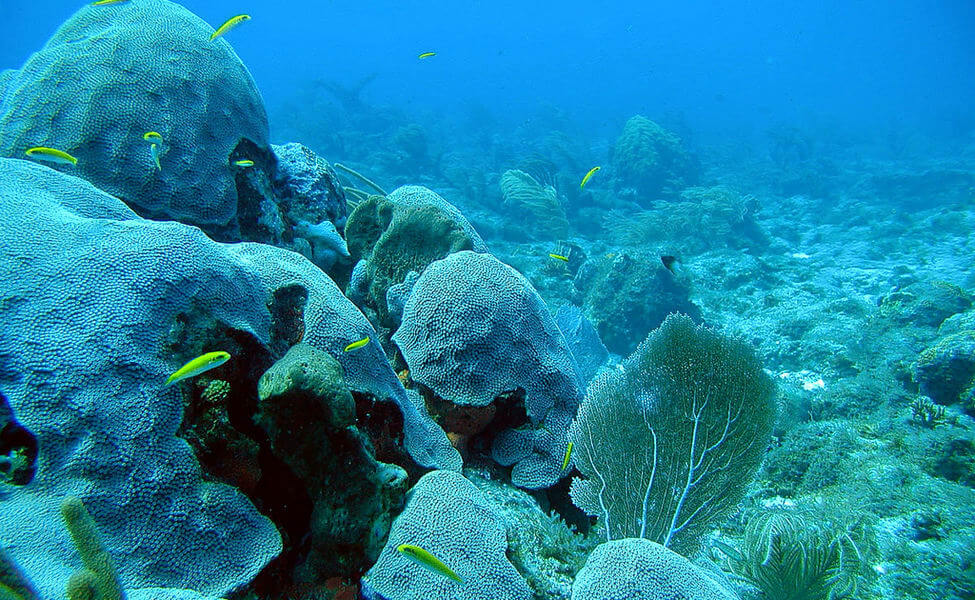 Little Andaman: It is the fourth largest of the Andaman Island. It belongs to Little Andaman group and is separated from Rutland Archipelago in Great Andaman by the Duncan passage. There are variety of games offered to tourists in little Andaman like surfing, boating, scuba diving and many more.

Jolly Buoy Island: This island s famous for the corals present under the clear beach. It is one hour journey from Wandoor Island. it is part of Mahatma Gandhi Marine National Park. It is one of the best places to do some adventures activities like snorkelling and scuba diving. This island is not open throughout the year; it is open only from November to May. It is a must visiting place and hence tourists should make sure that the island is open before planning a trip to Andaman.

Neill Island: This beautiful island belongs to Ritchie's Archipelago and is located between Havelock Island and Rock Island. Neill Island is also known as vegetable bowl of Andaman. The island is famous for snorkelling. People started to live only after 1960's in this island.
Viper Island: Viper Island is another beautiful Island in Andaman Islands. The Island derived its name from the vessel HMS Viper in which Lt Blair came to Andaman Islands in the year 1789. It is a beautiful destinations very closely located to Port Blair harbour.

Other than these places there are many more places and beaches to visit in Andaman and Nicobar Island. It is one of the best tourists places to have fun with some adventures activities and in beaches.
Do share your experience with us here
Affiliate Disclosure:
If you make any purchase via a link on this site, I may receive a small commission with no added cost to you.