Nahargarh Fort Jaipur, Rajasthan
 Nahargarh Fort Jaipur:
Nahargarh Fort in Jaipur is another famous tourist place in along with Amer fort and Jaigarh fort, Hawa Mahal, City Palace, Jantar Mantar Built in the year 1734 by maharaja Sawai Jai Singh-II who founded Jaipur is located on Aravalli Hills.
The original name of the fort was Sudhashangarh however later it was renamed as Nahargarh which means 'Abode of tigers. It is believed that the spirit of Nahar Singh Bhomia obstructed the construction of the fort, hence, to pacify the spirit a temple was built in his name inside the fort. Later on, Nahargarh Fort was also named as Nahargarh.

Architecture of Nahargarh Fort  Jaipur
The Nahargarh Fort is built in the Indo-European architecture. One can have a magnificent look of the Jaipur city from the fort. The Nahargarh Fort also comprises of Biological Park which has some beautiful flora and fauna. 

The fort got further extended in the year 1868 by Sawai Ram Singh. Sawai Madhao Singh built Madhavendra Bhavan which consists of suites for king and queens. 'Zenana' which is a royal quarter for queens was built by Maharaja Sawai Jai Singh 2. The beauty of 'Zenana' is worth viewing. There is also 'Mardhana Mahal' constructed for royal men which was used for massaging.
This fort has never been attacked during war times but however it saw some major treaties taking place like treaties with Maratha forces and it was also used as shelter by many British royals during the sepoy mutiny in 1857.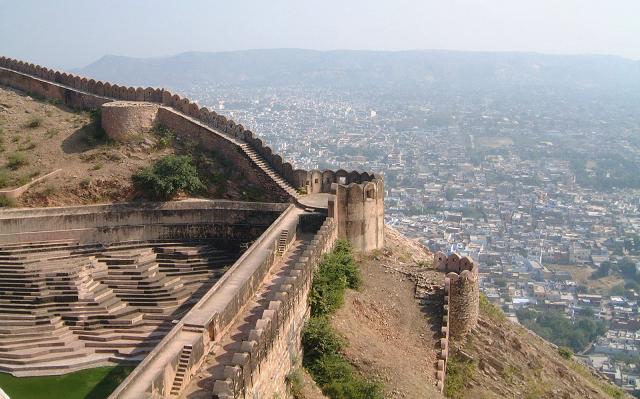 The fort is open from 10 am to 6 pm on all days with minimal entry fee.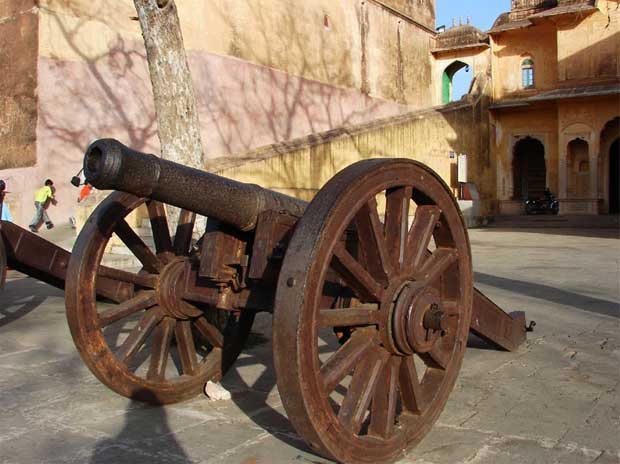 Jaigarh Fort- Jaipur
Jaigarh fort: Jaipur has three famous forts Amer Fort, Nahargarh Fort and Jaigarh Fort.  Jaigarh fort was built by Jai Singh-II in 1728.  It was mainly built to protect the Amer Fort. Located on a cliff called as 'Cheel Ka Teela' of Aravalli Hills, one can have a beautiful scene of Jaipur, Amer Fort and the Moata Lake.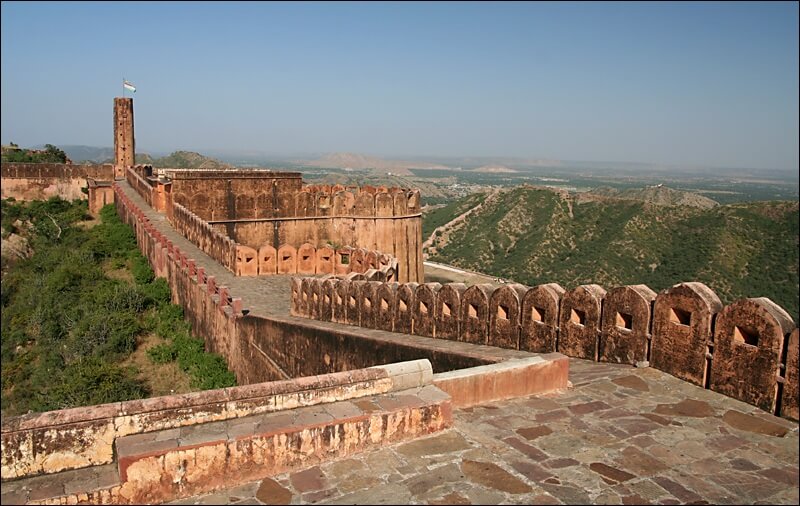 The brain behind this fort is Vidyadhar.  The fort was also used as a storing house of bullets and other arms. Due to the presence of large arms and ammunitions the fort became one of the cannon foundries during Mughal period. This was guarded by Dara Shikoh.
But later after Aurangzeb defeated Shikoh it came under the direct control of Jai Singh-II as per the orders of Muhammed Shah. The fort has a largest cannon called as Jaivana. Weighing around 50 tones it is believed the largest cannon on wheels.
Architecture of Jaigarh Fort-Jaipur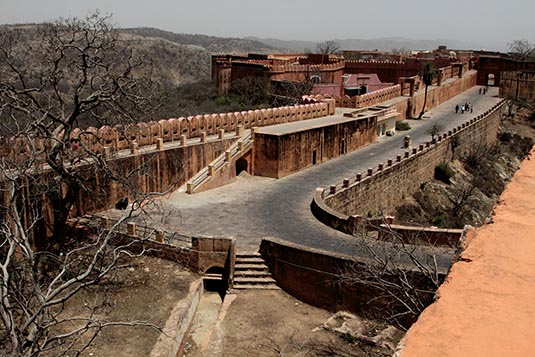 The fort is highly fortified with thick walls built by red sandstone.  Inside the fort one can have a look at Laxmi Vilas, Lalit Mandir, Vilas Mandir, Aram Mandir, armoury (this has a huge display of arms, like swords, shields, guns that were used during war times) and museum (displays paintings and photography of royal family, stamps and many artefacts that were used during the maharaja's period).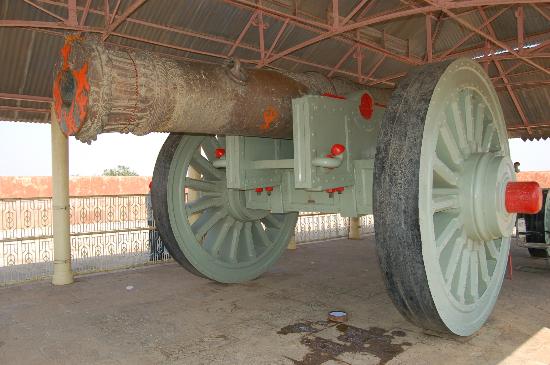 Both the Jaigarh fort and the Amer fort are interconnected and are considered as one complex. The fort is built on Indo- Persian style with huge walls being plastered with lime mortar.
The fort consists of two temples one is Kal Bhairav temple built in 12th century and the other is Ram Harihar temple built in 10th century. To prevent water scarcity in the fort, large underground water tanks are built which has a capacity to store up to 6 million gallons.  
The fort is open from 9:30 am to 5pm. Photography is allowed at all forts. Best time to visit if from October-March when Rajasthan experience pleasant climate. 
Affiliate Disclosure:
If you make any purchase via a link on this site, I may receive a small commission with no added cost to you.