Nahargarh Fort Jaipur, Rajasthan
Nahargarh Fort Jaipur:
Quick Facts:
Country: India
State: Rajasthan
Location: Jaipur, Rajasthan
Built: 1734
Built by: Maharaja Sawai Jai Singh
Visiting Hours: 10 am to 5:30 pm.
Best time to visit: October to March is considered as the best time to visit Rajasthan.
Nahargarh is one of the most important tourist places in Jaipur, Rajasthan, India. The fort gives a breathtaking view of the pink city. The extended wall of Nahargarh fort connects to another impressive fort known as Jaigarh fort. It stands tall at the edge of Aravalli Hills. The three massive forts of Jaipur- Amer fort, Jaigarh fort and Nahargarh fort stood as a strong defense of Jaipur city.

Built in the year 1734 by Maharaja Sawai Jai Singh-II who founded Jaipur. The original name of the fort was Sudhashangarh however later it was renamed as Nahargarh which means 'Abode of tigers. It is believed that the spirit of Nahar Singh Bhomia obstructed the construction of the fort, hence, to pacify the spirit a temple was built in his name inside the fort. Later on, Nahargarh Fort was also named as Nahargarh.
The fort consists of two temples one is Kal Bhairav temple built in 12th century and the other is Ram Harihar temple built in 10th century. To prevent water scarcity in the fort, large underground water tanks were built which have a capacity to store up to 6 million gallons.  
How to Reach Nahargarh Fort
Jaipur is the most important tourist destination in India. It is well connected through Air, Rail and Road.
By Air: Jaipur International airport is in Sanganer. It is located at a distance of around 10 km from the city centre. It has both domestic and international flights.
By Train: Jaipur is the headquarters for the Northwestern Railway zone of Indian Railways. Jaipur has three railway junctions at Gandhinagar, Durgapur and Jaipur Main. The city is well connected through rail from major cities like Delhi, Mumbai, Chennai, Bangalore, Kolkata and many more.
One can also plan to go in the luxury "Palace on Wheels train". It is 7 nights and 8 day's journey which starts from Delhi and covers cities like Jaipur, Ranthambore tiger reserve, Chittorgarh Hill Fort, Udaipur, Jaisalmer, Jodhpur, Bharatpur Agra and then returns to Delhi.
By Road: Jaipur is located on NH-8 which connects to Delhi and Mumbai. It is also connected through NH- 11 and NH-12.  There are a number of buses both from the state road transport corporation and private agencies.
History of Nahargarh Fort
The gigantic structure of the fort was built with an intention to protect the pink city. The credit of building this massive structure goes to Maharaja Sawai Jai Singh. He was the 29th Kachwaha Rajput ruler of the Kingdom of Amber. He is also the founder of Jaipur city and made it the capital city. The fort not only encompassed the city to protect it but also glorified the place with its wonderful work.
The fort was constructed as a place of retreat on the summit. The walls which were extended over the surrounding hills connect Nahargarh fort to Jaigarh fort. The Europeans along with the British Resident's wife were given protection by the king of Jaipur, Sawai Ram Singh during the Indian Mutiny of 1857.
The fort was renovated and was further extended in 1868 during the reign of Sawai Ram Singh. Many palaces were built between 1883-92 by Dirgh Patel. The Madhavendra Bhawan which was built by Sawai Madho Singh even had separate suites for the queens of Jaipur. All these suites were connected to each other by corridors which had a kitchen, bedroom and other important sections. The suites are beautifully adorned by the Rajput Mughal paintings with themes of lifestyle of Rajput's.
The fort is surrounded by dense deciduous forest which is part of Nahargarh Biological Park. The park is home to many wild animals.
Architecture of Nahargarh Fort  Jaipur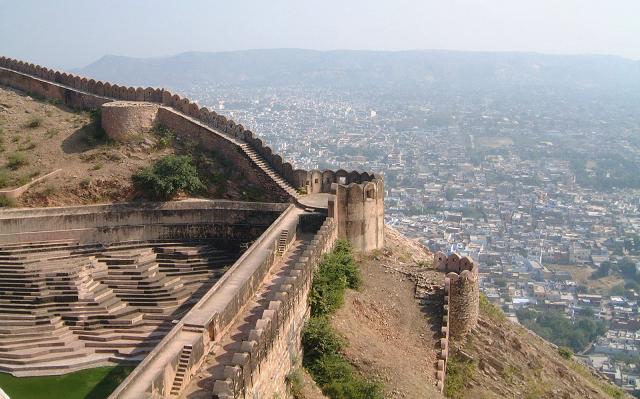 The Nahargarh Fort is built in the Indo-European architecture. One can have a magnificent look of the Jaipur city from the fort. The Nahargarh Fort also comprises of Biological Park which has some beautiful flora and fauna. 

The fort got further extended in the year 1868 by Sawai Ram Singh. Sawai Madhao Singh built Madhavendra Bhavan which consists of suites for king and queens. 'Zenana' which is a royal quarter for queens was built by Maharaja Sawai Jai Singh 2. The beauty of 'Zenana' is worth viewing. There is also 'Mardhana Mahal' constructed for royal men which was used for massaging.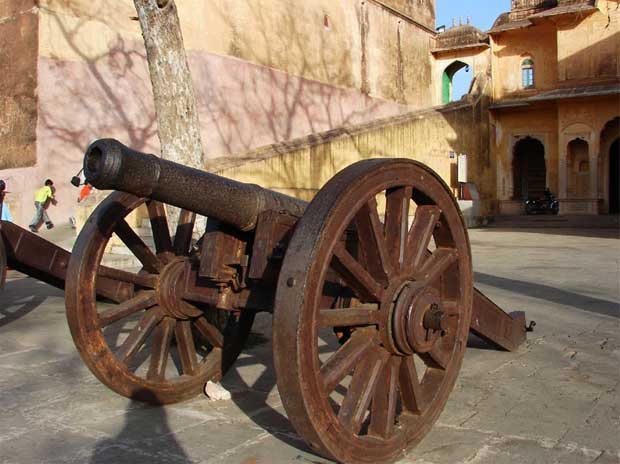 Update on coronavirus in India
Best Time to Visit
Best time to visit: 
Jaipur experiences a semi-arid climate with long hot summers and short mild winters. Due to extreme heat, October to March is the best season to visit the place.
Climate:
Summer season: Summer months are from April to June. The maximum temperature hovers around 49 degrees Celsius.  It would be very hot and dry during this period. Hot and dry air keeps blowing throughout the day as even the minimum temperature hovers around 30 degrees Celsius
Monsoon seasons: the months of July and August are considered as monsoon months. There are frequent heavy rains but no flooding. The maximum temperature hovers around 40 degrees Celsius during this season
Winter season: October to March are the winter months and also the best period to visit the place. These months are pleasant, dry and chill with minimum temperature sometimes falling to 4 degree celsius during peak winter months of December and January
Affiliate Disclosure:
If you make any purchase via a link on this site, I may receive a small commission with no added cost to you.