Engineering in India

Level 1 engineering institutions in India
Engineering in India. After Independence Govt of India tried to promote higher and skilled education.  In this process, some of the following prestigious institutions have in different fields have been set up and nurtured:
1.      Prestigious Institutions in field of Engineering:  Based on the level of proficiency the Engineering colleges can be grouped into three levels. 
Level 1 Institutes
Under level 1 colleges one can group IITs/ IISc/ IIEST.  First IIT to be set us was IIT Kharagpur in the year 1951.  IIT Bombay was the next to be set up in 1958.  IIT Kanpur and IIIT Madras were set up in 1959 while IIT Delhi was set up in 1961.  IISc - Indian Institute of Science (earlier known as Tata Institute) was founded in the year 1909  by Jamsetji Nusserwanji Tata, the Government of India, and the Maharaja of Mysore and the Institution is located at Bangalore.  Until 2008, when the Government declared 6 more new IITs, there were only 5 IITs (IIT Kharagpur, IIT Bombay, IIT Kanpur, IIT Madras, IIT Delhi and IISc Bangalore) and IISc serving the country for 5 decades.  Today there are 23 IITs all over India and they are located at Bhubaneswar, Bombay, Bhilai, Delhi, Dharwad, Dhanbad  Gandhinagar, Guwahati, Hyderabad, Indore, Jodhpur, Jammu,  Kanpur, Kharagpur, Madras, Mandi, Patna, Phalghat, Panjim,   Roorkee, Ropar, Tirupathi, Varanasi.  IITs offer courses in graduations and post graduations while IISc offers for post graduation.  Both IITs and IISc offer doctorate.
Indian institute of engineering science and technology. (IIEST) Indian institute of engineering science and technology, Shibpur. This institute got upgraded to IIEST in the year 2014. Another university in Kochi is still not upgraded to IIEST.
Indian Institute of Information Technology (IIIT)
It is an undisputed truth that 21st century belongs to Information and Technology (IT).  Govt of India has been quick to recognise the same and in the process to align the academics with the potential future needs of the industry, Govt of India has tried to carve out specific institutes for higher learning in India in the field of Engineering by creating Indian Institute of Information and Technology (IIIT).  It is interesting to notice that Govt of India has chosen the path of Public Private Partnership (PPP) so that there is continuous involvement of private sector in academics so as to keep the higher leaning closer to the potential needs of industry rather than pure academics.  Currently there are 5 IIITs and 15 PPP in India and 4 more expected launched soon under PPP

Level 2 engineering institutions in India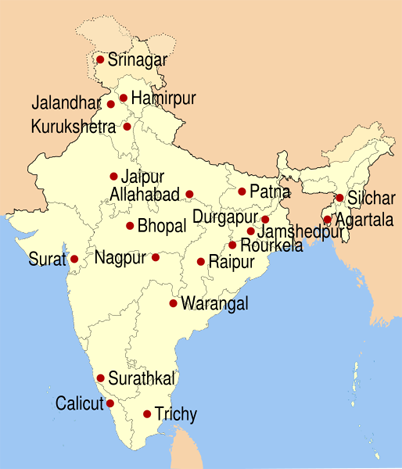 Under level 2, one can group all the National Institution of Technologies (earlier known as Regional Engineering Colleges - REC).  There are 31 NITs all over India - one per state and couple of others are in Union Territories.  NIT offers courses at various levels from bachelors, masters and doctorate.
Admission to IITs, IISc, IIIT and NIT's is based on JEE (Joint Entrance Examination) conducted by the IIT's.  The details/ pattern of JEE entrance is given above.  Pattern of JEE
JEE exam is split in to two stages – JEE Mains and JEE Advanced

JEE Mains is conducted in two papers and one can take both the papers.  Paper 1 is for qualifying to B.E or B.Tech courses while Paper 2 is for B. Arch and B. Planning. 

Paper 1 is a 3hour test in physics, chemistry and mathematics consisting of 90 multiple choice questions.  Correct answer carries 4 marks while wrong answer carries 1 negative mark.  Paper 1 is conducted online and offline as well

Paper2 consists of mathematics, drawing and aptitude test. It is paper pen test and not a multiple choice questions. 

Paper2 consists of three parts part 1 is aptitude test for 50 questions of 4 marks each. Part 2 consists of mathematics of 30 questions of 4 marks each. Part 3 consists of 2 questions of 70 marks which are done on a drawing sheet.

From the year 2017, class 12 marks are not considered while calculating JEE Mains score.

Top 2,20,000 students in JEE mains are allowed to take part in JEE advance in 2017.  This number was 2,00,000 in 2016 and 1,50,000 in 2015.

There are certain restrictions on age and number of attempts while there are also certain relaxations to based on states, caste etc.

Use of calculator, mobile is not allowed. Use of log book, note book is not permitted.
Level 3 engineering institutions in India
Other than Level 1 and Level 2 institutes, there are many autonomous or affiliated institutes of high repute which offer course in Engineering at the level of bachelor's, master's and doctoral levels.  To get into these institutions one has to clear the common entrance test of that particular state or entrance exam conducted by the institute itself.  It is out of bounds to cover all such institutes, however an attempt has been made to cover some of them as below:
Birla Institute of Technology and Science (BITS), Pilani.  The institute was established in the year 1964. It is a deemed university under section 3 of UGC act 1956. It offers higher education. Since 2005, admission to BITS is done on the basis of the percentage a student scores in All India Entrance exam conducted by BITs admission test.
The test is conducted online in the month of May and June all over India. Application needs to be submitted in the month of December. The pattern of exam is basically on reasoning and analytical abilities in English, physics, chemistry, mathematics, and logical reasoning. The eligibility for the exam is minimum 75% in 12th or PUC. The courses offered in master's degree are in engineering, pharmacy, public health and business administration. The campus is located in Pilani (Rajasthan), Goa, Hyderabad in India and in Dubai outside India.
Anna University, Chennai- Another important university located at Guindy, Chennai, Tamil Nadu. It was founded in the year 1978. In 2001 as per the Anna University Amendement act all the engineering colleges in Tamil Nadu came under the control of Anna University. After the abolition of entrance exam for the Engineering, Tamil Nadu Engineering Admissions or TNEA in short, is a department of Anna University that looks after admissions to B.E & B.Tech courses in engineering colleges all over the state.
All engineering colleges which are under the control of Anna University admit students based on their marks in 12th standard board examination or PUC done from the state board in the subjects of Maths, Physics and Chemistry. There is NO separate entrance test in Tamil Nadu for admission to engineering colleges. After the result of 12th or PUC one can fill the online or offline form and submit it to the TNEA. Based on the merit, the TNEA announces the list of the selected candidates. Selected candidates are informed well in advance about the place of counselling.
Update on coronavirus in India
Affiliate Disclosure:
If you make any purchase via a link on this site, I may receive a small commission with no added cost to you.