Jal mahal  Jaipur
 Jal Mahal Jaipur
Jal Mahal in Jaipur along with Hawa Mahal and City Palace is one of the most beautiful tourist spot in Jaipur. It is located 6 Km from Jaipur city.  It is also called as water palace is located in the Mansagar Lake. It was built by Mahraja Pratap Singh but however it was renovated by Maharaja Jai Singh-II in 18th century.  One can have a mesmerising look at the Nahargarh Fort from here. The architecture is the blend of Rajput and Mughal style giving a beautiful view of the lake.  To visit the palace one has to take the traditional boats built by the boat makers from Vrindavan. The area around the palace had a natural depression but later on due to drought Maharaja constructed the lake was built by constructing a dam across the Dharbawati river which is between Khilagarh hills and Nahargarh hills.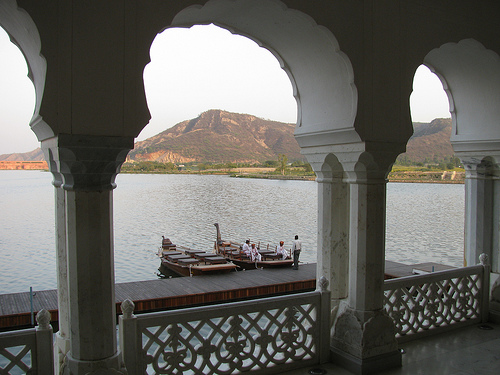 Architecture of Jal Mahal  Jaipur
Built in red sandstone the palace consists of five floors, but when the lake is full four floors get submerged in water and only the top floor can be seen. The roofs and the walls of the palace are filled with paintings of Mahraja's and their stories. The elevated dome shaped pavilions called as Chattris on the roof resembles the Bengal architecture. These chattris are octagonal in shape. The palace contains a roof top garden called as chameli bagh which contains exquisite lush green garden all around. The four corners of the garden contain high rise flower beds where one can sit and enjoy the greenery all around. The garden consists of many varities of shrubs, many variety of white flowers like Chameli, Champa and Bargad trees.  The lake was home for many migratory birds like red shank, coot, ruff, grey wagtail and many more. The lake is also home for many aquatic animals like fish, plants, insects etc.  Near the hilly areas soil erosion was caused due to stripping of forest in certain areas. This caused increase in the silt built up inside the lake raising the height of the bed. Hence to improve the condition of lake many new restoration projects have been taken up by the government.

How to reach Jal Mahal in Jaipur
The best time to visit the palace is from October till March as remaining months are very hot in Rajasthan. The palace is open from 9amto 6pm. Reaching any place is Jaipur is very convenient and easy. There are rickshaw pullers and good public transport. One can even drive down from Delhi. Jaipur has also airport, hence one can even fly down depending upon the connectivity.

Update on coronavirus in India
Affiliate Disclosure:
If you make any purchase via a link on this site, I may receive a small commission with no added cost to you.