Food for children 3 to 15 years
Children between 3 to 15 years.
For parents, it is a huge task to provide healthy and nutritious food for this age children keeping in mind the requirements for this age group and at the same time their likes and dislikes. This age group should have high protein diet as this is the age when kids gets transformed into adults and their limbs/ body's growth is maximum.  Ideal food should include small portion of starchy foods like potato/ rice/ bread/ rotis and good portions of milk, dairy products, meat, chicken, eggs, beans and lentils which are rich in proteins which are essential building block for the body.
A proper 3 meals with 2 snacks in between is required along with seasonal fruits.  Suggested diet for this age group is:
Breakfast some cereals, boiled eggs, upma, porridges with milk is ideally a good start for the day

Before lunch chicken soup or vegetable soup or cheese spread with some fruits

Lunch: chickpea dhal, chicken, pasta, rice, roti include lot of vegetables, fish

Around 4pm milk with some biscuits, small piece of potato, any fruit is ideal

Dinner: Vegetable khicdi, roti, chicken and a small portion of any fruit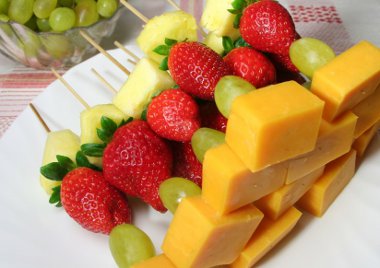 Healthy food for young adults 20-40 years
Life becomes busy and hectic for men and women of the age 20s and 30s. The bone grows till late 20s and hence providing good amount of calcium and vitamin D is required at this age. This is the age when people start earning their livelihood, start taking stress in life. One should not neglect health either for career prospects or because of any bad habits like smoking or excessive drinking.  It is important that the body is provided with balanced diet in adequate quantities as well as sufficient exercise is given to the body.  This is the age when health related issues may start developing if not taken care off.  Suggested diet for this age group is:   
Breakfast: One glass of milk, two to three boiled eggs, whole grains like cornflakes, porridges

Around 11am: A glass of juice, or any fruit is good

Lunch:  Salads, Cheese Pasta, chicken, fish, a cup of dal, brown rice, curd and seasonal fruits

Supper: Coffee or tea with some biscuits. Body needs carbohydrates around this time

Dinner: Dinner should always be light like soups, sprouts, 2 roti, a small cup of dhal, curd
It is important to give protein and carbs at right proportion in this age.

Your metabolism is in good shape when your are in early 20s and increased activity in personal and official front is of utmost important. Researches have found that people in early 20s grab more fast food than people in teens. Grabbing dinner or lunch means they are missing crucial nutrients which are required at this stage.
The most important nutrients that are required for this stage is Proteins which is the building block of the body, potassium for the proper functioning of the heart muscles and omega 3 fats which boost the serotonin(a compound present in blood platelets and serum, which constricts the blood vessels and acts as a neurotransmitter). Flaxseeds, canola oil contains omega2 fats.
Younger men around 20s who are moderately active need around 2800 calories while women need 2000 - 2200 calories for moderately active women. If both men and women are very inactive then it is recommended to consume less calorie than required as it may convert into fats and leads into obesity.

Update on coronavirus in India
Affiliate Disclosure:
If you make any purchase via a link on this site, I may receive a small commission with no added cost to you.