River Rafting
River Rafting
River rafting is a high adrenaline sport activity on the river by rowing over high water currents.  One needs to have courage and experience to do serious river rafting. Like skiing, white-water rafting is also one of the fun filled adventure sports. Also called as white water rafting it is a recreational outdoor activity done on the river. India has many rivers rafting places
White water rafting is divided into further levels based on the level of difficulty.  A raft is used to navigate on the river.  It is essential that river rafting is done under proper guidance and instruction from experienced instructors.  By following basic health and safety measures, even those who do not know swimming can enjoy this activity.
Packages for rafting are offered by a number of tour operators and travel agencies as a complete package, including few government agencies.  Generally, packages include food, equipment, life jackets, helmets, an expert guide, and accommodation. Double check on what you're paying for, and whether any additional charges are likely to be levied. Doing quick research before booking a package would certainly help.
Important destinations for River rafting in India
1.       Ganga River in Rishikesh, Uttarakhand
2.      Teesta River in Sikkim and Darjeeling,

3      Indus and Zanskar river in Ladakh, Jammu and Kashmir 
4       Barapole in Coorg district of Karnataka
5       Alakananda River in Uttarakhand

Grades in River rafting
Grades in river rafting
Based on the level of difficulty, river rafting is generally divided into six grades.
Grade1: There will be very small rough area and hence it can be done by people with none or little skills. This is a very basic level. This grade suits for non-swimmer and beginners.

Grade2: Some rough water, maybe some rocks. This grade is also for the beginners but however it needs little experience. 
Grade 3:  In addition to some rough water and rocks, there would be small waves in this grade.  This grade comes under difficult category and is not advisable for children.

Grade 4: Waves in this grade are medium in size and it is considered as very difficult level.  It is not advisable to venture into this grade without proper guidance. This level is not for beginners.
Grade 5: Waves in this grade are quite big possibly with large rocks. Should be done only by the experienced person in rafting. There is a high danger to limbs due to sudden jerks and fall.
Grade 6: Grade 6 is considered to be so dangerous that they are effectively not naviagable. Adults in good health, with excellent rafting skills and top quality equipment should try this level, that too with great caution.
Tools required for river rafting
Rafts: Rafts are inflatable boats made of either multi-layered synthetic rubber (Hypalon) or vinyl fabric (PVC). They measure anywhere between 3.5m (11ft) to 6m (20ft) in length, and 1.8m (6ft) and 2.5m (8ft) in width and are exceedingly durable. A proper raft is the most important equipment for river rafting.
Life jackets: They are the primary requirement for doing river rafting.  They come in different shapes and sizes. Life jackets are available in all sizes.  One should wear the right size and not over size or small size. 
Paddles: Paddles used for rowing in water are designed to give smooth strokes. If the paddles are highly refined and oversized, then it gives extra fun in rafting.
Helmets: Helmets are basically designed to prevent head injuries. The most important is wear a helmet which fits exactly and not too small or big.
Other important equipment's required are wet suit, dry suit and extra throwing bags. All these are provided in rafting camps you need not have to pay any extra for these.
Rafting in Rishikesh
Rishikesh in Uttarakand
Rishikesh is a small town located in Uttarakand at the foot hills of Himalayas. Rishikesh is 35 km far from Haridwar, 90 Km from Mussoorie, 25 Km far from Jollygrant airport Dehradun, and 240 Km far from New Delhi. It is one of the holy towns for Hindus. River Ganga flows through the town.
Weather in Rishikesh
Rishikesh has a very good weather condition. Summers are very pleasant, and winters are very cold. Except 3 months of monsoon, which stretches from mid-June to September, rafting in Rishikesh is in huge demand for the remaining 9 months. The months of February, March, April, May, October and November witness the highest number of rafters from all over the world. This is the peak period for rafting here.
Rafting in Rishikesh: River rafting is one of the main tourist attractions in Rishikesh.  In Rishikesh most of the rafting rapids are not more than grade 3 and hence beginners and tourists with kids like to raft at Rishikesh.  Kaudilya, Brahmpuri, Shivpuri and are small villages from where the rafting starts.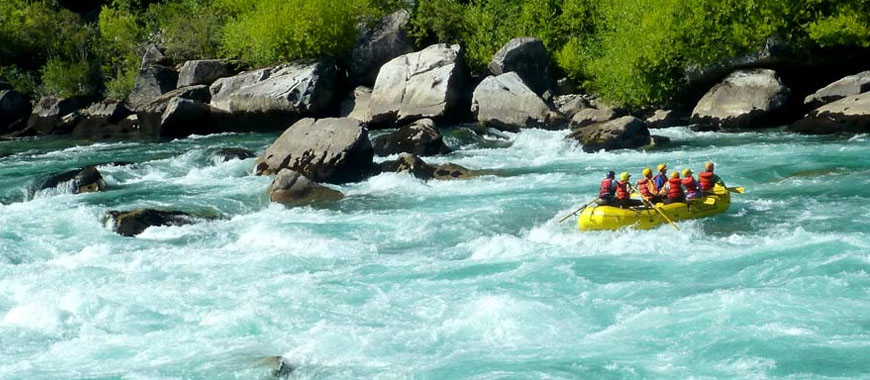 Different Rapids in Rishikesh
Kaudilya to Rishikesh
This stretch is mainly for experienced rafters only. It is an extremely energetic and risky rafting route and forms one of the most difficult rapids around the globe. The rapids on this route are dangerous and require loads of strength, determination and skill.
·         Stretch length: 36 Km
·         Grades of rapids: Grade I, II, III and IV
·         Major rapids: The Wall, Eddy Whirlpool and Daniel's Dip
·         Approximate time taken: 8 to 9 hours
Marine to Rishikesh
It is a difficult but not as difficult as Kaudilya to Rishikesh rapid. This stretch offers Grade II and III rapids. After crossing Shivpuri, the rapids become less demanding and offer ample time for adventurers to relax and relish.  In total, there are 14 rapids on the route. It is an ideal route for all the rafters having little/ no rafting experience to rafter with loads of experience. 
·         Stretch length: 27 Km
·         Grades of rapids: I, II and III
·         Major rapids: Black money, Cross fire, Golf course and Three blind mice
·         Approximate time taken: 4.5 to 5 hours      
Shivpuri to Rishikesh:
This stretch of rapids is for intermediate level. The rapids are of Grade II and III.  This rapid is neither too easy nor very tough stretch  and is ideal for beginners .
·         Stretch length: 16 Kilometers
·         Grades of rapids: II and III
·         Major rapids: Roller coaster, Return to sender, Double trouble and Golf course
·         Approximate time taken: 3 to 3.5 hours     
Brahmapuri to Rishikesh:
This stretch of rapid is ideally suitable for elders, kids and families. This is mainly for beginners. The water splashes offer utter delight to such adventurers. The rapids in this stretch are of mild nature. For all those who want to try river rafting expedition in Rishikesh for the first time, the Brahamapuri to Rishikesh stretch is ideal one.
·         Stretch Length: 9 Km
·         Grades of Rapids: II
·         Major Rapids: Sweet Sixteen, Body Surfing, Terminator, Hilton and Double Trouble
·         Approximate time taken: 1.5 to 2 hours
Bookings: It's easy to book River rafting package in Rishikesh.  Most of the bookings can be done online after searching the web.  Just go through the camps, packages and call on the booking numbers provided on the page for immediate access. You can seek the package details by email and confirm your bookings by submitting an advance for the same.
Teesta rafting in Sikkim and Darjeeling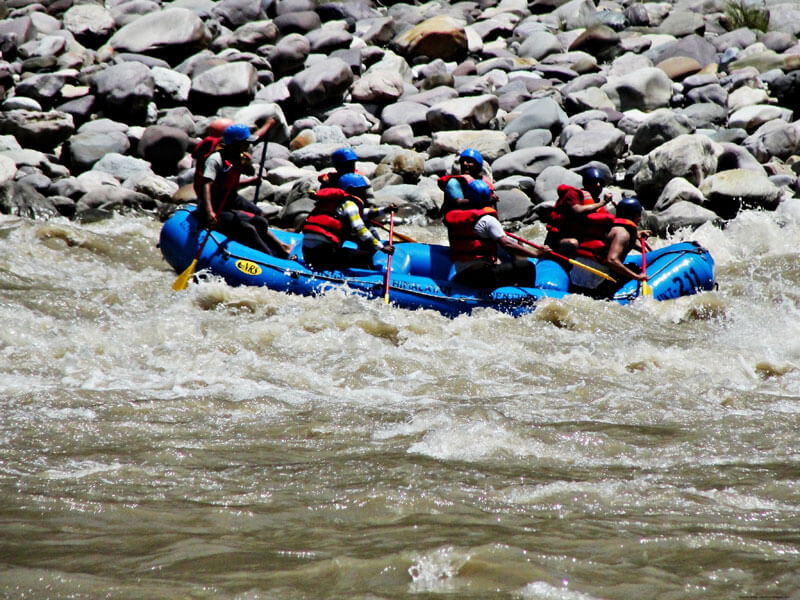 Northeast India constitutes five states with beautiful landscapes, mountains and long flowing rivers. The 309 Km long Teesta River originates at an altitude of 5,330m from Tso Lhamo Lake of North Sikkim Himalayas. The lake is 118 Km Northeast of Darjeeling.
Teesta river then runs downhill through Sikkim and Darjeeling hills for 172km. One of the most important adventure sports on Teesta River is river rafting.
The river rafting on Teesta is famous and offers one of the finest rivers rafting stretch. Rapids on river Teesta varies from grade 3 and grade 4 on the lower lying areas however on the upper areas one can experience difficult rapids which are of higher grades. Water current in Teesta is ideal for rafting that may stretch from one hour to almost 6 hours.
How to reach Sikkim
By air- Nearest airport to reach Sikkim is Bagdogra  in West Bengal which is 125 Km from Gangtok.
By train - Jalpaiguri and Siliguri are the two rail stations nearest to Sikkim located in West Bengal.
How to reach Darjeeling
By air – Nearest airport to reach Darjeeling Bagdogra is in West Bengal which is 95 Km from Darjeeling.
By rail- the nearest railway station is Jabalpuri which is 62 Km from Darjeeling.
Best seasons for river rafting in Sikkim are April to October. The different rapids of rafting on Teesta river are
For Swimmers:
·         Tarkhola to Malli (20 Km / 2 Hours)
·         Tarkhola to 29th Mile (33 Km / 3 Hours)
·         Rongpo to 29th Mile (28 Km / 3 Hours)
·         Tarkhola to Kali Jhora (37 km / 5 Hours)
For Non-Swimmers:
·         Malli to 29th Mile (11 Km / 1 Hour)
·         Malli to Rayang (13 Km / 2 Hours)
·         29th Mile to Kalijhora (18 Km / 2 Hours)
·         Malli to Kali Jhora (24 Km / 3 Hours)
Bookings for the river rafting can be done on reaching the place. It is very important that all foreign travellers carry their passport which will be required at the 'Teesta Bridge' while crossing and also enter details of the same on Bond Form.
Teesta river rafting Darjeeling
River rafting in Darjeeling is relatively new but has picked up as an important tourist's adventure.  River Teesta and Rangeet gush down the mountains of Darjeeling and create foaming excellent conditions for rafting. The best seasons to do rafting in Darjeeling are from January to June and October to December.
Rafting on river Indus and Zanskar in Ladakh
Ladakh is situated at a high altitude of Jammu and Kashmir. Ladakh is famous for its nature's beauty. It is also called as the cold desert of India. Surrounded by the Karakoram in the North and the Great Himalayas in the South, the nature's beauty is at its peak here. The main tourist's attraction is Zozila Pass, lachulung pass, Namikala Pass, khardung la Pass, and many more. The other tourist's attraction is the river rafting done on river Indus and zanskar. It is the world famous river rafting. Best  season for rafting on Indus river is from June to September when water levels are high
The river Indus originates in Tibet in northern slopes of Mount Kailash near Mansarovar Lake. Rafting in the Indus along the nature offers a breath taking view of Buddhist Monasteries and titanic hills.

Rapids on Indus River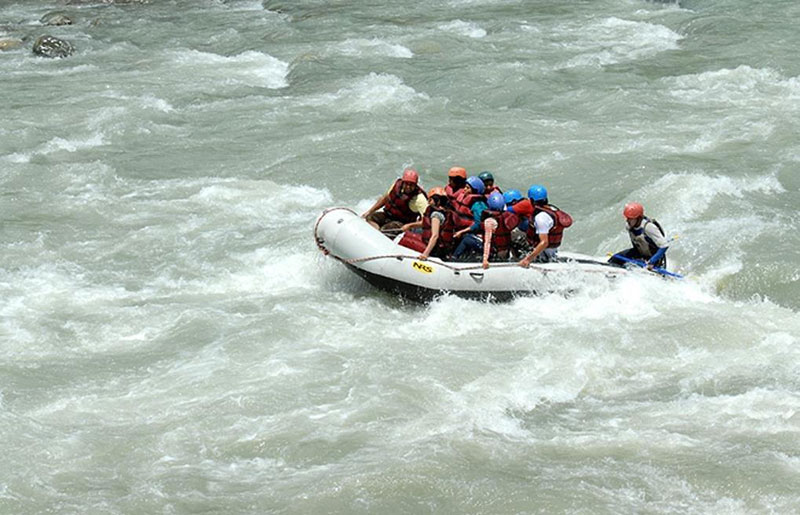 Rapids, on this river, vary from grade one to five. Popular route for beginners is Hemis-Stakna-Shey-Thiksey-Choglamsar.
A rather more adventurous people can go for the route between Alchi and Khaltsey.
Phey-Nimo route: This route has grade two and three rapids. It passes through mountains, hamlets and many old monasteries. It takes almost two and a half hours to complete the rafting.
Kharu-Spituk: Recommended for beginners. One of the easy rapids to enjoy the beauty all along the river.
Upshi-Kharu: This is an easier route and the rapid ranges between one and three.
Saspol-Khaltsey:  A good route for adventure seekers. Experience of rafting is required for this route; The rafting will finish at Khaltsey 90 Kilometers from Leh.
Phey - Saspol  route.
This rafting trip starts from Phey, about 8 kms South of Leh and it ends at Saspol, on Leh-Srinagar Highway, near Alchi. This route is short and relaxed enough to enjoy the breath taking view of landscapes and beauty of tiny hamlets on the both side of Indus.
Zanskar River
Zanskar River is a tributary of river Indus. On dividing into two branches one branch flows through South Eastward all along the main Zanskar valley. The second branch is formed by two main tributaries known as Kargyag River and Tsarap River.
The most important adventure sport on this river is river rafting. The rafting on this river is considered as one of the most difficult terrain in the world. Many of the rapids are considered as rapid 4 on this river. The best season for river rafting are from July till September, however the rafting season would start from June

Rapids on Zanskar River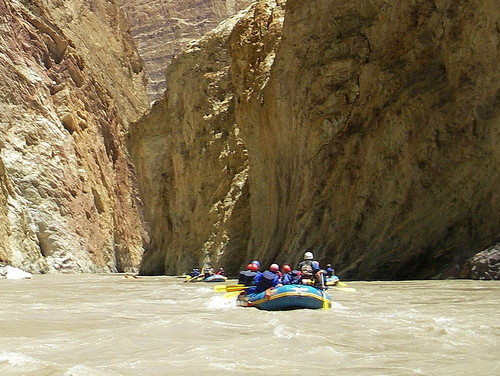 Chilling to Nimmo
On the Zanskar River is perfect for experts to combat against rapids ranging up to grade IV. This stretch offers excellent scenery all along the route.
Nyerak – Chilling
The 40 km rafting stretch takes place from Nyerak to Chilling take through the core of the Zanskar. A classic white water day with continuous grade 3 rapids, and a few grade 4 rapid where the river squeezes between a gap of about 18ft known as the GATE.
Chilling to Sangam
This 22km stretch takes almost 3hrs to complete the rafting. Considered as grade 3 rafting it needs little courage and experience to do rafting.
Scorpoche to sangam.
Grade 2 ideally with little or no experience. The ride usually takes 2hrs to complete 16km stretch.
 

Barapole in Coorg karnataka
Coorg is a beautiful town located in Southern Karnataka along the Western Ghats. The nearest airport to Coorg is Mangalore which is 160km from Coorg. Coorg is famous for its natural beauty, river rafting and coffee.
One of the most difficult and sort of rafting in South India is the Barapole River rafting in Coorg.  It is considered to be one of the most dangerous rapids in Coorg because of its turbulence and ambience.
The stretch where river rafting in Coorg is done is called as the Upper Barapole or the Kithu Kakkatu River. Lot of turbulence can be expected during the rafting.  Rafting at Barapole takes place between one hour to three hours depending upon the water on that particular day. 
The river passes along the stretch of Brahamagiri wild sanctuary. One can not only enjoy the gushing flow of water but also be tensed and existed to see any wild animals. Barapole has Grade of rapids 3 + sections and there are five major rapids.  The different names of rapids are
Morning Coffee – a grade 2
Grass Hopper –  a grade 3
 Ramba Samba – a grade 2
 Wicked Witch – a grade 3, and lastly the turbulent and enormous one named 
The Big Bang – a grade 3 and after all these rapids tourists will be taken back to the same base camp. All these rapids are done together. Tourists start with grade two Morning coffee and end in grade three the Big Bang. The whole rafting takes place in 2.5km.
Rafting on Alakananda River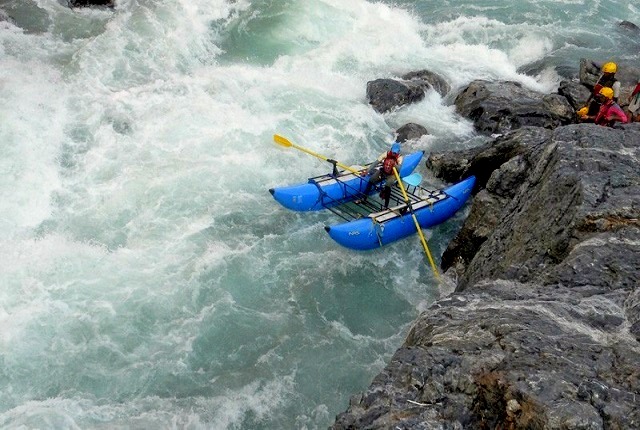 Alaknanda is the major tributary of river Ganga that flows down from Himalayas. It is a major river of North India and also a holy river of Hindus. It comes from the big mountains of Garhwal Himalayas and has many tributaries including the Nandakini, Pindar and Mandakini.
The major tourist's attraction is the most dangerous and adventures river rafting on river Alaknanda. The grade of rafting on this is usually 4 and 5. It starts from Chamoli and ends in Rudraprayag which includes many stretches.
Update on coronavirus in India
The main places that include in the stretch are Rudraprayag – Devprayag – Kaudiyala – Shivpuri – Rishikesh. The stretch covers over 75-80km. One can have beautiful scenery of Himalyan forests and wildlife during this stretch of rafting. The Shivpuri to Rishikesh rafting patch, is probably the most visited, and most sort of rafting places in India. The best season for river rafting on river Alaknanda is during from September till June.
Rapids  include the grade 5 'Hillary Fall' named after Sir Edmund Hillary's upstream jet boat expedition know as "Ocean to Sky", many decades before. Mainly there are three places for rafting on Alkanada.
The rafting from Chamoli – Kaldubagarh (29 km on River) is breath taking. One need lots of confidence to enjoy this kind of rapids. After this rapid, we further proceed with grade 2 and 3 rapids to reach Kaldubagarh. Stay in Kaldubargh for good dinner and rest. Next day morning after having breakfast proceed to Gauchar (19 km on river).
The rapids from Kaldubagarh to Gauchar are grade +3, and it will take approx 4 hrs. Again people with little experience in rafting are preferred to go for this raft. As we move further from Gauchar we encounter different rapids to Rudraprag and lastly to Devprayag. The scenery is breath taking. The rapids are usually grade 3 and 4 and 5. So one needs little guts and confidence to do this rafting.
Affiliate Disclosure:
If you make any purchase via a link on this site, I may receive a small commission with no added cost to you.