Indian Folk Music
 Updated 02-11-2021
Indian Folk Music
Indian Folk music: India is a land of different cultures and diversities. Folk music of India is unique and world famous. Usually folk music is sung in a gathering and during happiness or festivals or for some other celebrations. Even with the different varieties in music like pop, rock music still folk music holds its own unique place in everybody's heart.
Folk music, tribal music and Carnatic music completely differ from one another. Each region has its own folk music. It is not rigid like Carnatic music. A student can learn folk music by listening to it daily without affecting their daily chores.
There is no time limit or age limit to learn Folk music. Many sing folk music while enjoying their daily routine work. That keeps them active mentally and physically. Folk music doesn't need a good voice to sing but it is sung in such a way that it touches the heart of the person listening to it.
Update on coronavirus in India
Diversification of Indian Folk Music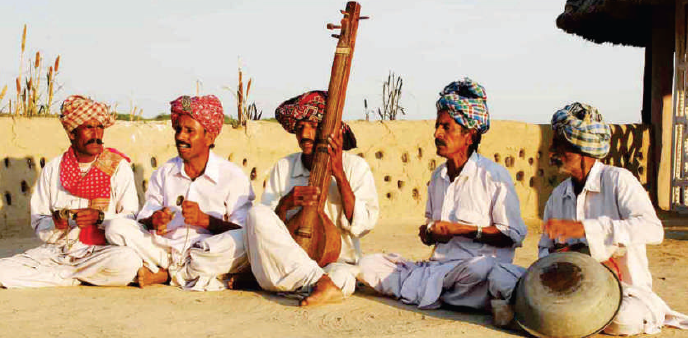 Music acts as a medium that touches people's hearts worldwide. Some of the folk music which had its birth in rural areas has extended itself to urban areas and have become an integral part of human's life. Bauls and mystic minstrel's community of West Bengal spread love and devotion through their song known as Baul Gaan, they don't belong to any particular community but their music is an expression of unity in nature and soul of man. Similarly some beautiful songs sung by the farmers in Rajasthan called as Pankhida, Panihari sung by women during her daily chores really cherishes the mind of the person.
Music in general is sung during many occasions. There are many songs that relate to harvesting, giving birth to babies, rain song, season song and many more. Folk music is also used for sending any educational messages to the public. The instruments used in folk music differ from Carnatic music.
In folk music instruments used are ektar, dotar, saringda, santur and rabab. The names may differ according to the region. These instruments are made from the local available materials like bamboo, coconut shell pots which are not expensive. The folk music and folk dance are interrelated to each other.
Some of the famous folk music are Lavani from Maharashtra, Bihugeet from Assam, Bhangra and Gidda from Punjab, Dollu Kunita from Karnataka, Naatpura Pattu from Tamil Nadu, Garbha from Gujarat and many more. Dandiya is a dance music form which is sung during Navratras. Lavani is the famous folk music from Maharashtra. The dance format which is associated with Lavani is known as Tamasha. Usually lavani music is sung by females but occasionally male artists also join them. Garbha is also sung and danced during Navratri. Here are the details of some of the folk music of different states of India. There are many folk songs all over India.
Folk Music from different states
Bhavageethe:
Bhavageethe is a very important folk music in the state of Karnataka India. It means music of expression. Some of the great singers of Bhavageethe are Kumvempu, Gopal Krishna Adiga, KS Narasimhaswamy, D.R. Bendre, Mysore Ananthaswamy, C Ashwath and many more. Bhavageethe is quite similar to Ghazal where the subject matter of the song is love, nature and philosophy.
Lavani:
It is a popular folk music from the state of Maharashtra.  The song is usually sung by the womenfolk. The song is sung along with dance  by women wearing nineyards saree is erotic and naughty in nature. Lavani is further divided into two types- Nirguni Lavani and Shringari Lavani.
If Lavani is  sung in front of a large audience in a theatre then it is called as Phadachi Lavani and if it is for a small group of audience then it is called as Baithakichi Lavani. The female singers along with nine yards saree make a bun of their hair and wear heavy jewellery. along with a lot of makeup on face.
Bihugeet:
Bihu is an important festival of the state of Assam in India.  It is three important festivals of people of Assam which is celebrated three times in a year.  Rongali or Bohag Bihu  is celebrated in April, Kongali is celebrated in the month of  October and Bogali in the month of January. The folk song sung during the Bohag Bihu festival is known as Bihugeet. Bihugeet is usually associated with Bihu dance and is performed by young men and women. The theme of the song would be about nature, love,relationships and from some social message.
Baul:
Bauls are a group of musicians inspired by sufism and sahaja are from the Indian state of West Bengal, Tripura and Barak Valley of Assam. The  folk song is sung with musical instruments like Khamak, Ektara and Dotara. These folk songs are usually sung and are not written. Usually Metaphysical topics are sung beautifully in simple understanding words in Baul. 
Nattupura Paatu:
It is one of the oldest folk music from the state of Tamil Nadu, India. It is also sung in parts of Rajasthan. Like most of the Folk songs in India, this is sung during the harvesting season. The music consists of Gamathisai which is the folk music of the village. Even though it is fast disappearing, still one can hear this beautiful folk song in different parts of the state. They are usually sung with traditional drums or Shenai.
Bhatiali:
It is a folk music from West Bengal India. The song is sung by the boatmen when going in the river to keep themselves entertained. The lyrics usually consist of metaphorical and emotional verses. Nirmalendu Chowdary is one of the eminent singers of this form of folk music.
Kummi Paatu:
Another folk music from the state of Tamil Nadu India is Kummi Paatu. It is usually accompanied by folk dance.  Women from the village start with a popular song.  Later other women from the village join and form a circle. Finally men join them and form the outer circle.
Zeliang: It is the popular folk music and dance from the state of Nagaland in India. The song narrates about the history of Nagaland and also some important ancestral stories. The theme includes traditional heroes, brave work of the warriors,poetic love songs and tragic love stories.
Pandavani:  This folk song is more famous in the central states of India like Chhattisgarh, Madhya Pradesh, Orissa and Andhra Pradesh. It is a folk song narrating the tales from the Indian epic Mahabharata.
Even though it is largely neglected by the modern young generation, some performers like Teejan Bai and Jadhuram Dewangan have kept it alive. The singer performs while holding the tambur in her hand. The performers are supported by artists on Harmonium, Tabla, Dholak and Manjira.
Kamrupi Lokgeet: It is a popular folk music from the state of Assam India. It basically expresses thoughts and emotions of Kamrupi people. The theme includes day to day activities. It is also popular with marriage songs, Khelar geet, maha kheda geet, fishing geet and harvesting geets.
Ladishah: It is a popular folk music from Jammu Kashmir region, India. Earlier it was sung by male musicians by wandering from one place to another. Sung in Kashmiri language the theme is usually the political, cultural and social issues. It is usually sung in Ballad form or melodious satire.The Ladishah singer literally acts like a communicator to convey the messages in the society.
Birha: It is also spelled as Biraha is a folk music of Uttar Pradesh and Bihar in India. The theme is usually based on the separation of lovers. It is usually sung with Harmonium and Dholak. There are two types of Birha singing. The first one called as Khadi Birha is sung in a  rhythmic pattern and in the second type the song is performed on a stage.
Affiliate Disclosure:
If you make any purchase via a link on this site, I may receive a small commission with no added cost to you.