Lakshadweep Island
Lakshadweep in India
Quick facts:
Name: Lakshadweep islands
Country: India
Formed: 1st November 1956
Total area: 32 km2
Official Languages: Malayalam, English
Lakshadweep Islands is one of the most beautiful islands situated some 400 km off India's west coast in Arabian Sea. It is the Union territory of India and was formerly known as Laccadive, Minicoy and Aminidivi Islands. It is an archipelago (extensive group of Islands) consisting of 36 islands with an area of 36 sq km. Kavaratti is the capital of Union territory Lakshadweep and the district comes under Kerala High Court Jurisdiction.
The sun kissed serene island makes it a must visit place in India. Ten islands of the Lakshadweep are still inhabited and Agatti Island has an airport to reach Lakshadweep. The main occupation of people of Lakshadweep is fishing and coconut cultivation. Consumption of alcohol in all islands is prohibited except in Bangaram and picking corals is a punishable offence.
The entry to Lakshadweep Island is restricted and one has to take an entry permit from Lakshadweep Administration to visit these Islands.

Climate and Weather of Lakshadweep Islands
Lakshadweep has a humid and sultry climate during monsoon season. The place has three seasons. From March to May is the summer month, June to September are the southwest monsoon season and also October to November is the North east monsoon season. The place receives heavy rainfall during monsoon season.  Winter season is from December to February and the weather remains pleasant. The temperature hovers between 25oc to 35oc throughout the year.
Best time to visit Lakshadweep:
The best time to visit Lakshadweep is from December to May when it is relatively cooler and drier.

How to reach Lakshadweep Islands
Special permit is required to visit Lakshadweep Island. Other than Agatti, Bangaram and Kadmat are the only Islands which have some good  accommodation and these are the only three islands where foreigners are allowed to visit. Indians can move around to other Islands with a proper permit.
By Plane: Agatti Island has airstrip and to reach Lakshadweep one can take flights from Kochi. Air India has flights to Agatti Island from Kochi. It runs three times a week from Kochi to Kavaratti. Kochi is well connected and has flights from all major cities of India. Helicopters and boats are available from Agatti to reach Kavaratti.
By Port: There are few passenger ships that occasionally cruise from Mumbai, Cochin, Chennai and Vishakhapatnam. From Kochi to Lakshadweep it takes around 14-18hrs depending on the destination in the Island. 

Geography of Lakshadweep Islands
Lakshadweep is an archipelago which consists of serene, beautiful islands. It consists of 12 atolls (ring shaped coral reefs), three reefs ( is a bar of rock, sand, coral or similar material lying underneath the surface of water) and five submerged banks ( part of sea bed which is shallow compared to its surrounding area).
The submerged banks are usually sunken atolls and all the atoll have a northeast southwest orientation with the islands lying on to the eastern rim. Lakshadweep has ten inhabited islands, 17 uninhabited islands, four newly formed islets and five submerged reefs.

Lakshadweep has some mesmerising flora and fauna in it. It has around 600 species of marine fishes, around 80 species of corals, 80 species of seaweed and 52 species of crabs. The islands are also home for gastropods species, around 100 species of birds and also home for lobsters.
The major attraction in Lakshadweep is coral and beautiful beaches. Pitti Island is the main and important Island for breeding for sea turtles, pelagic birds and for some other species. 

History of Lakshadweep Islands
Not much is written about the history of Lakshadweep. It is believed that the first settlement on the island was during the period of Cheras who was the last King of Kerala. Rajendra Chola, one of the greatest rulers of Chola Kings took over the control of the island in the 11th century and later the kingdom of Cannanore took over Lakshadweep.
 Further it is believed that the ship in which Raja of Cannanore was travelling was struck with a fierce storm and was wrecked on the island now known as Bangaram. From Bangaram it is believed that the king went to the nearby Island now known as Agatti. Finally after the weather improved he reached the main island. Some of the earliest religion that existed was that of Buddhism prevailed in 5th and 6th century and Islam was started Ubaidullah in 661AD. Hinduism did start during the period of Raja of Cannanore. 

The arrival of Vasco Da gama was considered as the turning point in the history of Lakshadweep. The island got exposed to many foreign traders who started to visit this beautiful Island. The Portuguese invasion made Lakshadweep all the more important in terms of sea water business. The Portuguese took control of Lakshadweep around 1498 AD and tried to explore the business of Coir Production from the coconut fibre. They were expelled from the Island around 1545 by the local residents of the Lakshadweep.
 For some years Lakshadweep remained under Rajah of Chakral for some years. From them the rule passed to Muslim house of Arakkal of Cannonore. The Arakkal rulers were very dominating and harsh towards the citizens of Lakshadweep. In 1787 the group of Islands of Aminidivi came under the rule of Tipu Sultan.
 After the third battle of Anglo Mysore War, the Aminidivi groups of Islands came under the control of the British and the rest of the island came under Arakkal family of Cannonore. Later even these islands were annexed by the British for the non-payment of arrears. The Union Territory was formed in 1956 but it was named as Lakshadweep in 1973.

Tourism in Lakshadweep in India
To visit these serene Islands every tourist requires a special permit. Foreigners can visit only some of the Islands. Some of the tourist's places are 

Kavaratti Island:
It is the capital of Lakshadweep Island with a population of around 10,000. The place is famous for its pristine white sand beaches and calm lagoons. Kavaratti is located around 360 Km off the coast of state of Kerala. It is very well connected by boat to different parts of the Island.
The place has a typical tropical monsoon climate with summers from March to May. The maximum and the minimum temperature ranges between 35oc-25oc all through the year. There are many mosques on this Island and the most beautiful is the Urja mosque.

Tourists enjoy sunbathing on the white sand beaches and also water sports like swimming in the calm lagoons. There is also a museum which has various species of fishes and different types of shells. To the South of the Island is the Chicken Neck Point which is absolutely wonderful to do some water sports activities like scuba diving and snorkelling. For any other water sports activities one can visit Dolphin Dive centre at Kavaratti. One can enjoy boating and see the beautiful coral reefs by travelling in a glass bottom boat.
The nearest domestic airport is Agatti Island and the nearest International airport is Cochin.

Agatti Island:
Popularly known as the gateway to Lakshadweep, Agatti island is a beautiful Island. It  has a domestic airport and hence connects to other parts of India. It is located at a distance of around 450 Km from Kochi and is towards the west of Kavaratti Island. Agatti Island is around 8 km long Island situated on coral atoll. Bangaram is the nearest Island located at a distance of around 7 Km and it is around 55 Km from Kavaratti.

The island is famous for white sandy beaches, pristine water and the turquoise blue lagoon. Visitors can take a permit from Lakshadweep Administration for entering the Agatti Island. Entry is given only when the tourists have a definite place to stay and visit in Agatti Islands. Fishing is another important sport on this island.
One can book a glass bottom island to see the beautiful coral reef and beautiful underground marine life. One can enjoy many underworld water activities like scuba diving, snorkelling, swimming, Kayaking, water skiing and fishing. Cost is also not very high and it is affordable to enjoy these activities.
Climate is similar to other islands in Lakshadweep. March to May is very hot and summer months. 

Bangaram Island:
It is the largest atoll (ring shaped coral reef including a coral rim that encircles a lagoon partially or completely) in Lakshadweep which is uninhabited. It is around 9 Km in length and with a width of around 4 Km. Bangaram atoll is around 7 Km to the north east of Agatti Island and is around 400 Km from Kochi.

The atoll is famous for its serene beauty surrounded by numerous flora and different species of birds all around the atoll. Bangaram atoll has three small islets namely Parali 1,Parali 2 and Parali 3 and another large Island called  Thinnkara. South Bangaram Cay is the smallest island on this atoll. There are around 120 acres of coconut grooves all around. Tourists can enjoy some of the water sports activities like beach games, snorkelling, scuba diving and deep sea fishing. Climate is similar to other islands of Lakshadweep. 

Kadmat Island:
It is the most important tourist destination in Lakshadweep. Kadmat Island is long and Narrow Island which has a lagoon of around 2 Km stretches towards the western side. It is also known as Cardamom Island and is a very important coral island which belongs to Amindivi subgroup of Islands.
The island measures around 9.5 km in length covering an area of 25 square kilometres. Due to the presence of beautiful flora, fauna and coral reefs the Environmental and Forest ministry has notified the island as a marine protected area. 

Kadmat Island is bounded by Kavaratti Island to its northwest at a distance of 67 Km, Kochi is at a distance of 400 Km. The nearest airport is Agatti Island and form Agatti is around 3 hrs boat ride. There are few ferry service operators from Cochin coast but it takes around 16 hours to travel.
The Island has coral reefs, seagrass and nesting of marine turtles. Tourists can enjoy Kayaking, snorkelling and scuba diving. One can take a glass bottomed boat ride to see the beautiful underwater marine life.
The first Water Sports Institute was established in Kadmat in  1998. Crystal clear beaches, lovely lagoons and beautiful marine habitat make Kadmat one of the best diving locations in Lakshadweep. One can see fishes like Lion fishes, tuna, sharks, shoaling jacks and many more due to its crystal clear water.

Kalpeni island:
Kalpeni is an uninhabited Island that is located at a distance of around 70 km from Androth and is towards the south east of Kavaratti Island. It has a very large lagoon with a width of 3 km. Being a very important tourist destination Kalpeni offers tourists a wide range of water sports activities like snorkelling, sea bath and kayaking. It was the first Island in Union territory where women were allowed to get education and go to school.

Some of the main islands in Kalpeni are Kodithala which is located to the north of Kalpani, Cheriyam which has a water tank, lake, Tilakkam group of Islands and Koomel and Pitti islets. The island is blessed with some rare species of flora and fauna and good aquatic species. There is a lighthouse in Kalpeni from where one can get a beautiful view of the island.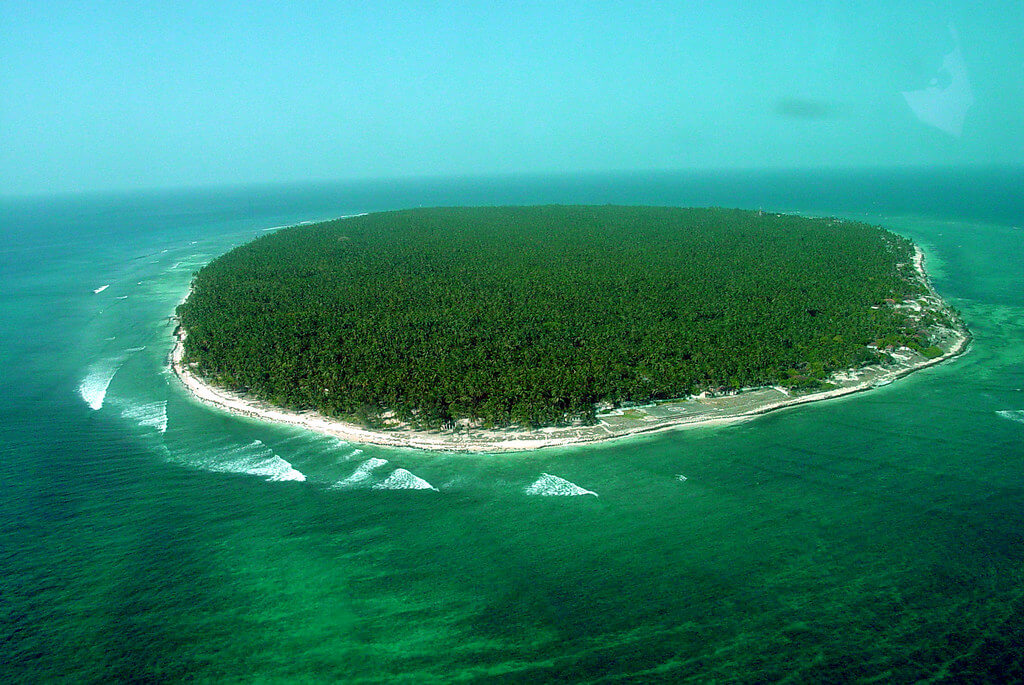 Amini Island:
Another important island that lies towards the north eastern extremity of Pitti Bank is Amini Island. The Island is at a distance of 400 Km from Kochi and is located Kavaretti Island in the South and Kadmat Island in the north.
The place is famous for crafts work done by the locals along with the walking stick made tortoise shells and coconut shells. The island is oval in shape with a width of 1.2 km and length of 2.7 Km. One can enjoy some water sporting activities on this island. Even though the channel between Cardamom island and Amini Island is deep still it is considered as safe.

Do share your pics and thoughts with us by clicking the link here. There are many other smaller islands like Kiltan, Minicoy and Bitra Island.

Update on coronavirus in India
Affiliate Disclosure:
If you make any purchase via a link on this site, I may receive a small commission with no added cost to you.