Ross Island
Ross Island

Country: India
Capital: Port Blair
Island: Andaman Islands
Official Language:  Hindi, English
Languages Spoken: Hindi, Bengali, Tamil, Telugu, Malayalam, Nicobarese
Best time to visit Andaman and Nicobar and the beaches: November to April is considered as the best time to visit the  Andaman and Nicobar Islands.
Ross Island also known as Subhash Chandra Bose Island is located just 3 km from the east of central Port Blair in Andaman and Nicobar Islands which is a union territory of India. It is a calm beautiful island perfect as holiday destination. This Island remained as capital of Andaman from 1858-1942 and 1945-1947. From 1942-1945 the island was under the governance of Japan. 

The island is rich in cultural and historical importance as one can find ruins of churches, colonial buildings and many more during the period of British rule. Ross Island also served as administrative Headquarters for Andaman Islands nearly for 85 years before a huge earthquake rocked the island in the year 1941.
The Ross Island also served as a base for British Administrator of Penal colony in Port Blair. The Japanese who occupied the Ross Island in the year 1942 built war installations. The island is basically deserted with no civil people residing in the island. The area is under the control of Indian Navy now.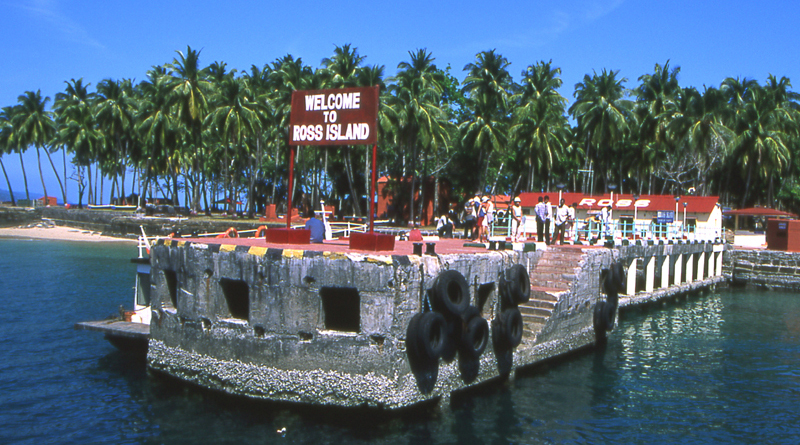 Ross Island got its name from the Daniel Ross who was a marine surveyor and again in the year 2018 the island was renamed as Netaji Subhash Chandra Bose Island. Since the Island was the administrator head it had everything like market, church, tennis courts, water distillation plants, cemetery, bazaar but now everything has disappeared. There was a famous bakery which was famous for its tasty breads and cakes which now shows a documentary of the history. the timings for the show are9:30am-9:45am and again from 11:30 am-11:45am.
The prisoners were put on the crude Barracks made of Bamboo and grass and the rest of the people stayed on the ship. The prisoners were made to build many structures like offices, houses for the officers at the penal colony and after the completion of the work the prisoners were sent to Viper Island where the first Jail was built. After Stewart Ross the Ross Island had 24 chief commissioners.

Seasons/Climate
Ross Islands has the typical tropical climate.
Summer seasons: March to May are Summer Months. It is generally hot and humid during summer months. Maximum temperature hovers around 35 degree Celsius.
Monsoon season: June to September are monsoon months. The Islands receives heavy rainfall which brings down the temperature to around 30 degree Celsius.
Winter season: November to February are winter months. The minimum temperature hovers around 20 degree Celsius. 
Best time to visit
November to April is considered as best time to visit the Island
Tourism in Ross Island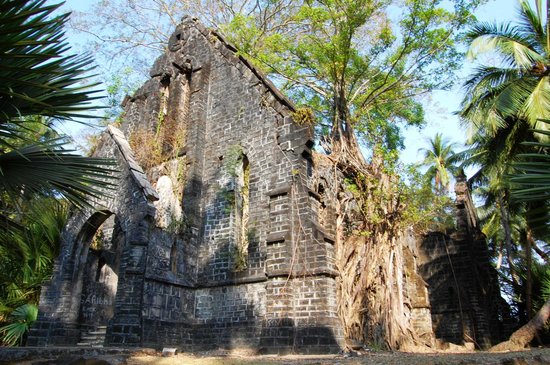 Since most of the places in ruins one can see some places maintained by the Indian Navy
Ross Island Penal Colony:
It was established in the year 1858 by the British colonial government for convict settlement. It was primarily established to prison large number of freedom fighters of Indian Rebellion of 1857.
As Penal colony was set up in Ross Island, the Island became the administrative headquarters for the British. They built many government buildings and offices in Ross Island. these buildings and offices were built by the prisoners who were kept in the penal colony. Many prisoners died due to the torture of the British colonial government.
The penal colony became as experiment place for different types of torture and for various other tests on prisoners. However during World War II Japanese took control on the Island and destroyed all the administrative buildings. One can explore the ruins in the penal colony. There is light and sound show which starts from 5:15. One must wait to see this beautiful show.

British ruined colonies:
Even though the island was devastated by Japanese and the earth quake still one can witness the ruins of the British colony. The island ones were called as Paris of the east now looks like a jungle with all ruins all around. Tourists can see water distillation plant, tennis court, government offices, church and many more.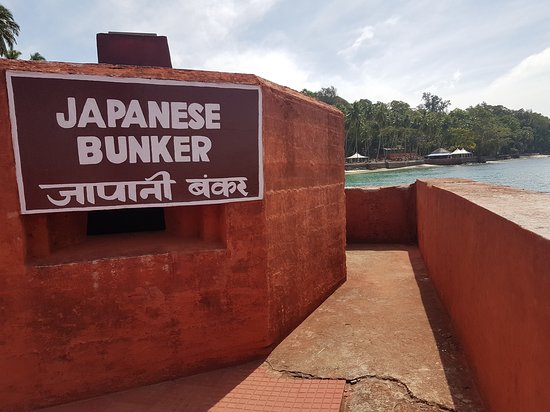 Japanese Bunkers:
Japanese took control on Ross Island during World War II. Japanese was in complete control of the Island from 1942-1945. They used Ross Island as war base and built bunkers, cannon holders and tunnels across the island.
Other than these tourists can also explore the reserve and spot the Deer in the forest. The best way to explore this beautiful simple island is by walking all around. Best time to visit is March and April. Even though it is humid and hot still one can enjoy the scenic beauty. One can also visit during November to February. Climate in the island remains hot and humid during summers. It remains pleasant during winters and humid becomes high during monsoon season.

How to reach Ross Island
How to reach Ross Island:
Getting to Ross Island is not difficult.  One can reach Port Blair either by air or sea. There are many ferries from Rajiv Gandhi water sports complex jetty Port Blair. One can take boat from Port Blair which charges you round 100 rs for both sides of journey. Or one can take a package tour from the jetty which covers Ross Island, Viper Island and North Bay Islands. They charge you around 400rs for this package.
How to reach Port Blair:  Port Blair is connected to main land India through Air and Sea. Port Blair airport which is known as Veer Savakar Airport is just 2Km from the city. Aeroplanes from Chennai, Mumbai, Kolkata, New Delhi, Visakhapatnam, Bengaluru, Ahmadabad and Raipur fly regularly to Port Blair international airport. One can either reach through flight in just 2 hrs or take sea route and reach Port Blair in 4-5 days. Sea connectivity is available from Chennai, Visakhapatnam and Kolkata.
 By Sea: Regular passenger ships are available from Chennai, Kolkata and Vishakhapatnam. It is less expensive but takes 4-5 days to arrive at Port Blair depending upon the weather conditions. Foreign tourists require visa and permits from the Indian authorities to visit Andaman and Nicobar islands. Indian nationals require permit only to visit Nicobar Islands and other tribal areas.

Jolly Buoy Island
Jolly Buoy Island:
Country: India
Capital: Port Blair
Island: Andaman Islands
Official Language:  Hindi, English
Languages Spoken: Hindi, Bengali, Tamil, Telugu, Malayalam, Nicobarese
Best time to visit Andaman and Nicobar and the beaches: November to April is considered as the best time to visit the  Andaman and Nicobar Islands.
Jolly Buoy Island is in Andaman and Nicobar Islands and is located in Mahatma Gandhi National Park. To reach Jolly Buoy Island one has to travel through Wandoor beach which is at a distance of 30 km from Port Blair. This island is famous for under water corals and crystal clear water. The route from Wandoor beach takes you to Red Skin Island as well. So you can plan to visit both the islands. The boats from Wandoor Beach starts at 9am to Jolly Buoy Island so make sure you reach by 9am at Wandoor Beach. Prior permission and tickets are required to visit the island. All boats start from the beach at the same time and start back together at the same time.
It is almost a 3 hr ride, when the tourists are reaching close to the island they are shifted to glass bottom boat to get the beautiful view of the corals. The glass bottom ride is only for a small duration say hardly for 10 mins. If one needs more then they can book a boat independently and ride. That will be for close to 45 mins ride for which you need to shell out more money. The best part of Jolly Buoy Island one can see red, blue and sponge corals and one can also see life with in these corals especially the zebra fish. This is one of the reason why Jolly Buoy Island is in high demand amongst the tourist.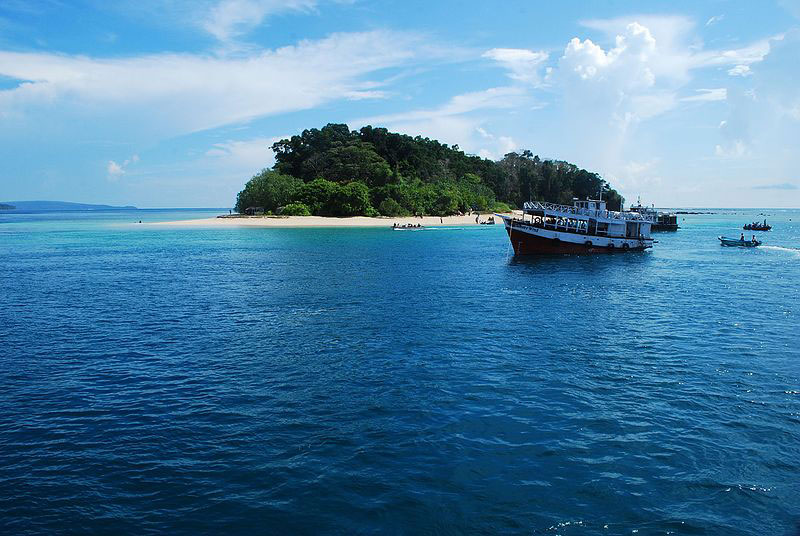 There is not any good place for changing clothes so just think before getting drenched in water. There also no food stalls or restaurants one has to carry their food and water. There is no much to see any other place in Jolly Buoy Island other than the corals.
One can spend time till 2pm and start back in the same boat which starts around 2:30 or 3pm. Even though it is a small island it is a must visit island to look at the beautiful corals and clean and crystal clear water.
Jolly Buoy Island is not open throughout the year so make sure to check before planning to visit Andaman and Nicobar Islands. Otherwise when Jolly Buoy Island is closed then Red Skin Island is open so visitors can visit Red Skin Island if Jolly Buoy is closed. Night stay is not allowed and visitors are required to come to the main Island. 

How to reach Jolly Buoy Island
To reach Jolly Buoy Island tourists have to come to Wandoor Beach. Wandoor Beach is 30 Km from Port Blair. One can reach Port Blair either by air or sea and then take a ferry to Wandoor Beach.  The Island is located at Mahatma Gandhi National Park. The boat to Jolly Buoy Island starts by 9am. Prior permission is required to enter the island as it is rich in corals. All the boats leave at the same time and also come back at the same time. So make sure you reach on time near the boats in both ways. 

We at india-a2z.com would love to hear your experience in Ross Island and Andaman and Nicobar Islands. please share your experience with us here
Update on coronavirus in India
Affiliate Disclosure:
If you make any purchase via a link on this site, I may receive a small commission with no added cost to you.