Indian classical dances

Updated on 22-07-2021
Indian classical dances are world famous.  India is culturally rich country in dance and music. The theory and practice of classical dance can be traced back to Natya Shastra as propounded by Bharata Muni. The dancers usually perform a dance based on a theme with expressions of their face and eyes.
Some of the important classical dances are Bharatnatyam of Tamil Nadu, Kuchipudi of Andhra Pradesh, Kathak of north India, Odissi dance of Odissa and Mohiniattam of Kerala, Kathakali from Karnataka and Manipuri. Indian classical dance is very diverse, technical and deep in knowledge. 
The mudras of each dance are almost similar, still each classical dance has its own value and importance. These mudras represent the God or Goddess. It is basically an expression of Rasa (Sanskrit word for emotions) and Bhava (Sanskrit word for facial expressions). Classical dances require extensive training under a qualified teacher whose guidance
Three main components of Classical Dance
Classical dances are mostly dance drama combinations where one tries to recite a story in the form of dance with various facial and hand expressions usually along with music and song.
All the major classical dances include three elements in the dance form. They are Nritta, Nritya and Natyam.
Nritta is the pure dance form. The main aim of this dance form is to engage the senses of the audience. Nritya is slower and tries to communicate the feelings through different postures and body movement. It tries to engage the audience emotionally.
Natyam is a play or drama kind typically performed in a group. There are different kinds of mudras which are used to communicate the meanings in the dance. Most of these mudras are similar in all the dance forms. In any classical dance the dancers give importance to four elements that are Angika (body language), Vachika (music), Aharya ( makeup and costume of the dancers) Sattvika (emotional connection of the dancers with the song) and Abhinaya (mood).
Folk dance is more recreational with strong roots in rural/ tribal background.  Folk dances are performed for occasions such as festivals or after harvesting the crops when the farmers are expected to have money in hand.
The Sangeet Natak Academy, a central institution which governs the various dance forms in India, recognises 8 main classical dances in India and they are Bharatanatyam, Kathakali, Kathak, Kuchipudi, Oddissi, Sattriya, Manipuri, Mohiniattam. 
Read on Indian Music and Culture of India
Natya Shastra
Natya Shastra which is an ancient Sanskrit text for performing arts is the base or the foundation for all classical dances. It was written by Baratha Muni. The text consists of 6000 verses and 36 chapters. Natya Shastra describes all the elements that are required for performing a dance like rasa, emotions, postures, and basic steps. The classical dances are basically performed religiously either in temples or in some concerts.  The dance forms are mostly related to Vaishnavism, Shaivism and Shaktism.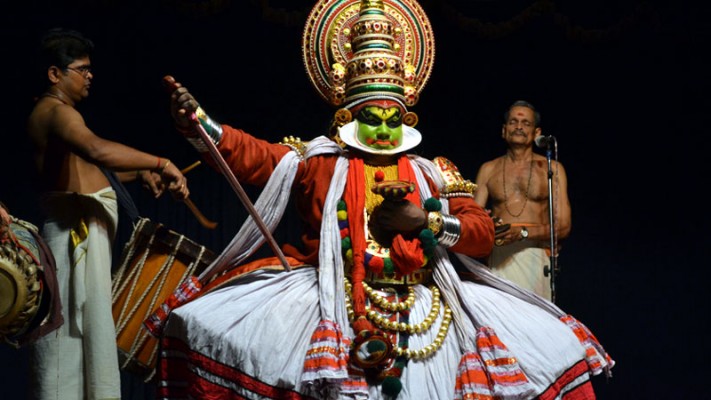 Different Indian Classical Dance Forms
It is one of the most popular classical dance forms from Tamil Nadu, India. During the ancient period it flourished in temples and courts. It is also known as Sadhir Attam . In Natya Shastra this dance form is described as Ekaharya. Some of the noted dancers are Rukmini Devi, Padma Subramanyam, Mallika Sarabai and many more
It is a classical dance named after a small state in the Krishna district of Andhra Pradesh. It is a dance drama performance with its roots present  in the ancient Hindu text known as  Natya Shastra. Some of the noted dancers include Satyanarayana Sarma, Mallika Sarabai, Yamini Krishnamurthy and many more.
Update on coronavirus in India
It is one of the eight major forms of Indian classical dance originated in the northern part of India. The word is derived from the ancient Sanskrit word Khatha which means story. The dance is a combination of dance,music and narrative. Khatak is found in three different Gharanas namely Jaipur, Banaras and Lucknow. Some of the noted dancers include Bhirju Maharaj, Nahid Siddiqui, Sitara Devi and many more.
It is one of the major Indian classical dances which evolved from the southwestern region of kerala. Heavy make and very grand costumes are used in this dance.  It is a combination of dance, music and acting along with stories mostly taken from the Indian epics. The bulging skirts with antique ornaments along with different colours painted on the face makes Kathakali dancers look grand and different. Some of the important dancers include Krishna Nair, Raman kutty Nair and many more.
Along with Kathakali, mohiniyattam is another Indian classical dance form from Kerala. This dance form has its roots from Natya Shastra. But it follows Lasya style with soft, calm and feminine movements. It is basically a solo performance with women performing after extensive training. The costume is simple and unique.
The hair is tied on one side like a bun with off white saree. The performer also wears some simple ornaments. Some of the important artists are  Sunanda Nair, Kalamandalam Radhika, Pallavi Krishnan and many more.
Another important Indian classical dance which originated in the Hindu temples in Odisha. It is a dance drama performance and follows the principles of Natya Shastra. Earlier it was performed by women and basically expressed the religious stories and spiritual ideas in the dance form. The dance incorporates two major postures namely Tribhanga and Chowk. Some of the noted dancers include Sonal Mansingh, Leena Mohanty and many more.
Manipuri:
Manipuri or also known as Raas Leela is an Indian Classical dance form which originated from the state of Manipur, India. It was traditionally performed as a dance drama on the devotional songs and also showcased the love between Radha Krishna through Raas leela. The roots of this dance form can be found from ancient Sanskrit text Natya Shastra. Raas Leela is performed in three styles namely Tal Rasak, Mandal Rasak and Danda Rasak. Some of the famous dancers include Guru Bipin Sinha, Nirmala Mehta, Savita Mehta and many more.
Sattriya: 
Sattriya is a famous Indian Classical dance from Assam, India. This dance form was recognised as Classical dance in the year 2000 by Sangeet Natak Academy. From the 15th century the dance form grew as a part of Vaishnava Bhakti Movement. It is a dance drama performed usually in the community Halls of monastery temples. Some of the famous dancers include Guru Indira, Jatin Goswami, Ghana Kanta Bora and many more.
Affiliate Disclosure:
If you make any purchase via a link on this site, I may receive a small commission with no added cost to you.