Jaipur
Updated- 11-04-2022
Jaipur
Quick Facts:
Country: India
State: Rajasthan
Established: 1727
Founded by : Jai Singh II
Best time to visit: October to March
Tourists places: Amer Fort, Jantar Mantar, Hawa Mahal, City Palace, Jal Mahal, Jaigarh Fort, Nahargarh Fort, Birla Mandir
Shopping Markets:  Johari Bazar, Tripolia Bazar, Chandpol Bazar, Kishanpol Bazar,  Bapu Bazar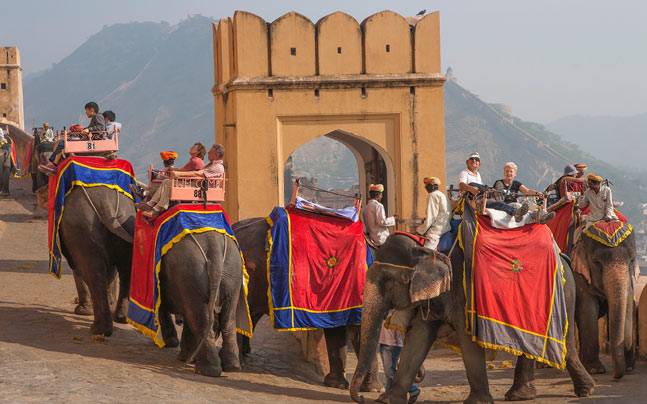 It is a very big page. Here is the quick links 
Jaipur is the capital city of Rajasthan, India. It is one of the most important tourist destinations in Rajasthan, India and is a part of the Golden Triangle tourist circuit along with Delhi and Agra.
Jaipur which is also known as pink city and Paris of India is famous for forts, palaces, shopping.  In 2019 the city was included in the UNESCO World Heritage Sites.
The city is also home for some of the UNESCO World Heritage Sites like Amer fort, Jantar Mantar. Jaipur was  founded in 1727 by the Kacchwaha Rajput ruler Jai Singh II and is one of the most planned and beautiful cities in India.

How to reach
Jaipur is the most important tourist destination in India. It is well connected through Air, Rail and Road.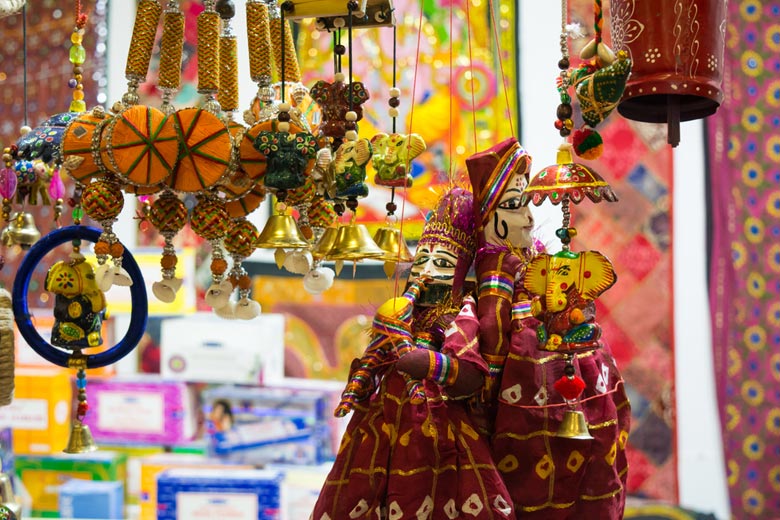 By Air: Jaipur International airport is in Sanganer. It is located at a distance of around 10 km from the city centre. It has both domestic and International flights.
By Train: Jaipur is the headquarters for the North Western Railway zone of Indian Railways. Jaipur has three railway junctions at Gandhinagar, Durgapur and Jaipur Main. The city is well connected through rail from major cities like Delhi, Mumbai, Chennai, Bangalore, Kolkata and many more.
One can also plan to go in the luxury "Palace on Wheels train". It is a 7 nights and 8 days journey which starts from Delhi and covers cities like Jaipur, Ranthambore tiger reserve, Chittorgarh Hill Fort, Udaipur, Jaisalmer, Jodhpur, Bharatpur  Agra and then returns to Delhi.
By Road: Jaipur is located on NH-8 which connects to Delhi and Mumbai. It is also connected through NH- 11 and NH-12.  There are a number of buses both from the state road transport corporation and private agencies. Distance from major cities are
Delhi to Jaipur–  Around 270 Kms
Agra to Jaipur -Around 240 Kms
Best time to visit
Jaipur experiences a semi arid climate with long hot summers and short mild winters. Due to extreme heat, October to March is the best season to visit the place.

Climate/Seasons
Summer season: Summer months are from April to June. The maximum temperature hovers around 49 degree celsius.  It would be very hot and dry during this period. Hot and dry air keeps blowing throughout the day  as even the minimum temperature hovers around 30 degree celsius
Monsoon seasons : The months of July and August are considered as monsoon months. There are frequent heavy rains but no flooding. The maximum temperature hovers around 40 degree celsius during this season
Winter season: October to March are the winter months and also the best period to visit the place. These months are pleasant, dry and chill with minimum temperature sometimes falling to 4 degree celsius during peak winter months of December and January
History of Jaipur
Jaipur was founded by Maharaja Sawai Jai SIngh II who was the 29th  Kachwaha Rajput ruler. Maharaja Sawai Jai Singh decided to shift his capital from Amber to Jaipur due to
the growing population and scarcity of basic amenities like water, electricity. He had great interest in architecture, mathematics and astronomy.
Construction for the city of Jaipur was started as early as 1725 but the actual foundation laying ceremony was done in 1727. By 1733 Jaipur was made the official capital of Kachwahas there by replacing Amber as capital city.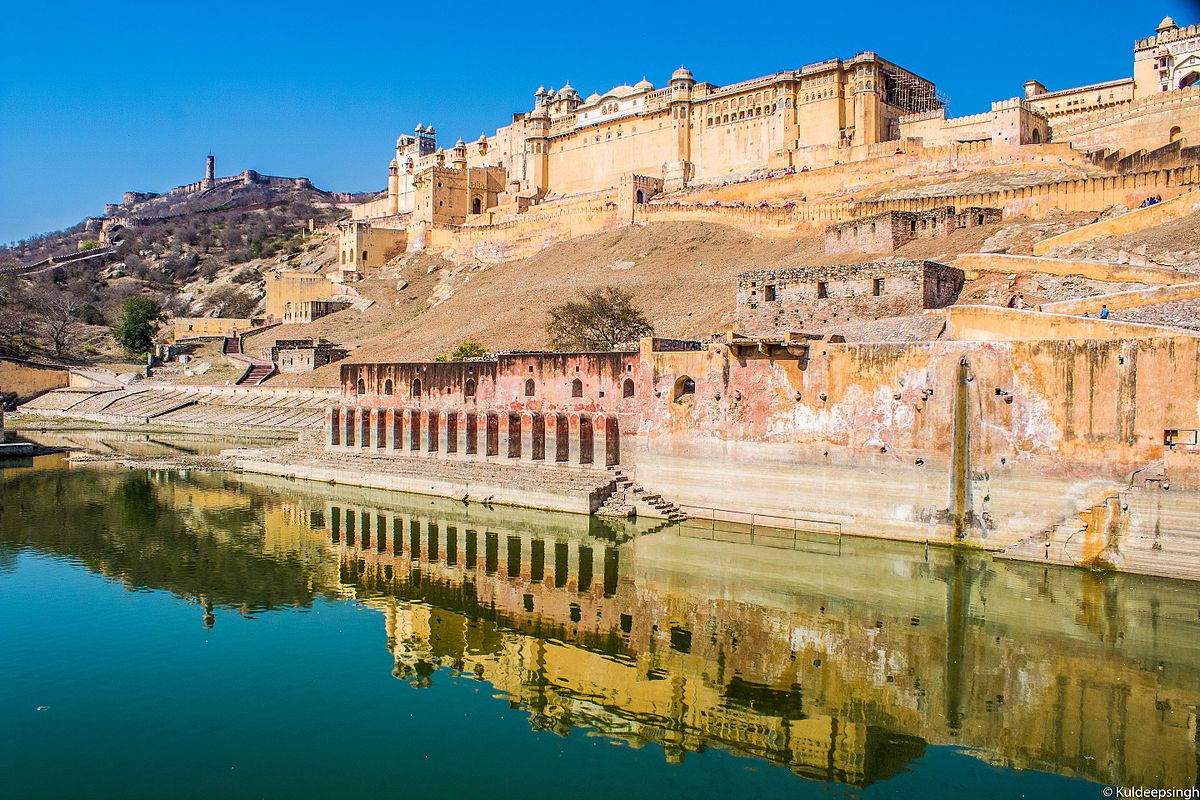 Maharaja Sawai Jai Singh who had keen interest in architecture engaged himself with various architects for laying down the plan for Jaipur.
The city was designed by Vidyadhar Bhattacharya. Maharaja who was a strong believer in astronomy built the city in ancient Hindu grid pattern.
The grid was found in the archeological ruins of 3000 BCE. Maharaja Sawai Jai Singh together with Vidyadhar Bhattarcharya planned to build the city on the principles of Vastu Shastra and  Shilpa Shastra and it took them almost four years to build the city.

The whole city was divided into nine  blocks. In that two blocks were preserved for state buildings and palaces, the remaining seven blocks given to the public. The city was fortified with huge walls which had seven gates.

It was in 1876 when Prince of Whales and Queen Victoria were to pay a visit to India. India being a culturally rich country decided to welcome them in a special way.  Maharaja Sawai Ram Singh decided to paint the city pink to welcome him and the Queen.
Pink color signifies hospitality and to show the essence of "Padharo Mahrey Desh Mein ''. After that Jaipur got the name as Pink City. Gradually the city started growing as more people came and settled in Jaipur.

Tourism in Jaipur
Jaipur is the major tourist destination in Rajasthan. Being close to Delhi is an added advantage for being easily accessible. Also called as the pink city Jaipur has many tourist places to visit. Some of them are

Amer fort or Amber fort is located in Amer, Rajasthan ,India. Standing tall on a hill, this huge magnificent fort is just 11 kilometres from Jaipur City. It is one of the most important tourist destinations in Rajasthan. Built in Hindu Muslim architecture , the fort is open from 9 am to 5:30 pm.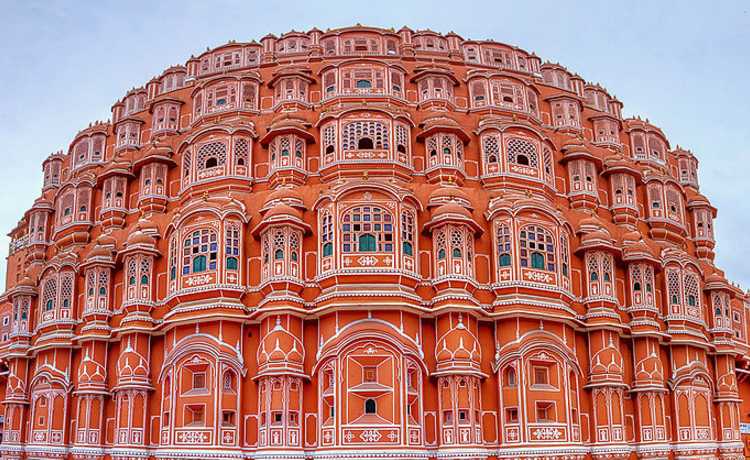 It was built by Maharaja Sawai Singh as an extension of Zenana chamber of City Palace. It was mainly built with a purpose that royal women can see the day to day life of people without being noticed. The Mahal has 950 windows built in red sandstone . It is open on all days from 9 am to 5 pm.

Nahargarh fort is one of the magnificent forts located on the Aravali mountain ranges. The fort was primarily built for defense purposes but it was never attacked by any enemies. The fort was built by Maharaja Sawai Jai Singh II  in 1734. The fort is open from 10 am to 5:30 pm in the evening.

Jaigarh Fort:
It is located high on Cheel Ka Teela of Aravali range. It was built in 1726 by Maharaja Jai Singh II to protect Amer fort and the palace complex from the invasions. 
It is also known as Victory fort and houses a cannon known as 'Jaivana' which was then the world's largest cannon on wheels.
It was also the storehouse for all war  arms and ammunition. The fort is highly fortified with huge walls built in red sandstone and spread over a length of 3 kms. The fort is open from 10 am to 5 pm.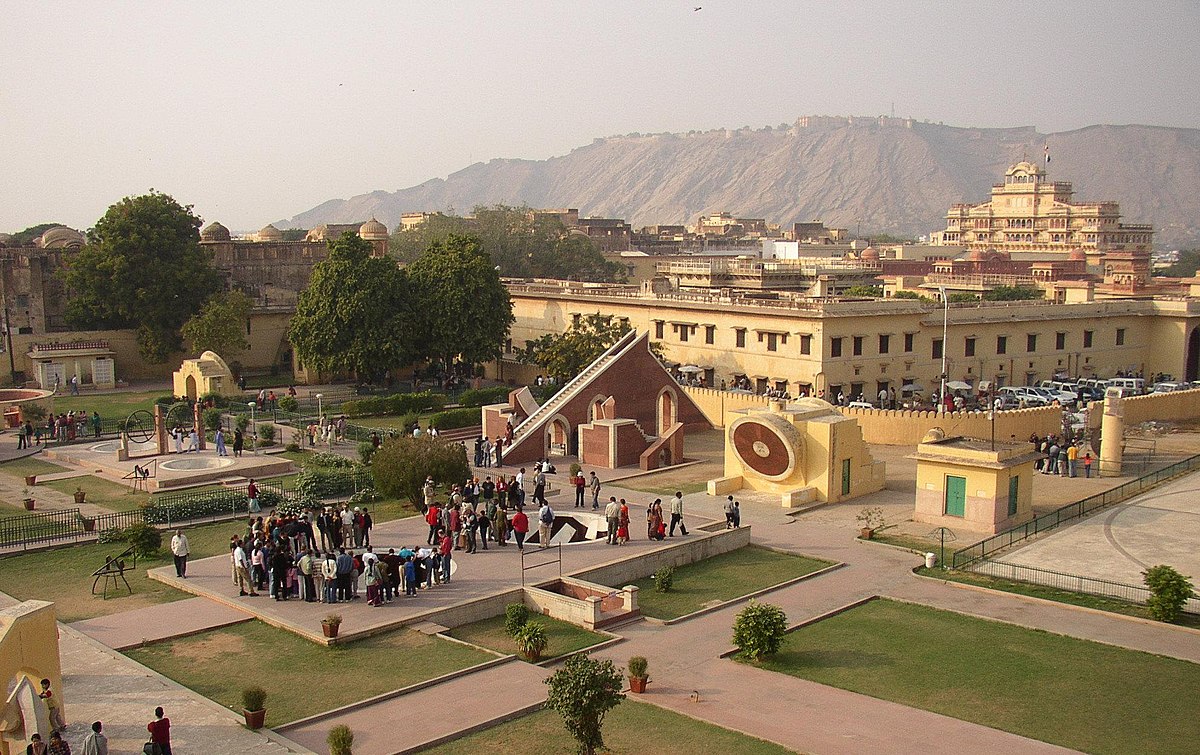 It was built by Maharaja Sawai Jai Singh II . The work on the monument was completed in 1734.   It is a UNESCO World Heritage site.
Located close to City Palace and Hawa Mahal, Jantar Mantar consists of 19 astronomical instruments with the largest stone sundial.
It consists of 19 instruments for measuring time, predicting eclipses, tracking the position of stars, to measure longitude and latitude of celestial bodies and many more

The city palace was built by Maharaja Sawai Jai Singh when he moved his capital from Amber to Jaipur in 1727.
This huge and magnificent palace was built in the combination of Rajput and Mughal architecture.  It is inside the old city and near Hawa Mahal.
The palace consists of various courtyards, museums, gardens including Diwan-i- Aam, Diwan-i- Khas, Chandra Mahal,  Mubharak Mahal, Sabha Niwas and Govindaji temple.
It is open from 9:30 am to 5 pm. The palace has three entrance gates out of which Virendra Pol and Udai Pol are open to the public.

Shopping in Jaipur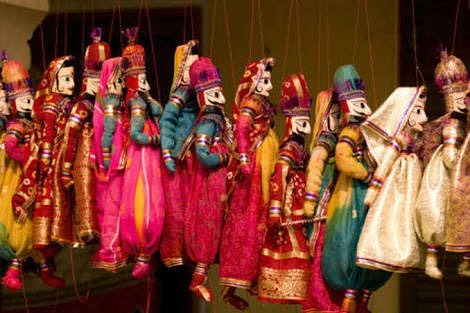 Visiting Jaipur and not doing shopping is just beyond imagination. Jaipur is famous for shopping for clothes, gems, jewellery, leather goods, handicrafts and many more.  It is recommended to do shopping in the morning or late afternoon to avoid Sun. 
Jaipur has precious stone and marble carving industries. Jaipur quilts are famous worldwide. Sarees and dress materials made of bandini, tie and dye are best suitable to wear during summer season.  Some of the famous places to shop in Jaipur are

Johari Bazar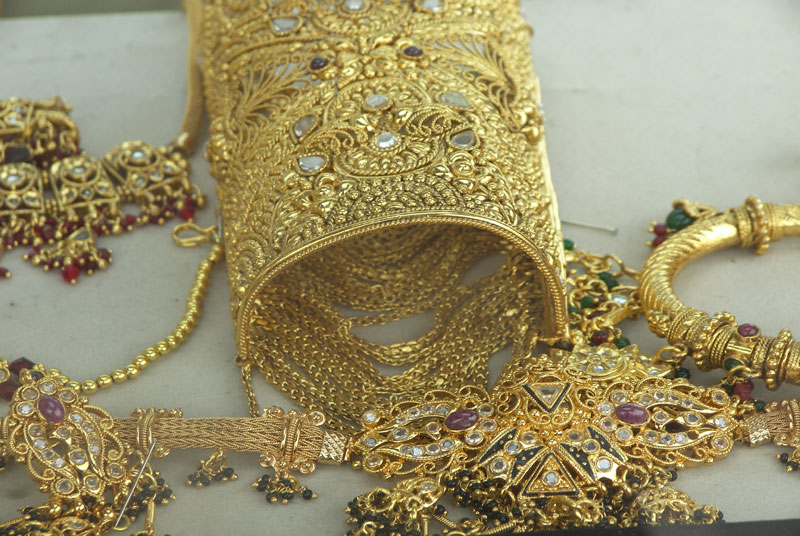 This is one of the oldest markets of Jaipur. Located near Haldion ka Raasta (lane of Turmeric), this market is famous for jewelry.
The market is full of vendors, silversmiths who do trading in diamond, gold, and precious stones. Jaipur is famous for its emeralds and most of the emerald shops are located in this market.
All types of ornaments are available for all ages  like earrings, necklaces, bangles are exhibited by the shoppers here. 'Kundan' jewellery is very famous in Jaipur. Necklaces made of kundan are very fashionable and high in demand. The market has various shops where Kundan and Minkari jewels are sold.

Other than jewellery, the market also has shops for handicrafts, clothes, foot wear, leather goods and decorative items. One can spend a whole day easily in this market enjoying shopping.
Most of the shops say they are fixed price shops but still one can bargain. It is a shopper's paradise. The market is open on all days from 10am-10pm.
One can enjoy shopping and eating in the nearby restaurants. The best time is from November till March to avoid the scorching heat of the sun.

Tripolia Bazar
Tripolia Bazaar: Another important and famous market is Tripolia market. It is located in between Chhoti Chaupar and Manak Chawk. This market is famous for Lac jewellery, one of the trademarks of Rajasthan. One has to do a lot of bargaining in these shops. 
Also one can shop for carpets, precious stones and clothes in this market. The market is open from 10am-8pm and is closed on Sundays.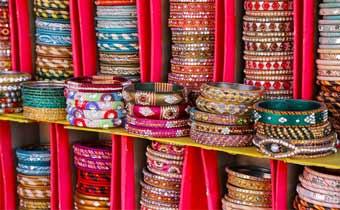 Bapu Bazaar: Bapu Bazaar located in the heart of the city between Sangaheri gate and new gate. This market is always buzzing with people around. Localities and tourists throng to this market for shopping.
This market is famous for textiles, foot wear, precious stones and many more. Another important thing is the availability of typical Jaipuri stuff like tie and dye suit materials, bed sheets, Sangaheri print materials.
The Mojari footwear is an important shopping product in this bazaar. Bargaining is very important as shoppers say sky rate prices. Bazaar is open on all days from 10:30am-8pm.

Chandapole Bazar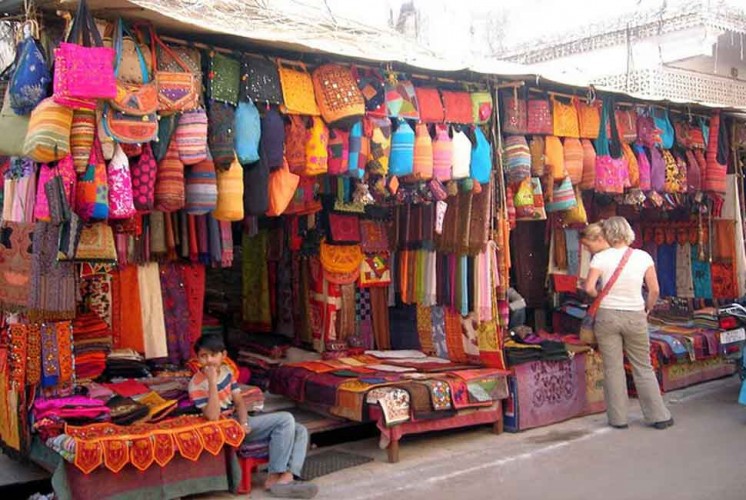 Chandapole Bazaar:
Many sculptors where marble workers and painters go to Kahzane walon ka Raasta and create some mind blowing work on marbles. This bazaar has something for everyone. 
If one is interested in knowing more about these sculptors then they can visit Silwathon Ka Mohalla.  Basically a market for localities, even tourists visit this market regularly.
Everything is available in this market be it clothes, marble art, handicrafts one can get at a good price if proper bargaining is done. This market is open on all days from 11am-9pm.

Update on coronavirus in India
Read about other Indian States
Kishanpol Bazaar: 
Kishanpol Bazar is located parallel to Baba Harish Chand Marg and Chaura Rasta. This market is famous for wooden carvings. It can also be the best bet for Bandini dresses, Lahariy and other kinds of cotton materials.
If one is looking for small gift items like wooden camels, horses, decorative wooden jewelry boxes then this bazaar is a good bet. The market remains open from 10am-9pm and closed on Sundays. Best time to visit is from November-March.

Nehru Bazar:
If one wants to have a collection of shoes then this is the right place to visit in Rajasthan. Traditional Rajasthani jootis with different designs are available at a very affordable price here.  One can also buy some traditional garments and blue pottery items here. The market is open from 10:30 am to 7:30 pm on all days.

Affiliate Disclosure:
If you make any purchase via a link on this site, I may receive a small commission with no added cost to you.