Kerala Tourism
Kerala Tourism
Quick Facts:
State: Kerala
Country: India
Official Language: Malayalam
Capital: Thiruvananthapuram
Statehood: 1st November 1956
Kerala is situated on the tropical Malabar Coast of south western India. It is a narrow coastal strip that passes through Western Ghats and reaches the Arabian Sea. Kerala is known for lush green vegetation, beaches, backwaters, spices, mountains, coconuts and art forms like Mohiniattam and Kathakali.
Kerala was formed on 1st November 1956 after State Re organisation act was implemented. The state is spread over an area of 38,863 km2 bordering Tamil Nadu to the east and south and Karnataka to north and north east and Lakshadweep Sea to the west.
Kerala is the 23rd largest state in terms of area and 13th largest in terms of population. The state is divided into 14 districts with Thiruvananthapuram being the capital and Malayalam is the official language of the state.
The state is blessed with lush green all around with coconut trees and with the aroma of spices. The National Geographic Traveler called Kerala as one of the ten paradise in the world and a must visit state in India. The state is famous for beaches, backwaters, Hill stations, beautiful flora and fauna, waterfalls and varieties of spices.  Kerala is the most literate state and with diverse religions like Hinduism, Islam, Christianity, Buddhism living together and celebrating all festivals together.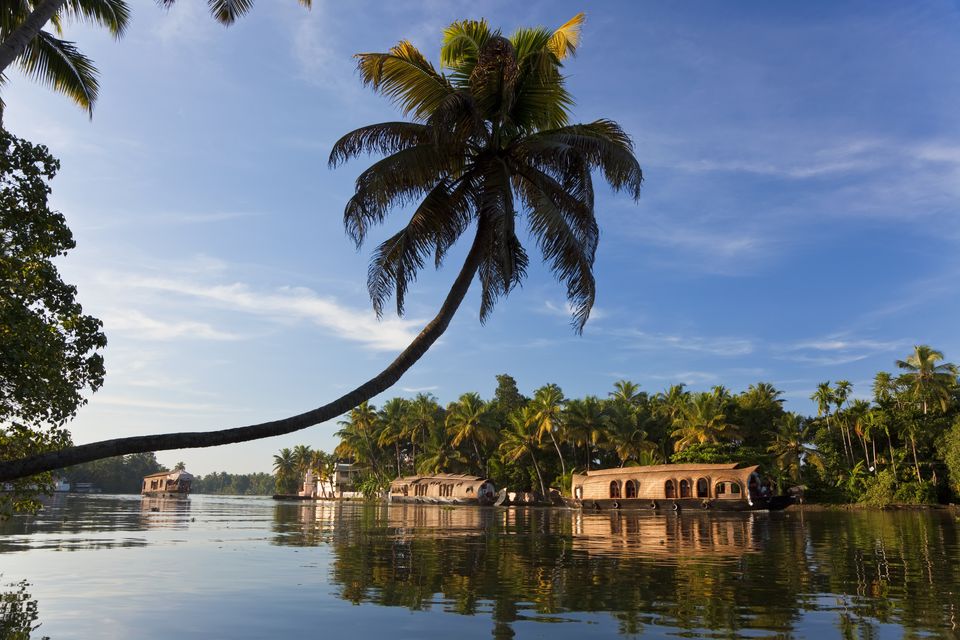 Geography of Kerala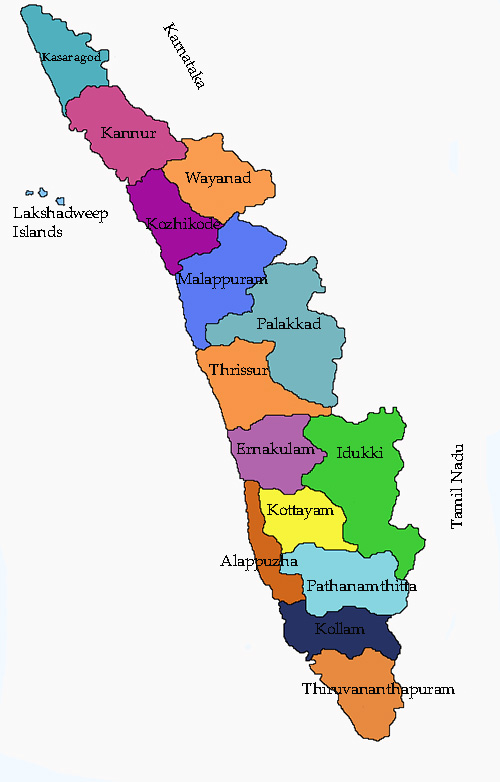 Check out more about Geography of India
Kerala is blessed with beautiful geography. It has Arabian Sea to the west and Western Ghats to the east. The state lies near the centre of the Indian tectonic plate. The state has three climatically different regions like eastern highlands, central midlands and western lowlands.
Eastern Part of Kerala is the encroached part of Western Ghats which consists of mountains and Hills. This part is rich in tea, coffee, spice plantations along with mountains and Hills. Most of the rivers that flow in Kerala originate from this part of Kerala. Western Ghats has mountain ranges that has peak as high as 2500m.

The midland plains comprises of broad strip of land that runs all along the central Kerala. Here the shallow valleys fill up the landscape as compared to the highlands. The low lands has paddy fields, elevated land slopes and also has rubber and fruit trees along with spices like black pepper and tapioca.
The coastal belt is flat which has coconut trees and interconnected canals and rivers. Kuttanad with its Backwaters Rivers and rivers is the rice bowl of Kerala. These backwaters are one of the major tourist's attractions in Kerala. Most of the rivers are small and are monsoon fed and usually dry up during summer months.

Climate of Kerala
Kerala has diverse climatic conditions. The tropical region has humid tropical wet climate while the eastern part has drier tropical wet and dry climate. The state receives heavy rainfall during monsoon season. The three major seasons of Kerala are summer season from February to May, Monsoon season from June to August and October-November and winter season from mid October to early February.

During summer season the temperature goes up 35oc during the daytime. Monsoon season experiences heavy to very heavy rainfall. There can be sudden showers even during summer season.
It is better to carry umbrella all the time. In winter season the temperature may drop down to 10oc in hilly areas where as the other parts may have around 20oc during winter season. The state experiences mild wind all through the year.

The best time to visit Kerala is throughout the year except the monsoon months when the state receives very heavy rainfall. Otherwise September to April is ideal time to visit.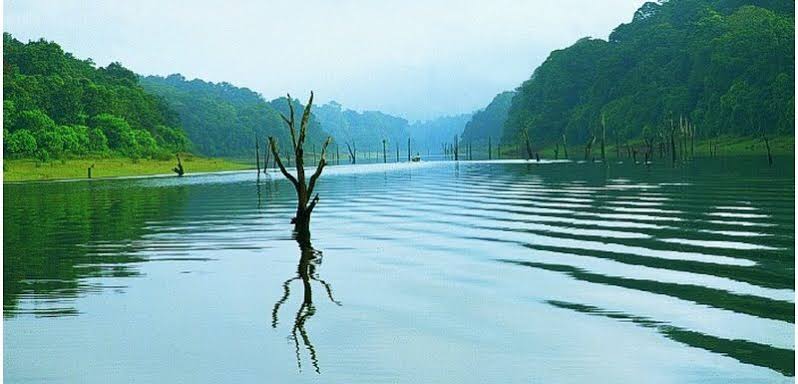 How to reach Kerala
Reaching Kerala is not a difficult task. Kerala has four International airports
By Air: Thiruvananthapuram International airport, Cochin International airport, Kozhikode International airport and Kannur International airport. Both Kochi and Thiruvananthapuram airports has facilities to provide Electronic Tourists Visa to foreign nationals of some of the major countries.

Check out more pages on tourism in India 
By Train: The state is well connected through Rail from all the major cities of India. Train services are available from major cities like Delhi, Karnataka, and Tamil Nadu etc. Train tickets can be booked online.
Recently the south India Railway introduced the Golden Chariot train which connects to most parts in Kerala. It starts from Bangalore and covers places like Chennai, Pondicherry, Trichy, Madurai, Trivandrum, Alapuzha, Kochi and later goes back to Bangalore. It is a 7 night 8 day package and seems a decent package.

By Road:
Kerala is well connected by national Highway to major cities of South India. Some of the important National Highway that are connected to different parts of Kerala to different cities in South India are NH 66, 85, 183, 544, 744 and 966.
By Ferry:
Kochi port is the busiest port in Kerala. Tourists travelling to Lakshadweep have to take a cruise from Kochi.

History of Kerala
You can also read about Indian History
The spices of Kerala are famous since 3000 years. The coast was famous to Phoenicians, Romans, the Arabs and the Chinese. The history of Kerala dates back to Stone Age period. The Edakkal Caves drawings date back to Neolithic period. Archaeologists have discovered places that belonged to Mesolithic age and Neolithic age. It is also believed possible presence of Indus Valley Civilisation. 

Earlier known as Chera Nadu (Kerala) the state was in direct contact across Arabian Sea with all Mediterranean and Red sea ports. Rock inscription during Mauryan Emperor Ashoka has name of Kerala mentioned in his inscription that dates back to 3rd century.
Chera dynasty ruled most part of Kerala for a very long period. While the Cheras ruled Western Malabar Coast, the Cholas ruled in the eastern Coramandal Coast and the Pandyas in the South central Peninsula region. 

With the arrival of Vasco da Gama in 1498, it opened flood gates for the European traders to trade with spices in India. The Cheras started the trade links with China, West Asia, Egypt and Greece. Kerala which is known as Spice Garden of India attracted traders from world wide since ancient period.
The second Chera dynasty which was known as Kulasekhara Dynasty ruled most part of Kerala during 800-1102 period. Due to the fight between the Cholas and the Cheras the trade slowed down and further the invasion of Portuguese in 15th century washed out Buddhism and Jainism from the state. With the arrival of British and the Muslim rulers Kerala came under various rulers. Later on 1st November 1956 Kerala state was formed.

Culture of Kerala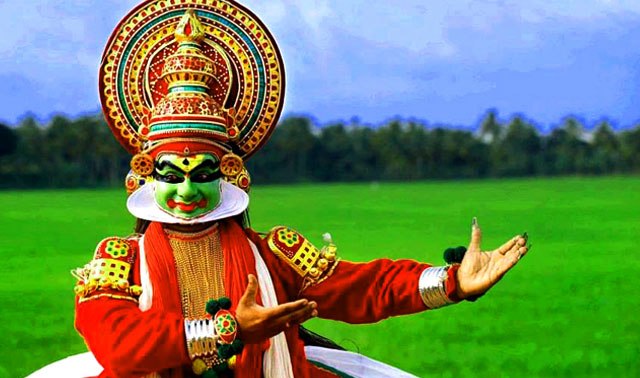 Read more on the culture of India
Culture of Kerala is very diverse and different. It is cosmopolitan culture. Malayalam being the official language is one of the oldest and ancient languages of India. Thousands of festivals are celebrated every year in Kerala. The state festival is the Onam also known as the Harvest festival. It is celebrated to commemorate King Mahabali.
It is a four day festival with celebrations like boat race, tiger dance, Onam Rangoli, mask dance and many more. It is four day public holiday during Onam. Other than Onam some other important festivals of Kerala are Navartri, Makaravilakku, Christmas, Chinakkathoor, Attukal Pongala, Nenmara Vallangi Vela and Utsavams at Padmanabha Swamy temple in Thiruvananthapuram.

Elephants are the integral part in Kerala culture and most of the festivals. Many temples in Kerala own and worship Elephants. In most of the festivals elephants are decorated grandly with different attire and carry the deity during the annual festival. Elephant is also the state animal and is the emblem of government of Kerala.

Kerala is known for different dance and martial art forms. Koodiyattom which is the traditional art form is UNESCO designated Human Heritage art. Another dance drama Kathakali is a very ancient dance form of Kerala. There are five classical dance forms in Kerala they are Kathakali, Mohiniyattam, Thullal, Koodiyattom and Krishnanattam. These dance forms shows the rich art culture present in Kerala even to this day.

Thirayattam is another important ethnic art of Kerala. It is performed in South Malabar region and is a mixture of dance, theatre, music, facial and body painting. This vibrant art form has a resemblance of ancient civilisation. Some of the other dance forms which are associated with temple culture are Theyyam, Koothu, Padayani and Kaliyattam.

Malayalam literature is very ancient and has its roots from the medieval period. Cheeraman wrote Ramacharitham which is an epic poem in 1198 AD. Manipravalam also flourished during this period. Some other notable writers include Niranam poets ( Madhava Panikkar, Sankara Panikkar and Rama Panikkar. Recent writers include O.V. Vijayan, Kamaladas and Vaikom Muhammed Basheer and many more. 

Kerala Tourism
Read more about Tourism in India
Known as God's own Country Kerala has many tourists' places for all age categories. The state has everything for everyone. It has hill stations, backwaters, temples, waterfalls, beaches, rich flora and fauna, spices. Below is the list of the places to visit. These are explained in details in other pages. Do share your photos and experience with us by clicking the link here.  Some of the best places are

Hill stations—
Munnar, Thekkady, Vagamon, Lakkidi, Vythri, Idukki, Ponmudi, Paithalmala, Wayanad and Vythri, Peermade
Beaches in Kerala:
Kovalam beach, Bekal Beach, Varkala Beach, Kozhikode Beach, Alappuzha Beach, Meenkunnu Beach, Kappil Beach, Payyambalam Beach, Chavakkad Beach, Cherai Beach, Mundakkal Beach, Marari Beach.
Temples in Kerala:
Sabrimala temple, Sri Padmanabha swamy temple, Guruvayoor temple, Attukal Bhagavathy temple, Ettumanoor Mahadeva temple, Vadakkunnathan temple, Ambalapuzha temple, Mannarshala Nagaraja temple, Chottanikara  Devi temple, Vaikom Mahadeva temple.

Waterfalls in Kerala:
Athirapilly waterfalls, Palaruvi waterfalls, Mulamkuzhi waterfalls, Soochipara waterfalls, Adyanpara waterfalls, Meenumutty waterfalls, Thomankuttu waterfalls, Nyayamakad waterfalls, Marmala waterfalls and Vazhachal waterfalls.
Wildlife Sanctuaries in Kerala:
Silent Valley National Park, Anamudi National Park, Periyar National Park, Eravikulam National Park, Nilgiri Biosphere Reserve, Periyar wildlife sanctuary, Neyyar Wildlife Sanctuary, Wayanad wildlife Sanctuary, Parambikulam Wildlife Sanctuary, Chinar wildlife sanctuary, Periyar Tiger reserve, Matthiketan Shola National Park and Thattekad Bird Sanctuary.

Cuisine of Kerala
Kerala is famous for some lip smacking dishes. Since coconut is grown in abundance the usage of coconut and coconut oil in cooking is more. Even the spices that are grown like the Elachi, clove, and cardamom are used in the preparation of food. Some of the famous dishes include Puttu and Kadala curry, Appam with stew, Idiyappam, Nadan Kozhi Varuthathu, Kerala Prawn Curry, Malabar Parotta. 

Sadhya is a feast of Kerala where a banana leaf is spread and all the dishes are spread of the banana leaf. It is a vegetarian feast prepared by both men and women in Kerala. It is served during Onam festival. It usually consists of 24-28 dishes that are spread on a single banana leaf. The dishes mainly consist of boiled rice, kootan, curd, buttermilk, sambar, rasam, mango pickle, avial, thoran, kheer and many more. Sadhya is usually served for lunch during the festival.

Ayurveda
Due to the availability of medicinal plants Ayurveda is widely popular in the state. Medical tourism is quiet popular in Kerala because of Ayurveda and Siddha which draws number of tourists every year.

Conclusion
Kerala the God's own Country truly deserves this tag line. It is a wonderful state to visit and enjoy the every bit of it. It can be food, tourism, spices and Ayurveda are some of the important things which you can look for. People are very friendly and educated and are very helpful. So keep looking into this page for more details about the tourist places, temples flora and fauna. Please share your experience and photos with us by clicking the link here.

Update on coronavirus in India
Affiliate Disclosure:
If you make any purchase via a link on this site, I may receive a small commission with no added cost to you.