Purana Qila
Updated on 06-10-2022
Purana Qila
Quick Facts
Country: India
State: Delhi
Founded: 1538
Founder: Humayun, Mughal Emperor, Sher Shah Suri, Surid Sultan
Timings: 7 am to 6 pm
Open: On all days
Entry Fee: 30 Rs for Indians and 300 Rs for foreigners.
Purana Qila also known as old fort was built by Humayun and Sher Shah. It is the masterpiece with beautiful architecture by the Mughals. It is one of the oldest forts present in Delhi, India.
It is constructed on the historical site of Indraprastha. Humayun began the construction in 1533 but it took five years to complete. Sher Shah of Sur dynasty who ended Humayun's reign ruled and built many monuments in purana Qila. The fort was originally built on river Yamuna before it changed its course. The fort formed the inner citadel of the city of Dinpanah. The massive gateway was built by Humayun and further laid foundation for the new capital Dinpanah.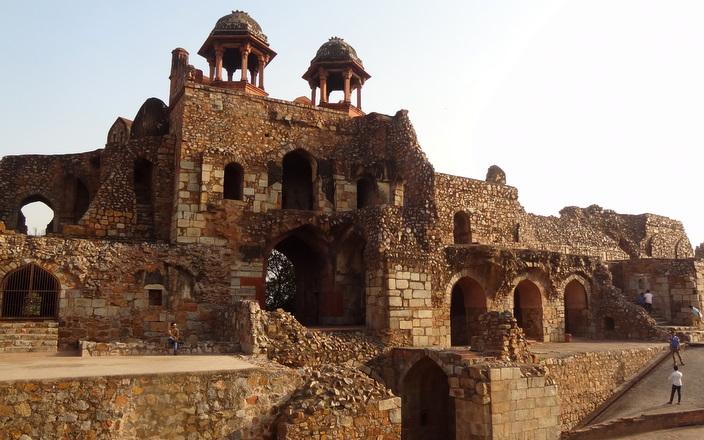 History
It has been said that the fort was previously built by the Pandavas for the kingdom Indraprastha. this was understood by the excavations which points towards 3rd century BCE that is before Mauryan period. The Archeological Survey of India has excavated traces of Painted Grey Ware Culture.
The gate of the Purna Qila was built by Humayun. The fort was built within the city of Dinpanah which was a small city in Delhi. Abul Fazi mentions that Humayun built the fort on the site of ancient Indraprastha.
Sher Shah Suri who was the founder of Suri dynasty defeated the Humayun and made lot of changes to the Qila. He further strengthened the fortifications and constructed the walls. He also constructed another fort called Shergarh and also built many other structures within the fort.
Purana Qila and its environs flourished as sixth city of Delhi.
After the partition of India and Pakistan, Purana Qila was used as a refuge camps for Muslims who were migrating to Pakistan. Around 200,000 Muslim refugees were in the Purna Qila. 
Architecture of Purana Qila
Purana Qila consists of three gates Humayun Darwaza, Talaqi Darwaza and bara Darwaza. The walls of these are huge and are built in red sandstone. The Bara Darwaza which is facing west is the main gate. Talaqi Darwaza is also known as forbidden gate. The Humayun Darwaza was constructed by Humayun. The gates are beautifully decorated with marbles chhatris, jharokhas with Rajasthani architecture. Among the surviving monuments in purana Qila are Sher Mandal and Qila-i-Kunha mosque.
Sher Mandal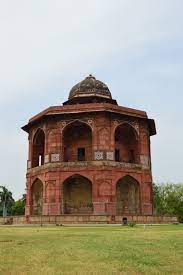 Sher Mandal is a beautiful building located with the Purana Qila. It is believed that Mughal Emperor used this as his library
Sher Mandal is a double storeyed octagonal tower which was originally started by Babur for his son Humayun. It is constructed with red sandstone with steep stairs till the roof. The stairs have around 18 steps and is both on southern and northern walls connecting the two floors.
The tower is supported by 8 pillars with chhatris all round. The upper storey is protected by the small Chhajjas with cornices.  Humayun later used it as library. It is believed that Humayun fell from the second floor of this tower and died of injuries in the year 1556. He slipped while going for evening prayers and fell headlong down the stairs. Entry inside the library is prohibited now.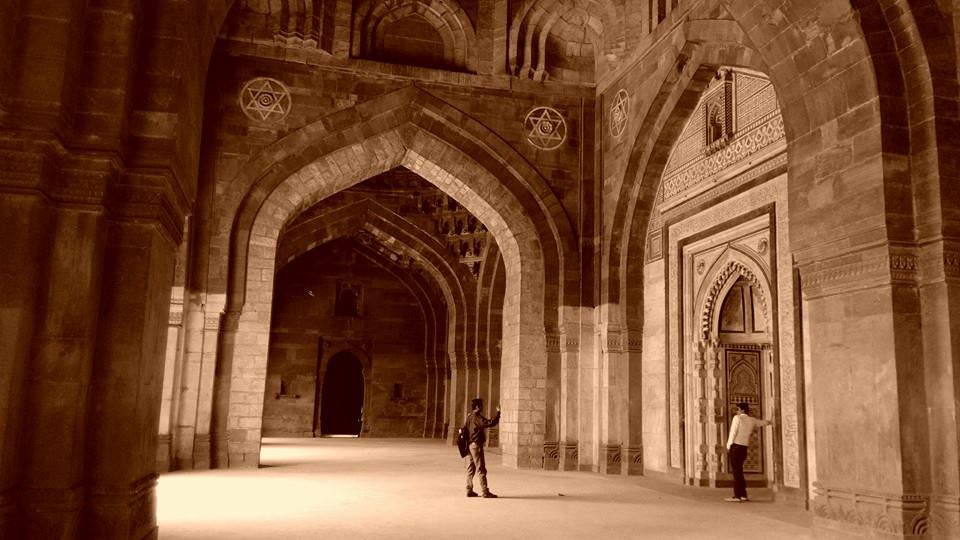 Both the storeys have eight alcoves. One can also see marbled Satkona symbols (it is a six-pointed star used in Hindu yantra). It is present on the exterior spandrel of the upper arches of the alcove with a marble inlaid motifs of a 12-petal flower with a 12-pointed star.
There is also a single square shaped room in the upper storey which opens into four small rooms with four alcoves. The upper storey is restricted for the visitors.
Qila-i-Kunha Mosque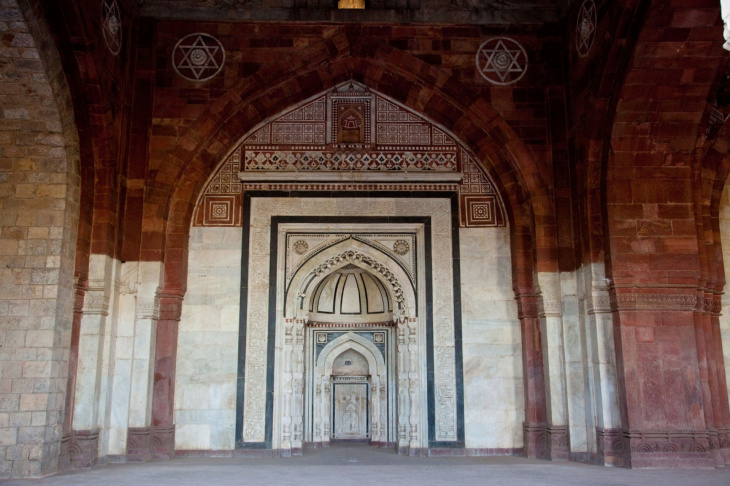 Qila-i-Kunha mosque was built by Sher Shah in 1541. It has the pre-Mughal architecture. It consists of a single dome with pointed arches and five doorways. The arches are in the shape of a horseshoe.
The mosque has calligraphic inscriptions. Marbles of red and white are used for these inscriptions. The prayer hall has five Mihrabs on the west side of the wall. The mosque has an inscription on marble which reads as follows: 'As long as there are people on this earth, may this edifice be frequented, and people be happy and cheerful in it'.
There is also a small museum inside the fort which displays many artefacts. Another important monument is Baoli which is 22m depth was an important source of water. It is a beautiful place to visit.

Some of the other monuments that are present are Kairul Manzil, mosque built by Maham Anga, Akbar's foster mother and Sher Shah Suri Gate.
Seasons/Climate of Delhi
Delhi experiences extreme conditions of hot and cold during summer and winter season. Its climate is greatly influenced by the Thar Desert and Himalayas
Summer season: Summer season starts from Mid-April and continues till end of June. It would be extremely hot during May and June. The maximum temperature may go up to 45 degrees Celsius. One can experience Loo during summer season
Monsoon season: Monsoon season is from July to September. Maximum temperature may drop below 40 degrees. But it would be extremely sultry and humid.
Winter season: November to February are winter months. The minimum temperature may drop to as low as 5 degrees. the maximum temperature would be below 15 degrees during peak months of December and January.
October and March are pleasant months.
Best time to visit
October to April is the best time to visit Delhi as the weather is good and is not hot
How to reach Purana Qila
Location: Mathura road, near Delhi zoo
Nearest metro station: Pragathi maidan.
Open: All days
Visiting hours: Sunrise to sunset.
Entry fee: Indians 20Rs, foreign tourists 200Rs
Please note the rates may have changed.

Update on coronavirus in India
How to reach Delhi
Delhi being the capital city of India. It is easily accessible by air, rail and Road.
By Air: Delhi has a very good air service both domestic and international flights. Delhi has flights to all the major cities within and outside India.
By Rail: Delhi has a very good rail connectivity. It has four major railways namely Old Delhi Railway Station, New Delhi Railway Station, Hazrat Nizamuddin Railway Station and Anand Vihar Railway Station
By Road: Delhi has well connected road and national highways from all the major cities of India. The three major bus stands are Inter State Bus Terminus (ISBT) at Kashmiri Gate, Sarai Kale Khan Bus terminus and Anand Vihar Bus Terminus. Both government and private buses provide with good service.
Affiliate Disclosure:
If you make any purchase via a link on this site, I may receive a small commission with no added cost to you.