Lajpat Nagar Market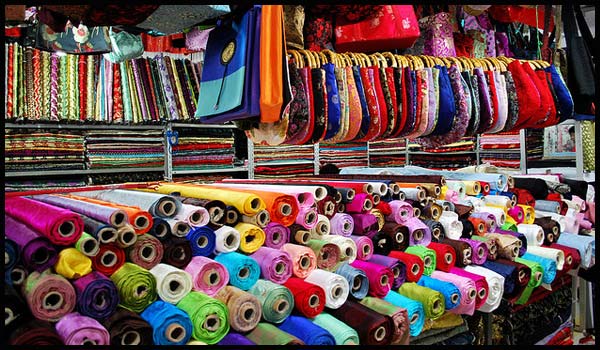 The most popular market in Delhi is the Lajpat Nagar market. It is residential cum shopping place in South Delhi. It is a one stop shopping place even for the local delhities. One can get good brands at a reasonable price. Bargaining can be done in some shops; however in some shops rates are fixed. It is better to do some bargaining else will pay exorbitant price The market is at a very  convenient place and well connected to rest of the city.
One can buy anything to everything here. It can be clothing, decorating items for the house, footwear's, saris, cutleries or any accessories. One can easily spend the whole day here without getting bored. There are uncountable shops and some roadside shops are also available. Clothing is available according to the season. There are many eateries as well here. If one likes mehendi designs on their hands then this is a perfect place to get it done. There are many mehendi wallas to decorate your hands with beautiful designs  . Both Indian and western wear are available here. During weekends one can experience heavy rush. If your favourite colour dress is not available then one should not worry as there are  persons  sitting and waiting to dye the cloth with your favourite colour t. Some branded shops are also there in this market. One can buy gold, clothes even to the smallest hair pins here. Locals shopping paradise, Lajpat Nagar is truly a must visit place for tourist. The 3C's mall which is a very famous shopping mall is here. It has food outlet like Mac Donald's, sagar Ratna, Chopsticks etc here. There is ample parking space available. Even though the market is not clean still the shops are arranged in order like all kitchen ware lined up in one row, clothing in one row, foot wears, dry fruits in one row. Enjoy shopping and eating.

Important information:
Location: near Ashram Chowk, South Delhi
Nearest metro station: Lajpat Nagar metro station
Open: 11am-9pm, closed on Monday.
Entry fee: free

Sarojini Nagar Market
Sarojini Nagar market also known as bargaining market is a good market for buying some economically local products. Here the stuff is comparatively cheap as compared to Lajpat Nagar market or any other market in Delhi. This is one of the most popular markets situated in south west of Delhi. This market got its name from the freedom fighter Sarojini Naidu. The market is in close surroundings with South extension market, Safdarjung and Chanakya puri. These areas are quiet posh and are beautiful localities of Delhi.
The road side shops have latest fashionable wears which are at throw able prices. The same stuff would be double the rate in any shopping mall. Always filled with people Sarojini Nagar markets is a best bet for buying some good quality stuff be it clothes, house hold items at reasonable price. The locals not only buy clothes here but also veggies in subzi Mandi which offers fresh fruits and vegetables. Opposite to subzi market are the famous shops like Alpana traders, Kalpana traders, furniture shops.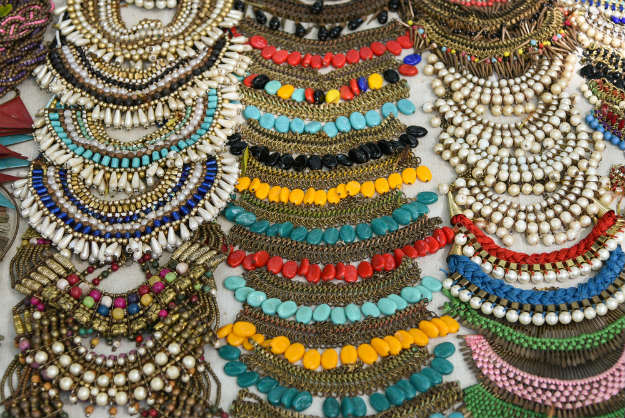 The market is in horizontal shape where in sometimes the visitors get lost in the market design. The market is designed in horizontal 'I' shape which sometimes leads to confusion where in you a miss the place where you started from. So be careful if you are a new comer to the market. The market is further divided into smaller markets inside called as babu market, subzi market, and central market. Babu market is present in the present in the North West of the Sarojini market. It consists of mainly garment shops and some food joints. The famous subzi market is situated in the southern part of the Sarojini Nagar market which is famous for its fresh fruits and vegetables and the central market is opposite to the subzi market. Mainly spices shops, furniture shop and general departmental stores. Along with shopping ladies can also enjoy the mehendi design on their hands and legs.
 The shops extend to the roadside and one can buy belt, sweaters, jackets, crockery's, cosmetics, footwear, home furnishing accessories and many more. Parking is not a problem here as a multilevel parking is built. During weekends markets is full of people from morning till night. At times they do give heavy discounts on the clothes and other items. The market mainly deals with products relating to ladies even though there are varieties for men, children and other house hold stuff. The market is open on all days except Monday. It is open from 11am-9pm. The nearest metro station for Sarojini Nagar market is INA metro station.

Update on coronavirus in India
Affiliate Disclosure:
If you make any purchase via a link on this site, I may receive a small commission with no added cost to you.