Lotus Temple
Lotus Temple
Quick Facts
Country- India
State- New Delhi
Completed- 13th November, 1986
Opened to Public: 24th December 1986
Diameter: 70 metres
Lotus temple also known as Bahai temple is one of the most picturesque temple of Bahai. It is located in Delhi, India. It is a Bahai house of worship which was dedicated to public on 24th December 1986. It took close to 6years for completion of this wonderful temple. It was opened to public in the year 1986. Lotus temple is one of the most recent addition to Delhi and is sought after destination for tourists in Delhi.
Every day thousands of visitors throng to this temple. The temple is built in lotus shape which is a national flower of India. Lotus temple represents Bahai faith and is open to all religions irrespective of caste, creed and sex. Due to its beautiful architecture it became one of the most prominent tourists place in Delhi.
Worship at Lotus temple
The temple does not practice any rituals or sermons. However people can chant any chant or read holy books of any religion. It is a very good place for meditation as the sanctum sanatorium is quite most of the times. Inside the Lotus temple there is no idol, anyone can worship any God inside the temple. The sacred writings of not only Bahai faith but also of any religion and any language can be chanted here.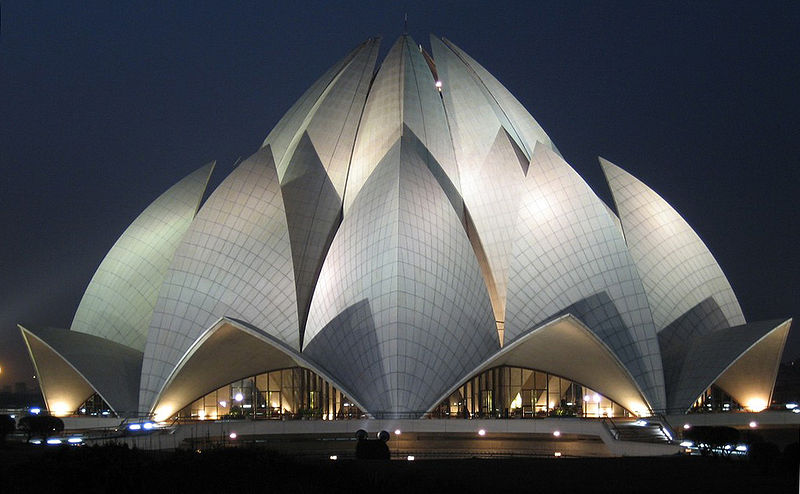 Architecture of Lotus-temple
The lotus temple was designed by an Iranian architect called Fariborz Sahba. Lotus temple is built in white marble in the shape of lotus flower. It consists of 27 marble clad petals arranged to in the group of 3 each to form 9 faces. The main structure stands on a raised platform with a total area of 26 acres.
The lotus temple is surrounded by lakes and garden on all 9 sides. Because of the beauty Lotus temple is also called as Taj of Modern India. There are 9 sides to enter the central prayer hall. The central prayer hall has a capacity to accommodate close to 3,000 people.
The central hall is also built with white marble, which is bought from Greece. The temple looks like a half opened lotus flower from the top view. The visitors are required to maintain silence inside the central hall. Nobody is allowed to talk inside the prayer hall. The temple usually gets on an average of 10,000 visitors every day.
The Bahai temple offer core activities like Children's Class, Junior Youth classes, Devotional Meetings and study circles. The main aim of these meetings aimed at creating spiritual and intellectual increase for children and the devotional meetings is aimed at love and harmonious meeting with the community.
The entire Bahai temple has a single undivided room under their dome. Each of the houses of worship has unique design and architecture which reflects the social, cultural elements of their location.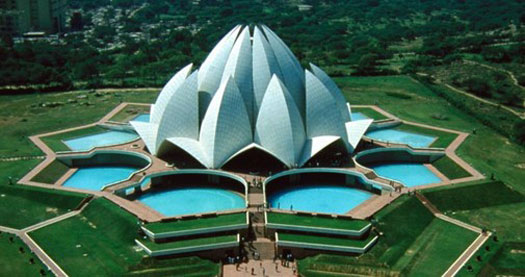 The Bahai temple in Delhi is among one. The other places where Bahai temple is present are at Australia, Panama city in Panama, Apia in Western Samoa, Kampala in Uganda, Frankfurt in Germany and Wilmette in USA. Lotus temple is one of the most visited tourist place in India.
Admire its brilliant architecture and experience a new way of meditating and praying where everyone gets together and chants without any bias or malice against people of any other religion. It can be summed up by saying that lotus temple is a place for everyone to find their inner peace.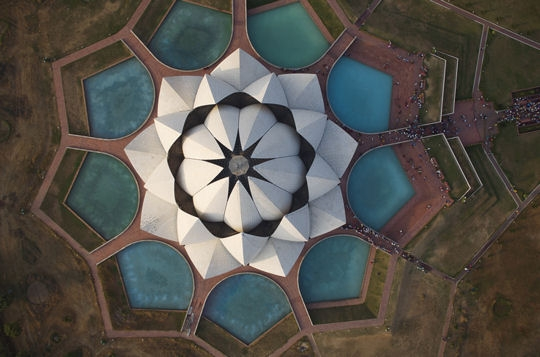 Important information of Lotus-temple
Location: Lotus Temple Road, Shambhu Dayal Bagh, Bahapur, Kalkaji, New Delhi
Contact: 011 26444029
Timings: Lotus Temple opens at 9.30 am for visitors and shuts down by 5.30 pm in winter, and in summer the timings are 9 am to 7 pm.
Monday is holiday.
There are 15-minute prayer sessions held in the temple at regular intervals every day.
Entry is free to all
Nearest metro station: Kalkaji metro station

Update on coronavirus in India
Affiliate Disclosure:
If you make any purchase via a link on this site, I may receive a small commission with no added cost to you.