Places around Delhi
Places around Delhi
Quick Facts:
Country: India
State:  New Delhi
National Capital of India: New Delhi
Places around Delhi: Haridwar, Rishikesh, Jaipur, Shimla, Mathura, Agra
Places around Delhi
With in Delhi there are many places to visit also there are many places to visit around Delhi. Localities wish to spend their weekends in a place away from the pollution, traffic of Delhi. Luckily Delhi has many in and around places which refreshes mind and body.
Some important places are Agra, Jaipur, Rishikesh, Haridwar, Mathura, Vrindhavan, Bhartpur, Dehradun. 

Places around Delhi-Agra and Jaipur
Agra: Agra is the home for the seventh wonder of the world the Taj Mahal. It is situated on the banks of river Yamuna in Uttar Pradesh. It is one of the major tourist's destinations in the world. Some of the major tourist's attraction is Taj Mahal, Agra Fort and Fathepur Sikhri. Agra is around 200Kms from Delhi and is easily accessible by road and train. One can start from Delhi early morning and come back on the same night or visit Jaipur. Agra can also reached by air. The nearest airport is Kheria Airport which is 5Km from Agra. It has flights to Delhi, Varanasi and Khajuraho. The best thing to do is while visiting Agra one can cover places like Mathura, Bhartpur, Vrindhavan and Jaipur. This may take one night stay in some place.
Jaipur: Also known as the pink city, Jaipur is the capital city of Rajasthan. It was founded by Raja Jai Singh in the year 1726. It is around 260Km from Delhi and can be accessed by road, rail and air. Jaipur is a part of the golden triangle for tourists along with Agra and Delhi. Jaipur is famous for shopping like clothes, quilts, gems, jewellery, leather goods and many more. Some of the famous tourists destinations in Jaipur are Hawa Mahal, Amer Fort, City Palace, Jantar Mantar, Jal Mahal, Jaipur zoo, Nahargarh fort, Jaigarh fort and many other places. It easily takes more than a day to completely cover Jaipur. One should not miss to eat the famous Rajasthani dishes especially Dal Batti Churma.

Rishikesh and Haridwar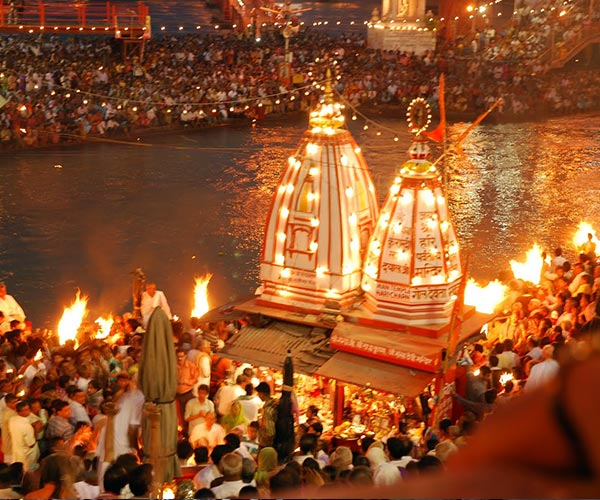 Rishikesh is located in the foot hill of the Himalayas of Uttarakhand state. It is mainly a pilgrimage place to Hindus. People who visit Badrinath, kedarnath, gangotri, yamunotri take a break either in Haridwar or Rishikesh. Rishikesh has ram sethu and lakshman Sethu Bridge seems to build by God Ram. It is a quiet calm and serene place. One can do some yoga and meditation here to attain some peace of mind. It is close to 240Km from Delhi and can be accessed through road. The nearest railway station is Haridwar.
Haridwar:
Haridwar is another pilgrimage place for Hindus. People when going to Badrinath make halt here and see the ganga Aarthi in the evening and proceed next day to Badrinath. Haridwar is also spelled as Hardwar is located in the state of Uttarakhand. River ganga which takes birth in Gangotri flows for 253Km enters the Indo Gangetic plains in Haridwar. The Ganga Arathi is worth watching in Haridwar.
During the Aarthi the whole place near the river get immersed in Diyas and the chanting of mantras. People forget the world and watching this Aarthi here. One can spend beautiful evening along the river in Haridwar. It is close to 180 Km from Delhi and can be reached by road and rail.
It is believed that bathing in River Ganga washes away the sins and one can attain moksha. Some of the important places in Haridwar are Brahma Kund, Har ki Pauri, Mansa Devi temple, Shantikunj, Chandi Devi temple and many more. The weather remains pleasant to very cold throughout the year. Haridwar can be visited throughout the year.
Mathura Vrindavan and Bhartpur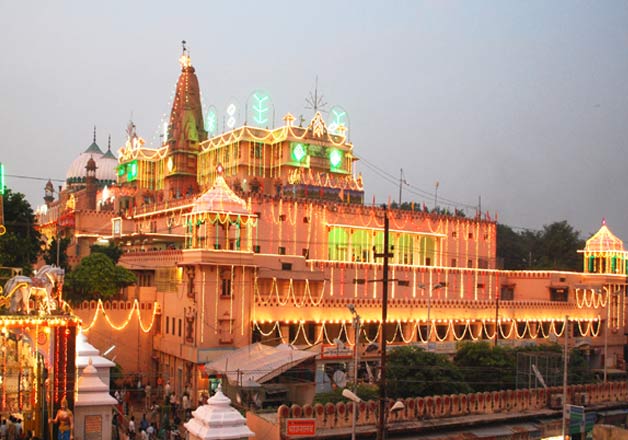 Mathura and Vrindavan:
Mathura the birth place of Lord Krishna is located in the state of Uttar Pradesh. Mathura and Vrindavan is located on the bank of river Yamuna. Vrindavan and Mathura are considered as twin cities are about 56km from Agra.
Mathura is around 145Km from Delhi and is easily accessible through road and rail. The main temple at Mathura is very huge and beautiful. Mathura and Vrindavan is one of the seven scared cities in India which are closely associated with Lord Krishna.
One can visit Mathura while travelling to Agra from Delhi. Shri Krishna Janmabhoomi is the temple built around the prison cell where Krishna was supposed to have born is the main tourist attraction. Other places to visit in Mathura and Vrindavan are Keshav Deo temple, Mathura Museum, Banke Bihari temple, Prem Mandir Vrindavan and many more.
Update on coronavirus in India
Bharatpur
Bharatpur is a city located in Rajasthan. It is around 200Km from Delhi, 55Km from Agra and around 40Km from Mathura. One can plan for a good weekend to visit all the three places along with Jaipur. Bharatpur is famous for its bird sanctuary. The national park is known as Keoladeo National Park. Bharatpur is easily accessible through road and rail. Agra is the nearest airport.
The history goes back and says that Maharaja Suraj Mal founded in the year 1733. It is believed that Bharatpur got its name from Bharat, the younger brother of Lord Ram. Some of the important places to visit is the National Park, Bharatpur Palace and museum, Lohagarh fort, Deeg, Dholpur palace, Band Baretha and the ganga Mandir. The best time to visit the national park is from August to November to see resident birds and October to February for seeing migratory birds.
Since all these places are in close vicinity one can plan for a weekend visit and cover all the above places except Haridwar and Rishikesh. 
Jaipur:
Jaipur is the capital city of Rajasthan. It is one of the most important tourist destinations in Rajasthan, India and is a part of the Golden Triangle tourist circuit along with Delhi and Agra. Jaipur which is also known as pink city and Paris of India is famous for forts, palaces, shopping. 
In 2019 the city was included in the UNESCO World Heritage Sites. The city is also home for some of the UNESCO World Heritage Sites like Amer fort, Jantar Mantar. Jaipur was founded in 1727 by the Kacchwaha Rajput ruler Jai Singh II and is one of the most planned and beautiful cities in India.
It is one of the most popular hill stations and the capital city of Himachal Pradesh in India. It was also the summer capital during British rule in India. Shimla is easily accessible by rail, air and road. Tourists can even drive down from Delhi. Shimla has many tourist attractions and the major being the Kalka- Shimla Railway line built during the British rule. It is the UNESCO World Heritage Site. This railway route has around 806 bridges and 103 tunnels.
Mussoorie is a hill station in Uttarakhand, India. It is about 35 kms from Dehradun and 290 kms from New Delhi. Many people staying in North India rush to hill stations to get away from the scorching heat.
Popularly known as the " Queen of the Hills," Mussoorie is at an elevation of 2005 m above sea level. To the northeast of Mussoorie is the beautiful Himalayan ranges and towards south is the Doon Valley and Shiwalik ranges. Mussorie also serves as a gateway to Hindu pilgrimage places like Gangotri and Yamunotri. Another major highlight is that Musoorie has a ropeway to Gun Hill, which is the second highest point of Mussoorie after Lal Tibba. The cable car can be from the mall road which gives a beautiful view of the Himalayas and the entire city.
It is one of the oldest National Parks located in Nainital district of Uttarakhand India. It was named after the hunter Jim Corbett. It is a part of Project Tiger reserve to preserve the tigers. Wildlife can be watched by taking a Jeep ride or on the elephant back. It is the only National Park which allows night stay in the Jungle. The park consists of around 500 species of trees, 50 species of mammals, 580 bird species and around 25 reptile species.
How to reach Delhi
How to reach
Delhi being the capital city of India. It is easily accessible by air, rail and Road.
By Air: Delhi has very good air service for both domestic and international flights. Delhi has flights to all the major cities within and outside India.
By Rail: Delhi has a very good rail connectivity. It has four major railways namely Old Delhi Railway Station, New Delhi Railway Station, Hazrat Nizamuddin Railway Station and Anand Vihar Railway Station
By Road: Delhi has well connected roads and national highways from all the major cities of India. The three major bus stands are Inter State Bus Terminus (ISBT) at Kashmiri Gate, Sarai Kale Khan Bus terminus and Anand Vihar Bus Terminus. Both government and private buses provide good service.
Best time to visit
Best time to visit
October to April is the best time to visit Delhi as the weather is good and is not hot.
Affiliate Disclosure:
If you make any purchase via a link on this site, I may receive a small commission with no added cost to you.