Madikeri
Country: India
State: Karnataka
District: Kodagu
Official language: Kannada
Regional language: Kodava and Arebhashe
Best time to Visit: All 12 months.
Madikeri: Madikeri is a beautiful hill station located in the Kodagu district of Karnataka, India. It is the district headquarters of Kodagu. Madikeri is also known as mercara was formerly known as Muddu raja Keri was named after the Haleri King named Mudduraja. He ruled Kodagu from 1633-1687. The history of Madikeri is quiet similar to Kodagu.
It was ruled by Cholas, Kadambas and Haleri Dynasty. Haleri King Mudduraja built the Madikeri Fort and made it as their capital. The pleasant climate and beautiful terrain makes it a must visit place in Karnataka India. Travelling to Madikeri would be incomplete if you don't enjoy the aroma of coffee plantations and the fresh spice plantations. Madikeri lies in Western Ghats and is the most popular Hill Station in Karnataka.

Climate of Madikeri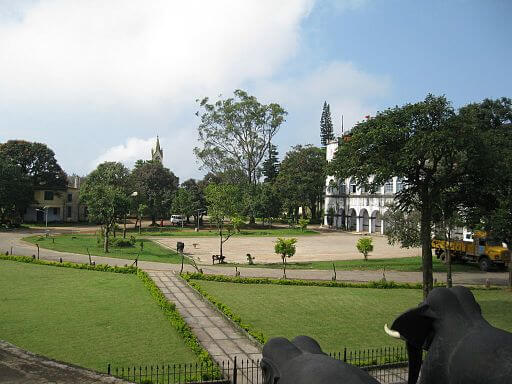 Madikeri is at an elevation of 1150 m and has tropical Highland climate. Since Madikeri lies in the Western Ghats the place is filled with beautiful greenery all around and is also rich in coffee plantations.
Madikeri enjoys a pleasant climate throughout the year. During summers the maximum temperature hovers around 26oc and during winters the minimum temperature hovers around 10oc. December and January is the coldest months while April and May are summers. 

How to reach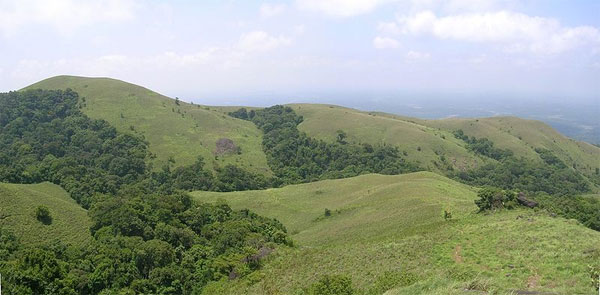 Madikeri does not have an airport. The nearest airport is Mangalore which is at a distance of 140 kms. Another nearest airport is Calicut which is around 180 kms. Distance between Bangalore and Madikeri is around 270 Kms.
Madikeri does not have a railway station of its own. The nearest railway station is Hassan, Kannur and Kasargod.
Madikeri is well connected through road from major cities of Karnataka. Best thing to do is either to fly to Mangalore, Bangalore and Mysore then travel through road either by bus or book a cab. It is wonderful experience to travel through road enjoying the nature's serene beauty. You can also capture some good pictures.

Tourists places in Madikeri
Madikeri has many touristic places to visit. Thousands of tourists visit Madikeri every year to enjoy the aroma from the coffee plantations, lush green forest, hills covered with thick fog and of course to do some trekking.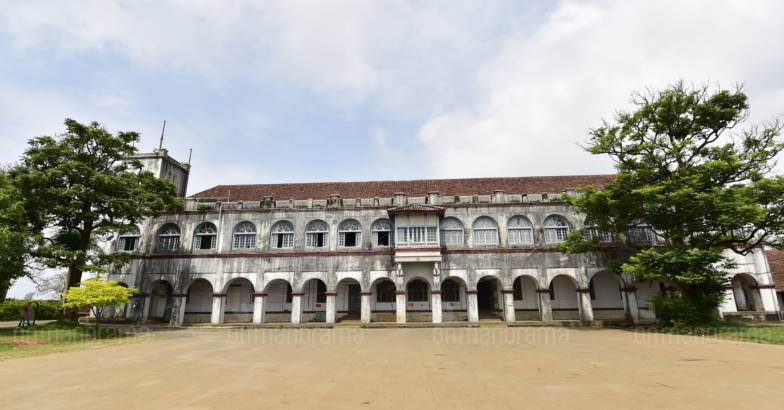 Madikeri Fort:  King Mudduraja of Haleri dynasty built Madikeri Fort in the year 1681. He also constructed a palace inside the fort. The original fort which was built by Mudduraja was in mud later it was restructured and remodelled in granite by Tipu Sultan and named it as Jaffarabad. The fort got further facelift by Linga Rajendra II of Kodagu Dynasty during 1812-1814.
Later the fort came under the control of British rule that further made some changes in the fort. The building has a museum, an Anglican Church and a Palace. The Church was built by British in the year 1859. The fort has some secret passages which were used during enemy attacks.
The fort is huge beautiful structure with two stone replicas of elephants are placed on the north east corner of the fort. The palace is huge and has a sculpture of stone tortoise. The fort stands on a high level ground which gives a splendid view of the city and is surrounded by lush green garden. Fort is open from 10am-5:30pm on all days except Monday.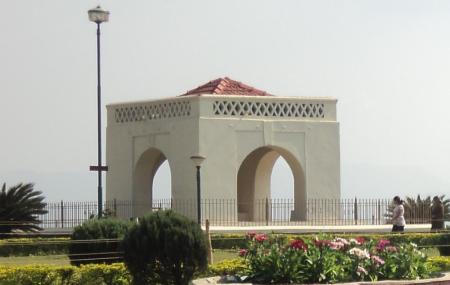 Raja's seat: Another important tourist destination in Madikeri is Raja's seat. It is place for seasonal flowers and fountains. It is a treat to watch the beauty during the season when the colourful flower blooms along with the artificial fountains around it. It is believed that the Kings used to come here to watch the beautiful sunset and also to spend time with their queen.
Raja's seat is made on a small pavilion made of brick and mortar. It is above the ground level and is surrounded by pillars with arches. Another important attraction is the toy train in Raja's seat. The place is easily accessible as it is located at the heart of the town. The best time to visit is during season particularly in the early morning and during sunset in the evening.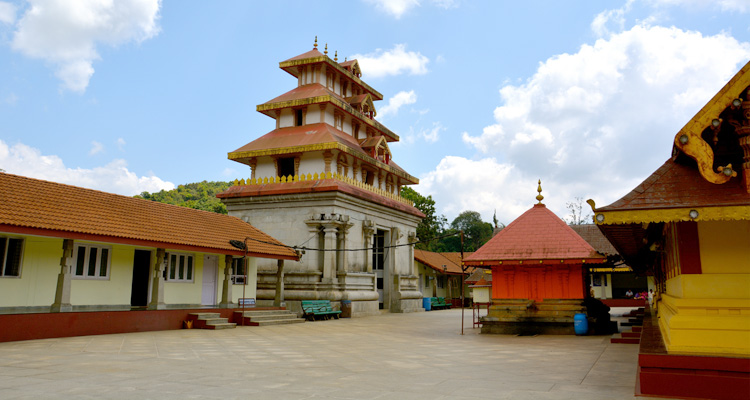 Bhagamandala: It is a pilgrimage place located in Kodagu district of Karnataka, India. It is around 40 kms from Madikeri is on the banks of confluence or Sangama of three rivers namely Kaveri, Kannike and  Mythical river Sujyoti. It is popularly known as Triveni sangama. The famous temple of Bhagandeswara is located on the banks of the river.
Thousands of people visit here to take the blessings of the God. Usually tourists who visit here first take a dip in the triveni sangama and later perform rituals for the ancestors and later visit the temple. The idols of Lord Shiva, Subramanya and Ganapati are installed inside the temple. The temple is built in karavali style of architecture. Bhagamandala experience tropical climate.
The maximum temperature hovers around 28oc during summer season and the minimum temperature hovers around 16oc during winter season. The temple is open on all days from 6am-7pm. Since Bhagamandala lies at the foot hills of TalaKaveri, one can also visit the origin place of river Kaveri known as Talakaveri. Bhagamandala has no airport one can fly either to Mangalore, Mysore or Bangalore and then take a cab or bus to reach the place. There are also many city buses from Madikeri.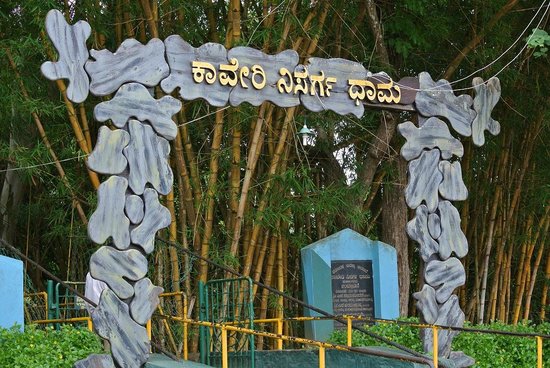 Read more tourists places like
Delhi    Andaman and Nicobar   Lakshadweep  Kerala
Mandalpatti:
Mandalpatti is the breath taking view point located at 35 kms from Madikeri. Historically rich town tourists don't miss to visit this beautiful place. The view of the hills from the Viewpoint is Mandalpatti is beyond expressions and no words to describe the experience; one has to cross through the coffee plantations to reach the place from Madikeri. It is open from 6am in the morning till 6pm in the evening. A very good place for photography and also to spend some quality time with the nature.
Nisargadhama: It is a perfect place for nature lovers. Nisargadhama is an island located near Kushalnagar in Kodagu district. It is 30 Km from Madikeri, 95Km from Mysore and 167Km from Mangalore. It is a perfect place for enjoy boat ride on the back waters of river Kaveri. Tourists are allowed to get into water at few shallow and safe points where there is no risk.
It is 64 acre land covered with lush green forest with bamboo groves, sandalwood and teakwood trees. In order to reach the island one has to cross a beautiful hanging bridge. There are rabbits, deer and peacock along with playground for children. Nisargadhama can be visited through out the year. There is no airport in Nisargadhama the nearest airport is Mangalore, Bangalore and Mysore from here one can take a cab or bus.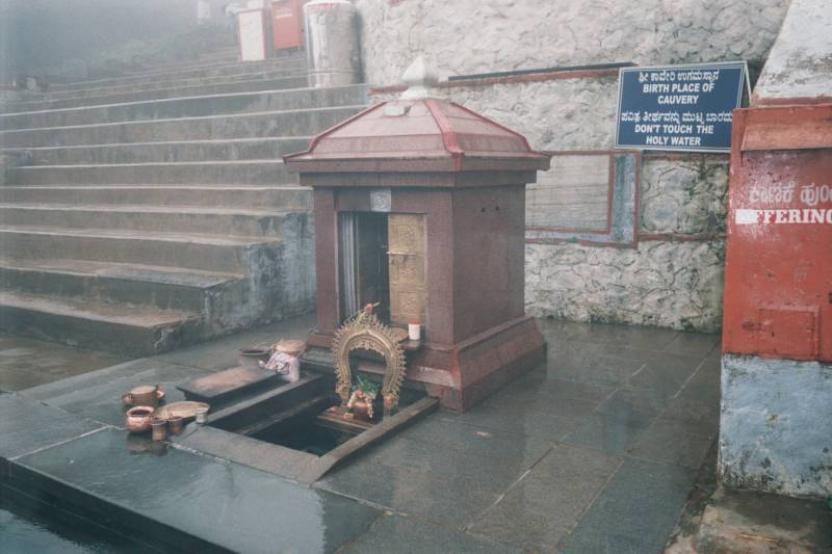 Talakaveri: Talakaveri is 44 km from Madikeri and is located on Brahmagiri Hills near Bhagamandala in Coorg district of Karnataka, India. It is the birthplace of River Kaveri and a holy place. The place is famous for the temple which is dedicated to Goddess Kaveramma. It is believed that Sage Agastya took Kaveri in his Kamandala (a small container) and started meditating.
Afterwards the water fell on to the ground and started flowing and that was River Kaveri.  According to Hindu mythology River Kaveri is one of the seven sacred rivers of Sapta Sindu. There is a small pond or Kundike from where River Kaveri originates and it goes underground and flows after some distance.
There is a small temple near the kundike and also a big tank where people take bath and offer prayers to River Kaveri. There are two temples one dedicated to lord Shiva and the other dedicated to Lord Ganesha and also has Ashwatha tree. During Tulasankramana that in the month of October thousands of people visit Talakaveri to take a dip in River Kaveri.
During this period there is a upsurge of water from the Kundike which is considered as very auspicious occasion for many Hindus. The place can be reached by bus either from Mysore, Bangalore or Mangalore. There is no airport in Talakaveri. One can also travel from Madikeri or Bhagamandala. The distance from Bangalore is around 310km from Mysore it is around 160km and from Mangalore it is around 145km.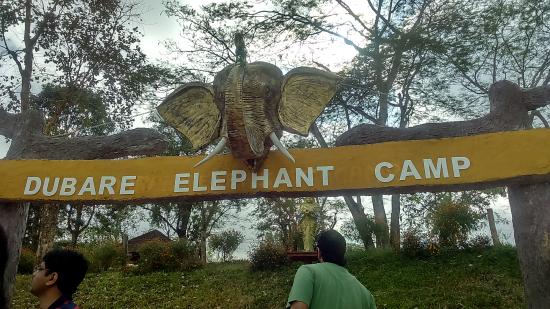 Read more about India
Ancient India    Indian Independence Movement  History of India
Indian Dynasties  Freedom Fighters of India  History of Rajasthan
Dubare Elephant Camp: This place is famous for the elephant training camp which is located in Kodagu district of Karnataka, India. It is around 5 hour drive from Madikeri and is one of the most important tourists place near Madikeri. The camp is on the banks of River Kaveri and the elephants that participate for Mysore Dasara were getting trained at this camp.
One can enjoy various activities here like Elephants ride; trekking, white water river rafting and even one can give bath to elephant. All the activities include minimal fee. If you are lucky then you can even see Asiatic Elephants, spotted Deer, Leopards and Gaur. The place is easily accessible through Mangalore and also from Bangalore. One can also cover Nisargadhama and Veerabhoomi before reaching Dubare Elephant Camp.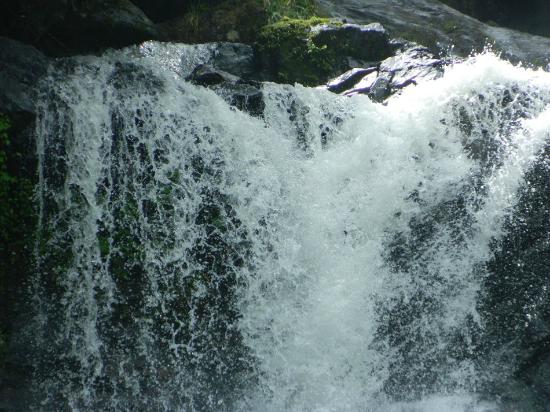 Irupu Falls: it is a magnificent waterfall located in the Kodagu district of Karnataka, India. It is around 80 km from Madikeri is a breath taking waterfall especially during monsoon season when the water fall is at its best. It is a scared spot in Brahmagiri range of hills.
The water fall is also known as Lakshmana theertha fall and has an interesting history around the name. it is believed that when Lord Rama and Lakshmana went in search of Goddess Sita, then Lord Rama felt thirsty at that time Lakshmana shot an arrow on Brahmagiri range and brought down Lakshmana Thirtha. Originating from Brahmagiri range, Lakshmana thirtha falls from a height of 170ft to form Irrupu waterfall.
It is the most important tourist and pilgrimage place in Karnataka. There are two temples one dedicated to lord Rama and the other dedicated to lord Shiva. It is believed that by taking a dip in the river one can cleanse all their sins done. On their way one can visit Nagarhole National Park. The place is at a distance of 260 km from Bangalore and 120 km from Mysore.
Update on coronavirus in India
Affiliate Disclosure:
If you make any purchase via a link on this site, I may receive a small commission with no added cost to you.