Tourism in Bangalore
Tourism in Bangalore
Quick Facts
Bangalore (Bengaluru)
Quick facts:
Country: India
State: Karnataka
District: Bangalore
Language: Kannada
Established in: 1537
Founded by: Kempegowda I
Bangalore is the capital city of state of Karnataka India. Bangalore also known as Silicon Valley is a perfect destination for all age groups. From the high-rise buildings, huge malls, temples everywhere, packed roads make Bangalore a wonderful and beautiful city to visit and enjoy. Bangalore has many tourists' places in and around the city. Apart from best garden like the Lalbagh and the Cubbon Park the city also has many historical places to visit like the Bangalore place, Tipu palace and Mayo Hall. The major advantage to Bangalore is the climatic conditions which makes it a perfect tourist place in India. Some of the major tourist's places are
Tourism in Bangalore
Bangalore palace is situated in the heart of Bangalore city. Bangalore is the capital of Karnataka state. The palace is very beautiful and truly it is a worth visiting. The palatial palace was built in the year 1887 by King Chamaraja Wadeyar. Surrounded by beautiful garden it is a must visit palace in Bangalore.
Apart from being a major tourist destination the grounds of the palace holds a number of cultural events, marriages and rock shows. The palace is open on all days from 10am-5pm. The palaces authorities have audio in 7 languages which tourists can take at a minimal deposit. It is truly worth taking the audio and listening to it.

Tipu Sultan Sumer Palace:
Tipu Sultan's summer palace is located at the heart of Bangalore near Kalasipalyam. It was started by Hyder Ali and was completed during Tipu Sultan's reign in 1791. The palace shows the rich Indo Islamic architecture.
At present Government of Karnataka maintains and manages the palace and the ground floor rooms are converted to a museum to showcase the achievements of Tipu Sultan. Since the fort is located in the busy shopping market one can see the fort and do some shopping as well. It is open on all says from 9am-5:30pm. The palace is a two storied wooden structure with beautiful carvings, arches and balconies.

Cubbon park and Lalbagh in Bangalore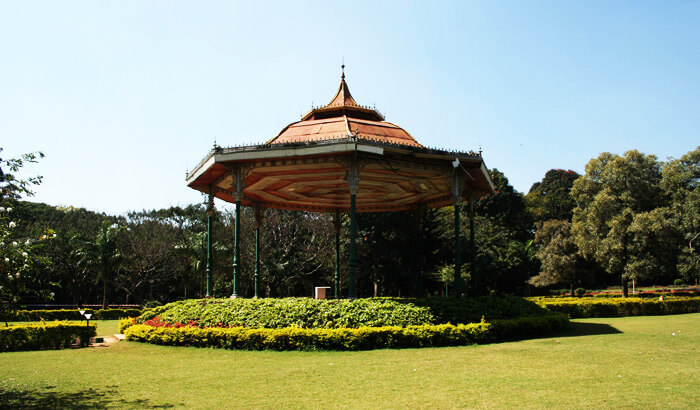 LalBagh Botonical garden:
Lalbagh botanical garden is one of the most beautiful park in India.  It is open on all days from 6am to 7pm in the evening. Constructed during Hyder Ali and was later beautified with various species of plants during Tipu sultan period. Lal Bagh hosts flower show every year during Republic Day and Independence Day week.
The flower show sees a huge increase in tourism. People from different parts of the world visit the flower show. The Government of Karnataka organises Janapada Jaatre (Fair) on second and fourth weekends of every month. It is done both on Saturday and Sunday.
During these two days folk dance, music and plays are performed by different artists coming from all over Karnataka. They wear the cultural costume to showcase the rich culture of Karnataka. There is a glass house, tower erected by Kempegowda II and a geological monument in Lalbagh.
Lalbagh has four gates to enter. The western gate is near Siddapura Circle, Eastern gate is close to Jayanagar, Southern gate is closer to Ashoka Pillar and the Northern gate opens to Glass House. The beauty of Lalbagh is it has over 1,000 species of plants and some huge are more than 100 years old. The Horticultural department is taking good care of these plants, trees and Lalbagh and the total area is around 240 acres. Lalbagh is very well connected by metro and different bus services. One can also take auto rickshaws to reach Lalbagh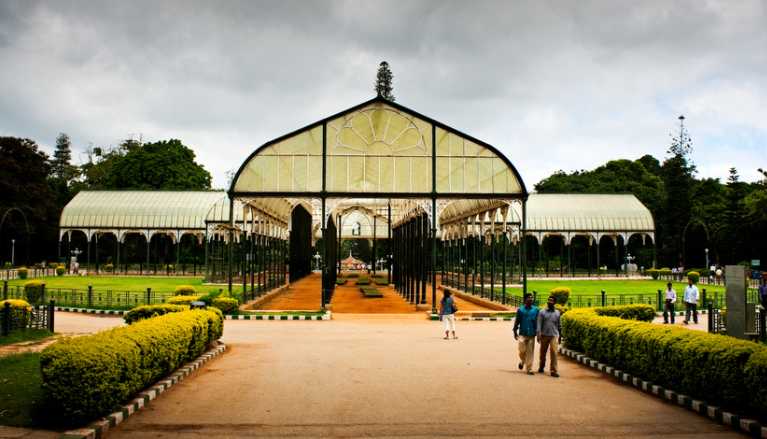 Another major garden in Bangalore is Cubbon Park. It was built in the year 1884 by Major General Richard Sankey.  He was British Chief Engineer at Mysore state during that period of time. The park is mainly famous for the toy train. Spread over 300 acres of land Cubbon parks has many different species of plants and is very well maintained. It is maintained by the Horticultural department of Government of Karnataka.
The park has a history of over 1000years and earlier it was originally created in the year 1870. Cubbon park is also known as Sri Chamarajendra Park is one of the best destination to spend a quality time in nature and family. Basically the park was built as a public park with an area of 100 acres however later it was expanded over the years. The park is home for around 68 genre and 96 species with around 6000 plants and trees of different varieties are present in the park.
Some of the important buildings are High court, Iyer Hall which houses the central library and has a beautiful rose garden in front of it, Century Club, Jawahar Bal Bhavan, Tennis Pavilion and Ottawa Chatter. Attara Kacheri or the High court was built in the year 1864 by the British.
It is a beautiful Red stone structure near Cubbon Park. The park can be accessed through MG road, Kasturaba road, Hudson circle and Ambedkar road. The roads near the park are closed from 5am to 8am to give morning walkers fresh air and also for the safety of the people.
Vidhana Soudha:  
Vidhana Soudha is the house for legislature of Karnataka. The architecture includes both Indo Saracenic and Dravidian style of architecture. The construction was completed in the year 1956.
The architect of this stunning building is B.R. Manickam, K.C. Reddy and Kengal Hanumanthaiah. Major credit goes to Kengal Hanumanthaiah who visited different countries to get a view and idea for the construction of Vidhana Soudha.  At the entrance of the building one can an inscription as Government work is God's work inscribed both in English and in Kannada.
Vidhana Soudha has four floors with an area of 2,300 by 1,500 feet. It is one of the largest and most beautiful legislative buildings in India. In the year 2005 government of Karnataka constructed the replica of Vidhana Soudha and named it as Vikas Soudha. It is constructed just next to Vidhana Soudha. 
Dodda Alada mara: Dodda Alada Mara also known as Big Banyan tree is a gaint tree located in Kethohalli village near Bangalore. The huge tree is 400 years old and the single tree covers around 3 acres of land. It is on the Bangalore Mysore road and around 30 Km from Bangalore. There are direct buses also one can book a cab in Bangalore and make a up and down journey.
Bangalore has number museums to look and enjoy around. Some of the important museums which one can see are Kempegowda museum, Karnataka folk museum, HAL aerospace museum, Chitrakala Parishat and Vishvesvarya industrial and technological Museum.

Government Museum:
This was established in the year 1865 by the Mysore state under the guidance of Edward Balfour. The building of the museum is quite similar the High court of Karnataka. It now holds some of the antique and rare collections like sculptures, coins, jewellery and also geological artefacts.
The museum also holds Halmidi inscription (it is the oldest known Kannada language inscription in kannada script). It is located in Kasturba road and very close to Cubbon Park. The museum has two floors with 18 exhibition galleries. One can get to see potteries used during Mohenjodaro period and also artefacts from Halebidu and Vijayanagara period.
Other than museums one can also see many temples in Bangalore.

Places to visit around Bangalore
Nandi Hills: Nandi hills are located very close to Bangalore, Karnataka, India. It is just around 60Kms away from Bangalore. It is also known as Nandidurga is an ancient fortress situated in Chikbalapur district. One can make a morning evening drive from Bangalore. People visit Nandi Hills to see the beautiful Sunrise. There are many stories behind the origin of the name as Nandi hills. The best time to visit Nandi Hills is early morning to get a good picture and view of Sunrise. There is a huge Nandi (bull) on Nandi Hills.
Other places to visit are Tipu Sultan Fort, Tipu Drop, Bhoga Nadeeshwar Temple, Yoga Nandeeshwar, Amritha Sarovar and many more. One can even do some adventures activities like cycling, trekking and Paragliding. Bhoga Nandeeshwara temple is dedicated to lord Shiva. Tipu drop is the ideal place to have a beautiful view of Bangalore city. The Tipu drop is at an altitude of 600m.
Mysore: Mysore also known as Mysuru is a very important city in Karnataka India which is very closely located to Bangalore. It is just 3 hr drive from Bangalore. there are many tourists' places to visit in Mysore like the Mysore Palace, Jagamohan palace and many more. Mysore is famous for the world famous Dasara festival which takes place in the month of September-October for 10days.
Mysore is located at the foothills of Chamundi Hills. Mysore is known as cultural capital of Karnataka. Mysore served as the capital city for Kingdom of Mysore for nearly six centuries that is from 1399 to 1956. The city is not just famous for palaces and culture but also famous from the cuisine and paintings. Some of the dishes which are in the name of the city include Mysore Pak, Mysore Masala Dosa. The city has names in the brands like Mysore Sandal soap, Mysore silk saree, Mysore Peta.
There are many touristic places around Mysore. Some of the important places include Srirangapatna,  Mysore Palace, Talakad, Talakaveri, BR Hills, Himvad gopalswamy beta, Ooty, Coorg, Nanjungud, Bandipur National park, Nagarhole National Park, Ranganthittu, Shivanasamudra, Mudumalai National Park and many more…. To know more about Mysore just click the link on Mysore.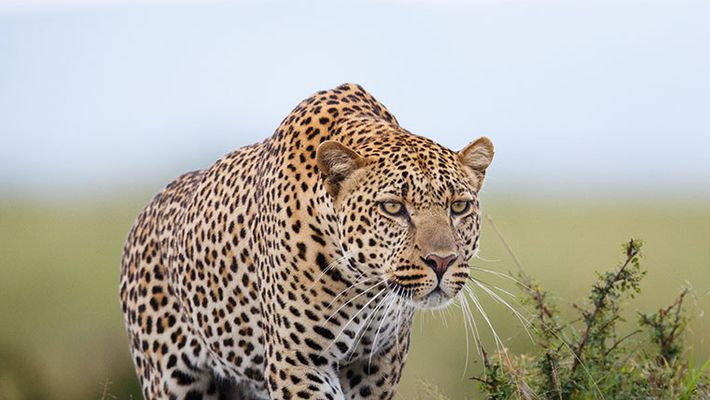 Bannerghatta National Park: Located at a distance of 22 km from Bangalore Bannerghatta National Park is truly a must visit place near Bangalore. It was established in the year 1970 and was declared as National Park in the year 1974. The park is spread over an area of 260sq km. The park is on a hilly terrain and has moist deciduous forest valleys and also the park is a part of wildlife corridor for elephants which connects BR Hills and Satyamangalam forest.
The park offers Lion Safari and Tiger Safari. The park ensures that visitors are taken in a secured vehicle while travelling in safari. The timing for safari is from 10am to 4:30 pm except Tuesday. Usually, weekends are very rush and hence it is better to go early if you have plans of going to safari.
The park and the zoo are open from 9:30 am to 5pm except Tuesday. The charges vary for weekdays and weekends, so it is better to check in the park.
Some of the animals which one can see in the park are Lion, tiger, chimpanzee, bear, leopard, varieties of snakes, butterfly park, elephant, deer, zebra, pelican, different species of birds, parrots, Hippopotamus, sloth bear and many more. The park is very well maintained, and it take one full day to visit and to do safari. The park also has Buffer fly Park, zoo, snake house and an aquarium park. For more details you can check the following website.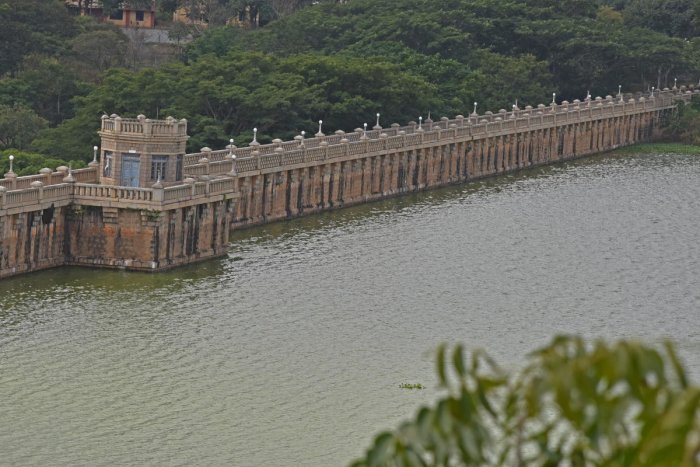 Thippagondanahalli reservoir: Located at just 35 Km from west of Bangalore, the Thippangonahalli reserviour is a major water supply to the west of Bangalore. It is also known as TG Halli Dam, or Chamrajasagar is in the confluence of Arkavathy and kumudavathy rivers. The lake is man made by building a dam across the lake which was constructed under the supervision of Sir M Visvesvaraya in the year 1933.
Manchanabele Dam: A small village located in Magadi taluk around 35 km from Bangalore. A beautiful dam is built across river Arkavathy. This place is good from trekking and Kayaking. Swimming should be done under the guidance as it is quiet dangerous to get into the water here because of the presence of water snakes and deep slush.

Shivanasamudura falls: Shivanasamudra waterfalls is on River Kaveri and the city is located Chamarajanagara District.  The place is one of the first set up of hydroelectric project which was set up in the year 1902 under the guidance of Diwan Sheshagiri Iyer. 
There are dome group of ancient temples located in the town. The town Shivanasamudra divides the river into twin waterfalls known as Gaganachukki and Barachukki. The left side is known as Gaganchukki and the right side is known as Barachukki.
One of the best times to visit this place is during monsoon season when the water is gushing from a height giving tourists a real treat to their eyes. I have visited this place and can assure that it is one of the best waterfalls to visit. Gaganachukki waterfall are best viewed from Shivanasamudra watch tower.
There are few ancient temples located near the place are Sri Ranganatha Swamy temple which is built in Dravidian style, Someshwara temple and Shakti Devethae temple. it is better to visit the place during the day to enjoy the beauty of the nature.
Sakaleshpura
It is a hill station located at Hassan district of Karnataka, India. It is at an average elevation of 956m above sea level. The climate remains pleasant throughout the year making it one of the important tourists place in Karnataka. The place is also famous for coffee plantations and spice estates. The town is in the Malnad region and is an important place for Biodiversity in Western Ghats.
The two main rivers that originate from Sakleshpura Taluk are Kempuhole River and Kumaradhara River. While Kempuhole joins Netravati River and later empties into Arabian Sea, kumaradhara is a tributary of Netravati.
The place has many touristic places like Manjarabad Fort, Bettada Bairaveshwara temple, Jenukalu Gudda, Green trek route, Sakleshpur temple, Bisle viewpoint and many more. The nearest airport is Mangalore which is at a distance of 130 km. Sakaleshpura is well connected by rail and road.
Bangalore is in the centre and that one can also visit many Hill stations in Karnataka and also many temples around Bangalore over the weekend. You can check the links to know more about the temples and Hill stations in Karnataka. 
Update on coronavirus in India
Affiliate Disclosure:
If you make any purchase via a link on this site, I may receive a small commission with no added cost to you.