National Song of India
National Song of India:
Quick Facts:
National Song of India: Vande Mataram
Written by:  Bankim Chandra Chattophadyay.
Music: Hemanta Mukerjee
Featured in: Anandamath
Adopted on: 24th January 1950
Published in 1882
Vande Mataram is the National song of India which is another important National symbol of India other than the National Anthem, National Flag, National Animal, National Emblem, National Bird and National Calendar. It was composed by legendary Bengali writer Bankim Chandra Chattophadyay.
The song was pronounced as the National song of India on January 24th 1950. The National song is given same respect as that of National Anthem of India. The National song was a source of inspiration to the freedom fighters who were fighting against the British to free India from their hands. Vande Mataram developed huge enthusiasm among the young Indians both men and women who fought against British and sacrificed their lives to Mother India.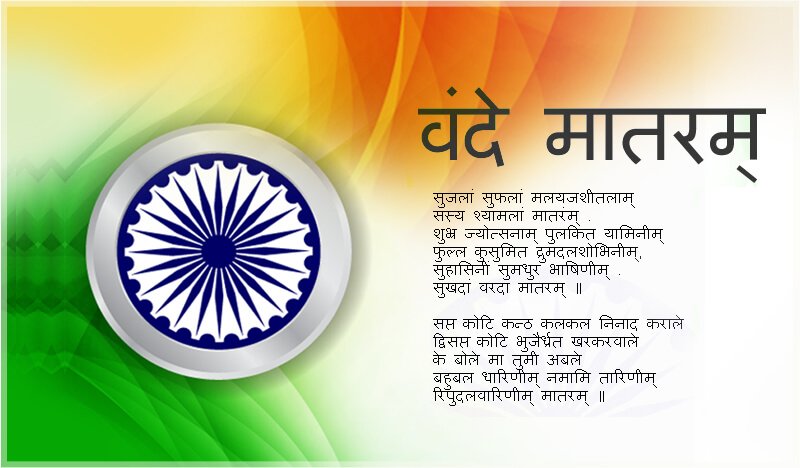 Written in the Bengali script in the novel Anandmath the poem and the title Bande Mataram meant "I praise to thee Mother". The song was first sung by Rabindranath Tagore at the Indian National Congress session in the year 1896. Later after India got independence and in the year 1950 the first two verses of the song was declared as the National song of India.
Aurbindo Ghosh who was a philosopher and spiritual leader referred the song as National Anthem of Bengal. The root word Vande in Sanskrit is Vand which has mentions in Vedic texts and Rigveda. Vand means to praise, to celebrate and salute respectfully and Mataram which has Sanskrit word as matar and in Latin as mater which means "mother".

Lyrics and Translation of Vande Mataram
The poem Vande Mataram featured in patriotic novel of Bhankim Chandra Chathopadya's Anandmath which was published between 1880-1882. The language of the novel is Bengali but the verses of Vande mataram are written in Sanskrit. Out of the six verses only first two verses are considered and adopted as National song of India. The first two verses of the song in Sanskrit are as follows:

Vande mataram
Sujalam suphalam malayajasitalam
Sasyashyamalam mataram
Vande mataram
Shubhra jyotsna 
pulakita yaminim
Phulla kusumita 
Drumadalasobhinim
Suhasinim
Sumadhura bhasinim
Sukhadam varadam
mataram
Vande mataram
History and Indian National Movement
Every Indian was fighting hard against British to make Mother India free from British. At that time Vande Mataram was like a boon to freedom fighters who became excited on hearing Vande Mataram.  Bankim Chandra Chattopadhyay was a BA graduate from Calcutta University had joined the British government as a civil servant.
He served as a District Magistrate and later promoted as District Collector. It is believed that Chattopadhyay wrote Vande Mataram when he was still working in British government. He wrote Vande Mataram spontaneously using both Bengali and Sanskrit words at Chuchurah. 

Later Rabindranath Tagore further gave a boost to the song when he first sang the song in the year 1896 during Indian National Congress session in Calcutta. Fearing the strong unity among the Indians the British government banned the book and the recital of the song a crime. The British government imprisoned thousands of Indian freedom fighters who were fighting for independent India.
In the year 1901 Dakina Charan Sen sang the song in another Indian National Congress session. Lala Lajpat Rai started a journal called as Vande Mataram from Lahore. Young revolutionaries and the freedom fighters got inspiration from Vande Mataram. Every Indian were crying and shouting Vande Mataram. Such was the power of the song of Vande Mataram.
Complete National Song of India
Vande Mataram
Sujalam suphalam,
malayaja shitalam,
Shasyashyamalam,
Mataram"
"Shubhra-jyotsna pulakita-yaminim,
Phullakusumita drumadala shobhinim,
Suhasinim, sumadhura bhashinim,
Sukhadam, varadam, Mataram"
"Saptakotikantha kalakala ninada karale
Dvisaptakoti bhujair dhrita-khara karavale
Abala kena ma eta bale
Bahubala dharinim,
namami tarinim,
Ripudalavarinim
Mataram" 
"Tumi vidya, tumi dharma,
Tumi hridi, tumi marma,
Tvam hi pranah sharire,
Bahute tumi ma shakti,
Hridaye tumi ma bhakti,
Tomarayi pratima gari mandire mandire"
"Tvam hi Durga dashapraharana dharini,
Kamala Kamaladalaviharini,
Vani vidyadayini,
namami tvam,
Namami Kamalam,
amalam atulam,
Sujalam, suphalam,
Mataram
"Vande Mataram!
Shyamalam, saralam,
susmitam, bhushitam,
Dharanim, bharanim,
Mataram"

The English translation and meaning of Vande Mataram
"Mother, I bow to thee!
Rich with thy hurrying streams,
Bright with orchard gleams,
Cool with thy winds of delight,
Dark fields waving Mother of might,
Mother free.
Glory of moonlight dreams,
Over thy branches and lordly streams,
Clad in thy blossoming trees,
Mother, giver of ease
Laughing low and sweet!
Mother I kiss thy feet,
Speaker sweet and low!
Mother, to thee I bow.
Who hath said thou art weak in thy lands
When the swords flesh out in the seventy million hands
And seventy million voices roar
Thy dreadful name from shore to shore
With many strengths who art mighty and stored,
To thee I call Mother and Lord!
Though who savest, arise and save!
To her I cry who ever her foeman drove
Back from plain and Sea
And shook herself free.
Thou art wisdom, thou art law,
Thou art heart, our soul, our breath
Though art love divine, the awe
In our hearts that conquers death.
Thine the strength that nerves the arm,
Thine the beauty, thine the charm.
Every image made divine
In our temples is but thine.
Thou art Durga, Lady and Queen,
With her hands that strike and her swords of sheen,
Thou art Lakshmi lotus-throned,
And the Muse a hundred-toned,
Pure and perfect without peer,
Mother lend thine ear,
Rich with thy hurrying streams,
Bright with thy orchard gleems,
Dark of hue O candid-fair
In thy soul, with bejewelled hair
And thy glorious smile divine,
Loveliest of all earthly lands,
Showering wealth from well-stored hands!
Mother, mother mine!
Mother sweet, I bow to thee,
Mother great and free!"
Adoption of Vande Mataram as National Song of India
Vande Mataram song which had a huge impact on the freedom fighters and on the Indians slowly became the National song of India. The Muslim league and Muhammed Ali Jinnah opposed the song and it to become the National song of Independent India.
However with the support of Mahatma Gandhi and Jawaharlal Nehru the first two verses of the song was declared as the National song of India. In order to support the sentiments of non Hindus the entire song was not considered for National song. 

The song has been set in different Indian classical tunes the oldest audio recording been in the year 1970. Even though an alternate tune was produced by different musicians the song was not accepted to designate as National anthem. Finally on 24th January  Vande Mataram was declared as National song and Jana Gana Mana was declared as National Anthem of India.

Rajendra Prasad who was the then presiding officer of the constituent assembly made the following statement " The composition consisting of words and music known as Jana Gana Mana is the National Anthem of India, subject to such alterations as the Government may authorise as occasion arises and the song Vande Mataram Which has played a historic part in the struggle for the Indian Freedom, shall be honoured equally with Jana Gana Mana and shall have equal status with it. I hope this will satisfy the members".

Vande Mataram has been translated into more than 10 languages. We at India-a2z.com would like to hear more about our National Song Vande Mataram. Do share your opinion with us by clicking the link here.

Update on coronavirus in India
Affiliate Disclosure:
If you make any purchase via a link on this site, I may receive a small commission with no added cost to you.