Madhubani Painting
Madhubani Painting:
 It can be said that Painting and art reflect the culture and tradition of the country. Madhubani Painting is a folk Indian painting that was practiced in Mithila region of Bihar and Bengal India. Since it was practised in Mithila region it is also known as Mithila Painting. Usually the themes of this painting included festivals, religious rituals, birth and marriages which were painted in geometrical patterns.
Colors used in the paintings were the natural colors of plants and other natural resources. These colors were bright and usually twigs, matchstick were used instead of brushes. It is usually done by the women in the villages of Bihar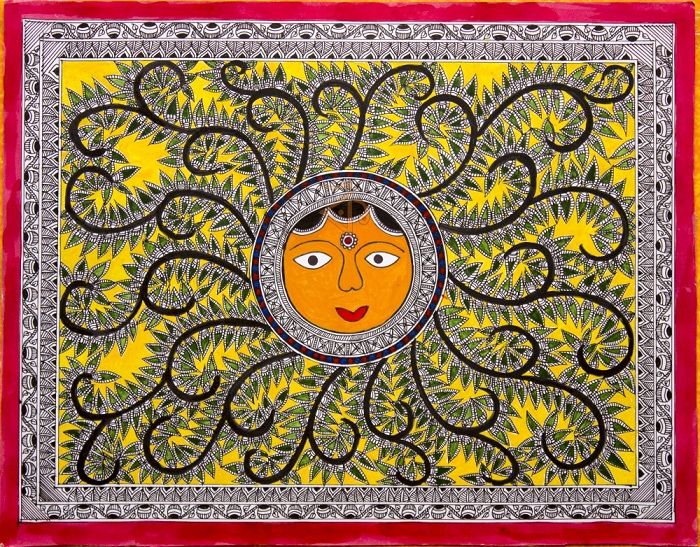 History and Origin
It is a very old folk art which dated back to Hindu epic Ramayana period. It is believed that King Janaka requested the artist to do Madhubani Painting of his daughter Sita's wedding with King Rama. Usually women in the family and village practised this painting on the walls and floors of the house. Later on during festival season or during any ceremonies like wedding or any other these paintings were done by the women of the family. The art was passed from generation to another by the family members.

Slowly as the time passed these paintings became part of the festivities, culture and events like marriage etc. Paintings are usually geometric and two dimensional in shape. The colours used are natural and made from the plants, turmeric, pollen, sandalwood and different flowers. To get reddish brown and black colour painters used Qchre and Lampblack. 

The paintings were usually of nature or scenes from ancient epics. The base is filled with paintings and if there is any empty space then it would be filled by flowers or animals designs. It is still practised widely in different places like Kalakriti in Darbhanga, Vaidehi in Madhubani, Benipatti in Madhubani district are some of the major centres of this ancient art.

Style of Madhubani Painting
Madhubani paintings are done using twigs, nibs, matchstick and fingers. The paintings can be done on canvas, cloth and handmade paper. There are five different styles of Madhubani paintings that are Tantrik, Bharani style, Godna, Kachni and Kohbar style. 

Tantrik style: In this style of Madhubani Painting the theme was based on the religious tests and character in the texts. It had paintings of Maha kali, Maha Durga, Maha Saraswati and Maha Ganesha.

Bharani style: It is the most important style of painting in Madhubani art. The paintings of this style are filled with bright colors. The themes were mainly based on Hindu epics like Ramayana and Mahabharata. Mostly the colors used are like blue, Yellow and pink. The outline is usually done in black color. Sita Devi who was a Mahapatra Brahmin was a pioneer in the Baharani style of color painting. Usually women of Brahmin caste mainly contributed to this style of painting.

Kachni Style of Painting:
In this style only one or two colors were used in the painting. Kachni style gave more importance and emphasis on intricate lines and muted colors. 

Godna Style of Painting:
As compared to other styles this is the simplest form of Madhubani Painting. This style of painting resembles the tattoo and it was first initiated by Chano Devi. The colors used were natural colors and most of the paintings were done on Hindu God and life of a tree. This style usually has concentric circles of flowers, fields and animals.

Kohbar style of Painting:
 This was usually practised by lower class women in the villages. They washed the paper with cow dung and the beautiful paintings were done by using the natural earth colors.

Artists and the awards conferred 
Some of the important artists of this wonderful art include Sita Devi, Ganga Devi, Mahasundari Devi and Baua Devi.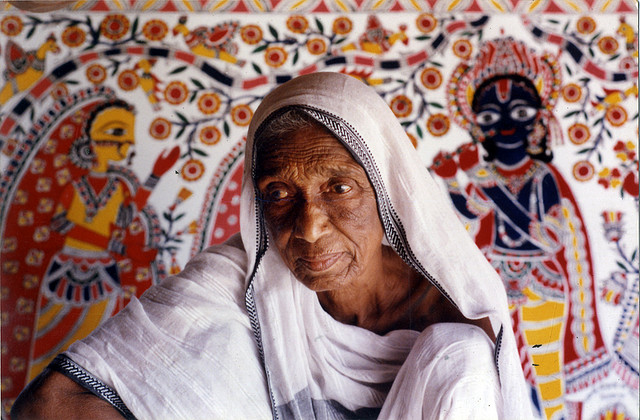 Sita Devi:
Sita Devi was one of the prominent artists of Madhubani paintings. She bought the art into limelight from some of her beautiful paintings. She was born in Jitwarpur village in the Madhubani district of Bihar. She was Mahapatra Brahmin and did mostly Baharani style of paintings. The elongated and rich colors of Radha and Krishna and also of other Hindu gods are truly extraordinary and beautiful. 

Sita Devi has exhibited her work in more than ten countries and also helped many women to develop the art. For her excellent work Sita Devi received many awards. Some of the major awards include National award in 1975, Padmashri award which is the fourth highest civilian award in the year 1981 and prestigious Bihar Ratna award in 1984. In 2006 the government of India conferred on her the title Shilip Guru. The artist died in the year 2005 at the age of 92.

Ganga Devi:
Ganga Devi is another prominent artist of Madhubani paintings. She was born in the year 1928 in Mithila in India state of Bihar. She was born in Kayastha family and specialised in Kachni style. Like Sita Devi, Ganga Devi also took this beautiful art to different countries like United States and many more countries. Ganga Devi participated in Festival of India which is an event organised in United Stated of America.

The Government of India appreciated her work and awarded her with National Master Craftsman award and later in the year 1984 Ganga Devi was awarded with Padma Shri which is the fourth highest civilian award. She painted the great Hindu epic Ramayana in a series of paintings in which she used mild colors.

Another important painting done by Ganga Devi was the Kohbar Ghar or bridal nuptial chamber which was destroyed in 2015 when Delhi Museum was under renovation. This was done when Ganga Devi was taking Chemotherapy at Delhi.
Other notable work include Manav Jivan (Life of Mankind) in this she did various stages of life. 

Baua Devi:
Baua Devi belonged to Jitwarpur Village in Madhubani district in the Indian state of Bihar. She has been practising Madhubani painting for the last 60 years. She was married at a very young age and her mother in law encouraged her to pursue her painting work. She also travelled to different countries like Spain, France and Japan to show the art and her work. 

 In the year 1989 she was the only women from India to exhibit her paintings in Magiciens de la Terre at Centre Pompidou in Paris. She received Nation award in 1984 and Padma Shri in the year 2017. Prime Minister Narendra Modi of India gifted one of her paintings to the Mayor of Hanover during his visit to India in the year 2015.

 Her paintings are on the mythological stories of Lord Krishna, Rama and Sita. Her paintings are made with natural colors and handmade paper. The colors include black, yellow, red and white.

Mahasundari Devi:
Mahasundari Devi belonged to Ranti village located in Madhubani in Bihar India. Mahasundari Devi learnt the art of Madhubani painting from a very young age. In addition to this Devi was an expert in clay, paper mache and sujani work.
She received various awards in recognition of her wok. Devi received Tulasi Samman by government of Madhya Pradesh in the year 1995, in the year 1982 Mahasundari Devi received the National award and in the year 2011 Devi received Padma Shri award from Government of India. She was considered as the living legend of the Madhubani art.

In order to support the artists and to promote and develop the art, Mahasundari Devi founded cooperative society called as Mithila Hastashilp kalakar Audyogki Sahyog Samiti. We lost the great artist on 4th July 2013 at the age of 92.

Bharti Dayal:
Bharti Dayal was born in the year 1961 at Samastipur village in Bihar India. She is very well educated and holds a Master Degree in Science. Like all other artists Bharti Dayal also got introduced to Madhubani art at a very young age. She learnt the art from her mother and grandmother. Bharti also popularised the art by doing exhibition nationally and internationally.

 In 1995 a documentary was shown in French television about her art. In June 2016 her work was displayed in Museum of Sacred Art (MOSA).  Her most important seven paintings which was a combination of traditional art with modern subjects were included in the book The New Bihar. Bharti Dayal has received many awards in recognition of her work in Madhubani art. She received National award in the year 2006.  She also received awards like AIFACS and National Merit awards.

Madhubani Paintings in Modern times
Madhubani painting is still practised widely in Bihar and other parts of India. Many family members of the above artists are working hard to keep the art alive by teaching it to many women in Ranti village and other villages. They are encouraging women to become financially independent by making them learn this art. 

There are also several institutions near Mithila which teach Madhubani painting. Some of the important centres are Benipatti in Madhubani district and Gram Vikas Parishad in Ranti. This beautiful art has gained importance not just in India but it has recognition word wide thanks to some of the great artists who took this art to different countries.

Check out for other pages
Share your views on Madhubani paintings here
Update on coronavirus in India
Affiliate Disclosure:
If you make any purchase via a link on this site, I may receive a small commission with no added cost to you.