Mysore Painting
Introduction
Mysore Paintings is another important Indian Paintings along with Mughal, Tanjore and many more paintings. Mysore Painting is a classical South Indian painting which originated around the Mysore city of Karnataka, India. Mysore Painting was given lot of prominence during Wodeyar reign. 

Karnataka has a long history in the art and architecture along with beautiful paintings. The rulers of Vijayanagara Empire gave lot of prominence to art, architecture, literature and philosophy. In the year 1565 after the fall of Vijayanagara Empire in the battle of Talikot these painters' moves to different places like Mysore, Tanjore and Surpur.
Gradually the Vijayanagara School of painting evolved into many types of painting like Mysore school of painting and Tanjore School of painting. Mysore Paintings is more time consuming and requires more hard work. It is famous for its muted colors and the paintings use thinner gold leaves.

History of Mysore Painting
Mysore Paintings was further improved under the rulers of Wodeyar dynasty.  The family members of these painters, who were in deep distress after the fall of Vijayanagara Empire got new life under Wodeyar dynasty.
Raja Wodeyar I rehabilitated the families to Srirangapatna. The successor of Raja Wodeyar namely Ranadira Kanteerava Narasimharaja Wodeyar and Chikka Devaraja Wodeyar further patronized and developed the paintings by making temples and palaces to be painted with mythological scenes.  

But the pity is that none of these paintings have survived due to constant war between Tipu Sultan, Hyder Ali with British.  The lord Narasimha Swamy temple in Seebi( a place in Karnataka near Tumkur) was built by Nallappa has many beautiful wall paintings in the Mysore and Tanjore style.

The Mysore paintings were again revived again in the beginning of 19th century by Mummadi Krishnaraja Wodeyar. He also encouraged literature, dance, sculpture and painting.  One can see beautiful paintings on the walls of Jagan Mohan Palace, Mysore Karnataka. These paintings include portraits of Mysore rulers and their family members and also paintings from the mythological stories.  

Sritattvaniddhi is the famous manuscript which has 1500 pages of illustrations of Gods and Goddess along with detail instructions to painters with regard to colour choice, method and the mood. Another literary source which gives explanation about the objective and principles of painting, methods of preparing colours and using brushes is the Visnudharmottara Purana, Abhilasitarthacintamani and Sivatatvaratnakara. 

Method and Technique of Mysore Painting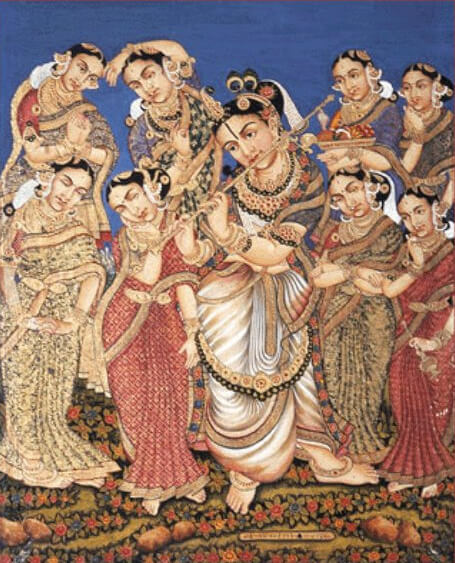 The beauty of Mysore Paintings is the intricate brush strokes, delicate lines, beautiful colors and gold leaf. They are not just paintings but it can be said that these painting invoke feelings of devotion and respect. One has no words to express the beauty of these paintings. The brushes were made using squirrel hair, camel hair and goat hair. Even the sketches were made using charcoal which was prepared by burning tamarind twigs in an iron tube.

Here are the steps given for making this marvellous painting.
The first step for making the Mysore painting is to make the base of the painting using paper, wood and cloth. The primary sketch of the image is drawn on the base of paper which is later pasted on the wooden base. The Wooden surface is prepared by using dry white lead, yellow ochre.

 Later a paste is prepared by mixing zinc oxide and Arabic gum. It is known as "Gesso paste" which is the Hallmark of all the traditional paintings of Karnataka. This paste is used mainly to give slightly raised effect like embossing which is covered with gold foil.
Gesso paste was used to depict intricate designs like the clothes, jewellery, designs on pillars and arches.  The next step is the colour the far objects like animals, sky, hill for which usually water colours are used. After this the most important parts of the paintings like faces, dress and ornaments are painted.

Some of the basic colours used in the paintings are Red, Green and Blue. Earlier the colours were prepared by using vegetables and flowers. Firstly the painters coloured one colour completely where ever it was required and later moved to other colour.
Later after the painting is dried it is covered with thin paper and it is rubbed with soft glazing stone Kaslupada kallu. When the thin paper is removed the painting looks just stunning with gold and their bright colours and embossing of the painting.

Famous artists of Mysore Painting
Some of the famous painters are
K.S. Shreehari:
K.S. Shreehari was born in T. Narsipura in Karnataka. He did his graduation from the University of Mysore. His father was K.V. Seetaraman. It was a family of doing beautiful Mysore Paintings. K.S. Shreehari followed the family profession of Mysore paintings.
Some of the famous paintings done by him include Panchanaari Turuga which had a horse comprising five female figures, Virata Vishwaroopa and Navanaari Kunjara which has elephant with nine female figures. For his immense and dedicated work K.S. Shreehari has received many awards.

M.Ramanarasaiah:
He worked as a custodian in Jayachamarajendra art gallery and has a collection of family related to royal family of Mysore. He was also the palace artist. His daughter Chandrika is following her father's footsteps and is also very good in doing Mysore Painting.
Other painters of Mysore paintings include Anand who learnt the art by himself, B.P Ramakrishna and R.G. Singh.
Please share your views and photos about Mysore Painting with us by clicking the link here.

Check out for other pages
Update on coronavirus in India
Affiliate Disclosure:
If you make any purchase via a link on this site, I may receive a small commission with no added cost to you.