Hoysala Dynasty in India
Hoysala Dynasty is another important Dynasty that ruled South India especially Karnataka from 10th to 14th century. Hoysala's made Belur as capital in the beginning and later shifted it to Halebidu. They were basically from Malnad Karnataka.
Hoysala rulers were famous for their strength and courage.  According to reports available Hoysala Dynasty got its name from a young boy 'Sala'.  Sala meaning 'strike' was a young boy who was asked to kill a tiger by his Guru Sudatta Muni. The duo was performing rituals at Vasantha Parameshwari temple in Sasakapura.  At that time a tiger attacked on them on seeing the tiger attacking them, Sala gave a big blow to tiger which got killed immediately.
On seeing the bravery of Sala his guru ordered him to start a new Kingdom. This is  how this dynasty started and got its name. At the time Hoysala Dynasty started two stronger Dynasty Chalukya's and Chola's were already deep rooted in Southern part of India. To uproot Chola's, Hoyasla joined hands with Gangas and defeated Chola's and later built their own empire on Malnad region.  In 11th century they made Dwarasamudra as capital which is now Halebiddu.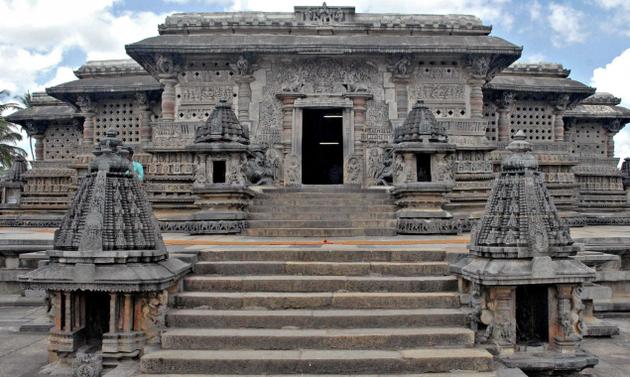 VishnuVardhan of Hoysala dynasty
King VishnuVardhan was a great King of Hoysala dynasty and ascended the throne after the death of his brother Veera Ballala.  King VishnuVardhan who reigned from 1102- 152 won many territories from Kadambas, Chalukya's, and Cholas.  He defeated Cholas in Talakadu.
Under his able leadership, he won many Kingdoms like Nilgiri, Changalvas, Allapas of Tulunadu. From South VishnuVardhan moved to North to defeat Chalukya's at Kannegala at Hangal and Banavasi.  By 1122 he moved to Krishna River and was defeated by Sind chief Achugi. With strong army power by Hoysala they were able to defeat many strong dynasties. The other powerful rulers of this dynasty are Veera Ballala 2 and Veera Ballala 3.
Administration:
The Hoysala style of administration is similar to that of Chalukya's. The Kingdom was mainly supported by the revenues from the agriculture.  Even they divided the Kingdom into Nadus, Kampanas, Vishayas and Deshas. King was the overall head and those who were head of small province were called as Nadus. He reported to Mahapradhan of all the activities and problems  of his province. Mahapradhan was the minister and headed the local body. The person who took control of civil and military functions was called as Pattanaswami.

Religion and architecture of Hoysala dynasty
Religion
Hoysala followed Hinduism along with Jainism and Buddhism. This can be witnessed in Shravanbelogola kambadahalli huge Jain monuments. The other major Hindu scholars like Madhvacharya, Basavanna and Ramanujacharya initiated major campaigns during Hoysala period.

Art and Architecture.
Like Chola's and Chalukya's Hoysala were famous for building huge breath taking temples all along Belur and Halebidu. One of the major temple built in Belur was Kesava temple that was built to commerarate the victory over Chola's in Talkkad.  The Kesava temple at Belur erected in AD 1117, even without its super-structure  reveals a conception of exquisite beauty and intelligence of Hoysala's .
Some of the most acclaimed sculptures of the temple are the bracket figures, called madanakais in the Kannada language of the region, which are placed beneath the overhanging roof of the mandapa. The interior of the temple is as rich and ornate as the exterior of the temple.
Each pillar is finely carved with different styles of dance forms. Another important Shiva temple built in Halebidu has two identical temples built on a single large platform. Architects' sculptors, goldsmith and other skilled craftsmen who were directly or indirectly related to temple construction were also prosperous.  The Hoysala have built many temples. Some famous temples are Chennakesava temple of Belur is one such example. Few others are Hoysaleswara temple at Halebidu, less a temple at Somanthapura.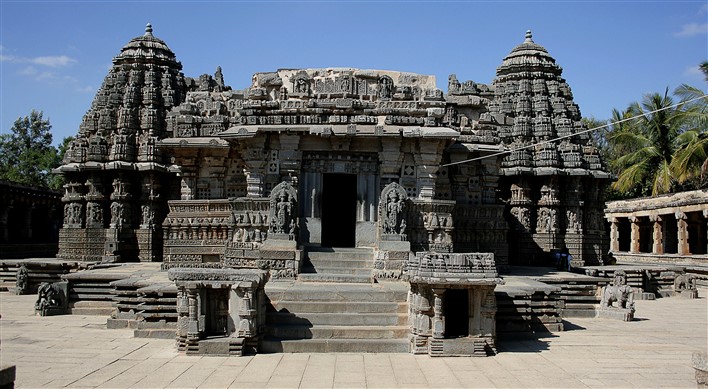 Kings of Hoysala:
Nripa karma (1026-1047)
Hoysala Vinyaditya(1047-1098)
Ereyange (1098-1102)
Veera Ballala 1 (1102-1108)
VishnuVardhan ( 1108-1154)
Narasimha 1 (1152-1173)
Veera Ballala2 (1173-1220)
Vira Narasimha 2 (1220-1235)
Vira Someshwara (1235-1263)
Narasimha3 (1263-1292)
Veera Ballala3 (1292-1343)
With strong power of Vijaynagar empire and weak rulers Hoysala dynasty slowly faded.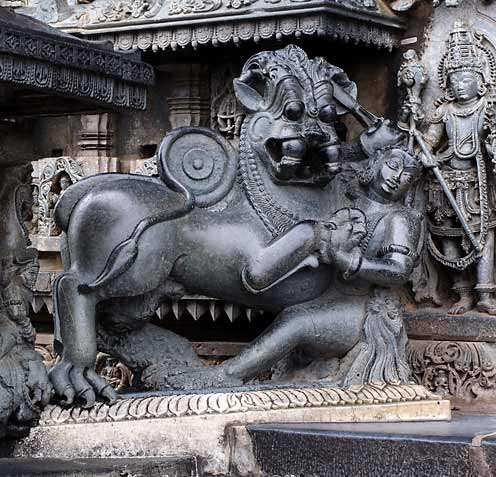 Update on coronavirus in India
Affiliate Disclosure:
If you make any purchase via a link on this site, I may receive a small commission with no added cost to you.