Vijayanagara Empire
Vijayanagara Empire is a vast empire founded by Harihara and Bukka in 1336.  It consisted of four Kingdoms in succession. It ruled for 3 centuries. The history of this vast empire was mainly wars with Bahamani's and Muslims. With the decline of Hoysala dynasty Vijayanagara Empire gained more power and strong.
The Sangama Dynasty

The Saluva Dynasty

The Tuluva Dynasty

The Aravidu Dynasty
Sangama Dynasty of Vijayanagara Empire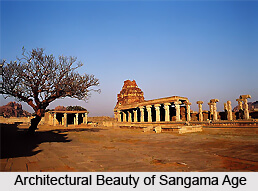 The Sangama Dyansty (1336-1485)
Harihara was the eldest son of Bhavana Sangama of Kurba clan of Mysore. Harihara is the founder of Sangama dynasty.  Harihara was the first ruler and later on his brother Bukka took over the reigns.  Vijayanagara Dynasty ruled over South India for 3 centuries. Its history is full of wars with Bahamans and other Muslim rulers.
Harihara 1 rules from (1336- 1356 AD). After Harihara 1, Bukka Raya1 took over the reigns. Vijayanagara began to expand under Bukka. Bukka conquered for 21 years from (1356-1377) and conquered many kingdoms. Bukka died in 1380 and his son Harihara 2 took over the reigns. He ruled from (1371-1404).
Many more Kings ruled Vijayanagara. During Virupaksha Raya(1465-1485). Mohammed Gawan invaded Vijayanagara and thrashed Virupaksha. Later Saluva Narasimha eldest son of Saluva Gunda took over the new Dynasty and started Saluva Dynasty.
Economy flourished during Harihara and Bukka period. They had good administrative skills and the Kingdom reached its peak during their period. Both were patrons for art and architecture, Many magnificent temples were built during their period. Sangama dynasty were believer of Hindu Gods but were tolerant towards others religions like Buddhism and Jainism.
Saluva Dynasty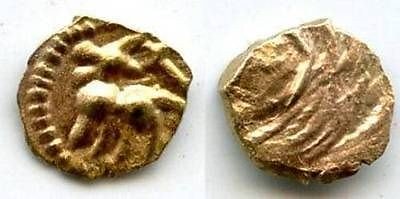 The Saluva  Dyansty :( 1485-1505A.D.)
Another Dynasty of Vijayanagara Empire is Saluva Dynasty.  We don't know much about this Dynasty.  Only two kings ruled this Dynasty namely Narasimha Deva Raya and Immadi Narasimha. 
One of the most important achievements of Narasimha Raya was recapturing the western ports of Mangalore, Bhatkal, Honnavar from Bhamanis.  He also took good control under small Kingdoms and brought back the stability to Vijayanagara.
His urge to capture Kingdoms further moved him to Odisha where Gagapathi was the ruler. But Saluva Narisimha Raya got defeated and was held s a prisoner in 1489. He faced severe humiliation.
However he was a great patron of art and architecture. Because of severe humiliation Narasimha Raya died in 1490. The biggest mistake of Narasimha Raya was trying to capture Udayagiri. After his death in 1490 the power passed to Tuluva Dynasty.
Tuluva Dynasty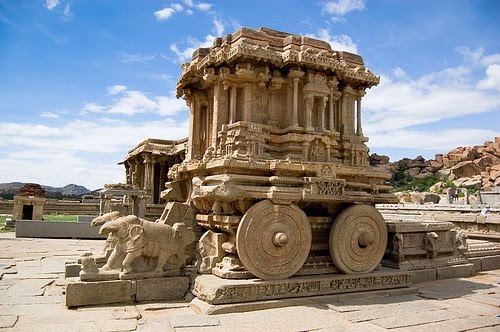 Tuluva Dynasty (1505 - 1570)
The third and the most important Dynasty of Vijayanagara Empire was Tuluva Dynasty.  It got this name because the rulers of this Dynasty belonged to Tulu speaking place in Karnataka. After the death of Saluva Narasimha Raya, Tuluva Narasa Nayaka started the Tuluva Dynasty.  He ruled from (1491-1503).  After the death of Tuluva Narasimha Nayak, Viranarasimha took over the reigns who ruled from (1505- 1509)
Krishna Deva Raya is the third and prominent ruler of Tuluva Dyansty. He ruled from (1505- 1529A.D. He played a major role in defeating Bahamani sultans. Krishna deva raya stopped Portuguese from expanding their boundaries. 
The reign of Krishna deva raya was very successful in capturing many prominent kingdoms in Deccan.  He invaded Bahamani sultans, Bidar, Gulbarga, and Bijapur and earned the title establisher of yavana Kingdom'. 
There was a fierce battle with Gajapati of Orissa, after which Gajapti offered his daughter Jagamohini in marriage to Krishna deva raya.  She was the third queen of Krishna deva raya. 
Some of the major battles during his reign were Udayagiri fort ruled by Gajapati Prathapa Rudra Dev in 1512, and battle of Raichur in 1520 saw 703,000 soldiers 32,600 cavalry being used. The administration during Krishna Deva Raya was very fruitful and successful.
He was the head and enjoyed supreme power in Judicial, executive, and legislature. Even in this the whole empire was divided into Mandalams, Nadus, Sthalas and Gramas. Above them all King was the head. Land revenue was collected as one sixth of the production. Again Tuluva dynasty were good in art and architecture. Huge temples were built during this period.
The reign of Krishna Deva Raya saw many literary works.  It is also known as 'Golden age of Telugu literature'.  He had many Kannada poets in his court. Some of them are Mallavarya who wrote Veerasaivamitra, Bhavachintaratna and Satyadra Cholakatha and Chatu Vittalanatha who wrote Bhagavatha, Timmana Kavi.  Krishna deva raya himself wrote Amiktamalya in Telugu and Jambhavati Kalyanam in Sanskrit. Krishna deva raya also built many temples of Krishna swamy temple, Ramaswamy temple and Vittalaswamy temple.
After the death of Krishna Deva Raya, the Vijayanagara Empire became weak and started to decline. The Sultans of Bijapur, Golkonda and Ahmednagar combined together and inflicted a crushing defeat on Vijayanagara Empire at Talikota in 1565. This defeat marked the end of Vijayanagara Empire.
Aravidu Dynasty
The Aravidu Dynasty:
The last dynasty of Vijayanagara Empire was Aravidu Dynasty. Tirumala was the founder of this Dynasty. Rama Raya was the brother of Tirumala who was the mastermind behind the success of Aravidu Dynasty. The main rulers of this dynasty were
The main rulers of the Aravidu dynasty were:
Aliya Rama Raya (1542–1565)
Tirumala Deva Raya (1565–1572)
Sriranga Deva Raya (Sriranga I) (1572–1586)
Venkatapati Deva Raya (Venkata II) (1586–1614)
Sriranga II (1614)
Rama Deva Raya (1617–1632)
Peda Venkata Raya (Venkata III) (1632–1642)
Sriranga III (1642–1652)
Rama raya also known as Aliya ruled from 1542-65 was an able administrator. He died when the combined efforts of Muslims and the rulers of Bijapur fought in the battle of Talikota in 1565.
Later after the death of Rama Raya, Tirumala Deva Raya who was the son-in-law of Krishna Deva Raya took over the reigns. He had a huge task to rebuild the Vijayangara empire . He re-founded the Vijaynagara empire in Penukonda, Andhra Pradesh. The kingdom was destroyed by the Muslim rulers following the battle of Talikonda.
During his reign, Tirumala Deva Raya faced rebellion from Southern Nayakas of Madurai and Ginjee. He retired to a religious life in 1572 AD. After him not very strong rulers came up who could give stiff fight to Muslims. The economy of the Dynasty was mainly dependent on Agriculture.
The main agriculture grown were corn, cotton, pulses, legumes were grown. The empire's capital was also famous for its business centre.
Ship building also prospered during this period. Slowly Vijayanagara dynasty came to an end and gave way for Muslim dynasties. The first muslim dynasty was the Delhi Sultanate.
Update on coronavirus in India
Affiliate Disclosure:
If you make any purchase via a link on this site, I may receive a small commission with no added cost to you.