Munnar 
Munnar Hill Station:
Quick Facts:
Name Munnar
State: Kerala
Country: India
District: Idukki
Elevation: 1,532m
Official Language: Malayalam
Famous for: Cool climate and Tea Plantations.
Munnar is one of the famous and beautiful Hill stations located in Idukki district in  the state of Kerala, India. It is at an elevation of around 1,532 m. Munnar is located in the Western Ghats mountain range and hence is filled with beautiful flora and fauna all around. Munnar is so beautiful that it is called Kashmir of South India.
During British rule in India they had made Munnar as their summer resort.  The region is in the confluence of three rivers namely Mattupetti, Nallathanni and Kundaly flown through the town and gets joined at some distance after Munnar. It is pronounced as Moon aar or moonu aar which means three rivers.
The place is not just famous for its beautiful hill station and natural beauty but also famous for the blue flower known as Neelakurinji or strobilanthus which blooms in ones in 12 years. 
Best time to visit Munnar Hill Station
Munnar being the hill station is an ideal place to visit throughout the year. Summers remain pleasant and winters are very cold.
March to May are the summer months were the maximum and minimum temperature hovers around 35-19oc
June to September is the monsoon season where Munnar receives heavy rainfall during these months. The weather remains pleasant and temperature hovers around 35oc.
December to February are winter months and the minimum temperature drops down to 10oc. It would be very cold and hence it is advisable to carry woollen clothes.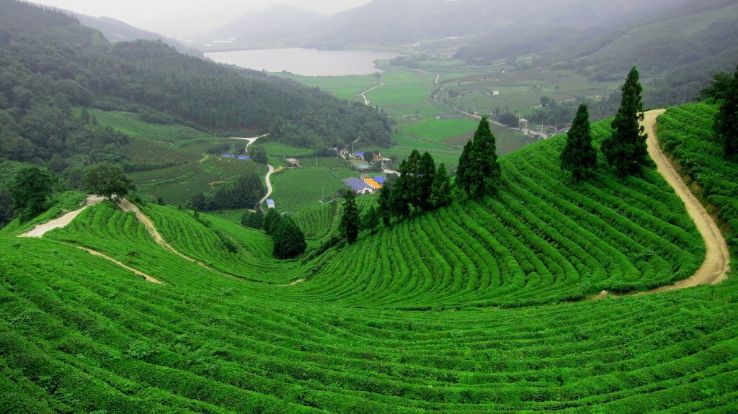 Tourists can get to look at the tea plantations and tea museum. The museum has photographs of the machinery and the method in which tea leaves are made and has photographs of the history of Munnar. The best way to enjoy  Munnar is by  cycling and trekking.
One can thoroughly enjoy cycling along the tea plantation by seeing the beautiful waterfalls and lakes. One can also take a boat ride in Mattupetty Dam and enjoy the greenery all around and the aroma from the tea plantation.
Munnar is one of the best destinations to enjoy nature. One can feel and get immersed in the serenity and peace of nature.

Tourists Places in Munnar
Mattupetty Dam:
It is located at a distance of 13 Km from Munnar. The Dam was constructed around 1940's with the main purpose of storing water and for hydroelectricity. Now the Dam is the major source of power generation in Munnar and also which brings huge revenue to the state government.
Tourists can enjoy various activities in the Mattupetty Dam like boating, trekking and nature walk. Due to the perennial supply of water from the reservoir one can see elephants and different species of birds.
At a very close distance one Mattupetty lake which is covered under clouds and fog. Mattupetty is also famous for the Indo Swiss Dairy farm project which was started in 1963. Spread over an area of 191 hectares it is famous for cattle farming. It houses around 400 varieties of cows and is reared here. The timings to visit are 9am-11am and 2pm- 3:30pm. It is open on all days. One has to pay a minimal fee to visit and see this project.

Devikulam:
It is a beautiful hill station located just 5 km from Munnar at an altitude of 1800 m. Kulam means pond and Devi means goddess. It is a small village in Idukki district of Kerala.
It is believed that Goddess Sita took bath in the Devikulam and hence it was later named as Sita Devi Lake. This place is between Thekkady and Munnar and has now become a very important tourists spot.
The natural greenery all around and the high cliffs makes it a perfect destination for tourists to visit and enjoy the place. It is believed that the mineral water of this lake holds  therapeutic properties.

Attukad Waterfalls:
This waterfall comes on the way to Pallivasal from Munnar. The gushing waterfall coming down from the top of the hill makes it a perfect destination to enjoy. It is also a good place to do some trekking. The best time to visit this place is immediately after the monsoon season when the waterfall is in full flow of water and fresh greenery all around.

Eravikulam National Park:
This National Park is located at a distance of 12 km from Munnar. It is spread over an area of 97 square km is in the Western Ghats in the Idukki District of Kerala, India. The National Park is managed and controlled by Kerala Department of Forest and Wildlife Munnar. The terrain of the park consists of high altitude grasslands within  Sholas.
The highest peak is Anamudi which is at a height of 2695 m. There are many perennial rivers that flow within the park. These rivers merge to form tributaries of Periyar River in the west and Cauvery River in the West. In 1975 Eravikulam was declared as wildlife sanctuary and again in 1978 it was declared as a National Park.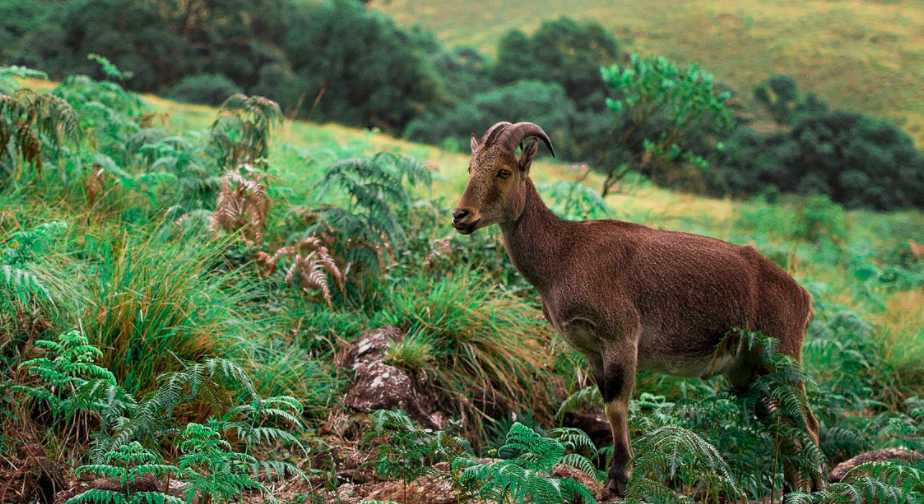 The park has three different varieties of plants namely grassland, Shrubland and forests.  The park is home for various species of mammals and birds. Some of the animals that the park houses are Nilgiri Tahr, lion tailed macaques, guar, dusky palm squirrel, Nilgiri wood pigeon, Nilgiri flycatcher, leopard, Nilgiri Langur, sambar deer, Golden Jackal, wild dog and around 19 species of Amphibians.
The timings of the park is from 8am to 4pm and is closed during the mating season, usually March. The park has a minimal entry fee. The park is open on all seven days and the safari starts from 8:30 am till 4 pm. It takes around 2-3 hours for the safari to complete.

Kundala Lake:
Located around 20 km from Munnar, Kundala Lake is a beautiful place to visit and spend quality time. It is around 1700 m height and has Cherry garden near the lake. The lake has an artificial Dam built around the Lake. It was constructed by Pallivasal Hydroelectric Project in 1946.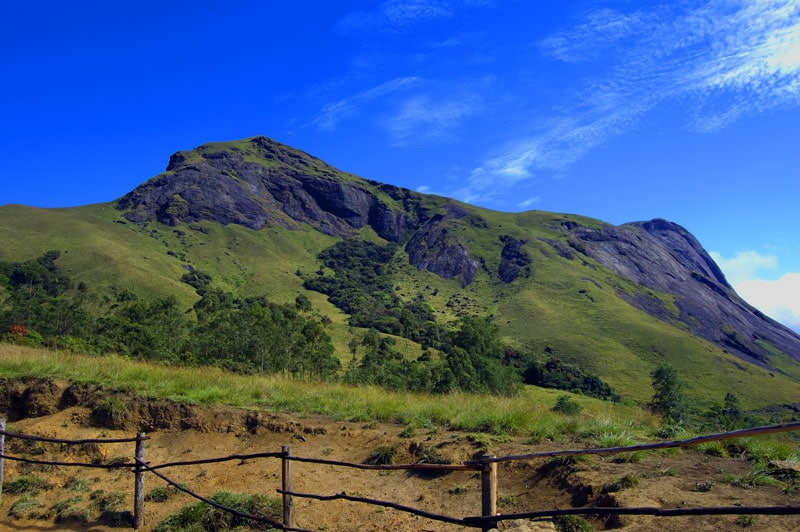 Anamudi Peak:
It is the highest mountain peak located in the Western Ghats in Kerala, India. It is at an elevation of 2695 m. It is at a distance of 13 Km from Munnar. It looks like the mountain is kissing the sky and gives tourists one of the best views. Anamudi literally means Elephant forehead because of the shape of the mountain. It isa good place for trekking but trekkers are not allowed to reach the peak of the mountain.
It is in the southern region of Eravikulam National Park at the junction of Cardamom Hills, Anaimalai Hills and Palani Hills. The place can be visited throughout the year however November to February is the best season to visit. After Monsoon season one can see fresh green covering the whole mountain. The place is a paradise for nature lovers and photographers. 

Kolukkumalai:
It is a small town with the highest tea plantations in the world.  It is at a height of 7310 feet above sea level and is around 30 Km from Munnar. The village is located at Bodinayakanur Taluk in Theni District of Tamil Nadu. The tea grown here has a special flavour and aroma as it is grown in higher altitude.

Echo Point:
Located at a distance of 18 km from Munnar is the famous Echo Point. The place is famous for trekking, hiking and some adventure sports activities. The echo that is produced from the peaks and the lush green all around really mesmerizes the tourists.
It is always better to carry woollen clothes whenever you visit any Hill station. If you want to enjoy the chill of the Hill station then the best time to visit would be the Winter season otherwise it can be visited during any part of the year. It is one of the best places to get some good photography.

Chithirapuram:
It is a beautiful place which contains old cottages, Bungalows, courts with a distance of just 10 km from Munnar. This beautiful place is also famous for tea plantations.
Other than the above places there are many water falls and wild life sanctuaries all round the Munnar. 

How to reach Munnar Hill Station
Munnar can be reached in four major directions. The directions are Mattupatty Direction, Thekkady Direction, Adimaly Direction and Coimbatore Direction. Tourists from word wide come here to see the lush green all around the Hills. It depends on which direction you enter the Munnar. Some of the tourist's place who can see with the different directions are here under.
Mattupatty Direction:
Kundala Lake, Echo point, Mattupetty Dam and Rose Garden
Thekkady Direction
Idly Hill view point,  Devikulam, Signal view point and Lockheart Tea Museum.
Adimaly Direction
Spice plantation, Pothamedu view point
Coimbatore Direction
Eravikulam National park,  Anamudi Peak, Tata tea museum, Chinnar wild life sanctuary and Lakkam waterfalls.

Travel details to Munnar
By air: The nearest airport is the Cochin airport which is around 125 km from Munnar. From the airport one can hire a taxi or go by the buses which are available in Cochin. The airport is well connected to all the major cities in India.
Madurai International is another airport which is around 140 Km from Munnar.
By rail: The nearest railway station is Aluva which is around 110 km, Ernakulam is around 130 Km, Madurai is 135 Km. Aluva is the second busiest railway station in Kerala. All the major trains from different cities in India arrive to Aluva railway station. From there one can hire a taxi.
By Road:
After reaching the nearest airport or railway station like Kochi, Aluva, Erankulam, and Madurai one can hire a taxi and drive down to Munnar. It is advisable to hire a local taxi as the road to Munnar has lots of curves and is very narrow.  Distance from various cities to Munnar.
Aluva: 110 Km
Thekkkady: 106 Km
Alleppey: 110 Km
Cochin: 130 km
Madurai: 135 Km
Coimbatore: 160 Km

Please share your photos or your experience with us by clicking the link here
You can check some of the other Indian states here
Update on coronavirus in India
Affiliate Disclosure:
If you make any purchase via a link on this site, I may receive a small commission with no added cost to you.