Ponmudi
Ponmudi:
Quick Facts:
Hill Station: Ponmudi
State: Kerala
Country: India
Elevation: 1,100 m
Official Language: Malayalam
Parent Range: Western Ghats
Famous for: Cool climate and greenery all around
Update on coronavirus in India
Ponmudi is a calm and beautiful hill station located in  Trivandrum District of Kerala, India. It is known as Kashmir of Kerala with fresh air and lush flora all around. Ponmudi enjoys a pleasant climate throughout the year with maximum temperature hovering around 25 degree Celsius and minimum temperature hovering around 18 degree Celsius. At an elevation of 1,100 metres, Ponmudi is part of  Western Ghats.
Climate/ Seasons at Ponmudi
Climate at Ponmudi:
Ponmudi can be visited throughout the year due to its good climatic conditions.
Summer Season: The summer season is from March to May. The weather gets a little warmer and clear.
Monsoon Season: The monsoon season is from June to September. The place receives heavy rainfall and is quite humid during this period. The maximum temperature hovers between 25-30 degree Celsius
Winter Season: The winter season is from November to February.  The night temperature drops significantly during night times. October to February are considered as the best time to visit this beautiful hill station.
How to Reach Ponmudi
By Air: Trivandrum International Airport is the nearest airport to Ponmudi. It is at a distance of around 60 Kilometers from the hill station. From the airport one can take a cab or taxi and drive down to the hill station. Trivandrum International Airport is well connected to major cities within India and outside India.
By Rail: The nearest railway station is the Trivandrum railway station. From there one can take a cab or taxi.
By Road: The Kerala State Road Transport Corporation has regular bus service from Trivandrum to Ponmudi. Local buses and private cabs are also available in large numbers. Ponmudi is well connected to different parts of Kerala.
Attractions and Tourism 
Ponmudi has good climatic conditions throughout the year. One of the major attractions in Ponmudi is the two lane highway which is connected to Trivandrum.  In this highway the last 18 Kilometres starting from Anapara has beautiful scenic views. It passes through tea gardens and mountains. While traveling here there are around 22 hairpin turns which really gives a thrilling effect for the riders.
Golden Valley is another major attraction in Ponmudi.  Settled along the banks of River Kallar, Golden Valley is the best place for lush greenery all around with crystal clear water and round pebbles. 
Kallar and Menmutty  Falls: Kallar falls is situated on the way to Ponmudi. It got its name from River Kallar. Kalu means stone and aru means river.  Kallar river is famous for round pebbles, crystal clear water and greenery all around.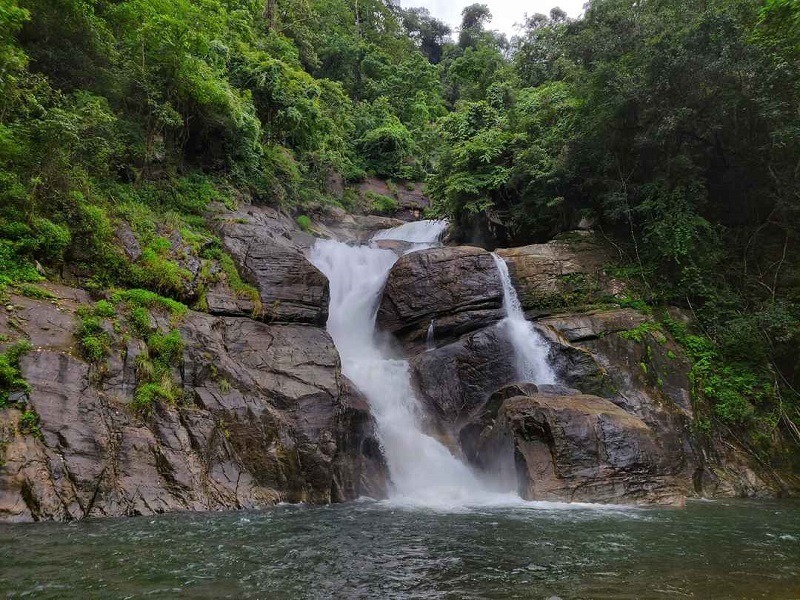 Menmutty falls is just 3 Kilometers from Ponmudi. The waterfall is situated along the upper course of Vamanapuram River. Tourists have to trek around 2 Kilometers in the dense forest to reach the place.
After taking the permission from the Forest Department a guide will be sent along with the tourist to reach the place. The major attraction is the natural pools, rocks and greenery all around.

Ecology
The landscape of Ponmudi is scattered between valleys and hills with excessive plantations. The hill stations plays a major role in maintaining the ecological balance of the area.
Ponmudi is home for around 280 different species of birds most of which are endangered and threatened. Some of the birds endemic to this region are painted bush quail, Malabar grey hornbill, Wayanad laughingthrush, the broad tailed grassbird and Nilgiri pipit.
The grasslands of this area are the breeding place for broad tailed grassbirds. More than fifty percent of the bird species in Kerala are found in Ponmudi.
Ponmudi is also home for many species of reptiles and amphibians including Travancore tortoise, Malabar Gliding Frog and Malabar tree toad. Even Nilgiri tahr is found in Ponmudi. 
Ponmudi is truly one of the best hill stations in Kerala.
Affiliate Disclosure:
If you make any purchase via a link on this site, I may receive a small commission with no added cost to you.