Wayanad Wildlife Sanctuary
Wayanad Wildlife Sanctuary
Updated on 14-12-2022
Wayanad Wildlife Sanctuary
Quick facts:
Country: India
State: Kerala
Language: Malayalam
Best time to visit: October- February
Wayanad wildlife sanctuary is another important and beautiful sanctuary in Wayanad district Kerala, India. The sanctuary is an integral part of Nilgiri Biosphere reserve. The sanctuary spreads over an area of 344 square kilometres.
There are four hill ranges namely Sulthan Bathery, Muthanga, Kurichiat and Tholpetty. There are two parts in the wildlife sanctuary Muthanga towards the east partnering with Tamil Nadu and Tholpetty towards the northern side bordering Karnataka. Muthanga region is a good place for elephant sightseeing.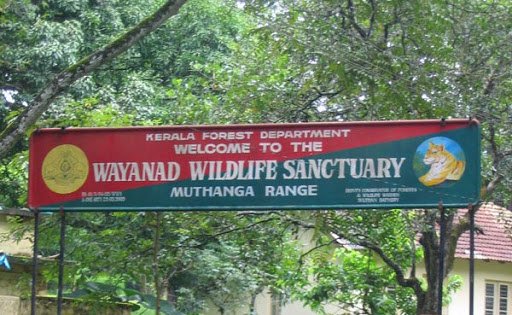 The sanctuary is one of the best places to see some of the endangered species both in flora and fauna. Some of the wild animals that can be spotted here are elephants, deer, tiger, gaur and many more.
History of Wayanad Wildlife Sanctuary
Wayanad Wildlife sanctuary was established in 1973. It was brought under Project Elephant in 1991-92. The sanctuary is also home for some tribes like Adivasis, Paniyas, Kurumas, Adiyars and Ooralis. The sanctuary also has some major tourist's places like Neelima view point, Varambetta mosque, Kuruva Island, Chethalayam falls.
Climate at the sanctuary
Climate
Wayanad enjoys a very healthy and pleasant climate. During monsoon season the sanctuary receives highest rainfall ranging from 3,000-4-000mm.
Lakkidi which is the gateway of Wayanad district in Kerala receives highest rainfall. The sanctuary has relatively high humid weather with dry winds blowing in March and April. The temperature ranges 290c to 180c.
The four seasons of the sanctuary are cold weather, hot weather, south west monsoon and north east monsoon. The best time to visit the sanctuary is from October- May when the weather is good.
Best time to visit
The months from October to February are considered as the best time to visit the sanctuary. The place receives heavy rainfall during monsoon season and hence it is not good to visit during monsoon season.
Visiting Hours/ Safari timings

Morning 7 am to 10 am and evening 3 pm to 4:30 pm.
The sanctuary closes from middle February to Mid-April. The duration of the safari is around 1.5 hours. Maximum seven persons are allowed in the Jeep. Entry to the sanctuary is possible only after taking permission from the concerned department. A guide is accompanied in the Jeep. No private vehicles are allowed inside the sanctuary.
Geography of the Sanctuary
The sanctuary is gifted with nature's best lush green forests and rich wildlife. It is surrounded by Bandipur and Nagarhole of Karnataka in the Northeast and towards the Southeast by Mudumalai National Park in Tamil Nadu.
The sanctuary comprises two discontinuous parts namely North Wayanad Wildlife sanctuary and South Wayanad Wildlife sanctuary. It is a part of Deccan Plateau and also covers Wayanad Plateau.
The plateau is predominantly located in Kerala. The sanctuary enjoys south Indian moist deciduous teak forests along with pastures of west coast semi evergreen trees. One can see a herd of elephants roaming around the area.
Flora and Fauna in Wayanad Wildlife Sanctuary
One can trek Muthanga or Tholpetty to encounter a vivid and enchanting floral display.
Thick and green bushes of plants accompany you along your path, with interspersed bamboo trees Usually moist and dry deciduous forest types cover most of the area, along with patches of semi-evergreen forests.
Western Ghats is known for its nature's best flora and fauna. Wayanad is no different to it. The sanctuary is blessed with rich flora and fauna. The vegetation here is generally moist deciduous forests which have trees like Chadachi, Bamboos Kari maruthi, rosewood, venteak and semi evergreen consists of lagerstremia, lanceloata and many more. A major portion of the Wayanad district is covered with coffee plantation. Tea plantation is also grown in large number. 

Eucalyptus tree is also grown in large number. The oil is extracted from eucalyptus tree and sold commercially. Eucalyptus grandis, a variety of eucalyptus, whose fragrance surrounds the air, is cultivated in large number. Arecanut and jack fruit trees are also grown here. The soil and the climatic conditions are suitable for horticulture purpose.
Wayanad has some rare species of animals like different species of vultures, jackals etc. Some common animals that are found in the sanctuary are peacocks, babblers, cuckoos, bisons, deer, lizards, wild dogs and many more.
How to reach
By air: The nearest airport is Kozhikode which is at a distance of 87Km. Kozhikode has many connecting flights from Bangalore, Chennai, Hyderabad and Delhi.
By rail: the nearest railway station is Mysore and Kozhikode.
By road: Wayanad is well connected through roads from all the major cities.
Update on coronavirus in India
Places of Interest
There are many places near Wayanad wildlife sanctuary. Some of the important places are: 
Pakshipathalam bird sanctuary
Pakshipathalam is a bird sanctuary located in the Wayanad district of Kerala. The virgin forests, streams, steep hills and most importantly the colorful birds all around make this a most important tourist place in Wayanad. The hills also are a trekking place. The hills are 1740 m above sea level. There is also a small cave in the bird sanctuary which was believed to have been used by the saints in ancient times.
Banasura sagar dam:
It is the largest earthen dam in India and second largest in Asia. The dam is located at the foot of Banasura Hill. The Dam which impounds the Karamanathodu tributary of Kabini river is a part of Banasurasagar project which consists of a dam and a canal. The project was started in 1979. It is one of the major tourist attraction in Wayanad The Dam is 
Edakkal caves:
They are the natural caves located in Edakkal in Wayanad district of Kerala. They lie 3900 ft above sea level in Ambukutty Mala. The pictorial drawings are believed to date back to the Neolithic age from 6,000 BCE to 1,000 BCE.  The youngest paintings may have connection to the Indus Valley Civilization. The caves were discovered by Fred Fawcett in 1890. It is open on all days from 9 am to 4 pm.
Chembra peak:
With an elevation of 2,100 m, this peak is the highest peak in Wayanad and one of the highest peaks in Western Ghats adjoining Nilgiri Hills and  Vellarimala. The peak is accessible by foot from Meppadi.
It takes close to 3 hours to reach the peak. From the tip of the peak one can see a heart shaped lake called Hrudaya Saras. Prior permission from the concerned authority is needed to trek the peak. 
Visit to the peak is organised by the Chempra Peak VSS under the control of South Wayanad Forest Development Agency.
Neelima viewpoint:
Wayanad is filled with tourist places. Neelima View point is one such tourist place which gives a mesmerising view of meenmutty waterfalls and the valley all around. Even the trek to the viewpoint is as beautiful as the viewpoint itself. The aroma of coffee, birds chirping and greenery all around with mist makes it a must visit place in Wayanad.
Meenmutty falls:
It is located 29 kilometres from Kalpetta in Wayanad district of Kerala. It is a three tiered waterfall which falls from a height of 300 metres. The waterfall is surrounded by lush green trees all around. It can be accessed from Mananthavady-kuttiady road
Begur wildlife sanctuary:
It is one of the most beautiful places in Wayanad to visit. The lush green trees and different flora and fauna makes it an important tourist destination in Wayanad. The best time to visit the sanctuary is from December to May. The sanctuary has animals like elephants, deer, tigers, boars, leopards and many species of birds.

Thirunelli temple:
It is an ancient temple dedicated to Lord Shiva. It is located in Wayanad district on the side of Brahmagiri hills. It is one of the most important temples for the local people. It is believed to have been mentioned in puranas where lord Brahma visited the Brahmagiri Hills.
There are many places in and around Wayanad to visit. Kerala itself is a very beautiful place with lush greenery all around the state.
Affiliate Disclosure:
If you make any purchase via a link on this site, I may receive a small commission with no added cost to you.