Thekkady 
Thekkady
Quick Facts
State: Kerala
Country: India
District: Idukki
Official Language: Malayalam
Famous for: Spices like nutmeg, black pepper, cardamom, cinnamon, clove and ginger.
Thekkady is located in the Idukki District of Kerala and is one of the most important tourist's destinations in Kerala India. The place is famous for the Periyar Tiger Reserve.
The sanctuary is open through out the year but the best season to visit is from September to March. Thekkady is another beautiful place in Kerala along with Munnar and the  place is also very famous for the spices like cardamom, cinnamon, clove, nutmeg and many more. Most part of Thekkady is covered with Western Ghats and Kumli is the nearest town to Thekkady.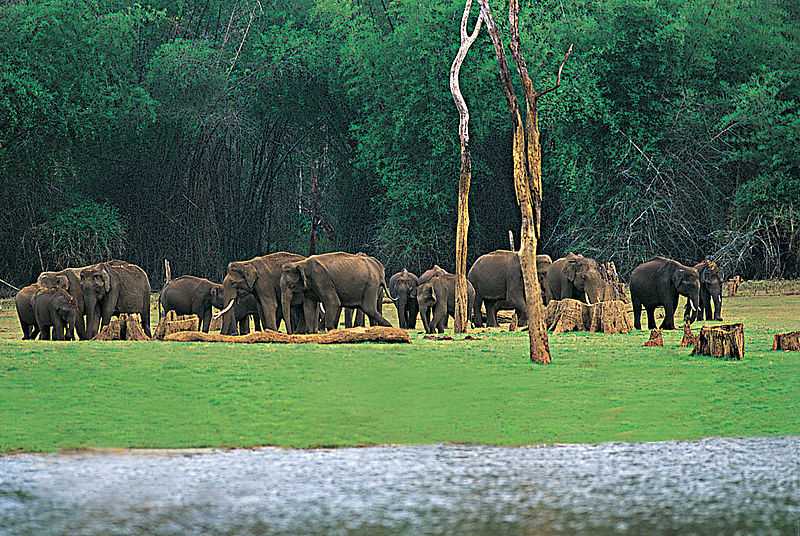 Climate and Geography of Thekkady
Thekkady is located at an altitude of around 800m above sea level. It experiences moderate with pleasant summers and cool winters. The summer months are from March to May where the maximum temperature may hover around 35oc and minimum temperature may be around 20oc. Summer months are the best months to visit the Periyar wild life sanctuary.
Monsoon months are from June to September where the place receives very heavy rainfall temperature hovers around 25oc. Winter months are from November to February when the minimum temperature falls to 10oc. It is very cold during winters and carrying of woollen clothes is advisable.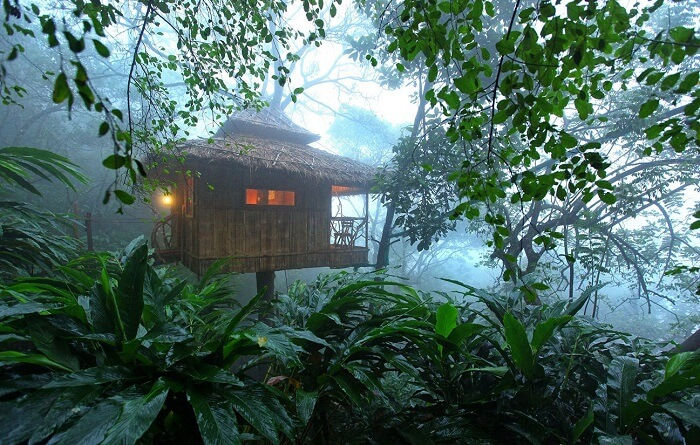 Best time to visit
September to March is the best time to visit Thekkady and the wild life sanctuary. The dry leaves may help the tourists to see some wild animals. 
Thekkady is blessed with beautiful landscapes and long stretches of plantations. The aroma of fresh spices spreads in the air making it very rejuvenating and fresh feel for the tourists. The long stretch of trekking trails with greenery all around makes it one of the best experience for trekkers and mountaineers.
How to reach Thekkady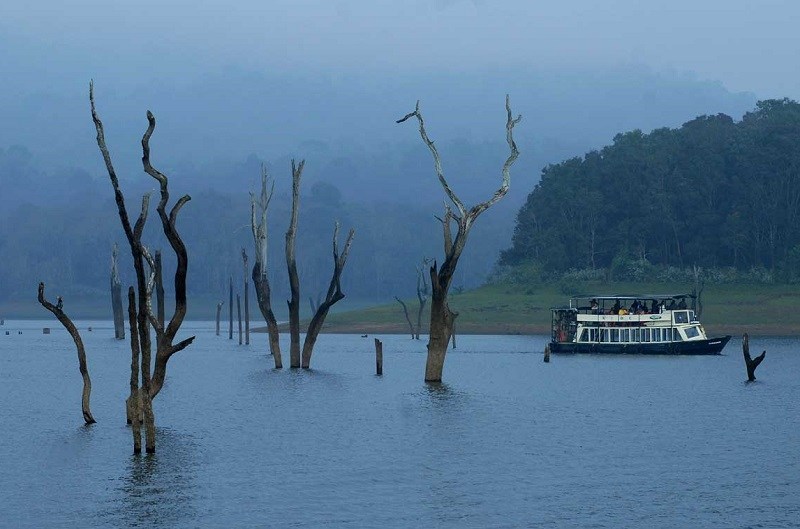 By Air: The nearest airport is Madurai which is around 141 km. Next closest airport is Cochin International Airport which is at around 145 Km. from there one can take either government or private buses or book a cab and drive down. Both the airports are well connected to different cities of India.
By Rail:
The nearest railway station is the Kottayam railway station which is around 115 km. The station has trains coming major cities of India like Thiruvanathapuram, Mangalore, Bangalore, Chennai, Kolkata, Delhi and other major cities. After reaching Kottayam railway station one can take a bus or cab to reach Thekkady.
By Road:
One of the best options to reach Thekkady is drive down from major South Indian cities like Bangalore, Chennai and others. One can also drive down from Bangalore. It takes close to 10 hrs drive from Bangalore. Thekkady is a close to 4 hr drive from Kochi. It is beautiful stretch to drive from Kochi.

Tourism in and near Thekkady
Periyar National Park and Wild life Sanctuary
One of the most fascinating and beautiful wildlife sanctuaries is Periyar wild life sanctuary. It is located towards the south of Western Ghats on the Cardamom Hills and Pandalam hills.
It is also known as elephant reserve and tiger reserve. It covers an area of 925 Km2 out of which 305 km2 was declared as the Periyar National park in 1982.
Both the Periyar and Pamba River originate from the forests of the reserve. The highest peak in the park is kottamala which is around 2019 m high.  The park is often mentioned as Periyar Wild life Sanctuary or Thekkady.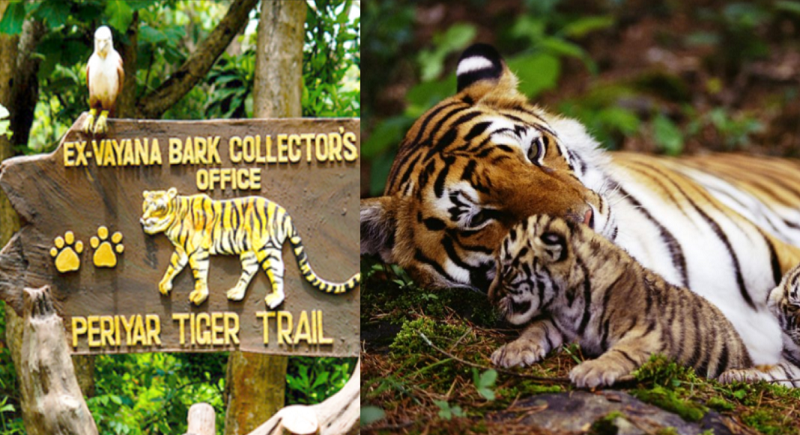 It is believed that there is a close connection between the Mullaperiyar Dam and Periyar Wild Life Sanctuary. It is understood that the construction of Mullaperiyar Dam across the Periyar River has led to the Periyar Lake in the year 1895. To protect the Dam and the River in the year 1899 the Lake was declared as Periyar Lake Reserve forest.

The Sanctuary was finally declared as Tiger reserve in the year 1978 and when the project Elephant was launched in 1991, the sanctuary was also declared as Elephant reserve. The National park surrounded by North Peerumedu taluk, South Pathanamthitta district, East Theni, Thirunelveli and Ramnad District of Tamil Nadu and toward west is the Kottayam district.
Climate is pleasant with little precipitation. Summers are warm and winters are very cold. The place receives heavy rainfall during monsoon season.

Flora and Fauna in Periyar National Park
The wild life sanctuary is famous for its flora and fauna. Periyar has typical tropical evergreen forest and moist deciduous forest. One can see trees like teak, sandalwood, rosewood, mangoes and tamarind. There are also plenty of banana and eucalyptus trees as well.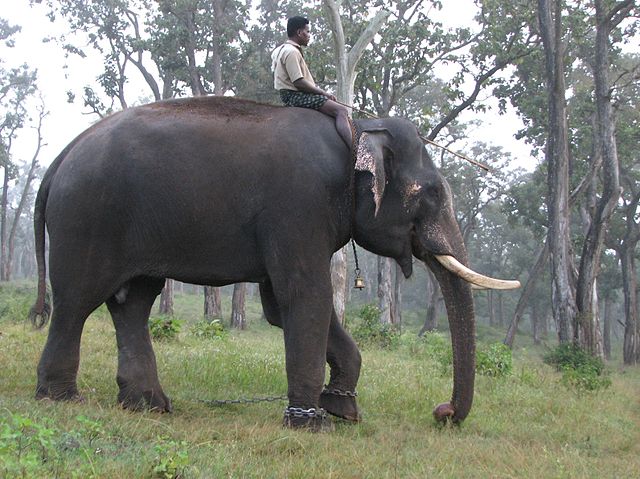 Periyar National Park has many animals like elephants, deer, Gaur, Nilgiri tahr. There are around 35 species of mammals, 265 species of birds, 45 species of reptiles, 40 species of fish and round 170 species of insects. The Park is known as tiger and elephant reserve. While going is safari if one is lucky then they can look at sloth bear, lion tailed macaque, crimson backed sunbird, Nilgiri flycatcher, Salim Ali's fruit bat,  king cobra, viper, frogs toads and many more.

Best time to visit Periyar National Park is from October to June. The park remains open to tourists from 6am to 7pm on all days. The safari timings may be changed on some days. One can enjoy elephant safari, Jeep safari and boat cruise. Jeep safari is most convenient and easy for all tourists. It is an open roof jeep which can accommodate up to 6 persons. Here are the timings of Safari. Please note the timings might have changed. The Safari is one of the major attractions in the Park.

Safari Timings:
Jeep Safari- 6am-3pm and in the evening safari is from 11pm to 3am.

Elephant Safari:  6am to 5pm for half n hour
Entry to the Park can be obtained from the office of the Forest Department at Angamoozhy.

Mangal Devi Kannagi Temple:
Mangal Devi Kannagi temple is located in the Idukki district of Kerala. It is around 15 km from Thekkady. The temple was erected by Cheran Chenguttuvan who was the king of the ancient Tamilakam around 2000 years back. This beautiful temple is at an altitude of 1337 m. The temple is closed throughout the year except on Chitra Purnima festival. However the tourists can visit the temple after getting a approval letter from forest ranger.

Murikaddy:
Just around 5 km from Thekkady is Murikaddy which is famous for tea and coffee plantations. The place is on the banks of river Periyar is a perfect place to spend one whole day with the aroma of spices and plantations. One can also see cardamom and pepper plantations in this place.

Pattumalay:
Just located around 24 km from Thekkady this place is famous pilgrimage centre. One of the major attractions is Velankanni Matha Church. There is also a tea factory in Pattumalay. It was established in the year 1931.

Some adventure activities for tourists
Tourists can do lot of things in Periyar National Park along with doing safari.
Trekking: one of the best and the easiest is doing trekking.
Nature Walk: This is a guided trekking for around 4-5 km. One can watch beautiful birds, butterflies and also some wild life. The trek is done in the middle of ever green and moist deciduous forest. The Nature walk is done through a guide with a maximum number of persons is 5. The timings are 7am to 10.30 am and from 2pm to 6 pm.

Bamboo Rafting: Rafting is done from morning till evening all along the best forest tracts. The rafting is for about 3 hrs all along the forest with a beautiful view of the nature, birds. One can also see elephants, gaur, sambar and also Nilgiri Langur. An armed guide along with four guides will be accompanied with 10 tourists. 

Periyar Tiger Trail: it is a programme of one night two days or 2 nights three days. The team usually consists of 6 tourists, 5 guides and 2 forest officials. Trekking is usually of 20-35 km which is covered based on the programme chosen by the tourists. Vegetarian meals are served to all the tourists.
Tourists, who are medically fit and in the age group of 15-65 are considered for the trail. The trek route passes through hills, valleys with a variety of tropical plants. The guides are equipped with any emergency situations. Beware of fraud crooks who say they will book for trail and asking for full money.

Some of the other states of India
Update on coronavirus in India
Affiliate Disclosure:
If you make any purchase via a link on this site, I may receive a small commission with no added cost to you.