Peermade
Peermade
Quick Facts
Country: India
State: Kerala
District: Idukki
Elevation Ranging: 915 m above mean sea level.
Official Language: Malayalam
Famous for: Good climate , Plantations of Tea, cardamom, coffee and coconut
Update on coronavirus in India
Peermade, also known as Peerumedu, is one of the important hill stations in Kerala, India. The fragrance of spices welcomes the tourists from different parts of the world.  It is at a height of 915m above sea level in the Western Ghats.
Peermade is towards the east of Kottayam on the way to Thekkady. It is a wonderful experience to feel the slopes of the hills covered with tea, coffee, rubber and cardamom plantations under blue sky and greenery all around.
Periyar Wildlife Sanctuary is around 30 Kms from the place. The sanctuary is famous for elephants, sloth bear, Bengal tigers and many more. The sanctuary is famous as an elephant reserve and a tiger reserve.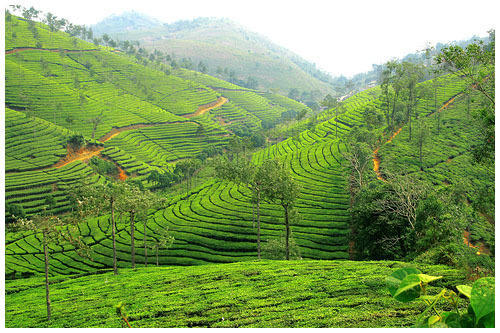 Peermade used to be the summer retreat for the Maharajas of Travancore. In olden days this place was not easily accessible due to the thick forest and also tribes like Malappandaram and Malayarans had inhabited there.

Best time to visit
Peermade enjoys a pleasant climate throughout the year. The maximum temperature hovers between 27 to 30 degree Celsius in summers. The best time to visit is from April to June and September to February. During the monsoon season the place receives heavy rainfall so moving around could be a problem.
How to Reach
The place is easily accessible by road, rail and air. 
By air: Cochin International Airport is the nearest airport to the place. It is at a distance of around 130 Kms. The airport is well connected with major cities within and outside India. From the airport one can book a cab and drive down to Peermade. It takes close to 3.5 hours but it's a wonderful drive.
By rail: Kottayam railway station is the nearest railway station. It is at a distance of around 75 Kms from Peermade. One can take a cab and drive down.
By Road:  The place is well connected from major cities like Bangalore, Cochin, Kottayam, Thekkady and more. The hilly region has a good network of roads. Regular buses are available from the major cities.
Tourist Places in Peermade
Peermade has many tourist places. The greenery all around makes it one of the best place to visit and relax. Here are some of the important tourist places.
Grampi: It is also referred as eagle rock or Paranthupura is situated at a distance of around 5 Kms from Peermade. The beauty of the place is enhanced by the rocky terrain, green forest all around. While reaching the place one can also see tea, coffee and cardamom  plantations.

Thrissanku Hills:
Just 4 Km away from Peermade, Thrissanku hills give a beautiful view of sunrise and sunset. Misty hills, cool breeze with aroma of species make it a must visit place in Peermade. One can also have glimpses of western ghats.
Madammakkulam
Madammukkulam is a waterfall deep in the forest along with a natural pond under the waterfall. Surrounded by deep woods, this is an ideal place for family picnics. It was a favorite place for the British during the colonial period.
Peeru Hills:
Just 4 Kms from Peermade it is a beautiful place for trekking trails. This hidden gem is famous for its panoramic view, rustic trails and greenery covered hills all around. It is named after Peer Mohammed who was a sufi saint.
Panchalimedu:
Panchalimedu is a hill station located at a distance of around 18 Kms from Peermeda. It is at an height of 760 m above mean sea level. The place is surrounded by deep valleys, and hills along with open fields, grasslands and perfect climate. On Makara  Sankranti devotees visit this place to see the sacred holy flame known as Makaravilakku that appears from Ponnambalamedu near Sabarimala temple
Kuttikkanam:
It is another hill station in Idukki District and within the territory of Peermade. It is at an height of 1,100 m above mean sea level. The hill station is surrounded by lush green tea plantations. It also has wide varieties of rare plants, cardamom plantations, tea plantations and pine trees.
AmrithaMedu
It is also known as Kurisumala is an important pilgrimage and trekking trail along the Western Ghats. People from different parts of the country visit this place especially during Good Friday. They climb the hill by holding wooden crosses and take the blessings of the almighty.
Vagamon:
Vagamon or Wagamon is a hill station located in the Idukki district of Kerala, India. It is in the Idukki- Kottayam border with an elevation of 1,200 m. The place enjoys pleasant climate throughout the year and is now considered as the major tourist place in Kerala. It is close to one hour drive from Peermade.
Spices:
This place is extremely fertile and can see coffee, tea, cardamom and coconut plantations all around. The place is also growing black, black pepper, white pepper, nutmed, mace, cloves, turmeric, beans, oregano, rosemary, thyme and vanilla powder.
Truly Kerala is one of the best places for spices and greenery all around.
Affiliate Disclosure:
If you make any purchase via a link on this site, I may receive a small commission with no added cost to you.