Jim Corbett in India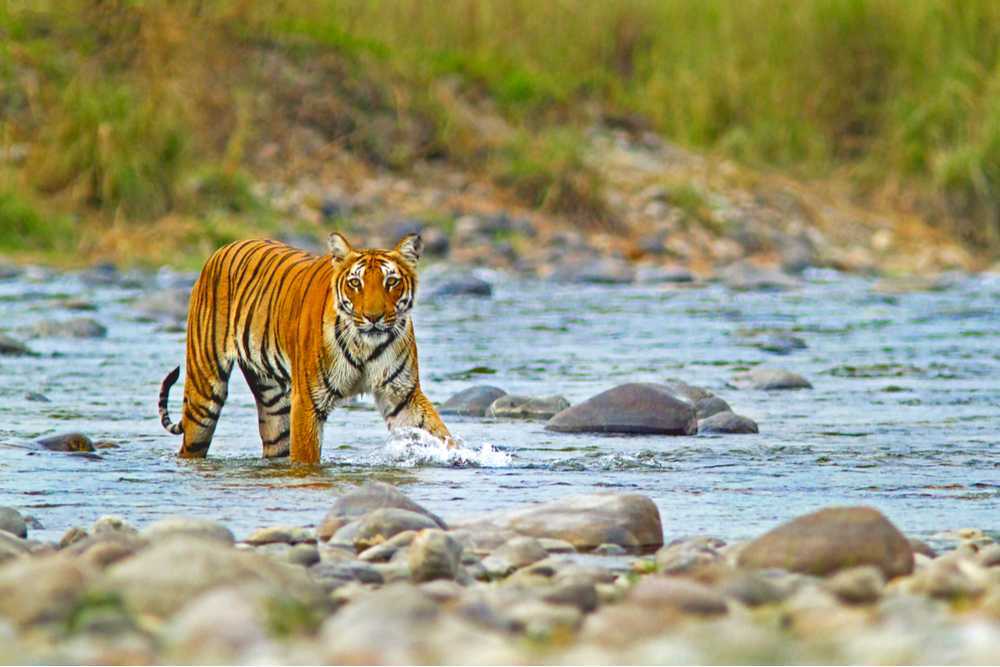 Jim Corbett National park is about 2 to 3 hours drive from Nanital (~ 130 Km).  Jim Corbett National park was opened in the year 1936.   Jim Corbett national park is the oldest tiger reserves in Nainital district of Uttarakhand. Named after Jim Corbett, a British national, who worked for the development of the park. The park is currently spread over an area of 520 Sq Km. The park is home for more than 110 types trees, 51 types shrubs, 27 types of climbers and grass. 
The park is home for many animals such as tiger, leopard, neelgai, deer, elephant, wild boar, Hedgehog.  River Ramganga flows through the Park providing abundant water for the flora and fauna. The main attraction of this park is tigers, but sighting a tiger is very difficult as the park is spread over a large area and it is not easy to site a tigers in this vast areas of thick forest or grass lands.

Five Zones in Jim Corbett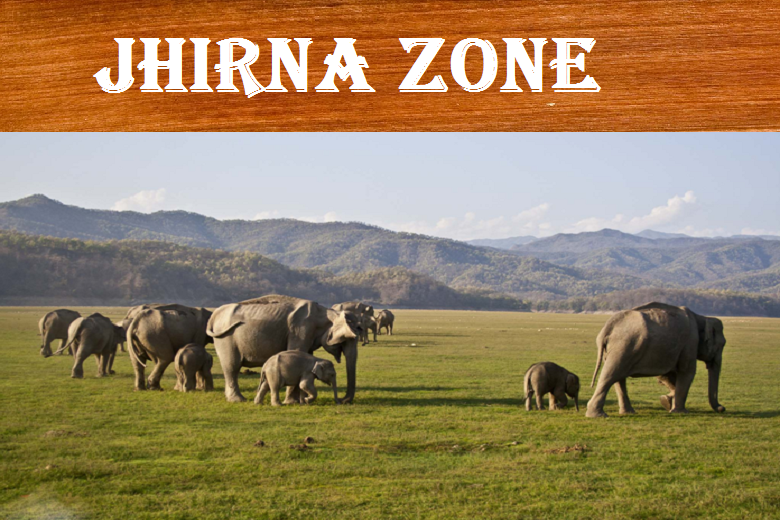 This vast park is divided into following five zones for convenience of administration based on the topography:
Jhirna zone: Located at the southern end Jhirna zone is best for viewing wildlife. This is the only zone which is open through out the year. During winter season the zone is open from 7am to 10am and evening from 2 pm to 5:30pm and in summer morning 6am till 9:30am and evening 3pm to 6:30 pm. this zone is well connected by road and one can take either Elephant or Jeep safari.
Dhikala zone: Located 50 Km deep inside the forest, Dhikala zone is good for viewing valleys and some real wildlife like Royal Bengal Tiger, Elephants, and Cheetahs etc. the zone is situated at the edges of Patil Dun. For having a good view of grasslands and wildlife one can take either Jeep safari or bus safari. The zone is open from November 15th till 15th June. This zone becomes inaccessible during monsoon.  The zone is open in winters from 7am to 10am in the morning and afternoon 2pm to 5:30 pm. In summers morning 6am to 9:30 am and in the evening 3pm to 6:30pm. Dhikala zone is also well connected on road and one can book the safari tickets in Ramnagar office.
Bijrani zone-Like Dhikala zone the topography of Bijrani zone consists of grasslands and wild animals. Located close to Amdanda gate close to Ramnagar.   Chances of spotting tiger in this zone are more compared to other zones.  Bijarni has core, buffer and tourists zone. Tourists are allowed to visit only in the tourist zone. One can take jeep or elephant safari and can book safari tickets from Ramnagar office. The timings of the zone is same as other zone. The zone is open from 15th October-15th June.  This zone also becomes inaccessible during monsoon.
Sonandi zone: Located near Jim Corbett national park Sonandi zone is well known for its flora and fauna. One can expect to see Asiatic Elephants, Tigers, leopard, reptiles and beautiful birds. Tourists can take elephant or jeep safari from Durga Devi gate, Vatnavasa gate, Kalagarh gate. The zone is open from 15th October to 15th June and closed during monsoon. The timings of the zone is same as other zones. All the gates are well connected by roads and tourists can book the safari tickets from Ramnagar office.
Durga Devi Zone: Durga Devi gate is located 28km from Ramanagar village. This is one of the most difficult zones to trek due to its high elevation. From this gate visitors can enjoy multiple entry in elephant safari. Tourists can get the permission to do fishing at certain spots. Mahasheer fishes can be seen in large number here. Angling (a method of fishing) can also be enjoyed by visitors here. The zone is open from 1st October to 30th June and closed during monsoon.
Different safari are available at the park organised by the park at different timings. It is advisable to book the safari well in advance and can also be booked online.  Tickets to safari can be booked online 30 days in advance for Indian citizens and 90 days for foreign nationals.  If one wants to have a night stay in core area of the park, then one needs to take permission from the concerned park authority.

Weather and best time to visit Jim Corbett
Jim Corbett is open all round the year, but From November till June it is considered as the best season to visit Jim Corbett as all gates remain open during these months and the whole park is open for visitors. Monsoon is considered as off season due to damp weather and less animals can be spotted. Most of the gates also remain close during monsoon.  The chances of sighting tigers are bright during the months of March to June as most of the trees would have shed leaves and the number of water holes would have reduced considerably due to summer.
Summer season: March to mid June is considered as summer season. The temperature can go up to 400 c and night temperature could be around 200 c. Light cotton clothes are preferred during summer season. In early summer when leaves start shedding their leaves one can have a good chance to have a view of wild animals. Carrying water bottles is good to avoid dehydration. It is also advisable not to throw the bottles and other plastic material inside the park but to carry it back to hotel and dispose it off by proper means.
Monsoon season: Late June to September is the monsoon season. Rainfall is quiet heavy during monsoon season. During this season humidity level would be very high and park is also prone to soil erosion. Most of the gates are closed during monsoon season and it is considered as lean period for tourism. Due to sultry weather cotton clothes are preferred.
Winter season: November to February is considered as winter season. This period is considered as best season to visit the park. The day temperature could be around 250c and night temperature could dip as low as 50 c. Light woollen clothes would be preferred during winter season. The humidity level also comes down. Animals can also be spotted as they come out for sun.

How to reach Jim Corbett
By Air: The nearest airport to Jim Corbett is Pantnagar which is around 50 Km from park.
By Bus: Jim Corbett is well connected with roads from all major cities from north India. From Delhi the bus services are available from Anand Vihar ISBT.
By Rail: Ramnagar railway station which is around 5km from the park is the nearest railway station. Some important trains are Raniket express, Sampark Kranti.

 Get in touch with us on Facebook pages. You can check one more Facebook page
Affiliate Disclosure:
If you make any purchase via a link on this site, I may receive a small commission with no added cost to you.
As an Amazon Associate I earn a small commission from qualifying purchases. Other links on this site may lead to other companies that I am associated with