Nainital- India
(updated on 24-12-2021)
Quick facts:
Place: Nainital
Country: India
State: Uttarakhand
District: Nainital
Elevation: 6837 ft
Official Language: Hindi
Best time to visit: Through out the year. However hill stations are visited during May to July when it is summer in plains.
Nainital is  a popular hill station in North India situated in Kumaon region of Himalayas and is located in the state of Uttarakhand India. Nainital is at a height of 2,084m above sea level and is one of the important tourist destinations in India. It is also called the lake district of India.
It can be said that Nainital is a paradise for nature lovers. The hills surrounding the lake give a mesmerising view to the visitors. Nainital is separated into two parts by the lake. The southern side is called  Tallital and the northern part is called  Mallital.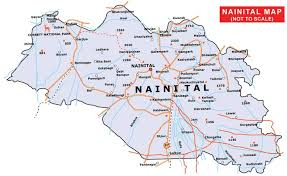 History of Nainital
There are many stories on how Nainital got its name. Nainital is a very old place known from ancient times. The Nainital Lake has a mention in the Skanda purana as tr-irishi sarovar. The story goes here as. Ones three Rishis (sage) named  Atri, Pulastya and Pulaha visited Nainital after a pilgrimage. They were very thirsty and searched for water. No water was available in the entire city, hence they dug a hole and diverted the Manasa sarovar water to Nainital. Soon the hole got filled with water which is now the famous Nainital Lake.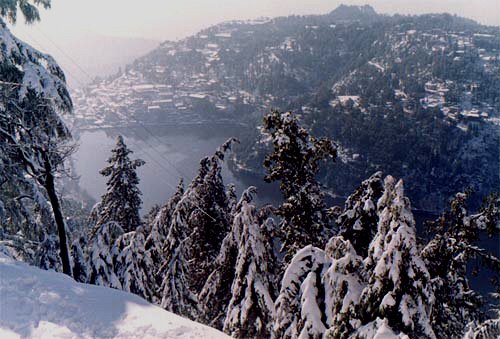 Another mythological story related to Nainital is the King Dhaksha was performing Yagna and he did not invite his daughter Parvati and her husband Lord Shiva. Parvati who considered this as an insult to her husband jumped into the Yagna fire and killed herself. Lord Shiva while carrying her dead body to Kailash Sarovar one of her eyes fell at this place and hence it got the name as Nainital. Naini means eye in Hindi.
Nainital was a very famous hill station during British period. In the year 1817 the then British commissioner of Kumaon GW Trail was the first European to visit the place. Due to religious sanctity and to maintain the virgin beauty of the place Traill did not mention about this place to anyone. Later after 20 years P.Baron, a trader from British found the lake while he was finding way out of the hills, he was mesmerised by the beauty of the hill station and decided to stay there.
Best time to visit Nainital, India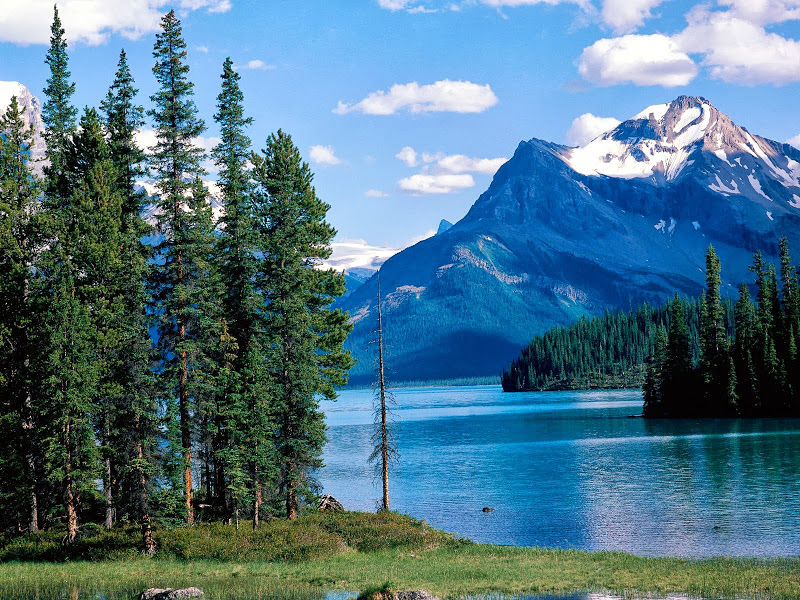 Nainital in India can be visited throughout the year but if one want to experience cold and snow fall the ideal time is from November till February.  One can observe three distinct seasons at Nainital as below:
March to June: This is summer.  Temperature varies from 27oc to 14oc m at night.  As summer is not too harsh it would be good to carry some light woollens like shawls, thin sweaters.  Since the sun rays are more scorching than plains it would be ideal to carry sunscreen lotions and sun glasses.
July to September: This is Monsoon season. Rainfall is quiet heavy during this period. Sometimes roads are blocked but they are cleared at the earliest. This season is off season in Nainital. The temperature could vary from 21oc to 10oc.  Carrying light woollen clothes would be ideal for this season.  Precipitation would be high in monsoon season.
October to February: This is winter season.  Beginning of cold and winter it is a good  time to visit Nainital. Temperature vary from 15oc to 2oc. Heavy woollen clothes like jackets, gloves, socks thick sweaters are required. December to February mild to heavy snow fall can be expected. Snow boots are required to be carried or can be taken on rent at the local markets

Geography and Climate of Nainital
Nainital experiences marine or sub tropical climate where summers are not hot and winters are not very cold. Nainital is at an elevation of 6837 ft from the sea level. Winters are usually dry and summers experience some rain.
Summers are mild and the hottest month is July when the maximum temperature goes up to 24oc and the coldest month is January when the minimum temperature hovers around 2oc and maximum temperature hovers around 11oc.
The town receives snowfall during December and January. Nainital is known as the shining diamond of Himalayas as it is blessed with three lakes which make the climate to remain moderate during summers.
Important places to visit in Nainital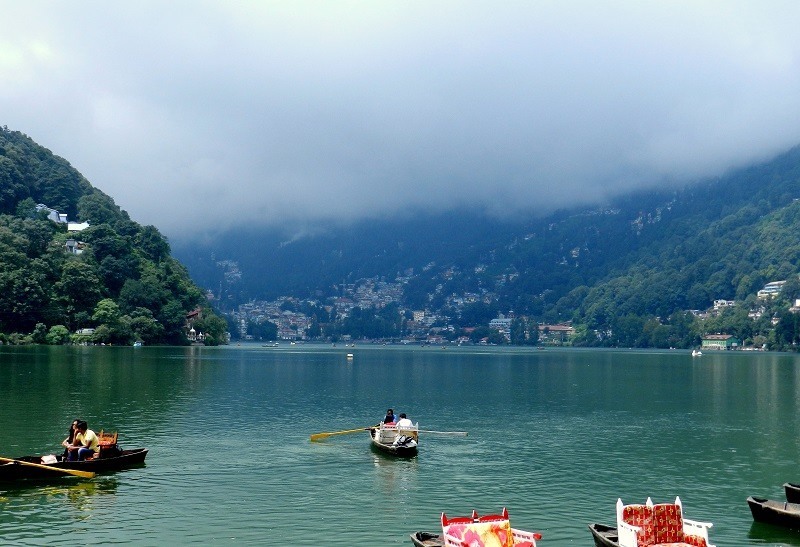 Nainital lake: Most important tourist's attraction of Nainital is the Nainital Lake. Surrounded by 7 hills on all sides of the lake, Nainital Lake is beauty on its own. The 7 hills that bound Nainital lake are Aryapata, Deopata, Handi Bhandi, Alma, Cheena peak, Laria Kanta and Sher ka Dhanda.  Also known as Nani Lake it is one of the four lakes of Kumaon hills.
The other three important lakes of this hills are Sattal lake, Bhimtal Lake, Naukuchiyatal Lake. Located at the heart of the city can be reached easily by bus or taxi. The lake receives water mainly from the hill slopes, spring and during monsoon season. Flora and fauna is rich in and around the lake.  Boating is done from 6am to 6pm. Boating/ rowing/ paddle boating is one of the famous attractions at the lake.
Naina Devi temple- It is a scared place in Nainital. It is considered as Shatki peeth is dedicated to God Naina Devi. Located at atop of Hillock near Nainital Lake, it attracts thousands of visitors every year. It is open on all days. Timings to visit temple are from 6am to 10pm. Best time to visit is during Navratras. Naina Devi temple has a history of its own. It is believed that when goddess Parvati killed herself, Lord Shiva was carrying her dead body at that time one of her eye fell at that place hence referred as Naina Devi temple. People of the town consider this temple as very scared.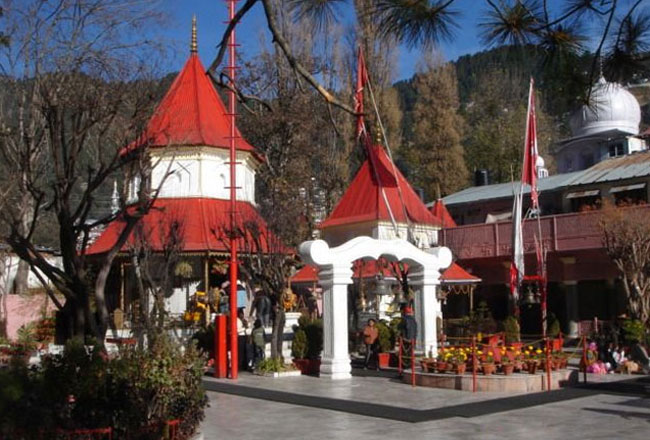 Nainital zoo- The zoo is well maintained and is also known as GB Pant high altitude zoo. Nainital zoo is located on Sher Ka Danda hill at an elevation of 2,100m above sea level. It is home for many rare animals. Some of the rare animals to watch are snow leopard, Markhors, Barking deer, Macaque, Himalayan Palm Civet, Goral, Himalayan Yellow throated Martin, Leopard cat, Tibetan wolf and many more. The zoo is covered with grasslands where one can sit and enjoy the beauty of lake and zoo. Zoo is closed on Mondays, Diwali and Holi. Other days zoo is open from 9:30-4:30. The entry fee is very nominal.
Snow view point- Situated 3Km away from Nainital town it can be reached either by  cable car. From here one can see the tips of some of the Himalayan peaks like Nanda Devi, Trishul, Nanda Kot. Large binoculars are established at the view point to have a view of the city from the top. Nainital Lake looks amazing from the top of the hill.
Cave garden- Cave garden is another important tourist spot in Nainital. It is interconnected seven caves with hanging garden. It is good for people who like to do some simple trekking. Located in Mallital, cave garden gives the tourists a glimpse of ancient civilisation.
The garden is very well organised and mapped for visitors to follow. The caves are given names of different animals like Tiger, Porcupine, Bat, Monkey, Hyena, Flying Fox and Panther caves. It is a fun filled tourist spot and learning spot for children. The best part of this cave is to witness musical fountain in the evening. The timings are 9:30- 5:30pm.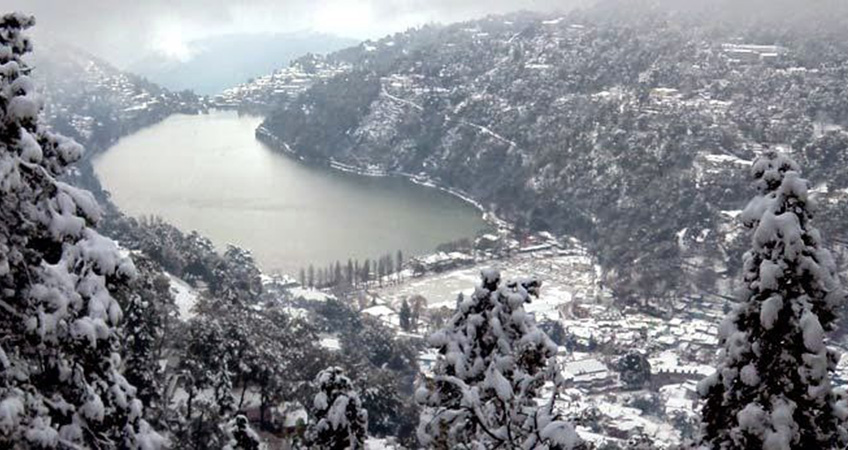 Rope way: The tour to Nainital would be incomplete with experiencing the aerial rope way. Based on the Swiss technology it is one of the best rope way in India. At a height of 2,270m, it connects snow view point to Mallital. One can get beautiful aerial view of Nainital lake and the snow capped mountains from the rope way. The trolley has a seating capacity up to 12 persons. Timings is from 10am to 5pm.
Tiffin top: Built by British army officer Mr Kellet in the memory of his wife Dorothy, who was killed in a plane crash along with their children. It is situated in Ayarpatta region in Nainital can be reached only by foot or on horseback. It is located at 4Km from Mall road. 
As the name it self suggest tiffin top means packed food, tourists and local people come here with packed foods and spend a quality time with the nature. One can have a beautiful view of Nainital and the Himalayas.  It is situated at a height of 2290m. It is open from 8 am in the morning till 5pm in the evening.
Mall road: Trip to Nainital would be incomplete without doing some shopping at Mall road. Some of the other famous road for shopping is Bara bazaar and Tibetan market.  Mall road is open from 11am to 8.30pm.  All of them are located near the lake and Naina Devi temple.  Bara bazaar is mainly for food item shopping like Berries, Apples etc.  Tibetan market also known as Bhotia market is famous for clothing.

Hanuman garhi: a famous Hanuman temple located at about 3.5 Km from Tallital at an altitude of 1,830 m. The temple is well connected to motorable roads. One can have a beautiful sight of sunset from here. The temple was built by Neem karoli Baba a local saint in the year 1950.
Kilbury - Situated at an height of 2,528m Kilbury is a perfect paradise for bird watchers. Kilbury is located 13 Km from Nainital. One can reach the spot by taxis or local buses.  One can see different species of birds here. Some of the rare birds that one can look here are-brown wood Owls, White throated laughing Thrushes, Collared Grosbeaks, Forktails and many more. There is a tourist bungalow here which caters all the needs of the tourist.

Jim Corbett National Park: Jim Corbett National Park is just 1.5 hour drive from the Nainital city. It is located at Nainital district and the tourists must not miss to visit Jim Corbett when visiting Nainital. It is the oldest National Park and was established in the year 1936.
The National Park was named after Jim Corbett who was a well known hunter and naturalist. The park was the first one to come under the Project Tiger initiative to save the tigers in India. It is a must visit place and tourists can also stay in the resorts that are available in the National park.
If one is lucky then they can see wild animals like tiger, leopard, elephant, chital sloth, Himalayan black bears, barking deer and sambar deer and many more animals along with beautiful Flora all around.

Local Dishes of Nainital
Every city has its own famous food which a tourists should definitely try and enjoy. Even Nainital has some of its famous food. Some of the local dishes of Nainital are
Rass: mild spicy curry eaten with steamed rice.
Bhatt ki Churkani: is a common food during festival season. Made of plain flour and rice paste goes well with Rass.
Baadi: is made with mixture of Dals. This is eaten mainly with rice.
Some other dishes are gulgula, Arsa, roti etc.

How to reach Nainital
By road: Nainital is well connected to major places in India. From Delhi the distance is around 320 Km which is approximately 9hrs drive. Buses are also available from ISBT Anand Vihar.
By rail: Kathgodam is the nearest railway station. It is 41 Km from Nainital.  Some of the trains that pass through Kathgodam are Uttarakhand Samprat kranti, Nainital express, Bagh kranti, Kumaon express and Raniket express.
By air: Pant Nagar airport which is 72 Km from Nainital is the nearest airport for Nainital. Air India operates flights from Delhi to Pant Nagar, which is one hour flight. 
Distances of other key places from Nainital:
Delhi to Nainital

320 Km

Almora to Nainital

60 Km

Ranikhet to Nainital

81 Km

Corbett National Park to Nainital

127 Km
Activities to do in Nainital
Tourists can do lot of activities when they visit Nainital. Other than visiting many tourists places in Nainital, they can also do some activities like
Boating:   Tourists can do boating in Naini Lake which is the most important tourists place in Nainital. You can hire a yacht or self paddle boat.
Shopping: The two main shopping places in Nainital are Mall road and the Barra bazaar. One can look for some good winter clothes like Shawls, sweaters. One can also look for some good wooden handicrafts.
Ropeway: One can see the magnificent view of Nainital Lake and the surrounding places like China Peak, Tiffin top and Snow view point. The Ropeway connects Nainital city to Snow view point.
Trekking or Hiking: There are several Hiking trails around Nainital which tourists can enjoy the natural beauty of Nainital. Some of the Hiking trails include Nainital- Betalghat trek, Nainital-Binayak trek and Nainital- Kilbury trek.
Update on coronavirus in India
Affiliate Disclosure:
If you make any purchase via a link on this site, I may receive a small commission with no added cost to you.