Kamet Peak
Kamet peak
Elevation: 7,756m
First ascenders: Frank Symthe, Eric Shipton, Lewa Sherpa, R.L. Holdsworth.
Location: Gharwal Himalayas, Uttarakhand
After Nanda Devi Mountain the next highest-level mountain in Gharwal region of Uttarakhand, India is Kamet Mountain. It lies in the Chamoli district and close to the border of Tibet. It ranks 29th in the world.  It resembles like a pyramid with two flat surfaces on the top of it.  The sun rays fall on Kamet so beautifully that the Tibetans named it as 'kang med' means 'burning mountain'.
As it is present in remote place accessibility is difficult like any other Himalayan peaks. Kamet is surrounded by 3 main peaks namely Mukut Parbat (7,242m), Abi Gamin (7,355 m), Mana (7,272 m). Some of the important glaciers are West Kamet glacier, East Kamet glacier, Raikana Kamet glacier.
The west Kamet glacier drains into Saraswati River while the East Kamet glacier drains into Dauliganga River. The standard route for trekking begins from East Kamet glacier enrouting Meade's Col. From here the route descends to northeast edge of the north face
Saltoro Kangri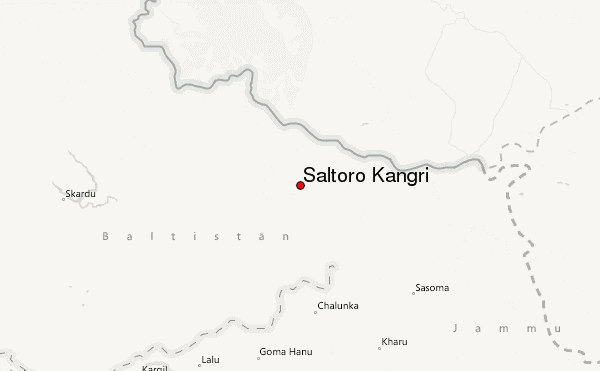 Saltoro kangri

Elevation: 7,742 m
First ascent:

1962 by Y. Takamura, A. Saito, Capt. Bashir

Location:  Karakoram range
Saltoro Kangri popularly known as Saltoro range is part of Karakoram Mountains. It is ranked 31st in the world.  It is located in the Indian controlled Saichen region and Pakistan controlled Saltoro Range.
 It mainly consists of rugged mountains of rock, ice and snow. The name Saltoro Kangri means Yellow Mountains. This mountain supports many glaciers. Due to lot of military operations owing to the sensitivity of the location as well as its remoteness, it is not much visited.

Saser Kangri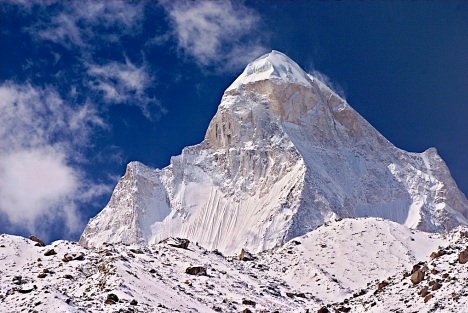 Saser Kangri

Elevation: 7,672m
First ascent-

June 1973 by Dawa Norbu, Da Tenzing, Nima Tenzing, Thondup

Location: Jammu and Kashmir
Saser Kangri also spelled as Sasir Kangri is a huge mountain with four high peaks rising from the glacier clad. It is the final stretch of the Karakoram Range. The massif lies in the north-western direction of the Saser Muztagh at the top of the North Shukpa Kunchang Glacier. It is located in the northern most stat of India, Jammu and Kashmir.
The main peaks of Saser Kangri are Saser Kangri 1 (7672m), Saser Kangri II east(7518m), Saser Kangri 2 west(7500m), Saser Kangri 3 (7495m), Saser Kangri(7416m). All these peaks lies towards the north-western end of Saser Muztagh. The first ascent was made in the year 1973. The expedition was conducted by the Indo-Tibetan Border Police.
They approached the peak from the southeast, through upper Shyok Valley and the North Shukpa Kunchang Glacier. Before this, various attempts were made to climb the peak but many factors like dangerous cornices, avalanches and crevasses forced the climbers to not climb.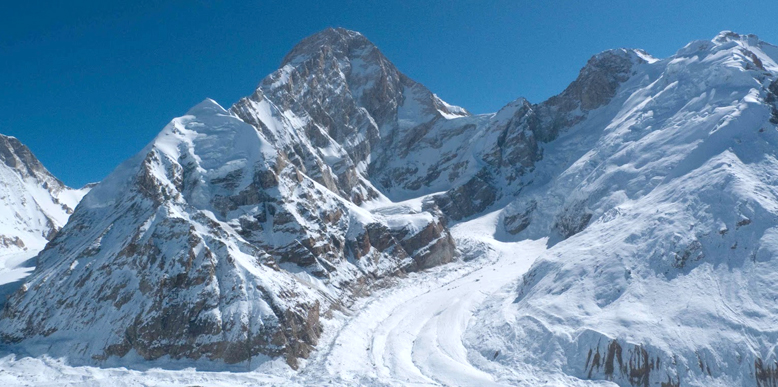 Saser Kangri II West was first scaled in the year 1984 by an Indo-Japanese team. Saser Kangri II East was first climbed in the year 2011 by a team comprising Mark Richey, Steve Swenson and Freddie Wilkinson.
Until then this peak was the world's second highest unexplored mountain after Gangkhar Puensum. And in the year 1986, Saser Kangri III was first scaled by an Indo-Tibetan Border Police expedition team. The team included Budhiman, Neema Dorjee, Sher Singh, Tajwer Singh, Phurba Sherpa and Chhewang Somanla.
The nearest airport is Srinagar and nearest place for rest is Leh. Best months for climbing are July, August and September.

Hardeol Peak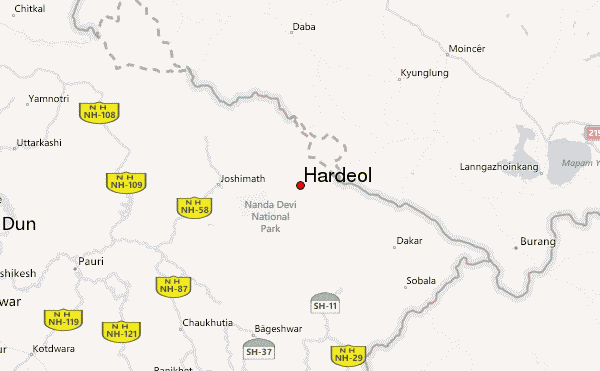 Hardeol peak
Elevation-7151m
First ascent- Indo-Tibetan boarder expedition in the year 1978.
Location- Mandal Pithoragarh, Uttarakhand.
Hardeol peak is a mountain peak situated in the Kumaon Mandal Pithoragarh district Uttarakhand state in India. It is also called as Temple of God. Hardeol lies at the northeast guarding the Nanda Devi Sanctuary. This is the highest peak among the northern side of the peaks. After many attempts to climb this hill by many the first ascent was made by Indo Tibetan Boarder Police in the year 1978 led by S.P. Mulsi.
Connectivity
By road- The nearest accessible by road is Munisyari. Munisyari is well connected to all towns and cities of Kumaon district in Uttarakhand.

By rail- Ramnagar is the nearest railway station from Munisyari.

By Air- Pantnagar is the nearest airport Munisyari. It is located at a distance of 188km from Munisyari.
Chaukambha Peak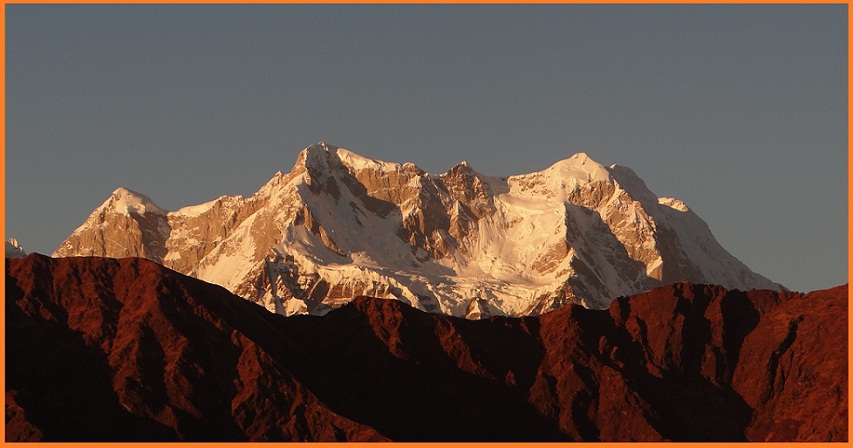 Chaukambha peak
Elevation-7138m
First prominence-

13 June 1952, by Lucien George and Victor Russenberger

Location- Uttarakhand.
Chaukamba is a mountain massif (a compact group of mountains) in the gangotri glacier. It is located in the Gharwal region in Uttarakhand, India. It is also located west of Badrinath. Chaukamba peak consists of four summits along the northeast southwest ridge with different elevations.
Chaukamba1: 7,138 m
Chaukamba2: 7,070 m
Chaukamba3: 6,695 m
Chaukamba4: 6,854 m
The main climbing route is from Northeast face via Bhagirathi karak glacier. After many unsuccessful attempts in 1938 and 1939, finally in the year 1952 Chaukamba 1 was first climbed by Lucien George and Victor Russenberger. They ascended from the Bhagirathi-Karak glacier, Northeast face.
How to reach
By road- nearest place is Badrinath. Badrinath is well connected from major cities like Haridwar, Rishikesh.
By rail- nearest railway station is Haridwar. From Haridwar travel to the destination by a shared taxi.
By air- The nearest airport is Dehradun. Again from here one has to take taxi to reach the destined place.
Shivling Peak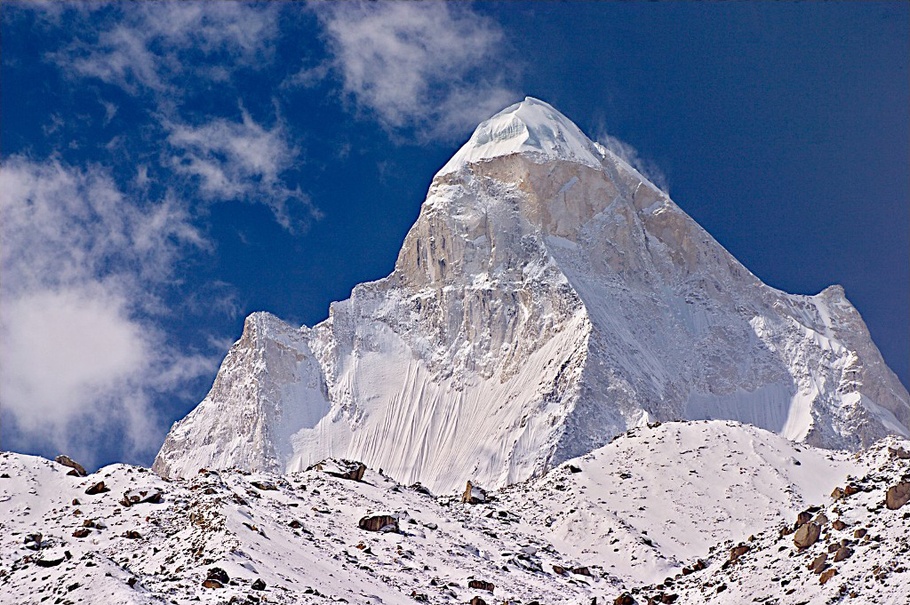 Shivling peak

Elevation

: 6,543 m

First ascent

: June 3, 1974
Location: Gharwal Himalayas, Uttarakhand.
Located at an elevation of 6543m Shivling peak is a very sacred peak located at Tapavan in gangotri glacier in the west of Gharwal Himalayas, Uttarakhand.  Tapovan is a famous pilgrimage place for Hindus and one can have a magnificent view of many mountains.
According to Hindu myth the mountain symbolises the shape of Shiva ling. Shivling is at the lower western gangotri glacier, opposite to triple peaks of Bhagirathi. Doing trek of Shivling is like grapevine as one can witness some magnificent natural beauty and the peaks like Hanuman Tibba at 5,370 meters, Bhrigu Parbat at 6,000 m, Bhagirathi I, II and III at 6,856 m, 6,512 m, and 6,454 m respectively and Mt. Meru at 6,400 m.
The trek path is quiet dangerous and risky as it is covered with stones difficult path.the base camp for trek of Shivling starts at Gangotri. From here the route takes into Bhojwassa all along with gushing river Bhagirathi. From here the roué takes to tapovan and different other peaks. The best time to visit is May, June, September, and October. One can reach Dehradun airport and from there take a taxi to gangotri.
Shivling was first climbed on 3 June 1974 via the west ridge, by a team from the Indo Tibetan border police, led by Hukam Singh. The ridge is the lowest-angle feature on the mountain, but still involves serious climbing. Since the first ascent, at least ten other routes have been climbed on the peak, ascending all major ridges and most major faces of the mountain. All routes are extremely serious undertakings.
Trisul Peak and Neelkanth Peak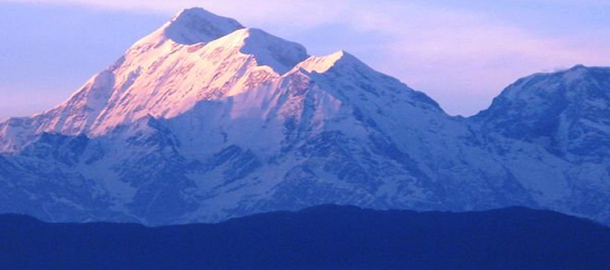 Trisul peak
Elevation – 7120m
First ascent-

12 June 1907 by

Tom Longstaff

, A. Brocherel, H. Brocherel, Karbir

Location-  Bageshwar, Uttarakhand
Trisul Mountain is a group of three mountains peaks in the western Kumoan. Trisul consists of three peaks. These three peaks resemble a trident or Trisul which is weapon of Lord Shiva. These mountains are situated in the western kumaon district in Uttarakhand, India. The Trisul Mountains covers from North to South. It is fully not visible from the Southern region of the state. To have a good view of the trident it is best to reach Chamoli. The Nanda Devi wildlife sanctuary is in the enclosure of these mountains. The massifs are a north south Ridge, with Trishul 1 is in the north and Trisul 2 is in the South. The three massifs' elevations are
Trisul 1: 7,120 m
Trisul 2: 6,690 m
Trisul3: 6,007 m
Trishul 1 was first climbed by T.G. Longstaff in 1907, after having decided to scale the western and Southern side of Trisul 1. Longstaff made an attempt in 1907 to climb this mountain with his fellow members, passing through the Rishiganga valley to the Trishul glacier, which lies on the eastern side of the range. Later in 1960, a Yugoslavian team first made a successful ascent to Trishul II and Trishul III. This team took the route of Bidalgwar glacier and reached Trishul II summit via its south ridge. Even though the ascent to Trishul III followed the similar route, but the summit reached through the north ridge of the mountain.
One can reach Dehradun airport and hire a taxi from there. Otherway is to reach from Hardiwar or Rishikesh. Trishul mountains can be accessed via Almora, Kausani  Garur, Gwaldam Debal, Bagargad, Wan, Bedini Bugyal, Kelva Vinayak, Roopkund and Trisul.
Neelkanth Mountains
Elevation: 6,596m
Location: Gharwal, Uttarakand.
First ascent: 3 June 1974 by Sonam Pulzor, Kanhiya Lal, Dilip Singh, Nima Dorje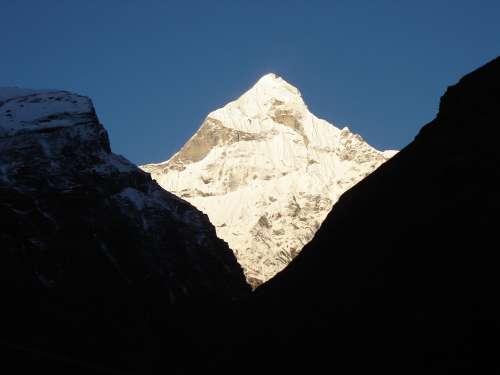 Another major peak at Gharwal Himalayas is the Neelkanth parvath. Standing tall at an elevation of 6596m is a sacred Mountain for the Hindus. The meaning of the Neelkanth is 'Neel' means 'blue' and 'kant' means 'throat'. Rising just above the famous Badrinath temple, Neelkant Mountain is one of the stunning mountains in the world.
According to Hindu Mythology it was believed that the same priest used to come and do pooja both in Badrinath temple and Kedarnath temple, however due to the sins committed by the priests Lord Shiva got displeased and stood between Kedarnath and Badrinath.  
The Satopanth Glacier is on the northwest side of Neelkanth, the Panpatia Glacier remains on the southwest side and Khirao Ganga, a small stream that runs under the south side of the peak.
A handful of successful ascents have been reported on Mt. Neelkanth, the first climb from its western ridge was attempted in 1993 by two British Climbers.
Even though many tried to climb the Neelkant before the generally accepted first ascent was made on 3 June 1974 by Sonam Pulzor, Kanhiya Lal, Dilip Singh, and Nima Dorje of the Indo-Tibetan Border Police. The expedition was led by S. P. Chamoli. After many unsuccessful attempts from the west ridge, the summit via the north face, making three camps above base camp.
The second ascent of Nilkantha was only in 1993 by an international team under Col. H.S. Chauhan via the north-east ridge.  Nearest place to reach Neelkant is Badrinath. From Rishikesh it is better to hire taxi and travel. Nearest airport is Dehradun airport. Badrinath doesn't have rail facility, the nearest railway station is Haridwar. The main trek route is Badrinath-Mana-Hanuman Chatti- Laxmi Van- Neelkanth Peak Base Camp.
Update on coronavirus in India
Affiliate Disclosure:
If you make any purchase via a link on this site, I may receive a small commission with no added cost to you.