Kanchenjunga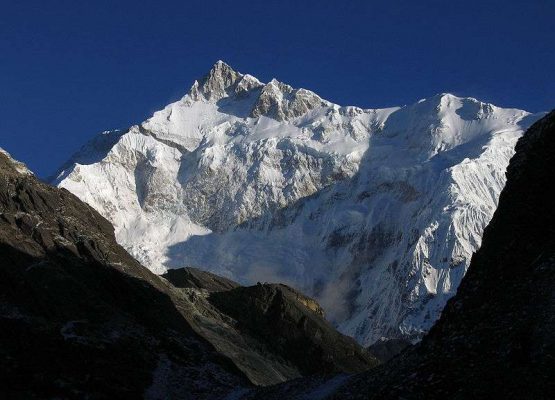 Kanchenjunga
Elevation:       8,586 m
Prominence:   3,922 m
Location:        Boarder of India and Nepal.
First climber:  George Band and Joe Brown 1955
Kanchenjunga is the third highest Himalayan  peak in the world that lies partly in Nepal and partly in Sikkim India. Mount Everest is the highest peak in the world Sikkim is a small state located in the North East of India. It is surrounded by Nepal to the West, Bhutan to the East, China to the North and State West Bengal to the South. The capital of Sikkim is Gangtok. As the Tibetan local language the word Kanchenjunga means 'five treasures of Snow'. Kanchenjunga is bordered by Tamur River in the West and Teesta River in the East. It consists of five major peaks namely
Kanchenjunga main: 8,586 m

 

Kanchenjunga west: 8,505 m

Kanchenjunga central: 8,482 m

Kanchenjunga South: 8, 494m

Kangabachen: 7,903 m
The Main, Central and South are located in the northern part of Sikkim and Taplejung district of Nepal, the other two peaks being located in Taplejung in Nepal. In the beginning this peak was considered as highest peak in the world but later after the survey done by the British in the year 1849 it was declared Mt Everest as the highest peak. This place also has some myths and considered as scared hill as it is believed that the peak has a deity called Dzonga a type of yeti. Hence doing  trek was restricted. But now the restrictions have been lifted. The beauty of this peak can be best viewed from Darjeeling. The peaks have not lost the virgin and its pristine natural beauty. The thrilling trek to Kanchenjunga originates from Yuksom covering places like Bakhim, Dzongri, Laxmi Pokhari, Bikhbari Chaurikhang and Rathong Glacier, Bikhbari and then finally ends at Bakkhim. Despite the improved conditions for climbers here, there is not much increased in climbers as more than 20%of people have died while climbing the Kanchenjunga peak. The important glacier of Kanchenjunga is the zimu glacier located at the base of Kanchenjunga.
There are mainly four glaciers which looks beautiful from the peak. It is pointing mainly to the northeast, north west and southwest. The Zemu glacier is at the northeast of the Kanchenjunga, the Talung glacier is at the Southeast drain of the teesta River, the Yalung glacier is on the southwest and last but not the least Kangchen glacier is on the north west drain o Arun and Kosi River.

 Flora nd fauna at Kanchenjunga
The Kanchenjunga Park is situated at the North and West Sikkim is home for many species of animals and trees. With the elevation of 1829m it is one of the few parks located at high altitude in India. . The high altitude alpine and plateau regions and foot hills of the reserve help in the growth of natural trees like oaks, Fir, Birch, maple, Willow. The vegetation also includes medicinal herbs. The Biosphere Reserve provides natural habitat to several threatened mammal fauna species like Jungle Cat, Leopard Cat, Panther or Leopard, Snow Leopard, Musk Deer, Himalayan Tahr, Tibetan Wolf, Clouded Leopard, Serow, Red Panda, Nayan, Himalayan blue Sheep, wild Dog etc. there are almost 130 bird species in the park some of them are cuckoo, Himalayan beard Vulture, Black Eagle, Tibetan Snow Cock, Snow Pigeon, Sunbird etc

How to reach


Climate
The climate is very unpredictable and the temperature decreases as one climbs up the mountain. Summers are pleasant, while winters see heavy snowfall. Trekkers should avoid due to slippery trails and the roads get blocked due to heavy rains. Best time for trekking is mid March –June and September-November.
How to reach base camp 
By road: 

Reach Gangtok or Yelling. From there catch a private jeep.

By air: 

Nearest airport Bagdogra which is 160km from Yukshom.

By rail: 

The closest railway station of YUkshom is Jalpaiguri railway station.