Culture of Rajasthan
Culture of Rajasthan:
Quick Facts
State: Rajasthan
Country: India
Population: Around 69,000,000
Capital: Jaipur
Largest city: Jaipur
Total area: 342,239 square Km
Official Language: Hindi, other languages spoken are Rajasthani, English and Bhili.
Formed: 30th March 1949
Update on coronavirus in India
Rajasthan is one of the most vibrant and culturally rich states in India.  Rajasthan which is also called as Land of Kings is famous for forts and palaces. The state is famous for its traditional cuisine, folk dance and music. 
The rich culture of Rajasthan can be seen in day to day life of the local people. From the costumes to folk music and dance, Rajasthan is famous for its rich diverse tradition and  culture. Rajasthani food is world famous.
More than seventy percent of the locals are vegetarians. Over the centuries Rajasthan was ruled by many Rajputs kings, Marathas and Muslim rulers which led to various diverse culture in the state.
The state is famous for forts, palaces, folk music and dance, handicrafts and some delicacies which makes it different from other states. Let us read the cultural aspects of Rajasthan.
Culture of Rajasthan- Dance and Music
Rajasthan is famous for Folk Music and dance. The Ghoomar dance from Jodhpur and Kalbeliya dance of Jaisalmer have gained international recognition.  Some of the other important dance forms include Chang, Kathputli, Ghindar, Bhopa and many more. Ghoomar is the traditional folk dance of the Bhil community which was later practiced by other Rajasthani communities. 
Read more about Tourism in India
Ghoomar dance became famous during the Rajput kings. Kalbelia dance is an important part of the Kalbelia culture. Their dance and song are a matter of pride for the kalbelia people. The Kalbelia folk song and dance were declared as a part of its intangible Heritage list by UNESCO.
Folk music is an important part in the lives of the people of Rajasthan. There are two traditional classes of musicians– the Langas and Manganiars. Mostly the themes of the folk songs would be on any Heroic deeds, devotional songs, bhajans and during some festivals.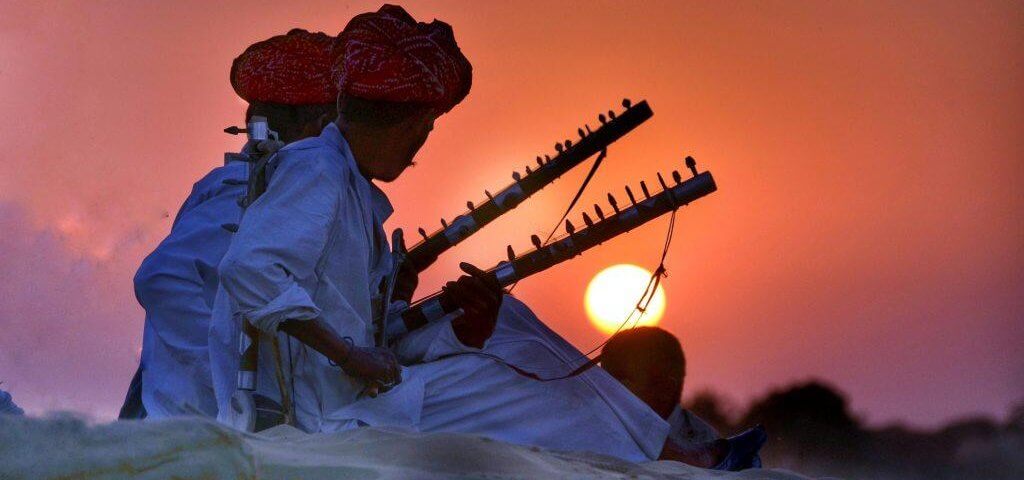 Read more about History of Rajasthan
The musical instruments used are sarangi, dolak, sitar, Shenhai  etc. makes the Rajasthani music a truly mesmerizing experience for the listeners. Usually the song began with an alap and then followed by recital of couplets. The people of Rajasthan also sing folk songs to welcome the monsoon season and also for changing seasons.
Kathputhli
Read more about Culture of India
Kathputli is a string puppetry dance form that originated in Rajasthan, India. No Festivals, Fairs, social gatherings in Rajasthan are complete without the Kathputli dance. Rajasthani tribes have been performing this for thousands of years now. It is usually performed on mythological stories, folk tales and even on social issues. Kathputli means puppet which is dressed beautifully with bright colors and ornaments. 

It is controlled by a single string that passes from the top of the puppet by the puppeteers. It is one of the most important parts of Rajasthan tradition and culture.
Arts and Crafts
Read more on Indian Art
Rajasthan is famous for its traditional, bright and colorful art and crafts. Trip to Rajasthan is incomplete if we don't spend quality time on shopping. The state is known for its rich heavy jewelry that has antique designs usually worn by queens. The state is famous for textiles, semi precious stones, handmade carpets and quilts.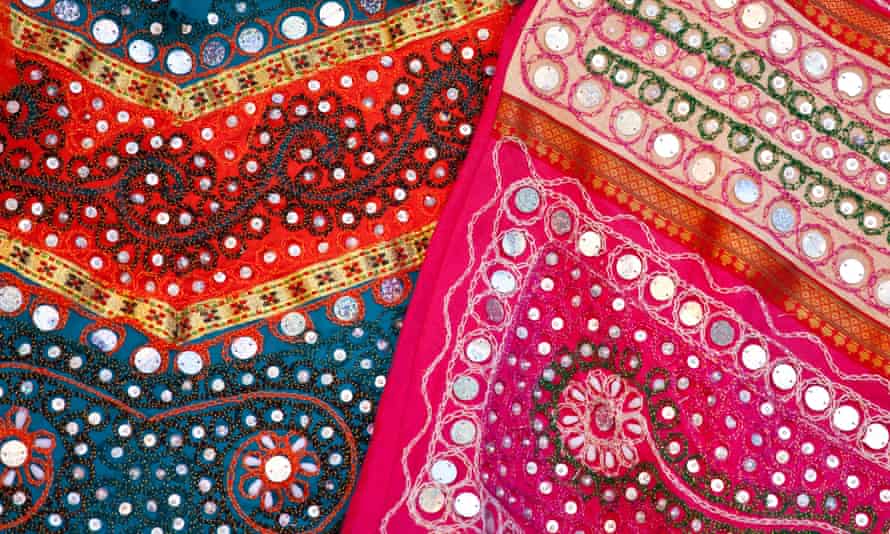 The state is known for embroidery, zari work, tie and dye and block prints on textiles. The carpets are usually made from hand knitting techniques with beautiful geometric borders all around.  The traditional headwear known as pagri is found in almost all the shops in Rajasthan. Jaipur is famous for blue pottery and also one can see small decorative items made out of clay and red sand.
Architecture
Read more about Indian Architecture
 Rajasthan is famous for many forts, temples, havelis and palaces. One can see a diverse architectural style in Rajasthan. The Chalukya style is a unique Indian temple architecture style that originated in Rajasthan and Gujarat from 11th-13th century. 
The Dilwara Jain temples in Mount Abu is the best example for this kind of architecture.
There is also an influence of Mughal architecture in many of the forts and palaces in Rajasthan. The city palace in Jaipur is a combination of Rajasthan, Mughal and European style of architecture.  Some of the other major forts and palaces that were built during different dynasties are in cities like Jodhpur, Udaipur,  Jaipur, Jaisalmer.
Some of the must see magnificent architectural structures include city palace, Hawa Mahal, Amer fort, Nahargarh fort, Jaisalmer Havelis, Dilwara temples and many more.
The Hill forts of Rajasthan in Amer, Chittor, Gagron, Jaisalmer, Kumbhalgarh and Ranthambore are the group of six forts built by various Rajput kings that are the UNESCO World Heritage Site.
Due to arid climatic conditions stepwells and stone carved jali screens are common in most palaces, forts, temples and even in homes. The Umaid Bhavan Palace in Udaipur is an example of Indo Saracenic architecture.
Fairs and Festivals
Rajasthan is a vibrant state which celebrates colorful fairs and festivals with enthusiasm and vigor. The Desert festival  of Jaisalmer is one of the most awaited events in Rajasthan. It is held in the month of February every year. Many events and competitions are held during this period. The main attraction of this festival is the folk dance and music of Rajasthan.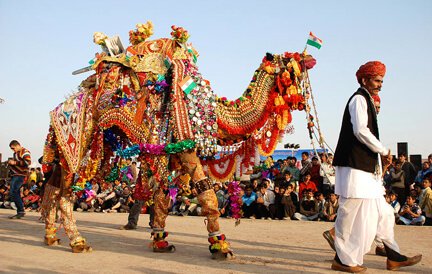 The Pushkar camel fair or the Pushkar fair is one of the largest camel, horse and cattle fair. It is held in the month of late October or early November. Cultural events and competitions like music, dance, longest mustache and many more are held during this period.
Some of the important festivals that are celebrated here are Deepawali, Holi, Kite festival, Makar Sankranti, Gangaur, Urs Fair, Teej and Jaipur literature festival and many more.
Urs Festival is an annual festival held at Ajmer every year. It is held to commemorate the anniversary of death of sufi saint Moinuddin Chisti. It is a six day long festival which is celebrated in the seventh month of Islamic lunar calendar. Thousands of pilgrims visit the shrine during this period.
Traditional Costumes
Read more on Indian Clothing
Rajasthan is a colorful and vibrant state. People wear colorful dresses with heavy jewelry. Men wear dhoti, kurta along with headgear or pagri.  Men also wear Angarkha which is an upper garment usually made of cotton. Women wear Ghagra, Kanchli and odhni.
Women cover their heads with odhni. Women wear a lot of jewelry and bangles for full hands. Usually jewelry is made either from silver or gold. Otherwise people also wear jewelry made from other materials. The dress worn by women is usually bright colored and with mirror or embroidered work. They usually wear hand printed, block printed or dyed ghagras along with long blouses.

Jewellery
People of Rajasthan are fond of wearing a lot of jewelry. Each region of the state has its own kind of jewelry and costume. Jaipur is popular for gems and silver ornaments along with glass stones.
 The city of Jaipur is famous for kundan work. Kundan jewellery is made by setting uncut diamonds and polished gemstones in a beautifully designed pure gold base. Thewa is a special jewellery which involves mixing 23K Gold with multicolored glass. It evolved in Pratapgarh district of Rajasthan during Rajput period.
Rajasthan Paintings
Read more about Indian Paintings
Rajput painting or Rajathan painting flourished in the state during the Rajput period. Under the Royal patronage different styles of paintings were developed. They were collectively known as Maru Gurjar painting. Usually the themes were Hindu mythology, social issues the Royal life often engaged in hunting or could be their daily activities.
Usually the colors used were extracted from the plant source or minerals, conch shells and sometimes gold and silver were used. The preparation of color used to take almost two weeks.
The Rajasthan painting reached its peak of glory between 15th to 17th century. Some of major painting styles were Phad  paintings, miniature paintings, Kajali paintings and gemstone paintings, Kishangarh paintings and Bani thani paintings. 
The Phad painting was usually done on a long piece of cloth or canvas known as phad. 
Kajali painting is derived from the word kajal. Paintings are made from black kajal and gemstones. No brushes are used and it is done only by hand and cloth. The Kishangarh paintings developed during the 17th and 18th century under the rulers like Raja ManSingh and Sawant Singh.
The Bikaner style of painting is another important style of painting developed in the city of Bikaner. It developed around the 17th century and is one of the schools of Rajput painting.
Around the late 16th century various schools of Rajput art originated. The four important schools are 
Mewar school which contains Chavand, Nathdwara, Devgarh, Udaipur and Sawar style of paintings

Marwar school has Kishangarh, Bikaner, Jodhpur, Nagaur, Pali and Ghanerao style

Hadoti which includes Kota, bundi and Jhalawar styles

Dhundar which includes Amber, Jaipur, Shekhawati painting styles
Affiliate Disclosure:
If you make any purchase via a link on this site, I may receive a small commission with no added cost to you.