City  Palace Jaipur
City Palace Jaipur
State: Rajasthan
Country: India
City: Jaipur
Best time to visit: October to March when the weather is pleasant.
Visiting Hours: 9:30 am to 5:30 pm
Construction started: 1727
Architectural style: Blend of Rajput, Mughal and European.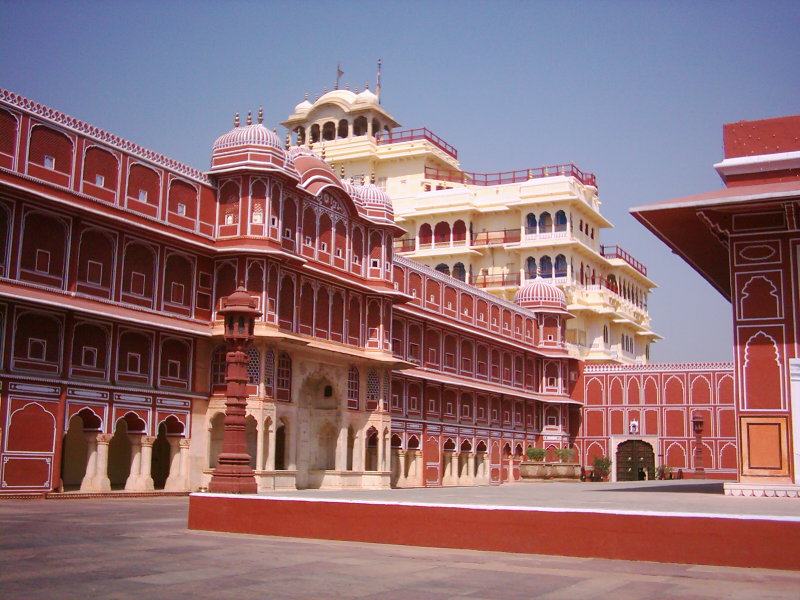 Jaipur is one of the most important tourist destinations of Rajasthan, India. It is the capital city of Rajasthan and easily accessible from major cities of India.  Jaipur which is also called as pink city  is famous for forts and palaces. City Palace was built by Maharaja Sawai Jai Singh II during his shift from Amber to Jaipur in 1727.

City-Palace in Jaipur lies on the banks of Pichola Lake, which lies in the heart of the city. The palace complex includes courtyards, gardens, museums and buildings. The city palace like Hawa Mahal is another important tourist destination in Jaipur, Rajasthan  The city palace includes Chandra Mahal and Mubarak Mahal.

How to reach
Jaipur is the most important tourist destination in India. It is well connected through Air, Rail and Road.

By Air: Jaipur International airport is in Sanganer. It is located at a distance of around 10 km from the city centre. It has both domestic and International flights.
By Train: Jaipur is the headquarters for the North Western Railway zone of Indian Railways. Jaipur has three railway junctions at Gandhinagar, Durgapur and Jaipur Main. The city is well connected through rail from major cities like Delhi, Mumbai, Chennai, Bangalore, Kolkata and many more.
One can also plan to go in the luxury "Palace on Wheels train". It is a 7 nights and 8 days journey which starts from Delhi and covers cities like Jaipur, Ranthambore tiger reserve, Chittorgarh Hill Fort, Udaipur, Jaisalmer, Jodhpur, Bharatpur  Agra and then returns to Delhi.

By Road: Jaipur is located on NH-8 which connects to Delhi and Mumbai. It is also connected through NH- 11 and NH-12.  There are a number of buses both from the state road transport corporation and private agencies. Distance from major cities are
Delhi to Jaipur–  Around 270 Kms
Agra to Jaipur -Around 240 Kms
Bikaner to Jaipur- Around 340 Kms
Best time to visit
Jaipur experiences a semi arid climate with long hot summers and short mild winters. Due to extreme heat, October to March is the best season to visit the place.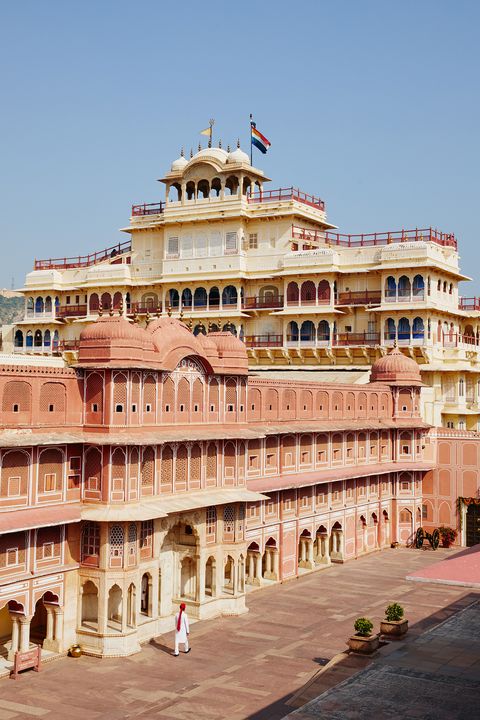 Climate/Seasons
Summer season: Summer months are from April to June. The maximum temperature hovers around 49 degree celsius.  It would be very hot and dry during this period. Hot and dry air keeps blowing throughout the day  as even the minimum temperature hovers around 30 degree celsius
Monsoon seasons : The months of July and August are considered as monsoon months. There are frequent heavy rains but no flooding. The maximum temperature hovers around 40 degree celsius during this season
Winter season: October to March are the winter months and also the best period to visit the place. These months are pleasant, dry and chill with minimum temperature sometimes falling to 4 degree celsius during peak winter months of December and January
History of City Palace Jaipur
Sawai Jai Singh ruled Amber and decided to build a huge wall all around the city palace .This was decided mainly to protect the city as well as to control the entry and exit of the traders in and out of the city. 
Also to deal with the water shortage problem and increase in population  in Amber. The history of City Palace Jaipur is quite similar to the history of Jaipur as both were built together.   
Maharaja Sawai Jai Singh II who was a strong believer in astronomy and good at mathematics divided Jaipur into six blocks on the basis of Vaastu Shastra.

After the death of Jai Singh II in 1744 there were violent wars between Rajput kings.  Maharaja Ram Singh supported the British in Sepoy Mutiny of 1857 and established himself as a strong ruler.

Further It was in 1876 when Prince of Whales and Queen Victoria were to pay a visit to India. India being a culturally rich country decided to welcome them in a special way. 
Maharaja Sawai Ram Singh decided to paint the city pink to welcome him and the Queen. Pink color signifies hospitality and to show the essence of "Padharo Mahrey Desh Mein ''. After that Jaipur got the name as Pink City. Gradually the city started growing as more people came and settled in Jaipur.

Raja Man Singh II who was the adopted son of Maharaja Madhao Singh was the last ruler to rule from Chandra Mahal Palace in Jaipur. 

Further rulers added further additions to the city  palace Jaipur to beautify the palace. Built in the Hindu Rajput and Mughal style, the city palace includes Diwan I Khas, Diwan I Aam, Maharani palace, Govindiji temple. City palace used to be the seat of the Maharaja of Jaipur.  Good part of this palace still serves as a royal residence.

Architectural style of City Palace Jaipur
The architectural style of the  City Palace Jaipur is a blend of Rajput, European and Mughal style of architecture. The palace has several courtyard buildings, museums, temples and gardens.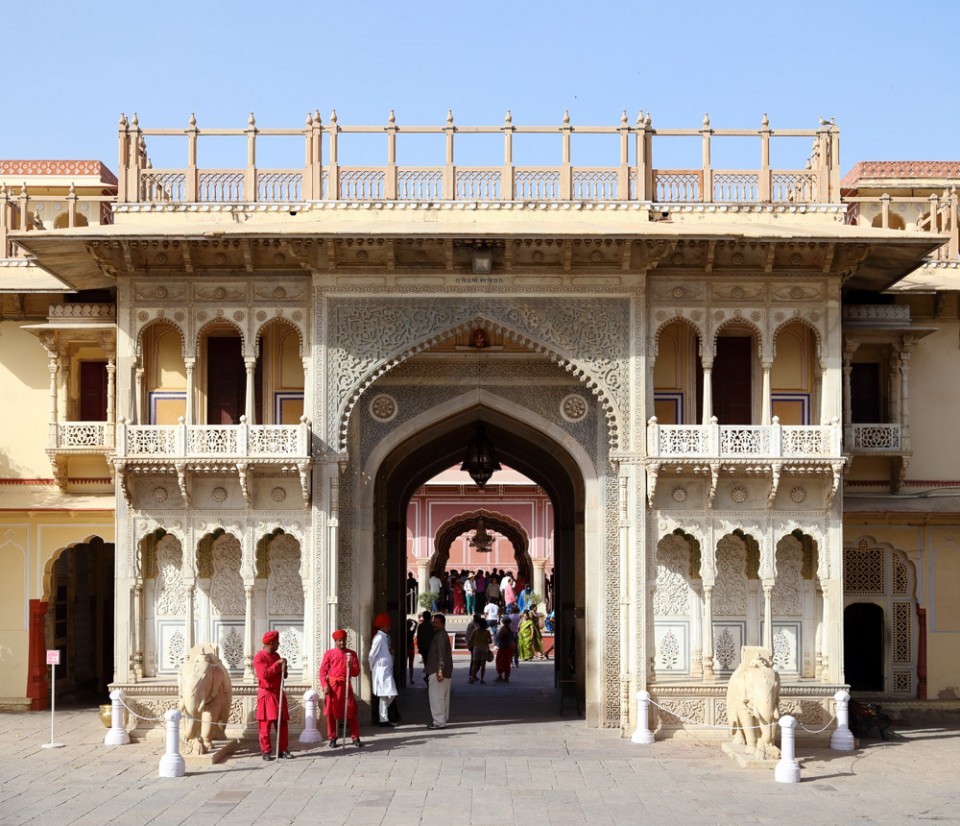 Gateways
The Palace has mainly three gateways with highly decorated entrance doors. The three main gateways are Udai Pol, Virendra Pol and Tripolia gate.
The Tripolia gate is reserved for the royal family who are still residing in the palace. The tourists and the visitors can visit the palace only through Udai Pol and Virendra Pol. Udai Pol leads to Sabha Niwas and Virendra Pol leads to Mubarak Mahal Courtyard.

Mubarak Mahal in City palace, Jaipur
Mubarak Mahal: 
The mahal has four hanging balconies which are quite similar to each other. It was built mainly to receive foreign guest but now it has museum offices and library on the first floor and museum textile gallery on the ground floor. The Mubarak Mahal courtyard was fully developed in 1900 when Lala Chiman lal who was a court architect constructed the Mubarak Mahal at the centre.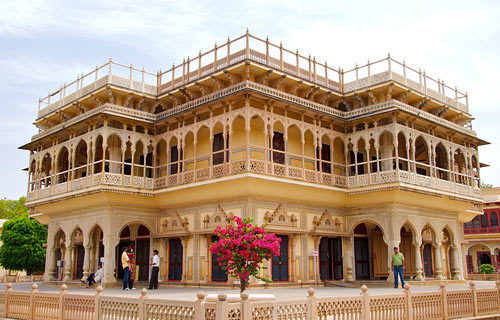 Chandra Mahal in City Palace, Jaipur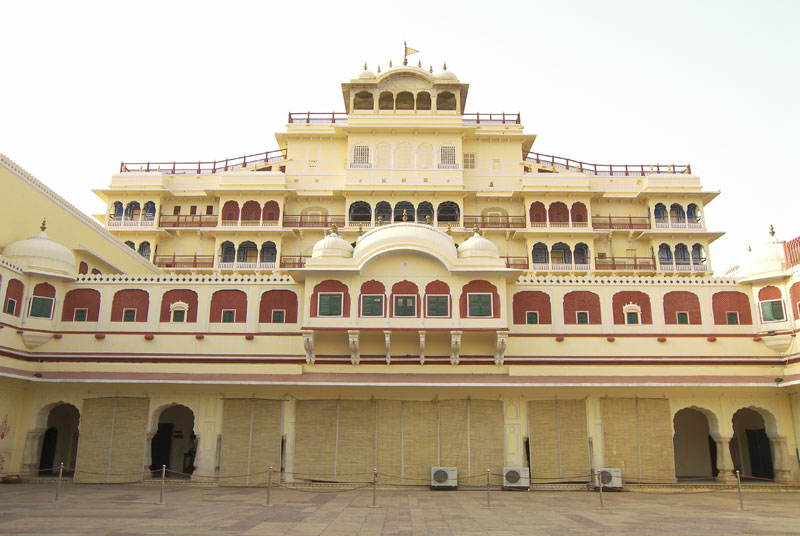 Chandra Mahal or Chandra Niwas is on the western side of the city palace Jaipur.  It is one of the oldest buildings in the palace. It consists of seven floors which gives a good view of the city. Every floor has different names  like Sukh Niwas, Pitam Niwas, Rang Mandir and many more.
The last two floors are Shri Niwas and Mukut Niwas. The Mahal is beautifully decorated with mirrors, beautiful paintings and floral decorations.  Every door is also very well decorated.

There is a huge peacock gate at the entrance of the Mahal. As the descendants of the Maharaja's still residing in the  city palace Jaipur, only the first floor of the palace is allowed for the visitors. It mainly consists of museum, paintings. Rang Mandir is on the third floor and the Shobha Niwas is on the fourth floor.

Pitam Niwas Chowk in city Palace, Jaipur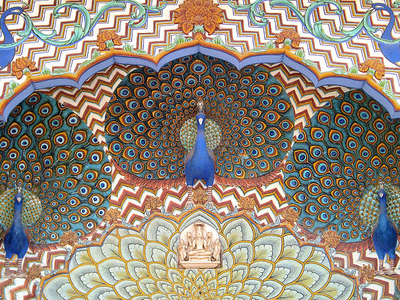 Pritam Niwas Chowk:
As one further move inside the Chandra Mahal, they reach the inner courtyard called as Pitam Niwas Chowk. It has four gates, each gate depicting the four seasons and about the Hindu Deities.
The four gates are Northeast Peacock gate which symbolizes the autumn and dedicated to lord Vishnu 
Southwest lotus gate which is petal form represents summer and is dedicated to Lord Shiva and Parvati.
Northwest green gate also known as waves or Lehariya represents the arrival of Spring and is dedicated to Lord Ganesha.
Rose Gate represents winter and is dedicated to Goddess Devi.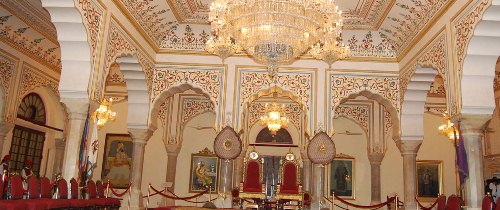 Diwan e khas:
This was for an important and private audience of the Maharaja. Here  the Maharaja used to hold meetings with officials and nobles of the kingdom.  It is also known as Sarvatro Bhadra which is a unique architectural feature.
Sarvatro Bhadra is a single storeyed square open hall which has rooms at the four corners. It is also one of the most important ritual buildings in the whole complex even to this day. Now the royal family uses the place during the festivals like Dussehra, Teej and Gangaur.

Two huge silver vessels with a length of 1.6m in height have been displayed here. These vessels were especially made to carry Ganga water for drinking during maharaja's travel to different places

Diwan E Aam: 
This is a place  in City Palace Jaipur where public meetings and gatherings were held by the Maharaja. Situated between an armory and an art gallery, this is one of the most important places of the Mahal. It is also known as Sabha Niwas.

Maharani palace:
This place in the city palace Jaipur was for the royal ladies. Now this has been turned into a museum where the weapons used during the war times by the royals are being displaced. The ceiling of this palace is studded with precious and semi precious stones.

Govindji temple:
Built in the 18th century the city palace has a temple for Lord Krishna. It is surrounded by beautiful gardens all around. God is worshiped seven times in a day. The temple had a direct view from Chandra Mahal for Maharaja and other royal dignitaries. The ceiling is adorned with a gold cover.

Update on coronavirus in India
Affiliate Disclosure:
If you make any purchase via a link on this site, I may receive a small commission with no added cost to you.