Statue of Gommateshwara
Statue of Gommateshwara:
Construction Started: 978 AD
Construction Completed: 993 AD
 Located at: Indragiri Hills, Shravanabelagola, Karnataka, India
Height: 17.5m (57 ft)
Materials Used: Granite
Commissioned by: Chavundaraya, the Prime Minister and Commander-in-Chief in the Talakad Ganga Kingdom
Visit Timing: Any time of the day, all seven days a week
Entry Fee: Free
How to Reach: By car or bus from Bangalore, Mysore or Hassan. Nearest railway station is Hassan
The statue of Gommateshwara is a huge monolithic statue located above a  Vindhyagiri hill in Shravanabelagola in Hassan District of Karnataka, India. It is an important monument of India. The statue is dedicated to Jain deity Lord Gommateshwara also known as Bahubali. This magnificent statue is 17 m in height and was built in 983 AD. The statue can be seen at a distance of around 30 m away. The statue has around 500 steps and is the largest monolithic statue in the world. 
The place is surrounded by many Jain temples known as basadis. The statue symbolizes the principles followed by Jainism- Peace, nonviolence and sacrificing the worldly affairs. One can see that the statue is naked and is not wearing any clothes. The Shravanabelagola temple is one of the pilgrimage places to Jains.
History of Statue of Gommateshwara
 Shravanabelagola has two hills namely Chandragiri and Vindhyagiri. This magnificent statue was commissioned by the ganga Dynasty minister and commander Chavundaraya. Prakrit inscriptions are sound at the base of the statue.
The inscription praises the king and his general Chavundaraya. It is believed that Chavundaraya erected this huge monolithic statue for his mother as she dreamt of this statue in her dreams. She then took an oath to not to eat anything until her son Chavundaraya promised to erect this huge monolithic statue in Shravanabelagola. 
image credit-- en.wikipedia.org
According to another legend both Chavundaraya and his mother went to Shravanabelagola for a pilgrimage trip. In his dreams Chavundaraya saw himself dropping an arrow from the summit of Chandragiri to Vindhyagiri. He could see the statue of Gommateshwara appear from the spot  where the arrow hit the hill. Following this he commissioned for the construction of this huge monolithic statue under the supervision of sage Arishtanemi.
Architecture of Statue of Gommateshwara
image credit--karnataka.com
The statue of Gommateshwara at Shravanabelagola is a single large monolithic statue in the world. Standing at 57 feet tall the statue is facing north and is in the standing  position. This standing posture of Gommateshwara is known as Kayotsarga.which means " to give up one's physical comfort and body movement. The digambara (nude) form of the statue shows the victory over the worldly desires and attachments. The eyes are open and have curly hair with a faint smile on the face. Shoulders are broad and arms are facing downwards. 
Behind the statue there is a huge anthill and creeper is twined around both his legs and arms, with flowers blooming around the upper portion of the arms. The statue stands on a huge lotus flower which is beautifully carved. On both the sides of the Gommateshwara is the two tall standing bearers known as Yaksh and Yakshini who are there for the service of the lord. They are beautifully carved and with rich ornaments. The statue has inscriptions in Kannada and Tamil. The inscription is in praise of the king of Ganga dynasty Rachemalli who funded and chavundaraya who commissioned the statue.
Bahubali
Bahubali was the son of Rishabhanatha and Sunanda. Rishabhanatha was the first tirthankara of Jainism.  Bahubali was born of the Ikvakshu dynasty in Ayodhya. Rishabhanatha had 100 sons and when he decided to become a monk, he distributed his kingdom to all his 100 sons. Bahubali was given Asmaka in South India and his elder brother Bharatha was given the kingdom of Vinitha ( Ayodhya). Bharata won all the kingdoms in all the directions.
His 98 brothers gave away their kingdoms to Bharatha and became monks. But Bahubali unlike his other brothers challenged the Chakravartin supremacy of Bharata. Bahubali won the three contests which were held between the brothers. These contests included eye fight (staring at each other), wrestling and water fight.
But with this fight, Bahubali got disgusted with the violence and decided to renounce all worldly affairs. Later he renounced all the worldly affairs, kingdom, family and became a Digambara monk. He did meditation in Kayotsarga posture for one year to attain gyana. While doing Kayotsarga Bahubali had to undergo a lot of difficulties like plants growing around his legs, anthill growing around him. Still Bahubali was determined to continue his meditation and finally was able to attain kevala gyana. Bahubali finally attained moksha and became a pure soul.
There are five monolithic statues of Bahubali in karnataka.
Mahamastakabhisheka Festival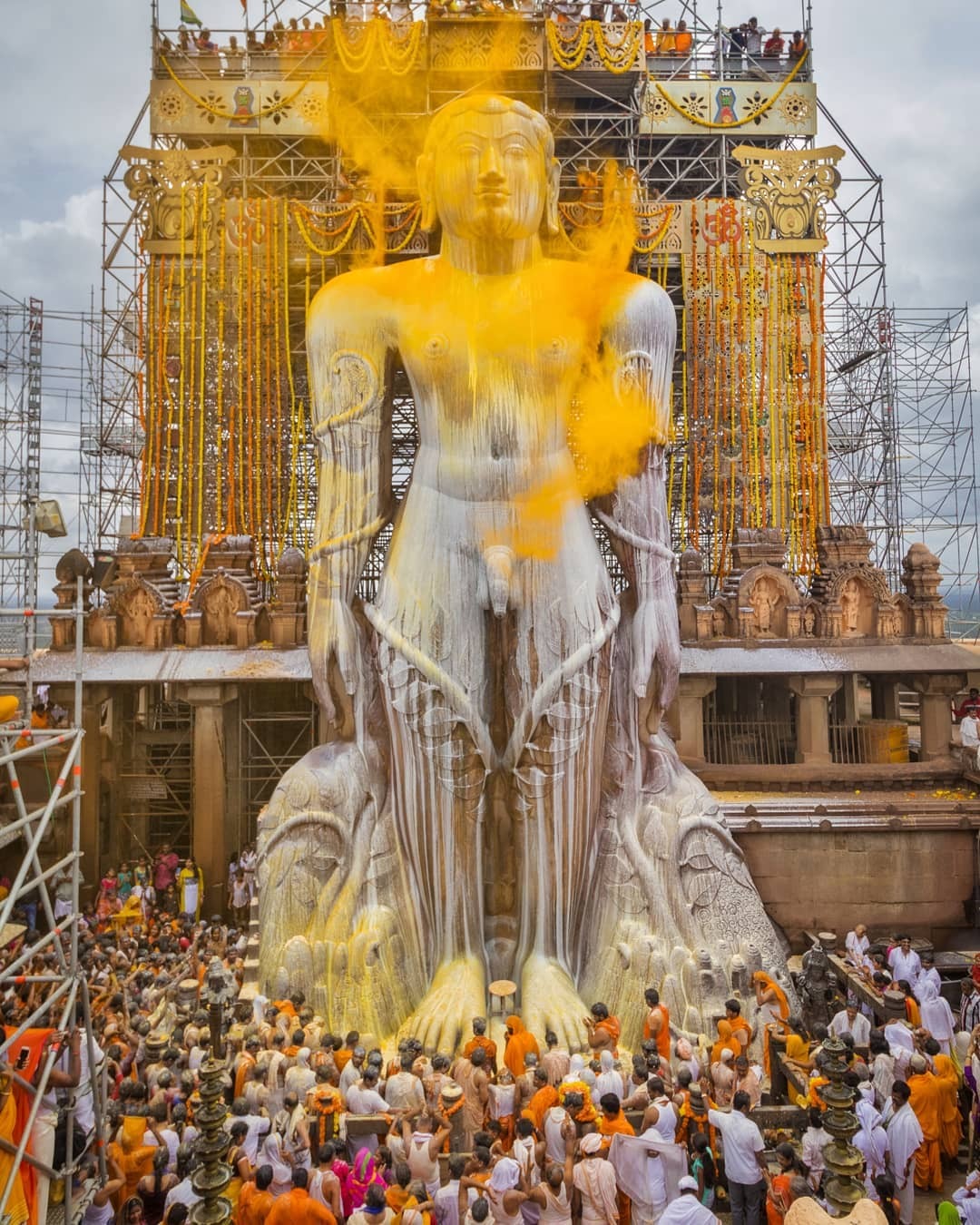 image credit--reddit.com
It is a grand festival held once in 12 years at Shravanabelagola for the statue of Gommateshwara. It is a very important festival for Jains and people from all over the world come here to celebrate this festival. Last it was held in 2018, next will be held in 2030. Devotees celebrate this festival by pouring purified water and sandalwood paste over the statue from a temporary structure built behind the statue during this festival. 
Devotees celebrate by pouring 1,008 vessels (Kalash) of purified water. Later the statue is bathed with milk, sugarcane juice, saffron paste and sprinkled with flower petals, turmeric, sandalwood and vermilion.  Devotees also offer gold ,silver coins. The next Mahamastakabhisheka will be held in 2030. Thousands of devotees world wide come and make this festival a grand and colourful festival.
Shravanabelagola: 
Shravanabelagola is situated in Hassan District in Karnataka India. It is a very important pilgrimage place for the Jain community. Shravanabelagola literally means, "the white pond". The place Shravanabelagola has two hills namely Chandragiri and Vindhyagiri.
The 58 feet tall Statue of Gommateshwara is situated on Vindhyagiri Hills.  There are more than 800 inscriptions found in this place which are dating from 600 AD to 1830 AD.  There are many Jain temples in and near Shravanabelagola. The place is well connected by rail and road. It is about 160 Km from the capital city Bangalore. One can reach Bangalore by air and take either a cab or go by train to Shravanabelagola.
Update on coronavirus in India
Affiliate Disclosure:
If you make any purchase via a link on this site, I may receive a small commission with no added cost to you.