Charminar- Monument of India
Charminar Hyderabad:
State Telangana
Country: India
Location: Hyderabad
Founder: Muhammad Quli Qutb Shah
Style: Indo Islamic Architecture.
Built :  1591
Visiting Hours: 9:30 am to 5:30 pm, on all days
Entry Fee: Rs 5 for Indian tourists while it is 100 for foreign tourists.
Address: Telephone Exchange, Pathergatti Rd, Hyderabad, Telangana, 500002, India
Charminar is an Indian monument and mosque  located in Hyderabad, Telangana state, India. It was constructed in 1591. It is one of the world famous monument mosques in India. Located on the banks of river musi, Charminar was built by Muhammad Quli Qutb Shah to commemorate the end of  deadly plague in the city of Hyderabad. In Urdu Charminar means Char means four minar means minarts/towers. It is an impressive square monument with four minarets and an arch. The arch is illuminated every day in the evening giving it a very grand look. At present Charminar is managed by the Archaeological survey of India. 
History of Charminar
Muhammad Quli Qutb Shah was the fifth ruler of Qutb Shahi dynasty. He shifted his capital from Golconda to Hyderabad. According to some historians Muhammad Quli Qutb Shah built this huge monument to commemorate the victory over plague. After shifting his capital to Hyderabad, the ruler saw people suffering from plague and shortage of water. He prayed to Allah, Almighty to cure people from the plague and also to end their sufferings. He pledged that he would build a mosque at the same place where he prayed for the wellbeing of his subjects. Hence, he built a mosque after the victory over the plague. 
image credit--goibibo.com
Another story is that some historians believe that the sultan built this beautiful monument in the honor of his wife Bhagmati. It is believed that the sultan first saw his beloved wife Bhagmati at the very same place. Even though this story gained immense popularity still it seems to be inaccurate  when we tally the historical dates.
While laying the foundation for Charminar, the couplets that were recorded and inscribed on the stone says as " Fill this city of mine with people as you fill the river with fishes O lord" clearly indicates the reason behind the construction of Charminar.
According to the french traveler Jean de  Thevenot who traveled in the 17th century the reason for the construction of Charminar was built to commemorate the start of the second Islamic Millenium. The event was celebrated world wide and due to its architecture it was called as  "Arc de Triomphe of the east'
Structure and Architecture of Charminar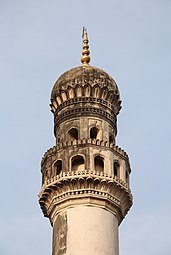 image credit--en.wikipedia.org
The construction of Charminar was started in the year 1589 and was completed two year later. Charminar was built at the intersection of trade routes that connects the markets of Golkonda with the port city of Machilipatnam. Keeping Charminar as the centre Hyderabad was spread into four different quadrants and chambers around the monument.
Mir Momin Astrawadi who was an Iranian had settled in Hyderabad. He played a very important role in designing the city along with other Persian architects. The architectural design of Charminar was inspired by the Shia Tazias. Tazias were built in memory of Prophet Muhammad's grandson Hussain. Hussain lost his life while fighting in the battle of Karbala.
Built in Indo Islamic architecture with Persian influence, Charminar is square in shape with 20 metres long on each side.  All four sides have huge arches which open up at different streets and are 11 metres wide.  Charminar is surrounded by minarets on four corners which are 56 metres in height. The minarets are crowned by delicate domes which have beautiful carvings. Inside the minarets there is a spiral staircase which has around 149 steps and 12 landings. 
This beautiful  square structure is built using granite, limestone and pulverized marble. It is a four storied monument with the top floor having a mosque. It is considered as one of the oldest mosques in the city. There are around 45 musallah or prayer halls inside the charminar. Around this there are a lot of open spaces which can accommodate large gatherings during any festivals or during Friday prayers. As you reach the top floor the view from there is breathtaking. Mosque is located at the western end of the open roof and the remaining space was used as the royal court dining during the times of Qutb Shahi.
In 1889 four clocks were added to the monument in four cardinal directions. There is also a western cistern (vazu) along with a small mountain in the middle floor. It is kept for cleansing and purifying oneself before offering prayers in the mosque.
Places to visit around Charminar:
There are a number of places to visit around Charminar.  Some of the important places include Laad Bazar, Mecca Masjid and Char Kaman.
How to reach Charminar: 
Charminar is one of the prominent tourist places in Hyderabad and hence reaching the place is not a problem. Hyderabad is well connected by road, rail and international flight. Autos are also available within the city to reach the place.
By Air: Hyderabad is very well connected to major cities around the world. Within India also regular aero planes are available from Delhi, Bangalore, Goa, Rajasthan, Karnataka and many other states.
By Rail: It is very well connected from major cities of India.
By road: Both government and private buses are available from many south Indian states and also within the city.
Update on coronavirus in India
Affiliate Disclosure:
If you make any purchase via a link on this site, I may receive a small commission with no added cost to you.