Ajanta Caves- Monuments of India
Ajanta Caves:
Country: India
State: Maharashtra
Timings: Open from 9 am to 5:30 pm on all days except Monday. It is closed on Mondays.
Best time to visit: The caves are open all through the year. But the best time to visit is from June to March when the climate is much better. April , May are very humid and hot months
How to reach: Aurangabad is 99 km from Ajanta caves. It is very easy to reach Aurangabad as it is well connected  by road, rail and air
Ajanta Caves are the 30 rock cut caves located in Aurangabad, Maharashtra, India. It was built in two different periods. These caves are famous for ancient Indian art of painting and sculpture. This monument is protected under Archaeological survey of India and is a UNESCO World Heritage site. 
The first period of construction was in the 2nd century BCE and the second period of construction was built between 400-600 BCE. Most of the caves open up into a grand Hall, paintings which depict the stories from Jataka Tales which tell the story of Buddha's past life. The richness in the painting suggests that the artists had perfection in the religious work.
Excavation of these caves began as early as the third century BCE, during the period of Satavahana dynasty and the excavation continued until the sixth century CE when it was ruled by the Vakatakas. Both these dynasties were followers of Brahmanism but also patronized the Buddhist shrines.
The murals in the caves of 9, 10,12, 13 and 15 A depict the stories from the Jataka tales. In these caves 9,10 are stupa containing worship Halls of Chaitya griha form and caves 12, 13 and 15A are Viharas. The early phase of excavation belongs to the Hinayana phase of Buddhism.
The second phase was attributed to the Mahayana phase of Buddhism. Some of the caves like the caves number 19,26 and 29 are chaitya grihas the rest are the viharas. 
Paintings at Ajanta Caves
The world famous Ajanta  cave paintings also fall into two broad phases. The specimens at cave 9 and 10 fall into the second category. One can also see the variation in the style and art of different phases. The main theme of these paintings was a depiction of Jataka tales which is  a collection of Buddha's past life.
These caves were carved out of the flood basalt which were formed by the successive volcanic eruptions. The rock is layered horizontally and is of different quality. The decorations done on the roof consists of beautiful geometrical patterns with floral designs on it. There was a lot of foundation work done before the paintings were executed.
The rock surface was chiselled and grooves were made on it. Mural paintings survive from both periods. Some of the murals preserved in cave 10 and 11 are unique and show that the ancient Indian painters had mastered the art of painting. The paintings in cave 1 which is believed to have been commissioned by Harisena focus more on the Jataka Tales.
The foundation layer that was applied while doing the painting was a mixture of ferruginous earth mixed with sand, vegetable fibres, paddy husk, grass and other fibrous material of organic origin. Then the second coat of mud and ferruginous earth mixed with fine rock powder and fine vegetable material were applied on the foundation.
Finally the surface was washed with lime. On this different paintings were made. The ceilings are decorated with decorative motifs. The later caves seem to have been done painting on a finished surface. Some of these paintings are still very fresh and clear. 
Monastaries and Worship Halls at Ajanta Caves
Most of the caves in Ajanta are Viharas with square shapes. The Viharas are attached with dormitory cells. Most of the caves were carved during the second period. At the back side of these viharas have rooms and each room has a statue of lord Buddha. The pillars in these rooms are also carved with many other deities. There are also many small cells which can be entered through the doors made up of wood.
The Chaitya Grihas also known as worship halls are built in rectangular shape with high arch. Chaitya refers to prayer hall, temples in Indian religions. Chaitya griha literally means house of stupa. The Chaitya grihas are divided into nave  and aisles.
The Hall consists of stupa and apse (it is a semicircular recess covered with hemispherical vault). The caves 9 and 10 are from the early period while cave 19 and 26 are from later periods and Cave 29  is incomplete. All Chaitya grihas have the same architecture with high ceilings and central nave which leads to stupa. Some stupas are surrounded by circumambulation and have large windows over the door. 
Description of the caves
Cave1: 
Cave 1 is a monastery built in square shape. The cave has an open courtyard with a verandah. There is a statue of Buddha in seated position and his hands are in dharmachakra pravartana mudra. There are four cells on each side left,rear and on the right walls.
There are three doorways and in between the doorways two square windows are carved to get light inside the cave. The paintings in this cave depict different scenes from Jataka tales. The two most important paintings include Padmapani and Vajrapani. Some other paintings include sibi, Sankhapala, Mahajanaka and many more.
Cave 2:
This Vihara is located just next to Cave 1. Cave 2 is more famous for some of the beautiful paintings done on the walls, ceilings, and pillars. The paintings depict Hamsa, Vidhurapandita, kshanti Jataka tales. Most of the paintings in cave 2 are based on women in prominent roles. Cave 2 is supported with many pillars which are beautifully ornamented and carved.
Cave 3
It is an incomplete Vihara
Cave 4
It is the largest Vihara which was sponsored by a wealthy devotee. This is located at a little higher level as compared to other vihara probably because the quality of rock was much better as compared to lower level. It is believed to have been done in the 6th century. The cave has an image of Buddha is the preaching pose with Bodhisattva on both sides.
Cave 5 
It is an incomplete monastery with dimensions of 10.32 X 16.8 m. Except the frame of the door cave 5 has no architectural work or paintings in it. The frame of the door has female figures of makaras. The construction of the cave was probably started in 465 CE but was later abandoned due to geological issues.
Cave 6
It is a two storey monastery which consists of sanctum and a Hall at both the levels. The two levels are considered as Cave 6 lower and Cave 6 Upper. The pillared porch which was present in Cave 6 lower does not exist anymore.
The statue of Buddha is on the teaching pose at both the levels. Only the lower level of cae 6 is completed; the Upper level is incomplete. The walls and the sanctum's door frame have been carved very neatly.
Cave 7
It is also a monastery with a single floor. It consists of a sanctum,a hall with octagonal pillars and with eight small rooms for monks who can take rest during their travel.
As one enters the Verandah and moves further to antechamber one can see  seated sculptures such as 25 carved seated Buddhas in various poses to the left of antechamber. May be due to geological problems cave 7 consists of only two portico, garbha griha with an antechamber.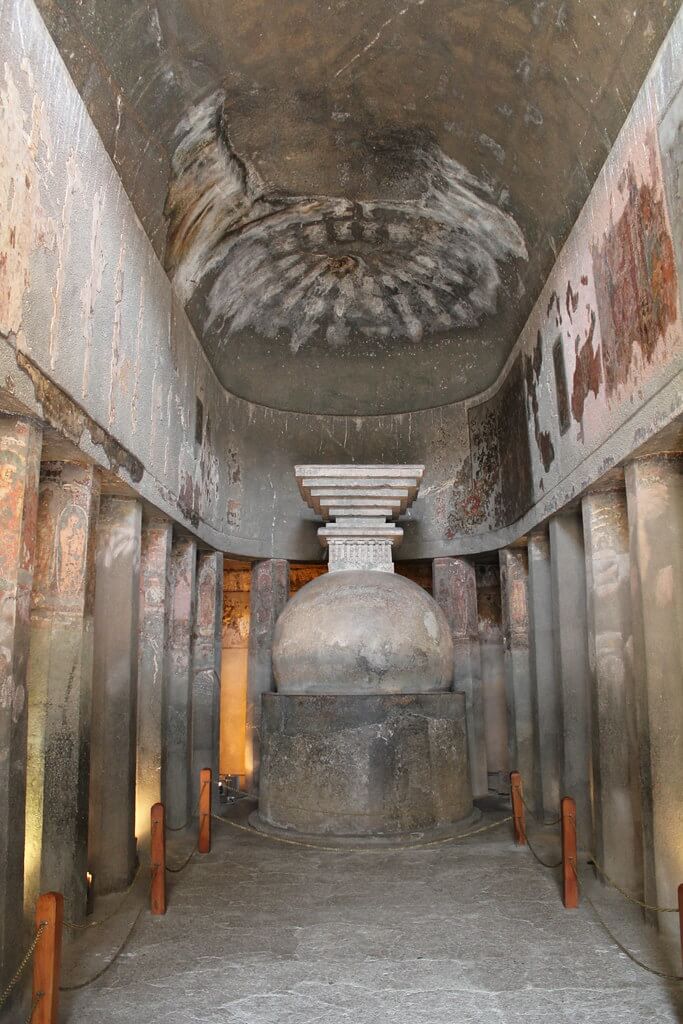 Cave 8
Another unfinished monastery which was later used as storage and generator room in 20th century.
Cave 9 
Cave 9 is one of the oldest prayer Halls (chaitya) in Ajanta Caves. It was excavated in the 1st century BCE. The aisles in the cave are separated by 23 pillars. The hall also has a stupa and the stupa stands on a cylindrical base at the centre of the apse.
The ceiling is vaulted and stupa also has a circumambulation path around it. The paintings in this cave belong to two different periods. One at the time of excavation and the other period is around the 5th century. Some of the paintings include standing Buddha on the pillars, paintings behind stupa include paintings of Buddha and Padmapani and Vajrapani.
Cave 10:
It is a large prayer Hall (chaitya) supposedly built in 1st century sling with cave 12 which is a vihara. Cave 10 has two aisles which are separated by 39 pillars with stupa being on the apsidal end. The stupa is surrounded by pradakshina path.
The cave has historical importance as in April 1819 a British Army officer John Smith saw the arch and was very interested in the architecture of it. The paintings belong to two periods. Some of the paintings in the cave depict the stories of Sama Jataka and Chhaddanta Jataka. This cave is much bigger as compared to cave 9.
Cave 11
It is a Vihara built in the 5th century. It consists of a hall with a big bench and six cells. Another hall ends with a sanctum having image of Buddha is seated position and also an incomplete stupa. Some of the important paintings include Padmapani, a female figure, a pair of peafowl.
Cave 12:
According to archaeologists Cave 12 belongs to the first period. The front part of this Vihara is completely destroyed. Only the central hall with four cells remains intact. An inscription on the wall says that a merchant named Ghanamadada gifted this cave around the 2nd century BC.
Cave 13, 14 and 15.
Cave 13 is a small vihara which belongs to the first period. It consists of a Hall with seven cells and also two stone beds.
Cave 14 is an  incomplete monastery.
CAVE 15 belongs to Hinayana and was built in the 5th century. It is a vihara which consists of eight cell halls which has a sanctum, an antechamber and verandah with pillars. The sanctum has the image of Buddha as the seating pose. Cave 15A is the smallest cave with a hall and with one cell on each side.
Cave 16
Located at the centre of the place cave 16 was sponsored  by Varahadeva, who was a minister in Vakataka king Harisena. It is a Mahayana monastery with a main doorway and two aisle doorways. The main Hall, which is a perfect square is surrounded by 14 cells.
Cave 16 has many paintings which have stories from Jataka tales such as Hasti, Mahaummagga and Sutasoma. The garbha griha has Buddha in Dharma Chakra mudra. There is also a painting in which Princess Sundari is very happy when she gets the news of her husband becoming a monk. Some of the paintings are incomplete.
Cave 17.
It is a vihara which belongs to the Mahayana sect. Cave 17 includes a porch, an antechamber, many pillars with different designs on it and large doors and windows with beautiful carvings of god and goddess on it. The cave also has a long inscription from King Upendragupta. It is believed that the king has also sponsored five other caves in Ajanta. There are thirty major murals in the cave. 
Cave 17 has many beautiful paintings that explain Buddha's various poses like Sikhi, Vipasyi, Sakyamuni, Visvbhu and Kasyapa. Many Jataka stories like hasti, Hamsa, Sarabha miga, Sama, Mahisa, sibi and many more.
Cave 18:
It is a small rectangular  space with two octagonal pillars.
Cave 19
It is a Chaitya griha which belongs to the 5th century. Cave 19 is famous for its beautiful sculpture. The entrance of the cave is splendidly decorated with carved figures of Buddha in different styles. Two round pillars which has fluted floral patterns and carved garlands support the porch. Cave 19 also has a Naga figure with a serpent canopy which is protecting Buddha.
There are also two huge Yakshas that are sculpted on either side of Chaitya arch. The worship hall is apsidal has 15 pillars dividing it into two sides aisles and one side nave. The walls and the ceilings inside the aisle are covered with paintings. A standing Buddha is carved in front of the stupa. The crown of this image almost touches the roof.
Cave 20
It is a monastery which belongs to the 5th century. Probably donated by Upendragupta this vihara consists of a verandah with a cell on both the sides. The garbha griha has Buddha in a preaching pose. Verandah also has two stone cut windows for light to come in. The door frames are quasi structural in shape.
Cave 21:
It is a monastery. It has a verandah and 12 pillars. There are twelve  cells out of which four have pillared porches. Garbha griha has the idol of Buddha in a preaching pose.
Cave 22:
It is a small vihara with a verandah and incomplete four cells. Buddha is carved in pralamba padasana mudra. One can also notice painted figures of Manushi Buddha pose.
Cave 23:
This is an incomplete vihara which consists of intricately carved pillars and pilasters in naga doorkeepers.
Cave 24
Even this is an unfinished Vihara with a hall, pillared verandah. The idol of Buddha in garbha griha is in pralamba padasana mudra pose.
Cave 25
It is a monastery excavated at a higher level.It has no sanctum.
Cave 26:
It is a worship hall Chaitya griha which is similar to cave 19. The cave has an apsidal hall with side aisles and an idol of Buddha is seated with various mudras. One of the major art works include depiction of Mahaparinirvana of Buddha on the left aisle wall along with the assault of Mara while Buddha was doing penance. At the centre of the cave is the stupa which has the idol of Buddha
Cave 27:
It is a monastery with two storeys. The upper storey is partially collapsed and the lower storey consists of inner hall, four cells, antechamber and garbha griha.
Cave 28
It is an unfinished monastery
Cave 29
It is an unfinished chaitya located between cave 20 and 21.
Cave 30
It is supposed to be one of the oldest caves which was discovered by debris clearance of cave 15 and 16. It has two  inscriptions with unknown script.
Update on coronavirus in India
Affiliate Disclosure:
If you make any purchase via a link on this site, I may receive a small commission with no added cost to you.