Indo-Islamic Architecture
Indo-Islamic Architecture
Indo-Islamic Architecture:
Indo-Islamic style of architecture developed during the medieval period. It was neither strictly Islamic nor Hindu. Islam came to India around 7th and 8th century. Muslims came to India as traders, holy men and as conquerors. With them they also got the Islamic architecture and the art. With this many new features and techniques were introduced into the construction of buildings. By 12th century India became familiar with the monumental construction and also with some popular features like the brackets, pillars and a shallow dome.

The Indo-Islamic was neither completely Muslim nor completely Hindu but it was a combination of both elements. It is very important to understand that the Muslims absorbed and understood the local culture and the traditions. They also combined it with their architectural practice. It can be divided into two main categories namely architecture of Delhi Sultanate and Mughal architecture.

Most of the Hindu monument had carvings of God and Goddess but Muslims did not replicate any living forms on the surface. Muslims built large buildings like the mosque and tombs with a large dome and arches which was completely new to Hindu architecture. Most of the Hindu temples had large Gopuram at the entrance of the temple.

Styles of Indo-Islamic Architecture
Based on the different style Indo-Islamic architecture is categorised into different styles namely the Imperial style of Delhi Sultanate, the Provincial style of Gujarat, Jaunpur and Bengal, the Mughal Style of Delhi and Agra and the Deccan style of Bijapur and Golconda. With the fall of Mughal Empire the regional kings in Mysore, Lucknow and Hyderabad continued to commission various buildings in Mughal style architecture.

Some of the features of both the forms of architecture in respect of mosque and temple was that both styles had ornamental decoration but both had many difference s well. In mosque the prayer Hall was very wide and spacious were as in temple it is comparatively small and less spacious.
The temple has grabha griha and small halls in front of the grabha griha where one can see the God. The grabha griha is usually very small with no light. Where as in mosque the prayer hall is very wide and the Mihrab is facing towards Mecca. Mihrab is a semi circular niche in the wall that indicates the quibla (the direction towards Mecca).

Architecture under Delhi Sultanate
Delhi Sultanate an Islamic empire ruled most parts of North India for over 320 years from 1206-1526. Five successive dynasties that comprised the Delhi Sultanate are Mamulk dynasty, Khiliji dynasty, Tughlaq dynasty, Sayyid Dynasty and Lodi Dynasty. During the period of Delhi Sultanate many beautiful architectural monuments were built which are world famous even to this day.

During their rule many Hindu and Jain temples were vandalised and damaged and new Indo Islamic architecture were commissioned in that place. Quwwat-ul-Islam mosque was the first mosque built in Delhi. It was commissioned by Qutb-ud-din Aibak of Slave dynasty. It was built by demolishing 27 Hindu and Jain temples within the centre of citadel. The inscription on the eastern gate is the proof of presence of temples in that place. The construction was started in the year 1193 and was completed in the year 1197.

The construction of Qutb complex was started in the year 1199 under Muhammad of Ghor. The construction in Qutb complex continued till Qutb ud Din Aibak and later rulers. Some of the important buildings in Qutb complex include Qutb Minar, Quwwat-ul-Islam and Alai Darwaza. 

Qutub Minar is 73 m tall tower with five stories was constructed in the red stone.  It has 379 spiral steps and is one of the famous tourist's attractions in Delhi India. Qutb-ud-Din Aibak started the construction of Qutub Minar however it was completed by his successor and son in law Iltutmish.
The surface of the Qutub Minar is broad and is filled with beautiful inscriptions all around. Alai Darwaza further adds to the beauty of Qutb Complex. Later Tomb of Iltutmish was added in the complex. Alai Darwaza was constructed by Ala-ud-Din- Khiliji of Khiliji Dynasty in the year 1311 AD.

Another important mosque that was constructed by demolishing Hindu temples include Adhai-din-ka-Jhonpra in Ajmer Rajasthan India. It was constructed by Qutb-ud-Din which has carved pillars all around. However the mosque retained some of the original features like the pillars from the Hindu and Jain temples. It was originally a Sanskrit college which had the idol of Goddess Saraswati in it. 

The world class monuments constructed during Tughlaq period in Delhi include Tughlakabad which is solid walls. It was a fortified city which was built by Ghiyath ud Din Tughlaq and also Firozabad fort and palace constructed by Firoz Shah Tughlaq are some of the architectural features of Tughlaq dynasty.

Pre Mughal Architecture
After the fall of Tughlaq dynasty regional dynasties gained more power and started their own architectural constructions. The architecture of Deccan, Gujarat, Bengal and Kashmir were more improved and different from the Delhi sultanate architecture.

The important material used by the Bengal Sultanate was brick like the pre Islamic architecture. Bengal was in abundance of brick as compared to stone. Hence stone was used only to high light prominent details which were reused from Hindu or Buddhists temple. Some of the prominent stone walls can be found in Chota Sona Mosque and in Baro Sona Mosque. To ornament this mosque terracotta panels carved in relief were used.

The most important ornamentation was seen at the entrance of the mosque. The ornamentation of the mosque consists of small mosaic disc in different colors of blue and white. There are also two tombs with verses of Quran on it. But it is not known whose tombs are these. Glazed tiles are also used in the mosque.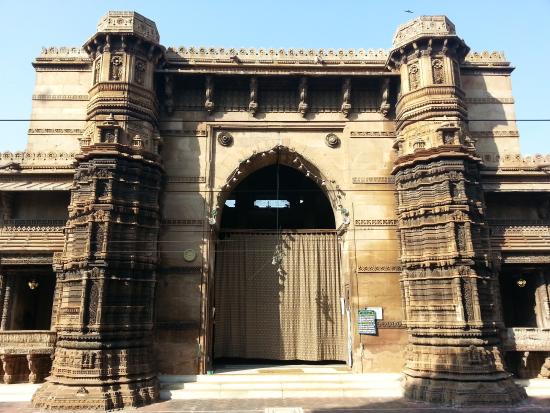 Muzaffarid dynasty which ruled Gujarat from 1391 to 1583 has commissioned many architectural monuments particularly in Ahmadabad Gujarat India. Some of the architectural monuments during this period include Jami Masjid in Ahmadabad, Qutbuddin Mosque, Rani Rupamati Mosque, Sarkhej Roza, Sidi Bashir Mosque, Sidi Sayyed Mosque Bhadra Fort are some of the important monuments.

They developed their own style of architecture which was known as Gujarat style. It was a blend of Islamic architecture with the traditional Indian architecture. The minarets were different as compared to Islamic style. It was usually at the entrance which had lot of carvings and was very thin as compared to Islamic minarets. During the period of Beghara step well were built at Dada Harir in the year 1499. The monuments built during Gujarat period had beautiful and unique carvings all around.

The Deccan sultanate period was one of the most interesting periods in the Southern part of India. The mosque built by the Bahamani Sultanate in Gulbarga Fort has no courtyard. The Gol Gumbad in Bijapur has the largest dome in the world covering a surface of over 1600 sq metres. It was built by Muhammed Adil Shah. With the arrival of Mughals the beautiful Mughal architecture was started.

Mughal Architecture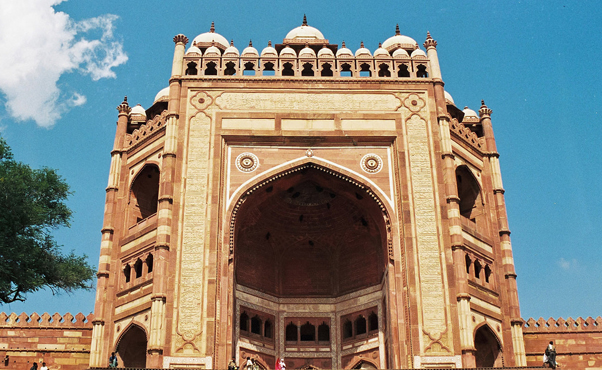 Babur founded and established the Mughal Empire in India in the year 1526. Some of the breath taking monuments that are world famous even to this day were built during Mughal period. Mughal architecture is another type of Indo-Islamic architecture that developed during Mughal period in India from 16th century. Some of the historical monuments that were built are Taj Mahal, Humayun's tomb, Jama Masjid, Red Fort, Agra Fort, Fathepur Sikri and many more.

Mughal architecture was the blend of Indian with Persian and Islamic elements. They mostly used white marble and red sandstone with huge and beautiful garden all around the monument. Akbar made major contributions to Mughal architecture along with Shah Jahan who built Taj Mahal for his beloved wife Mumtaz Mahal. In the year 1638 when Shah Jahan shifted his capital from Agra to Delhi he laid the foundation for Shahjahanbad and Red fort was built in a span of 9 years. By late 18th century the beautiful monuments and architecture of Mughals came to an end abruptly along with Aurangzeb.

Another important building is the octagonal gateway called as Buland Darwaza also known as Gate of Magnificence was built by Akbar to celebrate his victory over Gujarat. It is the main entrance to the Jama Masjid in Fathepur Sikri. It is the highest gateway in the world and is made from red and buff sandstone. It is beautifully decorated with white and black marble and is bigger than the courtyard of Mosque.
With the arrival of British and other dynasties the Indian architecture was further improved and new style developed.

Please share your views here
Related Pages
European Colonial Architecture
 Get in touch with us on Facebook pages. 
Affiliate Disclosure:
If you make any purchase via a link on this site, I may receive a small commission with no added cost to you.
As an Amazon Associate I earn a small commission from qualifying purchases. Other links on this site may lead to other companies that I am associated with