Kudremukh, Karnataka India
Kudremukh
Quick Facts:
Country: India
State: Karnataka
District: Chikamagaluru
Official language: Kannada
Best Time to Visit: October to May
Kudremukh also known as Horse face in Kannada is a mountain range located in Chikmagaluru District of Karnataka, India. It is the second largest hill  station in Karnataka India after Mullayanagiri. The place is famous for the beautiful Hill station, bio diversity and also for the mining area that is located close to the mountain.
The highest mountain peak is at an elevation of 1894 m. The place is famous for doing some adventures activities like trekking. Some of the most important tourist paces are Kudremukh national park, Gangamoola, Jamalabad Fort, Hanuma Gundi falls, Horandu, Rock cut garden and trekking in Kudremukh. Because of diverse landscape it provides different trekking trails. One has to take the permission from the forest department to do trekking.

Climate of Kudremukh
Kudremukh experience very good climate through out the year. Summer season are from March to May where the maximum temperature hovers around 25oc and from November to February where the minimum temperature hovers around 19oc.
During monsoon season the place receives heavy rainfall. One can visit the place through out the year.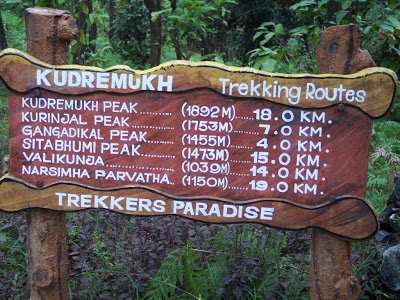 How to reach Kudremukh
By Air: Kudremukh is not having airport of its own, the nearest airport is Mangalore which is at a distance of 90 km. From Mangalore one can hire a cab or travel through bus.
By Road: Kudremukh is well connected by road from major cities like Mangalore, Bangalore, Chennai and Chikmagalur. There are both government and private buses at regular intervals.
By Rail: Kudremukh is having railway station of its own. The nearest railway station is again Mangalore. From there one can take a cab and drive down to Kudremukh.

Update on coronavirus in India
Tourism/ Places to visit in Kudremukh
Kudremukh National Park
Kudremukh National Park is an important tourist place in Kudremukh, Chikmagalur district of Karnataka, India. It is the second largest Wildlife protected area and has tropical wet evergreen forest. Settled in Western Ghats the park is spread over an area of 600 sq km with an altitude of 1894 m.
The park got its name from the Hill top which is in the shape of Horse face. The park is covered with thick forest and breath taking flora of the Western Ghats near the coastal plains and Shola vegetation on the uplands which cover Chikmagalur, Udupi and Dakshina Kannada.

The park is rich in low grade magnetite soil and the entire landscape is covered with grass. Because of the severe monsoon winds they prevent any growth of tree at the Kudremukh peak. Some of the important flora in the Park is Eucalyptus, casuarianas, Auriculiformis and Grevillea Robusta, rich mosses and orchids.  One can also see coffee and tea plantations nearby.
The Park is blessed with a variety of endangered large mammals like tiger, leopard bonnet macaque, common Langur, wild dog and lion tailed macaque. The Kudremukh range was declared as a tiger reserve along with Bhadra Wildlife Sanctuary.
The best time to visit park is from October to March after the monsoon season. There is kadambi waterfall inside the park where one can enjoy with water after doing trekking. 
Other than Kadambi water falls some other attractions near park are Ganga moola, Shringeri Sharada Peetam and Horandu Annapoorneshwari temple. The nearest airport and railway station is Mangalore Kudremukh is also well connected through road from major cities of Karnataka.  

Kudremukh Trekking Trails
Kudremukh Trekking trails:
Being the heaven of south India and covered with lush green landscape everywhere, Kudremukh truly is a perfect destination for trekking.  The trails are little difficult in Kudremukh. 

After taking permission from the forest department one can dump the luggage in home stay and start the beautiful journey of trekking. The starting point for trekking is Mullodi which is a small village located at a distance of 6 km from the main road. There are few home stay in the village which is the ideal place for the base camp for the trekking.

If the tourists are travelling from Bangalore then they can get down at Balegal which is around 11 km from Kalasa. One can start moving towards Mullodi from Balegal either by trekking or hire a jeep. If you are trekking from Mullodi and move towards the forest area where one can see beautiful natural streams all along the path.
Further trekking from Mullodi to Lobo House is easy however from Lobo house to Ontimara the level for doing trekking becomes moderate and further till the end the stretch becomes zigzag and difficult to do trekking. There are couple of stretch which is very steep and adventures. 

It can be said that the overall stretch is moderate and adventures. Camping is not permitted at the peak and one has to return back to base camp. There is a minimum charge to do trekking permission can be taken at Balegal. Best time to do trekking is November and December when there is greenery all around.

Hanumagundi Waterfall
Hanumagundi Waterfall: Karnataka is blessed with beautiful waterfalls all around in that one is the Hanumagundi waterfall. Located between Karkala and Lakya Dam this beautiful waterfall is at an elevation of 990 m. It is in the Kudremukh National Park.
The ideal time to visit any water fall is immediately after monsoon season when the waterfall is with full flow of water. There is a minimal entry fee near the gate of the water fall. It is around 80 km from Mangalore.

Gangamoola: Trekking in Gangamoola gives pleasure and satisfaction to the trekkers because of the dense forests, streams, waterfalls crossing rivers and the beauty of the nature all along the trail is a kind of live experience which cannot be expressed in words. Trekkers need to take prior permission from the Forest Department. Gangamoola is also known as Varaha Parvatha is a hill in Western Ghats range of Chikmagalur district of Karnataka India.

It is standing at an elevation of 1458 m and is a part of Gangamoola-Aroli-Gangrikal range. It is believed that this hill is the source for the three rivers namely Tunga, Badra and Netravati.  It is part of Kudremukh Bio diversity cluster and is been nominated to receive World Heritage Site tag by UNESCO. Gangamoola which is within the region of Kudremukh National park is rich in Wildlife, different bird species and flora.

Jamalabad Fort:  Located around 90 km from Kudremukh, Jamalabad fort is an important tourist destination in Karnataka. It is a hill top fortification located in Killor road near Belthangadi town in Kudremukh range of Hills. The fort was built by Tipu Sultan and he named it after his mother Jamalabee. The fort was conquered by British in 1799 during the fourth Mysore war. 
The fort is open from 6am to 4 pm and tourists are advised to carry lot of water and food to the tip of the hill as there is no availability of food and water at the top. Jamalabad is a good trekking destination as one has to climb around 2,000 steps to reach the fort.

Kadambi waterfall: It is one of the most beautiful and spectacular water fall located inside Kudremukh National Park Karnataka India. It is one of the best natural attractions inside the park. It is very closely located to the main road of Sringeri and Kudremukh.
The best time to visit is during monsoon season when the waterfall is in full force and tourists can get into the water and enjoy the surrounding filled with greenery. It surely rejuvenates the soul and relaxes the mind. The nearest airport is Mangalore which is around 130 Km and Bangalore is at a distance of around 350 Km. It is advisable to carry food and water if allowed as there is hardly any shops near by.

Horandu: It is a holy place for Hindus which is around close to 30 Km from Kudremukh. It is located in Chikamagalur district of Karnataka, India at an elevation of 830m. There is a temple dedicated to Goddess Annapurneshwari.
The idol of Goddess Annapurneshwari is made up of pure gold and it is believed that people taking blessing of the Goddess will not have any shortage of food in their lives. Temple offers vegetarian lunch to all the tourists irrespective of caste and creed.
The temple is open throughout the year and from morning till night. The close airport is Mangalore which is around 126 km and from Bangalore the place is at a distance of 320 km. there are various bus service to the temple from Bangalore and other major cities.

Kalasa: Another temple town located just 20 km away from Kudremukh is kalasa. There is a Kalaseshwara temple which is dedicated to lord Shiva.  The place is located on the banks of River Bhadra. The main attraction in this temple town is definitely the Kalaseshwara temple which has magnificent architecture. It is believed that during the wedding ceremony of Lord Shiva and Parvati at Himalayas the earth got imbalance because of the huge number of God and Goddess were present to witness the wedding.
At that time Lord Shiva requested sage Agastya to move south so that balance of Earth could be restored. Hence Agastya visited Kalasa and watched the wedding of Lord Shiva and Parvati from this town. Every year on Karthika Shuddha Ekadasi (as per Hindu calendar) the marriage ceremony of Lord Shiva and Parvati is celebrated very grandly in Kalasa.
Some of the other important temples in Kalasa are Girijamba temple, Venkataramana temple, Pancha Theertha temple. The Kalaseshwara temple is managed by Government of Karnataka.
Other than these major temples Kalasa also has five important water spots or theertha which is approximately at a distance of 8 km from the town. They are Vaisishta Theertha, Naga Theertha, Koti Theertha, Rudra Theertha, Amba Theertha and Duggapan Katte.
The nearest airport is Mangalore airport which is at a distance of 110 Km from the place. It is a very important tourists and holy place to visit.

Affiliate Disclosure:
If you make any purchase via a link on this site, I may receive a small commission with no added cost to you.