Bhagat Singh
Quick Facts
Name: Bhagat Singh
Country: India
Born: September 1907
Place of Birth: Banga Village in Punjab (now in Pakistan)
Death: Executed on 23rd March 1931
Parents: Kishan Singh and Vidyavati
Associated with: Naujawan Bharat Sabha, Kirti Kisan Party and Hindustan Socialist Republican Association.
Bhagat Singh was an Indian revolutionary and a great freedom fighter who fought against British during the Indian Independence Movement. Many leaders like Mangal Pandey, Siraj ud-Daulah, Mahatma Gandhi, Lal, Bal, Pal and thousands of Indians sacrificed their life to gain Independence from British. Bhagat Singh at a very young age involved himself in various organisations before he died at a very young age of 23years. Following his execution on 31st March 1931, his followers called him as Shaheed (martyr).

Early Life and Childhood
Bhagat Singh was born in September 1907 at a small village known as Banga in Punjab (now in Pakistan). His parents were Kishan Singh and Vidyavati. They belonged to Sikh family. Bhagat family including his parents, and also uncles fought against British. During the birth of Bhagat Singh, his father Kishan Singh and his uncles Ajit Singh and Swaran Singh were in Jail for fighting against the Colonization Bill implemented in 1906.

His father and uncle were members of Indian revolutionary organisation known as Ghadar party which was led by Kartar Singh Sarabha and Har Dayal. Since the whole family of Bhagat Singh were against British , his grandfather did not allow Bhagat Singh to join any school which was loyal to British government. Bhagat Singh was enrolled in an Arya Samaj institution by name Dayanand Anglo Vedic High School.
At a very young age when Bhagat Singh was just 12 years old he visited Jallianwala Bagh Massacre in which thousands of people were killed by British. Bhagat Singh was a follower of Gandhi's philosophy of non violence. After the Chauri Chaura incident Mahatma Gandhi who was very hurt from the incident called off the non cooperation movement.

 Bhagat Singh was not happy of Gandhiji;s decision to call off the non cooperation movement hence he joined the Young Revolutionary Movement. By 1923 he joined the National College in Lahore and got himself completely involved in various college activities.
 During his college days Bhagat Singh founded Naujawan Bharat Sabha in 1926 and also became a member of Hindustan Republic Association other members of the group included Chandrasekhar Azad, Ram Prasad Bismil and Shahid Ashfaqallah Khan. By 1926, Bhagat Singh started to write and edit for Urdu and Punjabi newspaper and also wrote for Kirti which was a journal published by Kirti Kisan Party. He also wrote for Veer Arjun under pseudonyms.

Revolutionary activity and Indian Independence Movement 
During his early period of revolutionary, Bhagat Singh influenced youth and other Indians with his writings against the British and also on its policies. This influenced lot of youth and the Indians to oppose British in all its activities which led to huge  disruption. Considering his influence on the youth Bhagat Singh was also arrested and was later released after five long days with a bond of 60,000 rs.
Fight against the British was in the blood of Bhagat Singh. British government introduced Simon Commission in the year 1928. There was a nation wide strike against the Simon Commission and Sir Simon was welcomed to India with black flag. There was a massive protest against the Simon Commission by shouting slogans like Go back Simon. On 30th October 1928 Lala Lajpat Rai led the protest against the Simon Commission. Thousands of people had gathered to protest against the Simon Commission which resulted in violent act. 

To disperse the crowd and to take control of the situation, Superintendent of Police James A Scott ordered the police officers to do lathi charge on the crowd. During the Lathi charge Lala Lajpat Rai was severely injured and died on November 17th 1928. Bhagat Singh had great respect to Lala Lajpat Rai hence owed to take revenge on British for his death. 

Escape and Trial of Bhagat Singh
Bhagat Singh along with few other revolutionaries like Shivram Rajguru, Chandrasekhar Azad and Sukhdev Tapar plotted a plan to assassinate James A Scott. In their agitated mind to kill James A Scott, they mistook J. P Saunders as James A Scott and killed him on December 17th 1928.  J. P. Saunders was assistant Superintendent of Police. On knowing his mistake fearing of arrest Bhagat Singh left Lahore.

 With the help of Durgawati Devi who was the wife of HSRA member Bhagwati Charan Vohra left Lahore and went to Howrah. To hide his identity Bhagat Singh shaved his beard and cut his hair and wore a hat even though it was against the principles of Sikhism. Along with Rajguru and Devi, Bhagat Singh with the baby and Devi left to Howrah and Rajguru left to Banaras. Most of them returned to Lahore after few months except Bhagat Singh.

To protest against the Public safety Bill and Trade Dispute Act, Bhagat Singh and few other members thought to explode bomb inside the Central Legislative Assembly. Their intention was not to hurt or kill anyone from the bombing. On 8th April 1929, Bhagat Singh along with Bakutheswar Dutt threw three bombs on the corridors of the assembly by shouting Inquilab zindabad and threw leaflets. Even though there intention was not to hurt anyone still few members in the assembly got injured. The smoke filled the assembly but still Bhagat Singh and Bakutheswar did not escape from the scene. Both of them were arrested.

Trail proceedings commenced in the month of June against both the accused and were given a chance to defend themselves. Bakutheswar was defended by Afsar Ali while Bhagat Singh defended himself. Trial began and both of them were held guilty and were awarded Life imprisonment punishment. Immediately after the arrest of Bhagat Singh there organisation HSRA bomb factories were raided and the British arrested prominent revolutionaries like Hans Raj Vohra, Jai Gopal and Phanindra Nath Ghosh.

Execution of Bhagat Singh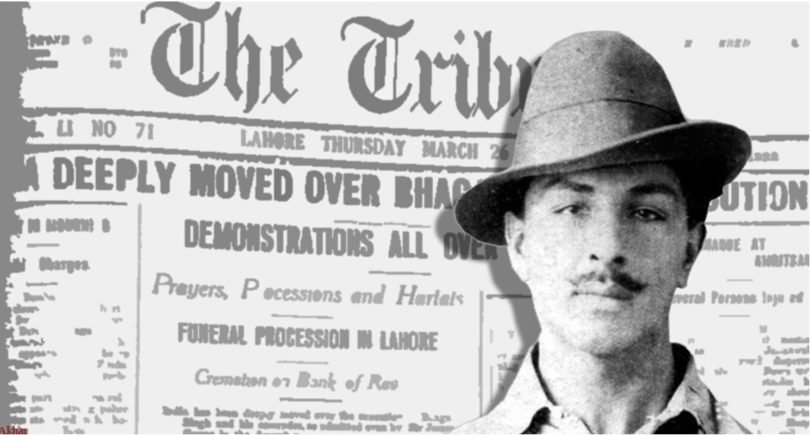 Trial proceedings started against all the 28 accused and arrested. Finally the court ordered for the execution of Bhagat Singh, Rajguriu in Sukhdev in Lahore conspiracy case. On 23rd march 1931 Bhagat Singh was hanged to death. He was hanged to death in Lahore jail along with his other inmates Rajguru and Sukhdev. The execution was supervised by the honorary Judge who also signed the three death warrants. It is believed that even while going to the gallows all the three were cheerfully singing inquilab zindabad. Later the dead bodies of the three were secretly cremated near Ganda Singh Wala village.

There was severe criticism in the way the trial and execution of Singh happened. The Supreme Court described it as "contrary to the fundamental doctrine of criminal jurisprudence." The accused was not given an opportunity to defend his case and also the judgement was passed exparte.

Bhagat Singh Popularity and Legacy
Bhagat Singh was a follower of Kartar Singh Sarabha who was the founder of Ghadar Party. Singh was attracted towards anarchism and communism. Even though Bhagat Singh believed in Marxist ideas he never joined any communist's party. When Gandhiji called off the non cooperation there was huge riots between Hindus and Muslims. Seeing this and understanding how people are fighting for religion instead against British, Bhagat Singh started to disbelieve all the religious beliefs and started to read books of Lenin and Trotsky.

Bhagat Singh became an inspiration to thousands of youth who came forward to fight against the British for Mother India. Subhas Chandra Bose said that "Bhagat Singh had become the symbol of new awakening among the youths". Jawarhar Lal Nehru also said that "He was a clean and honest fighter who faced the enemy in the open field with lot of courage. He was like a spark that became a flame in a short time and spread from one end of the country to the other dispelling the prevailing darkness everywhere"

To show respect to the great leader India has taken various steps. On 15th August 2008, an 18foot bronze statue was installed in the Parliament of India.
Bhagat Singh was cremated at Hussainiwala on the banks of River Sutlej. After India and Pakistan partition happened in 1947 the village went into the Pakistan borders. In the year 1961 India got the village back by exchanging it with 12 other villages to Pakistan. In 1968 a Martyrs memorial was built at the cremation spot. It also has memorials of Singh, Rajguru and Sukhdev. During the India Pakistan war in the year 1971 the memorial was damaged by the Pakistani army. It was again rebuilt in the year 1973.
The Bhagat Singh memorial was built in Khatar Kalan in the year 2009.

Quotes of Bhagat Singh
Revolution did not necessarily involve sanguinary strife. It was not a cult of bomb and pistol.
If the deaf are to hear, the sound has to be very loud
The bomb was necessary to awaken England from her dreams.
Bombs and pistols do not make a revolution. The sword of revolution is sharpened on the whetting-stone of ideas.
Inquilab Zindabad

We at india-a2z.com would like to hear more about Bhagat Singh. Please share your views by clicking the link here
Update on coronavirus in India
Affiliate Disclosure:
If you make any purchase via a link on this site, I may receive a small commission with no added cost to you.