Maulana Abul Kalam Azad
Maulana Abul Kalam Azad:
Quick Facts:
Name: Maulana Abul Kalam Azad
Country: India
Date of Birth: 11th November 1888
Place of Birth: Mecca
Death: February 22nd 1958
Association: Indian National Congress.
Award: Bharat Ratna
Parents: Muhammad Khairuddin (Father) and Alia Muhammad Khairuddin (Mother).
Maulana Abul Kalam Azad was the first Education minister of Independent India. He was a prominent leader in the fight against the British in India. During India Freedom struggle movement Azad played a very important part in making India free from the hands of British.
He was a noted scholar, activists, poet and educationalist. His birthday is celebrated as National Education Day in India due to his efforts in establishing the education foundation in India.  In 1923 he became the youngest President of Indian National Congress. Posthumously in the year 1992, India honoured this great leader with Bharat Ratna award which is the highest civilian award in India.

Early Life and Education
Abul kalam was born on 11th November 1888 at Mecca. His father was Muhammad Khairuddin and mother was Alia Muhammad Khairuddin. Earlier Azad was known as Sayyid Ghulam Muhiyuddin Ahmed bin Khairuddin Al Hussani. Mecca is a pilgrimage place for Islam religion.
His father was a scholar; he left India during Sepoy mutiny and settled in Mecca. His father had many followers and he did write around 12 books. His mother was daughter of rich Arabian Sheikh. His forefathers came to India and settled in Delhi during Mughal period.

Coming from the family of scholars Azad was always inclined towards learning and education. Since he was interested in learning languages he learnt many languages like Urdu, Hindi, Persian, Bengali, Arabic and English. Maulana later had his education in philosophy, geometry, mathematics and algebra. He did self study and home schooling till lower education and for higher education Maulana hired tutors for his higher education.
At a very young age when Maulana was just fourteen years he contributed his writings to a literary magazine called as Makhzan. He also published a poetical journal called Nairang-i-Aalam and also was an editor to Al Misbah at the age of 12 years. He also started a monthly magazine in 1903 called as Lissan-ul-Sidq. At a very young age of just thirteen Maulana was married to Zuleikha Begum.

Literary Works of Maulana Abul Kalam Azad
Maulana was considered as one of the great Urdu writer and scholar. He has written many books, some of the important books are India Wins Freedom, Ghubar-e-Khatir, Tazkirah, Tarjumanul Quran. Ghubar- e-khatir is considered as most important book which was written between1942-1946. It consists of 24 letters written to his friend which were never posted as Maulana was imprisoned during this period. 

Revolutionary activities 
Maulana Abul Kalam azad strongly criticised the British rule of racial discrimination in India. He asked all the citizens of India of all religions to come together to fight against British. He even criticised and rejected the Muslim league's suggestion of communal separatism. Azad while travelling abroad met many leaders in Egypt like Mustafa Kemal Pasha and in Iraq some eminent Sunni leaders which made him to change his opinion on nationalism. 

He openly criticised the Muslim leaders who pressed for partition without focusing on national interest. Maulana Abul Kalam Azad started a weekly Urdu weekly called as Al-Hilal in 1912. The weekly played a very important part in getting Hindu Muslim unity back after the Minto Morley Reforms. The weekly became very popular and close to 26,000 copies of it were sold all over India. On seeing the patriotism growing British government banned the weekly in 1914.

Determined to fight against racial discrimination and against British Maulana Azad started another weekly after few months known as Al-Balagh. The journal was in support of national causes and for the unity of the people to fight against British.
The British government filed in controlling Azad from writing. They deported Azad to Calcutta in 1916 and later did house arrest of Azad in Bihar. He was under detention till 1919 and was later released in 1920. After that Azad became a full fledged political leader to fight against British in India. 

Pre Independence Movement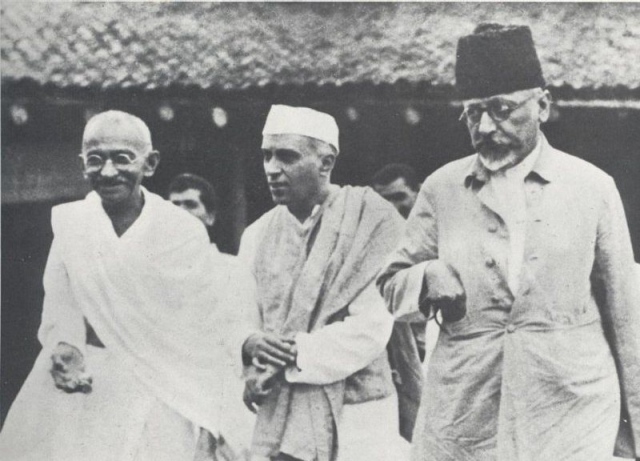 Azad respected and followed the policies of Mahatma Gandhi. After his release from jail in 1920, Azad became an active freedom fighter with the non cooperation movement. Indians were not happy and were angered with the passing of Rowlatt act and the Jallianwala Bagh massacre. 

After the civil disobedience and the Kedha and Champaran, Gandhiji could not resist any more. He supported the Khilafat movement to bring unity between Muslims and Hindus. He travelled all over the country giving speeches and organising many events for freedom movement.
Azad was made the president of All India Khilafat committee. When Azad was again arrested he along with Khilafat leaders namely Dr Muktar Ahmad Ansari and Hakim Ajmal Khan became more close to Mahatma Gandhi and founded Jamia Millia Islamia institution for higher education in Delhi. 

He also became close to Chittaranjan Das, Jawaharlal Nehru and Subhas Chandra Bose. In 1923 he became the youngest President of Indian National Congress. He was firmly attached to the principles of Mahatma Gandhi. After the conclusion of Dandi March, Azad and other freedom fighters started a nonviolent protest known as Dharasana salt works.

When Jinnah and Muslim league adopted a resolution for two nation theory during Quit India Movement, Azad spoke against Jinnah's theory of two nation theory and rejected his proposal.
He requested all fellow Indians both Hindus and Muslims to maintain unity and keep India united. On 9th August 1942 Azad was again arrested for his strong speech at Gowalia Tank in Mumbai given on 7th August 1942. Azad and other members were arrested at a fort in Ahmednagar. By 1946 Azad and other leaders who were imprisoned by British were released.

Post Independence Activities
Maualana Abul Kalam Azad tried his level best to stop the partition but could not do it. When the partition of India happened on 15th August 1947, there was huge violence across the country.
Azad was very hurt and disturbed with the violence; he took personal responsibility and toured affected places in Bengal, Bihar, Assam and Punjab. He saw to it that various refugee camps were set up at the affected areas along with providing food and other basic requirements. He worked closely with the then Prime minister Jawahar Lal Nehru for making important national policies.

He became the first Education Minister for Independent India. Azad worked hard to give education to rural boys and girls by taking up various measures like free and compulsory education to all children up to the age of 14 years. He helped in setting up of Central Institute of Education in Delhi which is now a Department of Education of University of Delhi. 

Under his guidance and leadership ministry of Education established first Indian Institute of Technology in 1951 and University Grants Commission in 1953. Maulana Abul Kalam Azad worked very hard before and after Independence of India for the up liftment of the country. His contribution to India's development and education are immense.

Contribution towards education
As first Education Minister of Independent India, Azad has contributed hugely for betterment of education system in our country. He is considered as one of the founding fathers of Jamia Millia Islamia. Many colleges and universities are opened in his name to mark a respect to this great leader. His birthday on 11th November is celebrated as National Education Day in India.
Jawaharlal Nehru referred to this great leader as Mir-i-Karawan which meant a "brave and gallant gentlemen". Mahatma Gandhi praised him as a "calibre of Phythagoras, Aristotle and Plato".

Death
On 22nd February 1958 Maulana Abul Kalam Azad took his last breath and very sad and unfortunate day for India. For his invaluable contribution both pre and post independence Maulana Abul Kalam Azad was awarded with Bharat Ratna award posthumously in the year 1992 which is the highest civilian award in India.

Update on coronavirus in India
Affiliate Disclosure:
If you make any purchase via a link on this site, I may receive a small commission with no added cost to you.