Birbal Cooking Khichdi
Birbal cooking Khichdi
This is another classical collection from the Akbar and Birbal stories. It shows how with intelligence Birbal was able to make Akbar understand his mistake and reward the poor Brahmin which he was deserving. 
Akbar was the famous Mughal king who ruled India for many years and Birbal was his favorite minister. Birbal was one of the nine gems of Akbar. Let us read this story: "Birbal cooking khichdi"
It was a cold winter morning and both Akbar and Birbal were walking near the lake in the palace garden. 
Update on coronavirus in India
Akbar said to Birbal, "Birbal it is so cold outside here. I wonder if people come out without clothes, then they freeze."  Birbal said, "you are right my lord."
Akbar then further said, "Birbal can do anything for money?" Birbal replied, "yes my lord, people can do anything for money."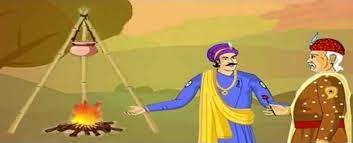 Akbar as usual wanted to test if Birbal is correct or at least this time he is wrong. So he asked him to prove his statement.
Intelligent Birbal caught a poor brahmin who was very poor and was very desperate to do anything for money. Birbal came to the court along with the poor brahmin. Birbal said, "My lord this poor man is ready to do anything for the sake of money." 
Akbar was surprised to see such a man and told him to stand in the lake for one whole night. The poor man readily agreed and stood the whole night in the freezing lake.
 Continue reading Birbal cooking khichdi
The next morning before giving away the reward. Akbar asked the poor man, " how you sustained the freezing water of the lake." The poor man replied, " My lord, I am a very poor  and honest man. There was a small ray of light coming from the street. Even though it was very far away from me. But I kept on seeing it so that I could feel the warmth by imagining it."
Akbar thought that the poor man had cheated and so he refused to give him his reward. The poor man felt very sad and went back to his house. Later the poor man went to Birbal to seek justice for him.
Birbal thought for a while and asked the poor man to go to his place.  Later Birbal did not visit the court for 3 days. He sent words through guard to the king that, "Till I finish preparing my khichdi I will not come to court." 
Akbar waited for five days. When Birbal did not come even after five days, Akbar decided to go to his home and talk to him.
When Akbar reached his house, he was surprised to see the way Birbal was preparing Khichdi. Birbal had lit the fire with twigs and had kept the Khichdi pot close to one meter away from the fire. Akbar burst out laughing and spoke. "Birbal, if you keep the pot so far how can you expect it to cook? Even after 100 days your khichdi will not be ready." 
Then Birbal replied, " My lord, then how can that poor man get heat from a small ray of light which was very far to him?" 
Akbar realized his mistake and gave the reward to the poor man.
Moral: Work hard to enjoy the fruits.
Affiliate Disclosure:
If you make any purchase via a link on this site, I may receive a small commission with no added cost to you.