Jaisalmer- Rajasthan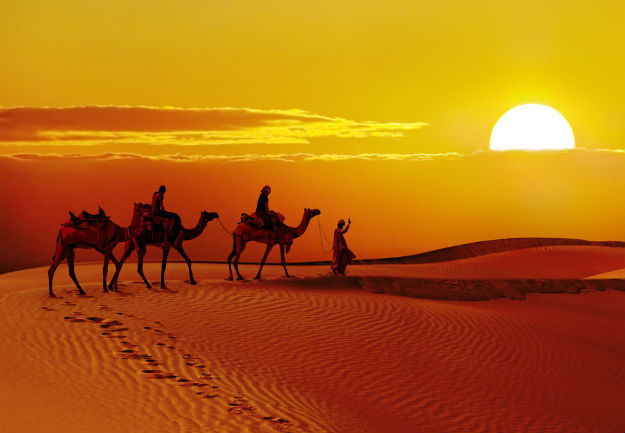 Jaisalmer: Rajasthan is a major tourist place in India. The colourful state is full of life and vibrant colours to display. One such tourist place in Rajasthan is Jaisalmer. Also known as 'The Golden city', because of the yellow colour sand and the yellow stand stone used in many places gives Jaisalmer an yellow colour look. The place is famous for its Sam sand dunes and Jaisalmer fort, camel safari and many more palaces. Every nook and corner of this city has something interesting. The golden city has a rich cultural history and heritage which attracts thousands of visitors every year.
Like all other cities of Rajasthan Jaisalmer has its own history. The city was supposed to be founded by the Rajput clan Maharaja Jaisal in 1156AD. It was one of the most important trading centres during the Rajputs period but later during British period it lost its charm, however now it is an important tourists place in Rajasthan.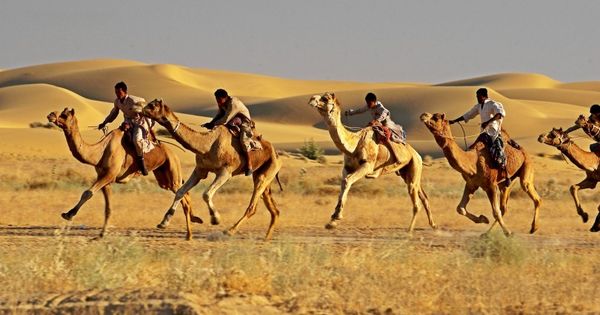 The climatic conditions are extreme due to the desert. The temperature falls drastically during nights both in summer and winter. The day temperature during summer could reach as high as 49oc and the night temperature could be around 250c. In winters day temperature could be around 250 c and night temperature could be around 50c. Winter clothing is required if someone is planning to stay night halt in sand dunes during winters.
Some important tourist's places in Jaisalmer are Jaisalmer fort, Patwon ki haveli, desert national park, Sam sand dunes, the Thar desert, desert festivals, fort palace, museums.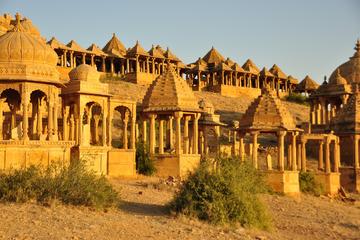 Culture and Tradition of Jaisalmer
Jaisalmer is very rich in culture and tradition. People with vibrant colours and tradition truly make Jaisalmer a must visit place for tourist. Jaisalmer is a cosmopolitan city with many religions staying together in a very friendly atmosphere.  Different religions like Hindus, Jains, Christians, Marwari, Muslims all stay in peace.  Culture of Jaisalmer is multilingual and diverse town. The culture has a rich heritage of dance, music, art work which attracts thousands of tourists every year.

Fairs and Festivals in Jaisalmer
Fairs and festivals are the most important part of Jaisalmer culture. The festivals are celebrated with great enthusiasm and fervour. The desert festival replicates the traditions of the folk people living in Jaisalmer.  The folk music and dance are the famous culture of Jaisalmer. Folk song are usually sung by using some instruments. The locals performance is the special treat to tourists. Some of the important dance is Kalbeliya, ghumar and Katputhli. Kalbeliya dance is performed by snake charmers wearing long skirts which are usually black in colour. The performers of this dance move their body with respect to the beats of the musical drums.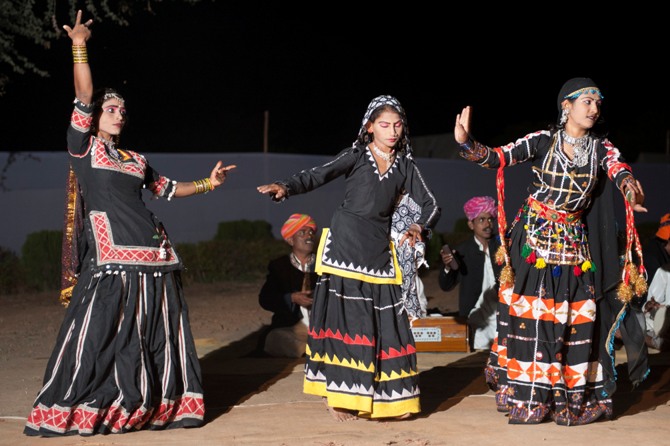 During the desert festivals some important performances are like camel race, turban tying, tug of war competition and long moustache competition were some of the important performances which the tourists enjoyed till the end. In the festival the best dressed camel gets award from the organisers. The cultural evenings during festivals are filled with folk music and dance.
Jaisalmer is an integral part of Rajasthan which attracts thousands of tourists every year for its famous forts, festivals, culture and many more.

How to reach Jaisalmer:
By road: Jaisalmer is well connected to other cities of Rajasthan. Buses or taxies can be hired and drive down to Jaisalmer.
By rail: Direct trains are available from Jaipur and Delhi, Jodhpur, Alwar, Ajmer, Bikaner. Even the palace on wheels has a stop in Jaisalmer. Weekly train services are available from Mumbai, Lucknow, Gaya, Varanasi, Kolkata and many more places.
By air: The nearest airport to Jaisalmer is Jodhpur which is around 270Km. From there one can hire a taxi or take a bus to Jaisalmer. Jaisalmer does have an airport but currently it is used only for the defence purpose. No commercial aircraft is allowed.

Update on coronavirus in India
Affiliate Disclosure:
If you make any purchase via a link on this site, I may receive a small commission with no added cost to you.