Desert National Park
Desert National Park
Quick Facts:
Country: India
State: Rajasthan
Location: Near Jaisalmer, Barmer
Area:  3,162 square kilometers.
Established: 1981
Best time to Visit: From November to March is the best time to visit the park.

Desert National park is one of the largest National Parks covering an area of 3,162 square kilometers. It is located near Jaisalmer and Barmer in Rajasthan, India. The park is a good example for the ecosystem of that desert.
Unlike other National Parks Desert National park is surrounded by Sand dunes, craggy rocks, compact salt lake bottoms and fixed dunes. In fact the dunes make up to 20 % of this park. The place is famous for migratory and residential birds despite the fragile ecosystem.
One can see the  endangered Great Indian Bustard and others like eagles, falcons, kestrel, vultures and many more.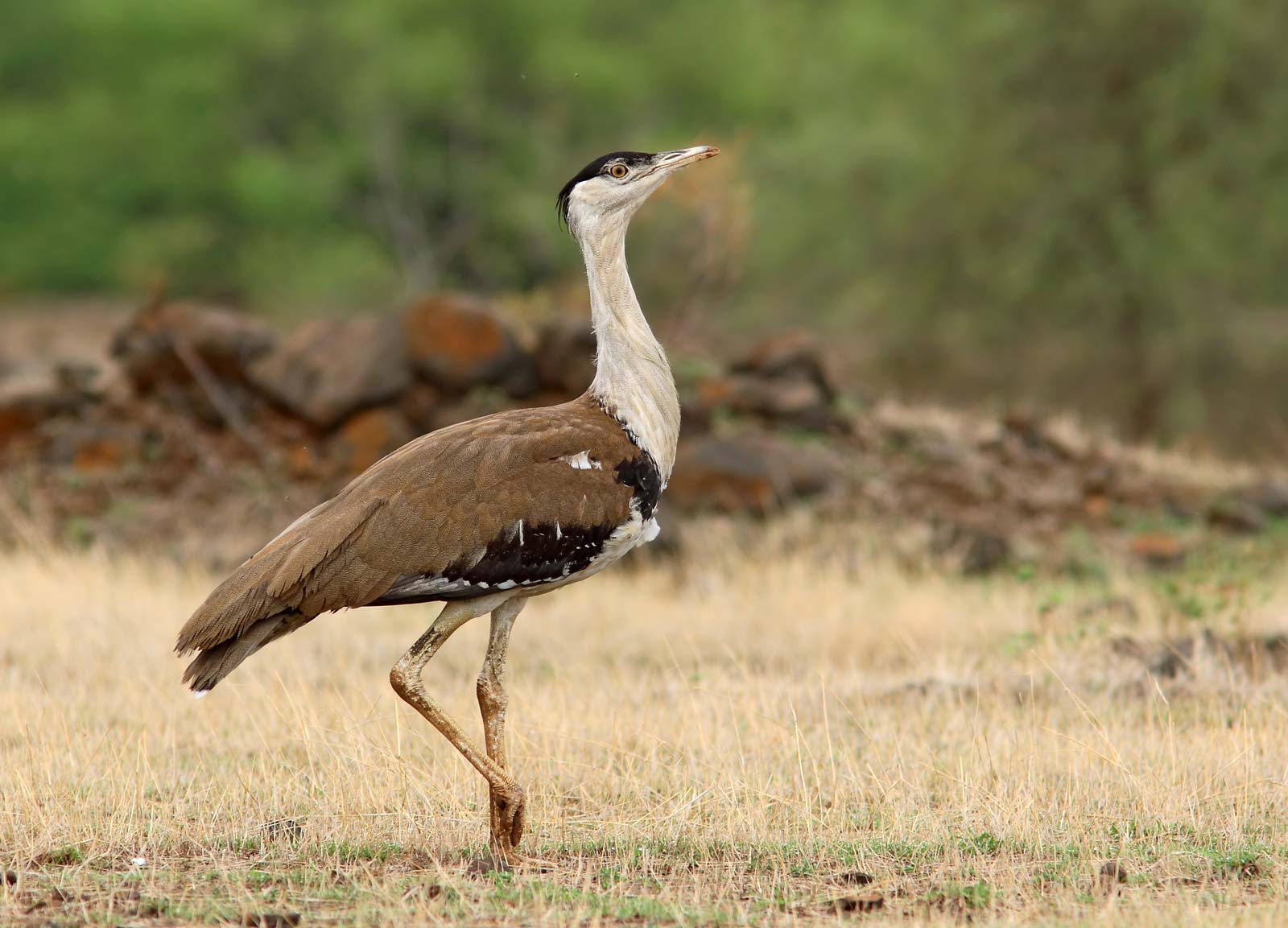 How to reach Desert National Park
How to Reach:
By Air: The nearest airport is the Jodhpur airport which is around 300 kms. From here one can take a train or cab to Jaisalmer. It is around a 4 hours drive. Jodhpur airport is well connected with major cities of India like Delhi, Jaipur, Mumbai
By Rail: Jaisalmer Railway station is the nearest railway station.  It is well connected to other parts of Rajasthan and India.
By Road: Jaisalmer is well connected to different parts of the state. Both government and private buses are available. 
Best time to visit the park
Best time to visit
As the park is near Thar Desert. It would be extremely hot during summers. The best time to visit the park is from November to March. This is the time when one can see a lot of migratory birds all around. The weather remains pleasant and cold during this period.
Read more about Rajasthan here
Check out pages on National Symbols of India
During Summer season the maximum temperature may hover around 45 degree celsius. Nights remain cooler due to the arid desert climate. 
Winters are pretty cold with the minimum temperature hovering around 5 degree celsius.
The park is open from 10am to 5 pm on all days.
Safari timings
Safari Timings:
The Jeep Safari is usually done between 10 am to 5 pm on all days except Sunday. 
Jeep Safari allows tourists to enjoy and explore a wider area of the park which is completely different from other National parks in India. The Safari runs on a 12 km trail and takes about 30 minutes to complete one trip. Outside vehicles are not allowed for safari.
Camel Safari:  Camel Safari is a very good experience to enjoy the safari in a desert. 
Flora and Fauna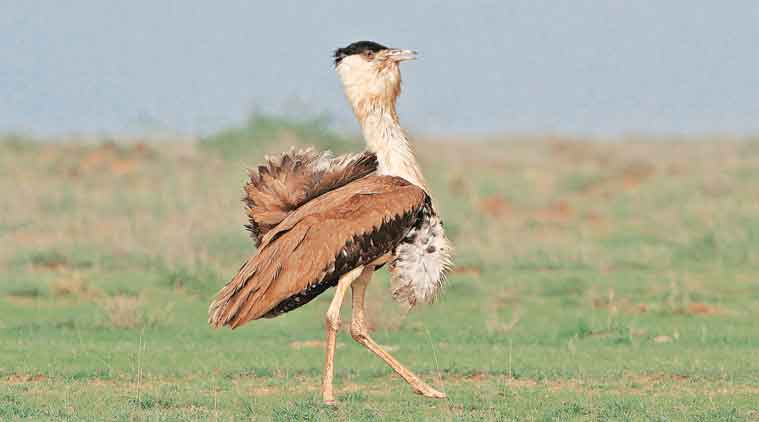 Due to the thar desert the vegetation is scattered and dispersed. Around 20 percent of the park is covered with sand dunes. The landscape comprises of craggy rocks, compact salt lake bottoms with both fixed and shifting sand dunes.Some of the flora that can be seen here are dhok, palm trees, ber, rong
Read more about Monuments in India
The Desert National Park is home to many animals and birds including migratory birds. Some of the mammals that can be seen here are desert fox, Bengal fox, Chinkara, wolf and blackbuck antelope. The small chinkara keeps moving around in the sandy hilltops.
Among the birds, the great Indian Bustard is the main attraction of the park. It is an endangered species which is found only in India.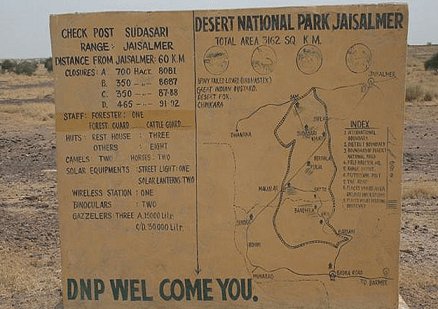 Some of the  other birds that can be seen here are sandgrouse, Bee-eaters, Macqueen's bustard,Falcons, Vultures, houbara bustard, larks,  steppe eagles, long legged buzzards . Larks and wheaters are common species found in the desert. Vultures flying high in the sky make a magnificent view to the tourists.
The chestnut bellied sandgrouse and Black bellied sandgrouse come to the park during winter season from central Asia. The endangered Indian bustard is the major attraction in the Desert National Park. It is a large bird with a horizontal body and long bare legs similar to Ostrich. This bird is protected under WIldlife Protection Act 1972.
The desert National Park is also home for reptiles like common krait, Lizards, monitor lizard, Russell's viper, Spiny tailed lizard, Saw scaled viper.
Places of Interest near the park
Read more about Culture of India and Rajasthan
Sam Sand Dunes:
Sam sand dunes is the most important tourist destination in Jaisalmer. The main and important attractions of this is the Desert Safari. If one visits Jaisalmer and doesn't go for desert safari then no point of going to Jaisalmer.
This makes the Sam sand dunes an important tourists place for Jaisalmer. It is said that best time to visit the desert safari is during sunset and sunrise. The golden rays falling on the sand is just beyond words to express.
It can be said it is a treat to the eyes. Going on a camel ride during these hours is one of the most profitable business here. They charge exorbitantly for the camel ride. Doing bargain is good.
The road which leads to these dunes are very well maintained. The 3Km stretch of the dunes is no doubt one of the picturesque in Jaisalmer. There are night camps available, if one plan to stay overnight here.
The place becomes lively from afternoon till next day morning. The month of February and march is more attractive as the Desert festival showcasing the culture of the Rajasthan is done on these sand dunes.
Some of the cultural events that takes places in Sam sand dunes are puppet show, folk dance performance, camel races and many more gives this place truly a festive atmosphere.

Gadisar Lake: It is located in Jaisalmer district of Rajasthan. It is around 1.5 kms from Jaisalmer fort. It is an artificial lake to which water comes from the Indira Gandhi Canal. Hence the lake never dries. The lake was built by the founder king of Jaisalmer Rawal Jaisal. The lake has many Chhatris,temples, Shrines and Ghats. 
Badha Bagh: It is situated on a small hill. The set of royal chhatris cenotaphs was constructed by different Maharajas of Jaisalmer over the period of 18th, 19th and 20th century. The Chhatris have been carved out of sandstone blocks. Each cenotaph has a marble slab with inscriptions about the deceased royal and a symbolic image of a man on a horse.
There are many other important places in Jaisalmer to visit.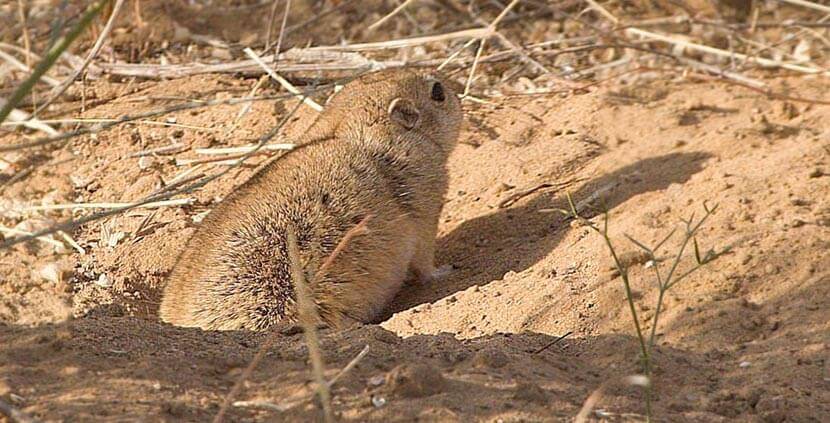 Update on coronavirus in India
Jaisalmer Fort: Jaisalmer fort is one of the most important forts in Rajasthan India. The oldest fort built by Raja Jaisal in the year 1156 AD from whom the fort got its name.
It is a famous historical monument which is adjudged as a world heritage site by UNESCO. Built in yellow sandstone, the fort stands tall and looks marvelous.
The fort is also known as Sonar Quila because of the yellow sandstone walls which fade to honey gold after sun sets. Raja Jaisal chose trikutta hills to build this huge fort as his earlier fort Luderwal was vulnerable to war.

Affiliate Disclosure:
If you make any purchase via a link on this site, I may receive a small commission with no added cost to you.