Jallianwala Bagh Massacre
Jallianwala Bagh Massacre
Jallianwala Bagh Massacre: Jallianwala bagh Massacre also known as Amristar Massacre took place on 13th April 1919 in Amritsar Punjab, India. A large number of people had gathered near Jallianwala Bagh to request for the release of Indian leaders Dr Saifuddin Kitchulu and Dr Satyapaul.

Many other pilgrims were also present to celebrate the Sikh's most important festival Baisakhi. British troops open fired on the large unarmed  crowd killing several hundred people,
Update on coronavirus in India
Baisakhi is a harvest festival celebrated by the Sikhs and also the beginning of Khalsa Srijan Divas which marks the birth of Khalsa in the year 1699. On this auspicious day many people from all over the place had gathered to celebrate but unfortunately it turned out to be a graveyard.
Reasons/background for Jallianwala Bagh Massacre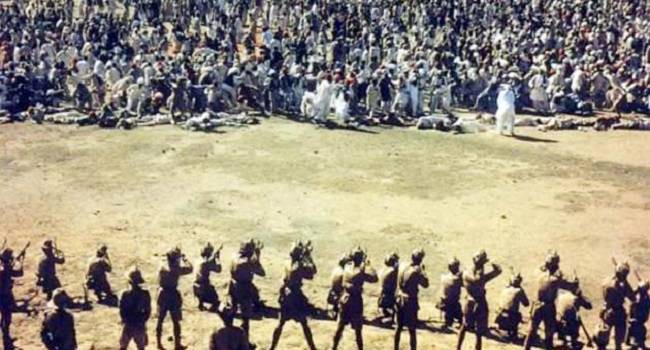 The massacre was not an isolated incident. It happened due to various factors that took place in the past. One of the black day in the history of India. Jallianwala Bagh Massacre marked as a turning point in the India's struggle for Independence.
During World War 1 the British India helped the British war by providing men and other resources like arms and ammunition,food and money. During the same period the British government of India had made a series of repressive emergency powers that was mainly intended to combat subversive activities. 
The Indian National Congress was of the opinion that self governance would be granted after World War 1 ended.
The passage of Rowlatt Act in 1919 in which the government was authorised to arrest and detain any person without any trial and without giving any reason for his arrest. This led to Nationwide unrest and Ghandhiji and other leaders called for hartal on 6th April 1919 and asked all the Indians to protest  against the act through Satyagraha.
Two prominent leaders Satya Pal and Saifuddin Kitchilew were arrested and taken to a secret location as they participated in Satyagraha movement against Rowlatt Act. This led to the protest in Amritsar in which soldiers opened fire on a crowd killing many protestors.
The angered crowd carried out an arson attack on British banks which killed several British people. All the public gatherings were banned by the British in Amritsar region
Massacre Day, 13th April 1919
On 13th April 1919 thousands of people had gathered near the Bagh to celebrate the festival of Baisakhi. However General Dyer who was the acting military commander had ordered curfew and ban of all procession and public gatherings.
Inspite of this order by afternoon of 13th April thousands  of people had gathered near Jallianwala bagh. These people  were mostly returning home after visiting  Golden Temple. Jallainwala Bagh was almost closed on all sides with a narrow opening. It was surrounded by walls on all sides with five narrow entrances.
Dyer and his soldiers who came to Jallainwala bagh without giving any warning to the crowd closed all the exits. General Dyer never tried to evacuate people peacefully from Jallainwala Bagh.  He ordered the soldiers to start shooting at the people who had gathered in Jallinwala Bagh. 
The firing continued for around 10-15 minutes. People could not go out. Most of the unarmed men, women and children who had gathered there were killed. Many died because of shooting and some died because of the stampede. Total casualties are still disputed. One of the official reports confirms 379 deaths and 192 seriously wounded. The Hunter commission  report confirms that 379 deaths and around 1400 wounded
Signigicance/ Post Massacre
This event caused a huge uproar among the Indians. Many Indians abandoned their previous loyalty to the British and became nationalists and started fighting for freedom. Martial Law was imposed in Punjab.
Rabindranath Tagore renounced his British  Knighthood as a symbolic  protest against the British. Mahatma Gandhi renounced his Kaiser-i-Hind-which was awarded by the British for his work during the Boer War.
Dyer who was initially applauded by the British but later in the year 1920 Winston Churchill debated in the House of Commons criticising Dyer's action.
Hunter Commission
On October 14th 1919 the government of India set up a committee called the Disorders Inquiry Committee  to investigate the massacre. Later the committee came to be known as the Hunter Commission. The chairman of the committee was William Lord Hunter. The Commission did not impose any disciplinary action against Dyer but ordered him to resign from the military.
Mahatma Gandhi soon began organising various large scale non violent protest of non cooperation movement from 1920-22.
Affiliate Disclosure:
If you make any purchase via a link on this site, I may receive a small commission with no added cost to you.