Jantar Mantar Jaipur

 Jantar Mantar Jaipur
Jantar Mantar in  Jaipur was built in the year 1734 by Sawai Jai Singh, Jantar Mantar consists of 19 astronomical instruments.  The centre piece of the array of instruments is the Samarat yantra which is the largest sundial. Maharaja Jai singh was an avid reader and astrologer, he wanted to observatory about planets. Hence he studied astronomy and constructed five Jantar Mantar in north India. The Jantar Mantar in Jaipur is the biggest and is being renovated time and again !
Jantar Mantar consists of 19 instruments which helps in calculating time, eclipse, the earth orbit around the sun and about other celestial bodies. The instruments are gigantic and can make accurate measurements. The instruments that are present in Jantar Mantar are:

Instruments of Jantar Mantar Jaipur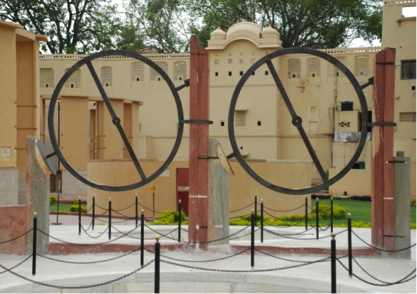 Chakra Yantra:  It is mainly used to collect the data of declination of Sun at four specific times in a day
Dakshin Yantra: Is used for observing the movement of the celestial bodies over the meridian.
Digmasha Yantra:  This instrument is used to measure the time of sunrise and sunset.
Dhruva Yantra: this instrument is used to find the position of pole star at night. It also helps in understanding the twelve zodiac signs.
Jai Prakash Yantra: Helps to measure the rotation of the sun. It consists of two hemispherical marble slabs which produces the inverted image of the sky.
Kapali Yantra: It is divided into two hemispherical parts known as Kapali. The western part is the prototype of Jai Prakash Yantra and the eastern kapali is used for solving the astronomical problems.
Krantti Vritta Yantra: Measures longitudes and latitudes of the celestial bodies.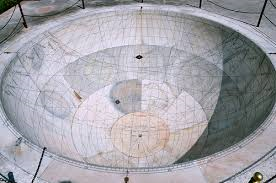 Instruments of Jantar Mantar-Jaipur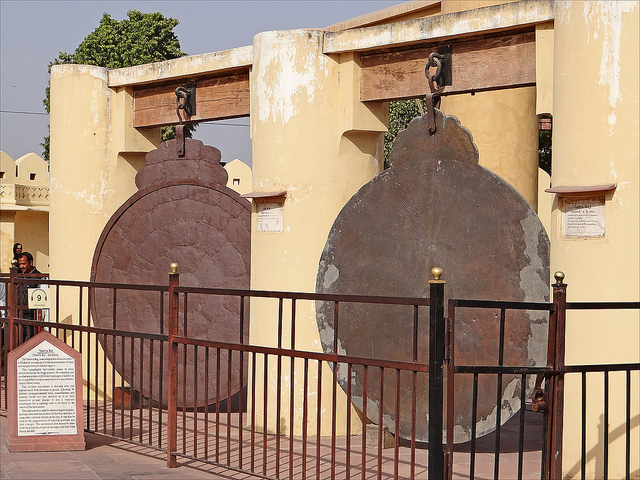 Laghu Samrat Yantra: this instrument is used to measure time. It is smaller than Samrat Yantra. This Yantra is inclined to 27 degrees which is equivalent to the latitude of Jaipur.
Nadi Valaya Yantra: There are two dials in this instrument one facing the north and the other facing the South both parallel to equatorial plane.
Rama Yantra:  Consists of double cylinder which measures the azimuth( angular measurement in a spherical coordinate system) and the altitudes of the celestial objects. There are gaps between the two cylinder to have a good view of both the cylinders.
Rashi valaya Yantra: Is a collection of 12 zodiac sign instrument. It is used to measure the longitudes and latitudes of the celestial bodies. Depending upon the zodiac sign the correct instrument is used.
Unnatasha Yantra: covered with a brass circle this instrument is used for measuring the altitudes of the celestial objects.
Vrihat Samrat Yantra: measures time with an interval of 2 seconds. It has world largest gnomon( is a part of the sundial which casts shadow).
Some of the other yantras here are Disha Yantra, Kanali Yantra, Misra Yantra, Palbha Yantra, Shastansh Yantra, Yantra raj Yantra. Even now these instruments are used for forcasting seasons, weather, monsoon and also possibility of famine, floods or drought.

How to reach Jantar Mantar- Jaipur
Jantar Mantar is located near the City Palace and easily accessible. It is open from 9am to 5pm. The best time to visit is from October till March. One can even travel by air, to reach Jaipur. Jaipur has a airport so if one wants to save time then instead of travelling by road they can take a flight or even a train. Jaipur has good connectivity from different parts of India. Along with this one can see many other tourist destinations in Jaipur like Hawa Mahal, Amer Fort, Nahargarh Fort, city palace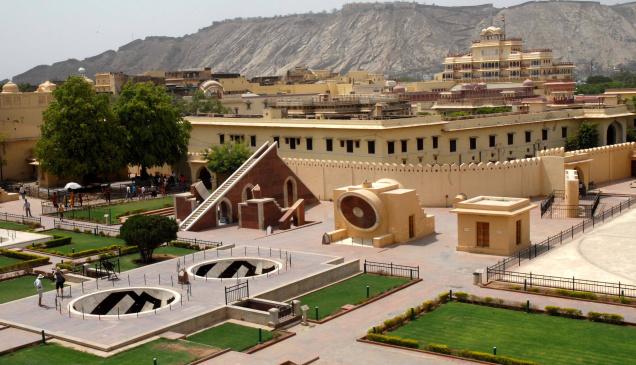 Update on coronavirus in India
Affiliate Disclosure:
If you make any purchase via a link on this site, I may receive a small commission with no added cost to you.