Kemmangundi
Quick facts:
Kemmangundi
Country: India
State: Karnataka
District: Chikmagalur
Language: Kannada
Kemmangundi: Karnataka is blessed with many beautiful hill stations, kemmangundi is one in that. It is a beautiful Hill station located in Tarikere taluk of Chikmagalur district Karnataka, India.
It is at an elevation of 1434m and is also known as krishnarajendra Hill station. Kemmangundi is a Kannada word which literally means kempu is red manu is soil and gundi is pit so Kemmangundi literally means red soil pit. This lovely place used to be the summer retreat for Krishnaraja Wodeyar IV and he later donated the property to Government of Karnataka. There are many Homestays and resorts in Kemmangundi. Tourists can book in advance to avoid any confusion.

Climate in Kemmangundi
Kemmangundi experiences sub tropical highland climate. It relatively has pleasant weather through out the year. Summer months are March to May where the maximum temperature hovers around 28oc. Winter months are from November to February where the minimum temperature hovers around 12oc. During monsoon season the place receives good amount of rainfall.

How to reach Kemmangundi
 By Air: Kemmangundi has no airport of its own, the nearest airport is Mangalore which is around 190 km away and another international airport is Bangalore which is around 300 km.
By Rail: The nearest railway station is Tarikere which is around 15 km from Kemmangundi. Tarikere has good rail connectivity from Mangalore and Bangalore. From there one can take a cab and drive to Kemmangundi.
By Road: Kemmangundi is well connected by road from Chikmagalur, Mangalore and Bangalore. One can take either a government run buses or private buses. There are plenty of taxis available from nearby cities. 

Update on coronavirus in India
Tourism in Kemmangundi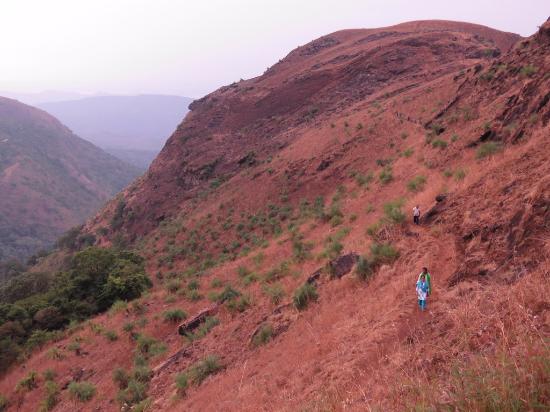 Tourists' places in Kemmangundi:  Kemmangundi is blessed with many waterfalls, tiger reserve, steep Hills and many more…. Do share your experience with us on your trip to Kemmangundi…..link
Z Point: Trekkers would love this point. It is a steep Hill trek of about 45 minutes from Raj Bhavan where tourists can get a beautiful view of the whole place. A beautiful view of sunset can also be seen from this point.
Rose Garden:  As the name itself suggest this garden is filled with different varieties of flowers. It is maintained by Horticultural Department in Kemmangundi. It is truly a feast to the eyes to see such vast varieties and colourful roses all around.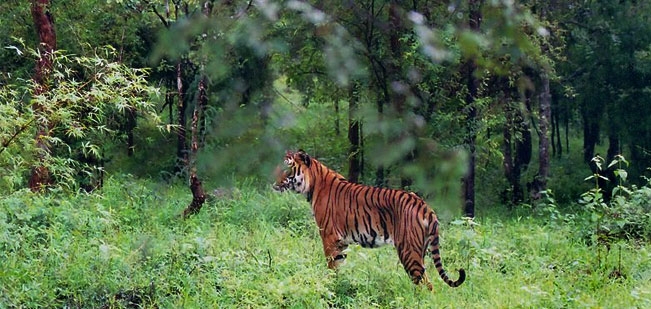 Bhadra Tiger Reserve:
Located at a distance of around 60 km from Kemmangundi, Bhadra Wildlife Sanctuary is an important tourist's destination near Kemmangundi. It is a protected area near Bhadravati town of Chikmagalur district of Karnataka, India.  It was declared as a Project Tiger Reserve in the year 1998.
The wildlife sanctuary is called as Bhadra Tiger Reserve as the Bhadra river which flows wit in the forest. The place is rich in flora and fauna with different varieties of flora are available to see. Hebbe Giri is the highest peak in the sanctuary. The sanctuary is beautifully surrounded by lush green hills from Mullayanagiri, Hebbegiri, Gangegiri, Bababundangiri. Hebbe falls is towards the eastern part of the sanctuary making it one of the most spectacular places to enjoy.
Bhadra sanctuary is a bio diversity hotspot. The lush green vegetation in the Sanctuary consists of dry deciduous, moist deciduous and semi evergreen forests. More than 120 species of trees can be seen here.
Some of the species include teak, rose wood, oak tree, honne, toddy palm, kindal, bamboo and many varieties of medicinal plants. Bhadra wildlife sanctuary also has different species of fauna like tiger, black leopard, jungle cat, sloth bear, common palm, Malabar giant squirrel, leopard cat, rusty spotted cat and many more.
Among reptiles and birds one can see around 300 species of birds like woodpecker, Malabar Whistling thrush, ruby throated bulbul, shama, Malabar trogon, marsh crocodiles, Draco, rat snake, common cobra, king cobra some butterflies like yamfly, tailed jay, great orange tip and many more. There are many jungle lodge resorts which one can book in advance.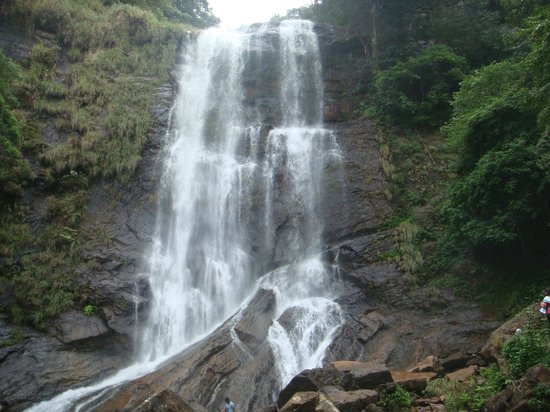 Hebbe Falls: It is located inside coffee estate which can be reached either by walking or by using any four wheeler vehicle. Trekking is possible by should be very careful of leeches. Walking or trekking should be avoided and can take any government approved vehicle.
The water falls from a height of 550ft at two different stages. First stage is Dodda Hebbe (Dodda is a Kannada word which means big) and the second stage is Chikka Hebbe ( Chikka is a Kannada word which means small). The water fall is located at just 10 km from Kemmangundi. The nearest airport is Bangalore or Mangalore which is around 270-280 km away one can drive down from these airports.

Kalhatti Falls: Another important waterfall that is located just 10 km from Kemmangundi is Kalhatti or Kalhasti  falls. It is located in Tarikere taluk in Chikmagalur district of Karnataka India. The water falls from a height of about 122m from Chandra Drona Hill giving tourist a beautiful view of the water fall. 

In front of the waterfall there is a temple by name Veerabhadreshwara temple which is dedicated to Lord Shiva. The temple was supposed to have been built during Vijayanagara Empire period.
Thousands of pilgrims visit the temple every year during March and April. The entrance of the temple has stone statues of Elephants which welcome the pilgrims. It is also a very good place for doing trekking with base camp at Tarikere. It is also believed that sage Agastya did meditation for many years in this place.  Tourists can also plan to visit the nearby historical places like Belur and Halebidu and Kudremukh.  

Belur is close to 2 hr drive from Kalhatti waterfalls which is at a distance of 80 km. Accommodation are available at Horticulture Guest House at Kalhatti falls. Best time to visit the place is immediately after the monsoon season as the waterfall would be with full force of water. The nearest airport is Mangalore airport which is around 180 km from kalhatti falls and the nearest railway stations is Tarikere town.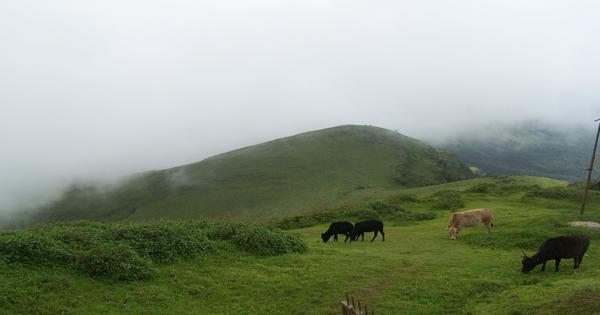 Mullayana Giri:
Chikamagalur district in Karnataka, India is a hub for many Hill stations. If a tourists plan to visit Chikmagalur then they can visit many Hill stations and water falls so make it a perfect trip. Mullayana Giri ( kannada word which means Hill) is the highest peak in Karnataka which is at an elevation of 1925.
It is in the Chandra Dhrona Hill ranges of Western Ghats and also Mullayana Giri is the fourth highest peak between Nilgiris and Himalayas after Vavulmala, Chembra and Banasura Hills. Mullayana Giri is also famous for doing trekking.
Since the entire area in Chikmagalur receives heavy rainfall it would be difficult to do trekking during monsoon season. The best period is immediately after monsoon season from September to February. The base camp or the starting point for trekking is Sarpadhari which means snake path.
The entire trek from Sarpadhari to Mullayanagiri is easy and takes around 4 hours to complete the trek however if the tourists are doing further trek to Baba Budangiri the trek route is moderate and may take 6-8 hours to complete the whole trek. One has to get permission from Chikmagalur forest department.  Enjoy the beauty of Mullayanagiri.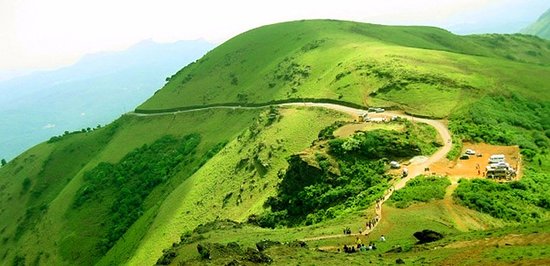 Baba Budangiri: Located at a distance of 80 km from Kemmangundi Baba Budangiri is in the Western Ghats of India. Baba Budan Giri is a mountain range in Chikmagalur district.
The range was earlier known as Chandra Drona Parvatha however it got the present name from Dattapeeta Cave and Sufi Saint Baba Budan. The range holds the highest peak of Karnataka that is Mullayanagiri. Baba Budan is famous for the shrine of the sufi saint Hazrat Dada Hayat Kalandar and it is an important pilgrimage place for both Hindus and Muslims.

Affiliate Disclosure:
If you make any purchase via a link on this site, I may receive a small commission with no added cost to you.