Farmer and the Well
Farmer and the well
A very interesting story from the stories of Akbar and Birbal. Akbar was the famous Mughal king who ruled India for many years and Birbal was his favorite minister. Birbal was one of the nine gems of Akbar. Let us read this funny story: "Farmer and the Well"
One day in a village an intelligent man sold his well to a farmer. The farmer was innocent and readily purchased the well thinking the water in the well would help him for farming.
Update on coronavirus in India
The farmer was very happy and the next morning he went to fetch water from the well. To his surprise the man did not allow him to draw water from the well and said, "I have only sold the well to you and not the water inside the well. So, you have no right to draw the water from the well."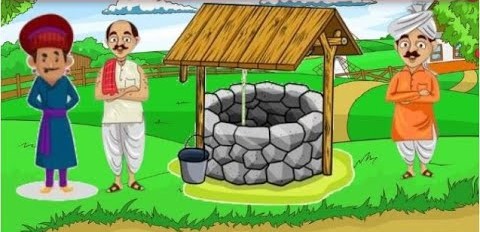 The farmer was shocked and was very surprised. He did not understand what to do. The farmer thought to go to his King Akbar and seek justice. 
He went to the emperor's court and narrated the whole incident to him. Akbar asked his minister Birbal to help and solve his problem.
Continue reading Farmer and the well
Birbal who is witty and intelligent thought of a plan to solve this problem. He along with the poor farmer went near the well. Birbal asked the man who sold the well to the farmer to come and meet him near the well. 
Birbal with a good smile on his face said, "Hello man, as you have sold only well to this farmer then either take out your portion of water or pay rent to the farmer to keep your water in his well."
The man finally understood his mistake and asked for an apology. The man felt helpless and outwitted. The farmer was very happy and thanked Birbal for his help. From then onwards the farmer was able to draw water from the well without any hassle.
Moral: Try not to Cheat anyone in your life 
Affiliate Disclosure:
If you make any purchase via a link on this site, I may receive a small commission with no added cost to you.